Commentary: Why AUKUS is gaining acceptance in the Indo Pacific
The Australia-US-UK pact facilitates Asian countries' pursuit of cooperation in other areas without worrying about the larger looming regional security challenge, says New Delhi-based expert Shruti Pandalai.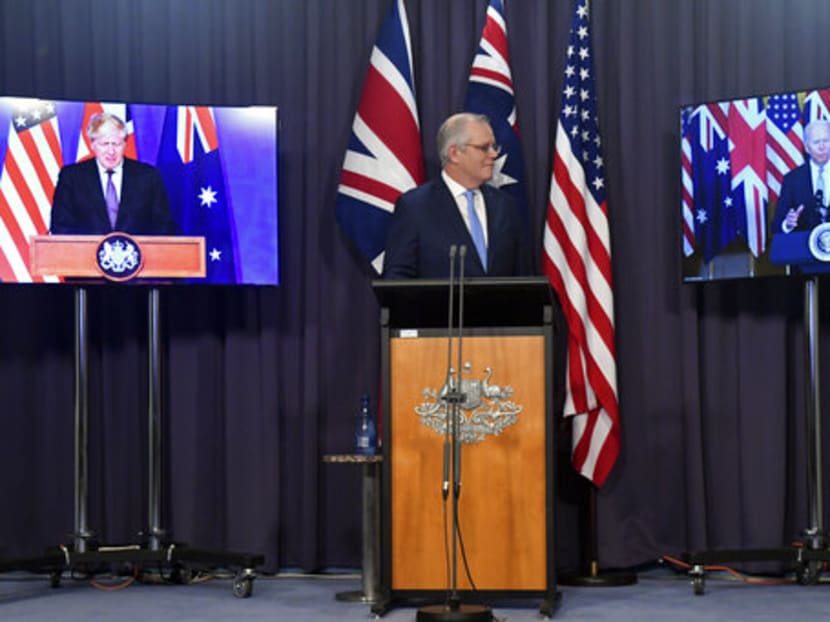 NEW DELHI: It has been a fortnight of high-powered diplomacy for the Indo Pacific and its leading players.
India's Foreign Minister Dr S Jaishankar at a recent Carnegie Endowment for International Peace event made what now seems like a prescient case for many "building blocks in the Indo Pacific" two weeks back, long before the news of the AUKUS trilateral security pact broke.
He said: "The Quad is an effort of cooperation, between four countries … all impelled by a sense of responsibility towards the global commons … mind you each one has made an extra effort ... It wasn't something pre-destined."
He added that there were many "trilaterals out there" with the Indo Pacific being a "big and complicated region" and the right thing to do is for countries to be "open to all of them" instead of seeing shadows.
DAMAGE CONTROL OVER AUKUS
These words seem prophetic coming at a time when the debate around the newly announced Anglo-Saxon AUKUS security pact and its impact on transatlantic alliances has reached fever pitch.
As news broke, the coalition of the willing had to work hard to iron out some discordant notes with the French openly calling the pact a "betrayal".
With the AUKUS deal seeing a US$90 billion programme to build 12 French-designed submarines scrapped in favour of Australia using American and British technology to configure its next submarine fleet and future defence capabilities, the fallout among partner countries over "trust issues" has been perceptible.
After all, France is among the leading partners of the Quad grouping working together on multiple fronts to check Chinese expansion in the region and shore up capacity-building.
Questions have also been raised as to whether the newly announced compact repudiates groupings like the Quad, given AUKUS brings in the hard security component the Quad has kept out of its declared mandate. This is despite a rising number of multilateral exercises among Quad partners to improve interoperability.
Some tensions have eased, with French president Emmanuel Macron mending the rift with UK prime minister Boris Johnson through a phonecall over the weekend.
OPPORTUNITES AND MANY BUILDING BLOCKS
From New Delhi's perspective, the long view on these tectonic shifts in the Indo Pacific is sobering.
After a bloody Himalayan confrontation last year, China looms large on India's land and maritime borders not to mention its West Asian neighbourhood with the Taliban's return to Afghanistan.
Amid concerns among Asian friends that AUKUS could set off a new arms race in the region while allowing China to gain from geopolitical dissonance, India has been working with its partners to set the record straight on multiple fronts.
The message has since been reinforced with the US and other major powers stepping up  high-level diplomacy with the Quad Leadership Summit, the Joe Biden-Narendra Modi meeting and Modi's speech at the United Nations General Assembly (UNGA), to shape the narrative on the need for collective capacity to counter perceived aggression.
Indian Foreign Secretary Harsh Shringla was clear in differentiating the two groupings and defining their objectives as distinct. AUKUS is a security alliance, while the Quad is a multinational grouping with "a vision for a free, open, transparent and inclusive Indo-Pacific."
His assertion that the AUKUS alliance was neither relevant to the Quad nor will impact its functioning conveyed India's unambiguous stand. Given India's openness to overlapping networks of partnerships in the region, the foreign secretary's comments highlighted India's push to build strength across multiple domains.
SHORING UP INDO-PACIFIC SECURITY
Foreign policy observers have highlighted how this the new arrangement pushes the region towards becoming more open, inclusive and engaged, such that no one country dominates. 
For one, any doubts over Australian commitment to assessing China through a strategic lens and overcoming its tendency to bow to economic pressures in its China policy now stand redressed.
The US has made it clear that AUKUS is an affirmation of US commitment to the region and enhancing capacity-building among Indo- Pacific states to challenge China's maritime assertiveness should be welcomed. AUKUS also locks in the UK tilt to the Indo Pacific firmly.
This push for security cooperation in the region could also have positive knock-on effects if it encourages major Asian powers to step up regional security engagements.
Prime minister Modi was notably among the first leaders to speak with French president Macron after the transatlantic feud last week.
Both sides leaders reaffirmed their strategic partnership, with the French statement reiterating efforts to "strengthen India's strategic autonomy, industrial and technological base" – read by some as France wanting to bolster India's access to its defence industry.
The diplomatic fallout over the French submarines has also ignited a reawakening among European Union (EU) countries to unite on foreign and security policy, as German Europe Minister of State Michael Roth acknowledged last week. Lost in the noise was the release of the EU's Indo Pacific strategy that commits resources to efforts with leading players to counter Chinese bullying
COMPLEMENTING GROUPS
Short of naming China, efforts at UNGA, the AUKUS arrangement and Quad Leadership Summit are all aimed at augmenting collective strengths to push back against unilateralism and expansionism in the Indo Pacific.
India has often argued that limiting the Quad mandate to just hard security limits buy-in, where broadening the scope of cooperation could dampen sharp competition.
S Jaishankar, speaking at the Carnegie event, made the case that the "more platforms you have, the more people work with each other, the larger the consensus and that's good".
The Quad can focus on operationalising its mandate to deliver on vaccines, climate action and critical tech in space and 5G. The rise of economic groupings, like the Comprehensive Progressive Agreement for Trans-Pacific Partnership, and other issue-based coalitions in the Indo Pacific, including AUKUS, additionally signals acceptance of this approach.
In this context, AUKUS is a win for Asian countries worried about having to choose sides and ASEAN concerned about big power geopolitics scuttling the regional grouping's ability to press on with functional and economic cooperation.
But navigating these alliances and geopolitical sensitivities will be key as balance is restored in the Indo Pacific.
Shruti Pandalai is a Fellow at the Manohar Parrikar Institute for Defence Studies and Analyses tracking India's Foreign and Security Policy including great power competition in the Indo Pacific. The views expressed are her own.