Commentary: Big sporting moments like Beijing Winter Olympics have been politicised
With calls to boycott Beijing Games and the FIFA World Cup in Qatar, sport has reasserted itself as a political force, says an observer.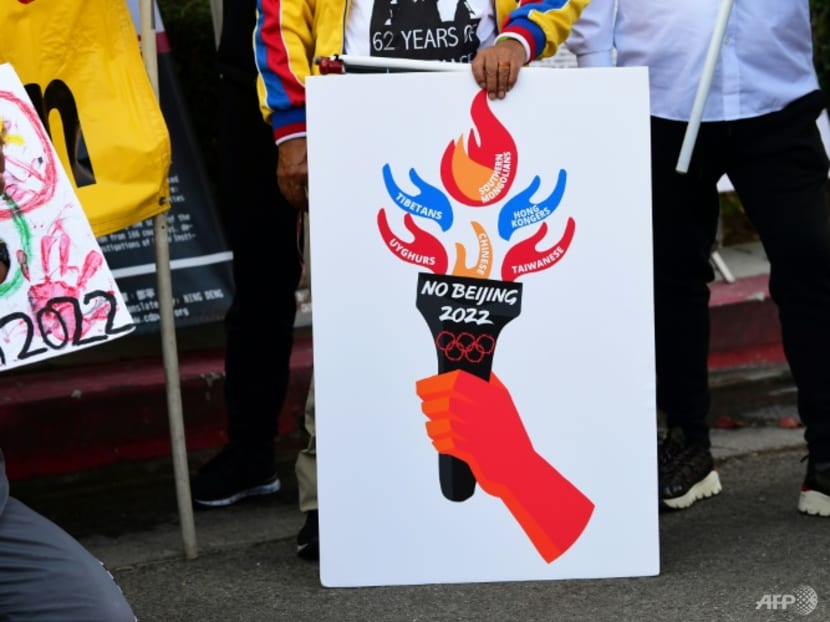 SYDNEY: In 1971, two table tennis players – American Glenn Cowan and Zhuang Zedong from China – met on the tournament bus on the way to the world championships in Nagoya, Japan.
The chance meeting between two athletes at a time when their respective countries were enduring a distant and icy relationship set off a series of events that led to United States president Richard Nixon visiting Communist China in 1972 – the first incumbent to do so – and began a thaw that led to both countries becoming their respective top trading partners.
Ping pong diplomacy – the "doctrine" established by that meeting in Japan – exemplified the political power in the simple act of sporting competition, between people and between countries.
These days, it seems, things aren't so simple.
As the Beijing Winter Olympics begin this week, a number of major nations are enacting a diplomatic boycott of the Games.
In December 2021, Australia announced it was joining the soft protest, stating that it will not send any diplomatic or state representatives to the event – although athletes will attend – in protest against China's poor human rights record.
Clearly, some among the political and bureaucratic class may be disappointed that the Olympic gravy train won't be stopping by this time around. But outside of such disgruntlement, the move is unlikely to have much impact.
In truth, while China's many human rights problems have been highlighted as the main reason for the boycott, it can be said that a secondary target is the Olympic movement itself. Its monastic stance on political issues is – in this era of choosing sides, cancel culture and being woke – out of step and a little bewildering.
SPORT AND POLITICS DON'T MIX?
For many years, sports bodies have ducked and weaved around political contexts. The old line is that "sport and politics don't mix".
That might have been true decades ago, but examples of sport being used as a political tool have matured enough in recent years – including in sports-mad Australia – to confirm that it is certainly not the case now.
After Nixon's sport-inspired visit to China in 1972, the value of sport was highlighted. By 1980, it had become sharpened to become an effective political tool.
Then, the US boycotted the Olympics in the USSR – using the hook of the Soviet's invasion of Afghanistan – and other countries such as Australia under the Fraser government felt obliged to rally behind them, although, in Australia's case, in a lesser fashion.
The United States' actions were mirrored in 1984, when the Los Angeles Games went ahead without the boycotting Soviets and the Soviet bloc.
The Olympics have been the most commonly used event for political point-scoring. Let's not forget what may have been the ultimate political (ab)use of sport: The kidnapping and murder of nine Israeli athletes at the 1972 Munich Games.
CALLS TO BOYCOTT QATAR WORLD CUP
As sport has grown, the reach and influence of big moments like the Olympics have motivated a range of piggybacking actions.
The world's most popular game, football has become increasingly hot in political terms. The astronomical amounts of money the game now attracts and generates and its vast number of followers means it can be readily enlisted to score goals off the pitch.
Not since the 1978 World Cup in junta-led Argentina has a tournament been more politically charged than this year's FIFA World Cup in Qatar, scheduled to kick off in November.
In the last year, calls have been growing for countries to boycott the event, even if their teams qualify. Norway, Germany and Denmark are among those that have seen concerted campaigns to pull their national teams out of Qatar, largely in protest over human rights in the Gulf state.
Australian Socceroo players meanwhile, even as the team still fights to qualify, have been openly questioning whether some form of action might be appropriate.
As with the Olympic boycott, the World Cup issue is a shot at FIFA's inability to read the room and at its awarding the rights to stage the event in Qatar in the first place.
With all these political issues folding into the action on the sporting field, it seems that sport as a political force has reasserted itself.
The economic clout, fan base and influence of modern professional sport means it has become the ultimate political football and any denial of its politicisation seems redundant.
Beijing will be its next big test. After that, Qatar.
JJ Rose has worked as a global media advisor for various social justice causes, including the Movement for Democratic Change (Zimbabwe) and Polisario (Western Sahara). This article first appeared in Lowy Institute's blog The Interpreter.