Commentary: Maybe there is no such thing as too many BTO flats?
Could recent moves to ramp up supply of BTO HDB flats in Singapore lead to a glut? NUS Institute of Real Estate and Urban Studies' Lee Nai Jia and Sing Tien Foo explain why this is unlikely.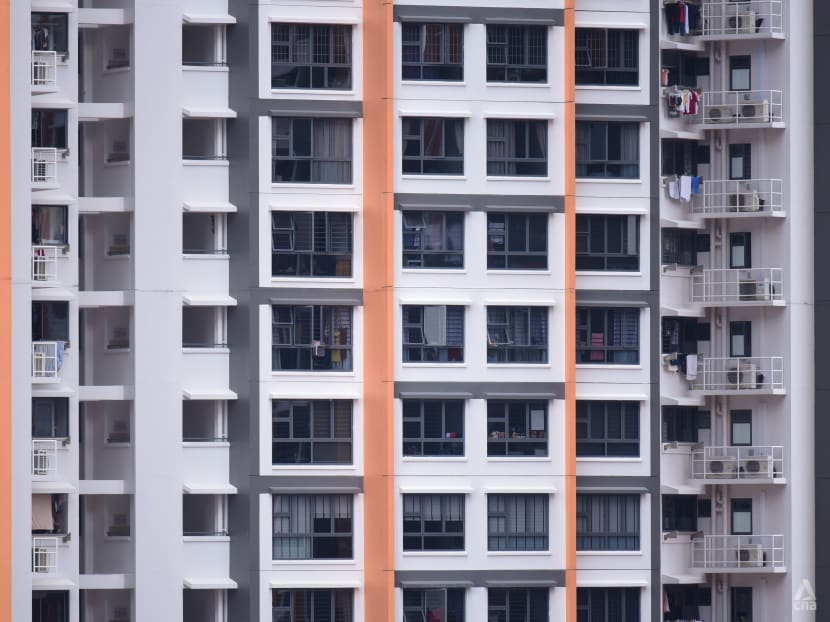 SINGAPORE: When the Housing Development Board (HDB) launched a batch of Build-To-Order (BTO) flats in Hougang in August, 11,420 applicants competed for 460 4-room units.
The over-subscription rate was 25 times for 4-room flats – one of the largest for a non-mature estate in recent years. In particular, Kovan Wellspring, next to Kovan MRT station, attracted strong interest.
Earlier in May, 3,474 applicants vied for 70 Telok Blangah Beacon 4-room flats near the future Greater Southern Waterfront – an oversubscription rate of almost 50 times.
Both speak to the strong demand for BTO flats, more largely reflected in the average over-subscription rate by first-timers for 3-room and bigger units of 4.1 and 4.7 times in 2020 and 2021 respectively.    
Perhaps foreseeing that the pandemic is unlikely to temper continued interest in housing, Minister for National Development Desmond Lee announced in July that HDB will launch more than 17,000 BTO units in 2022.
This is higher than the 14,600 units in pre-COVID 2019 and the 16,800 in 2020.
Highlighting that HDB has added BTO flats to the housing stock over the years to meet the needs of young families including echo boomers and millennials, Mr Lee's announcement, however, begs the question of whether this boost in supply might result in a glut if demand for BTO flats cools.
Wouldn't most prospective home buyers simply turn to the resale market if delays in housing construction continue?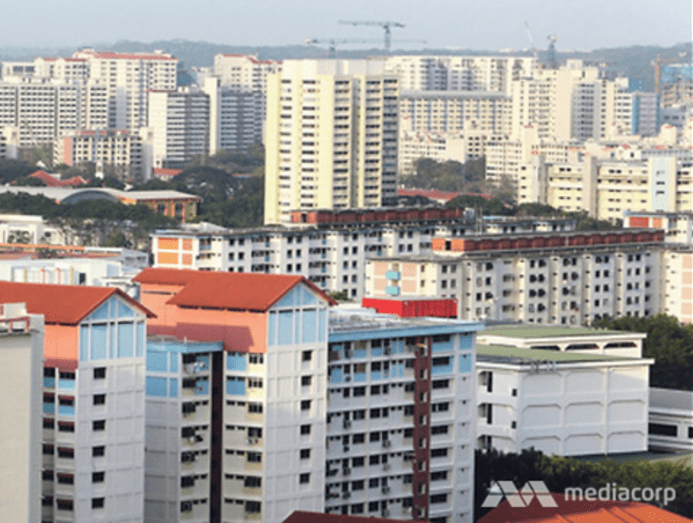 If so, might the launch of more than 17,000 flats be an overestimation of future demand, with the possibility that HDB might be saddled with empty flats no one needs?
STRONG PUBLIC HOUSING DEMAND A LONG-TERM TREND PRECEDING COVID-19
Then again, this strong demand for public housing has been a decades-long trend preceding COVID-19, to the point where HDB had to shift away in 2011 from its policy of waiting for 70 per cent of flats to be booked before starting construction.
This had the effect of cooling the resale HDB market, setting it on a more sustainable footing and making first-time public homeownership more affordable for larger swaths of the Singapore population.
That demand is unlikely to collapse altogether because of construction delays.
Home buyers less willing to wait might explore other options should uncertainty over BTO projects persist. Analysts have indeed observed many prospective applicants turning to the resale market after projected delays to the completion of launched BTOs were first announced.
But this switch-over of those who can afford a resale flat is unlikely to hurt the market for new HDB flats. BTO application rates for first- and second-timers in 2021 continued to surge even after the news.
In total, more than 100,000 applied for 15,344 BTO units as of August.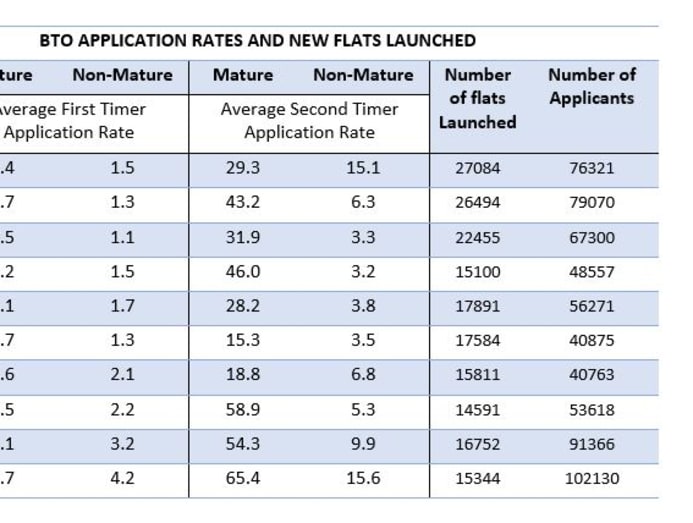 In fact, it is fortuitous HDB is taking a multi-prong approach to step up supply while also providing rental flat options for couples impacted by the BTO delays.
The supply chain disruption and the labour crunch in the construction industry arising from travel bans have hit the public housing market hard.
Many BTO projects have already been delayed by at least six months. Recent BTO projects, such as the Queen's Arc at Queensway, now have a waiting time of six years with completion expected only in 2027.
There are also limits to how much supply can be ramped up without straining the construction industry.
Already with 89,000 units under construction in 2019, more new launches could stretch the already tight capacity of this sector, which has seen GreatEarth, a main contractor for five projects go bust.
People aspire to proceed with life plans, with new marriages each year remaining at an average of about 23,700 over the last three years.
In this context, the 17,000 units to be launched might not be too many.
Perhaps the larger question is whether HDB can build enough flats to keep up with Singaporeans' insatiable appetite for public housing. It's little wonder why BTOs remain a primary housing choice, when home owners stand to reap a windfall in selling their heavily subsidised BTO flats.
Bartley Beacon and ParkView@Bidadari, launched in November 2020, saw prices of 5-room flats between S$466,000 and S$598,000 – a steal compared to the two-year average resale price of S$754,000 for 5-room flats in Toa Payoh with at least a 90-year lease.
DEMAND FOR BTO OBSCURES BIGGER SHIFTS IN PUBLIC HOUSING
Perhaps the demand for BTOs obscures a larger trend underway for decades: Public housing demand has moderated over the long term as rising affluence and growing aspirations for the good life has seen more Singaporeans shift into condominiums and other private homes.  
The proportion of households in public housing fell from 85.2 per cent to 77.9 per cent over the last two decades, while those living in private non-landed housing surged from 6.3 per cent to 15 per cent over the same period.
Young HDB homeowners are upgrading to private homes, with the proportion of households below 40 in HDB flats declining from 62.3 per cent to 47.6 per cent.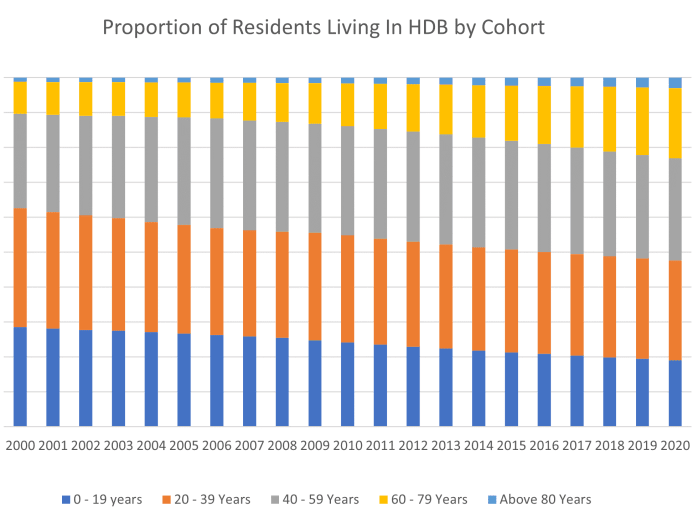 Non-landed private housing units more than doubled between 2000 and 2010, and increased by another 67 per cent between 2010 and 2020. Meanwhile HDB flats saw less than 20 per cent growth in the same period.
The ultra low-interest environment may have been a bigger driving factor for the private market, coupled with the private property price index growth fueling a fear of missing out for long-term investors looking for investment alternatives to equities and futures.
More than 16,270 private residential units were transacted in the first half of 2021, double that in the same period in 2019 before the pandemic.
Indeed, the larger question might be whether the 17,000 flats to be built fits the preferences of a changing Singapore demography, as households shrink but people still desire space.
The average resident household size for each housing type has steadily declined in the last four decades, though a slight uptick was seen in 2020.
Both 4-room and 5-room units constituted the lion's share of resale applications - 41.5 per cent and 25.3 per cent respectively, whereas 3-room resale applications remained low at 23.3 per cent.
This same trend was also reflected in BTO application numbers in 2020. Larger 4- and 5-bedroom BTO flats made up 66.9 per cent and 18 per cent of the total applications, respectively, whereas 3-room BTO applications remained small at 9.7 per cent.
Why has this been the case? The shifts towards work-from-home and home-based learning have seen more home buyers look for larger homes with dedicated study rooms, bigger bedrooms where workspaces can be set up, or floorplans with large common spaces that can be segregated where needed.
This is a luxury more HDB dwellers can afford after household income caps for BTO were raised to S$14,000 from S$12,000 in 2019.
A second trend is the emergence of more singles across age groups – making up 85.2 per cent of those in their 20s and 29 per cent of those in their 30s – suggesting greater future demand for 2-room Flexi flats.
So it seems HDB will have to strike a balance, factoring in both the strong demand for larger homes from families as well as the competing desire for smaller flats from singles and seniors.
There is little doubt that the pandemic has exposed the frailties of the lead-lag relationship between housing demand and supply.
Demand for BTOs will remain strong as people continue to make life plans, even if the few who can afford to will look to the private and resale markets.
Building ahead of order to retain redundancies at the macro level and designing flats with more customisable layouts at the micro level are likely to remain the practice for HDB over the next few years. 
Dr Lee Nai Jia is Deputy Director at the Institute of Real Estate and Urban Studies (IREUS). Professor Sing Tien Foo is Director at the same institute and Head of Department of Real Estate at Business School, National University of Singapore. The views and opinions expressed here are those of the authors and do not represent the views and opinions of the National University of Singapore, its subsidiaries or affiliates.
Listen to Sing Tien Foo discuss developments in the property market since COVID-19 hit on the Heart of the Matter podcast: