Commentary: Is it unprofessional when your child interrupts your office Zoom meeting?
In a completely upside-down work world, the lines have blurred between work and home. Should we get annoyed when one part of life seeps into another? Cherie Tseng takes a side.
SINGAPORE: For all the advances that have been made over the last two years of people finding a better balance with work and family, there remains one small but not insignificant micro-aggression that comes up every now and then.
This is when our children, our pets, our elderly parents demanding attention invade our workspace – or more commonly, our Zoom meetings. It is here we find out if our attitudes about people balancing conflicting roles will pass the real litmus test. Or how annoyed our co-workers get when work is interrupted with kids.
Like many working adults today, I share my workspace with the rest of my family. My husband, who has also been working from home since the circuit breaker in April 2020, sits a stone's throw away from me.
My three children each have their own desks and we are all cluttered in the same room, our books and files stacked in the same shelves.
When home-based-learning (HBL) happens, it is not uncommon for four of us to be at an online meeting or session at the same time. We do our best to accommodate each other: The person with the priority meeting gets the study and the rest of us shuffle about the house—in the kitchen, at the dining table or living room—in a bid to find our own modicum of quiet.
It sounds strange but I take many of my calls in my walk-in wardrobe. In fact, during a podcast recording with CNA, the neighbour began fumigating and that wardrobe was my refuge. We all do what we must.
KIDS APPEARING DURING OFFICE ZOOM MEETINGS
My four-year-old attends kindergarten in the afternoon so he is home when I am working in the mornings. And while he is usually quite good about giving me space when the study room door is closed, he has forced his way into many of my online meetings.
Mostly, he just wants to snuggle for a bit — COVID-19 has been hard on children too. Sometimes he decides he also wants to sit with mummy and "do work" and I let him type a blank word document while I get on with business. Like all children, he is curious and often wants to see who all these people on my screen are and sneaks in for a look, coming into my frame.
When these instances come up, I am thankful my fellow meeting attendees have been understanding, even senior business counterparts.
In the beginning, I used to have a locked door policy, but the kid would simply have half a meltdown on the other side of the door, causing the ruckus I was trying to avoid and putting me in a foul mood. I found myself apologising constantly for my noisy neighbour, interrupting child, patchy internet.
Until it dawned on me I had to find a more sustainable and reasonable way forward given my new reality that work was at and from home.
PARENTING WHILE WORKING FROM HOME
In a recent survey, People Magazine said kids come stumbling into digital boardrooms, client calls and other work calls as many as five times a day.
Interestingly, the survey shows parents can be equally disruptive when their children are learning online. But that's what families living and working together looks like.
Four years ago, before the ubiquity of Zoom or MS Teams, we had BBC Dad. Robert Kelly, a political science professor at Pusan National University, gained international fame when his toddler barged into his home study while he was giving a live interview with BBC. Moments later, his younger child in a walker slides through the door.
Kelly, if you have watched the video, largely keeps his cool as he tries to stiff arm his daughter out of the frame. His harried wife comes on screen in a panic to hustle the children out. Every parent could resonate with that defining moment where Kelly purses his lips and takes a settling breath before carrying on.
Recently, the Prime Minister of New Zealand, Jacinda Arden showed world leaders are not above such mundane parenting interruptions. During a Facebook Live COVID-19 update, her three- year-old daughter, Neve, enters the room looking for mum.
Arden doesn't shoo her away but tries to get her to go back and after what seems a failed attempt, simply stops the meeting and tells everyone the simplest truth: She may be the PM but she needs to be a mum too.
Listen to the writer share her concerns about child vaccinations should they become available:
SHOULD WE FEEL GUILTY?
Is it unprofessional for children to be in a work setting? Can't parents separate the two? After all, you don't expect your client or boss to show up for a meeting wearing pyjamas.
There are two camps: The first maintains the need to be professional in the Zoomified workplace. A piece in New York times states, having your child, or pet pop up in your online meeting is a vehement 'No.' It's unprofessional, unnecessary, and distracting according to their list of Dos and Don'ts of online video meetings.
Another camp – and not just parents - embraces this intermingling of work and life.
A Fast Company piece said this: "It was easy enough for the working world to pretend our home lives didn't exist when we were all going into the office, but now that most people who can work from home are being asked to do so, it's become painfully obvious that there's a disconnect between our expectations of employees and their bandwidth as human beings."
The article continues, "Work-life balance has always been flawed—balance is subjective and not always achievable—but flexibility, empathy, and grace in the workplace are values we should have already been upholding."
Professor Catherine Lumby writing in The Guardian concurs. Children interrupting Zoom meetings might be the reboot corporate culture needed.
Her piece reminded me of just how much we've had to adapt to. We forget that up until two years ago, work and life were in distinctly separate zones. It was effortless to put on our professional hat at work - where we take family calls during breaks (or don't answer them if we are in the middle of something) and meetings are usually held uninterrupted between adults.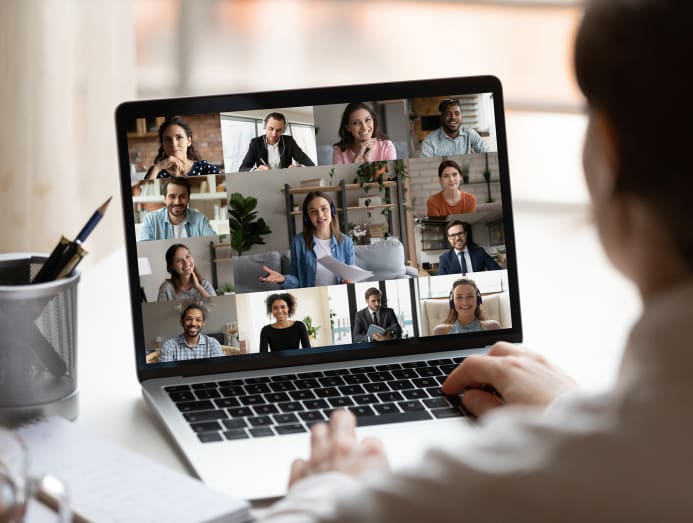 Family, in that pre-pandemic work world, existed in curated photos on our desks, cute artwork on our walls, little anecdotes we shared over lunch or company events.
We are now dealing with a massive new way of existing where we are physically disconnected from our colleagues but oddly enough, thanks to cameras showing bedrooms, dining tables and yes, children – we are seeing the part of each other's lives which were completely shut out before.
Critically, this blurring of lines reveals what all working parents have had to deal with for so long and in relative silence: This is what the invisible labour of parenting looks like. The working parent's life was peppered by the invisible load of running a household while working, except that now it's on display, in high definition, for everyone to see.
This doesn't mean parents get to throw all good sense out their Zoom windows. No pyjamas, no breakfast during a pitch, no screaming child while your CEO is talking.
Beyond that, it is time to accept what this true blurring of lines really means – you can't ignore a child who needs attention or an elderly parent who needs care. There is no real damage in stepping out of frame for a bit.
As lines are well and truly blurred, it has become unrealistic to expect colleagues and counterparts to not have some parts of their family life seep into a work environment because now and for the foreseeable future, work happens at home.
Cherie Tseng is Chief Operations Officer at a local fintech company, a mother of three and editor with The Birthday Collective.