Commentary: China's changed stance on coal reveals economic challenges of carbon neutrality
China's dual challenges of energy security and economic stability have resulted in greater awareness that it needs to phase out coal more gradually, says an analyst.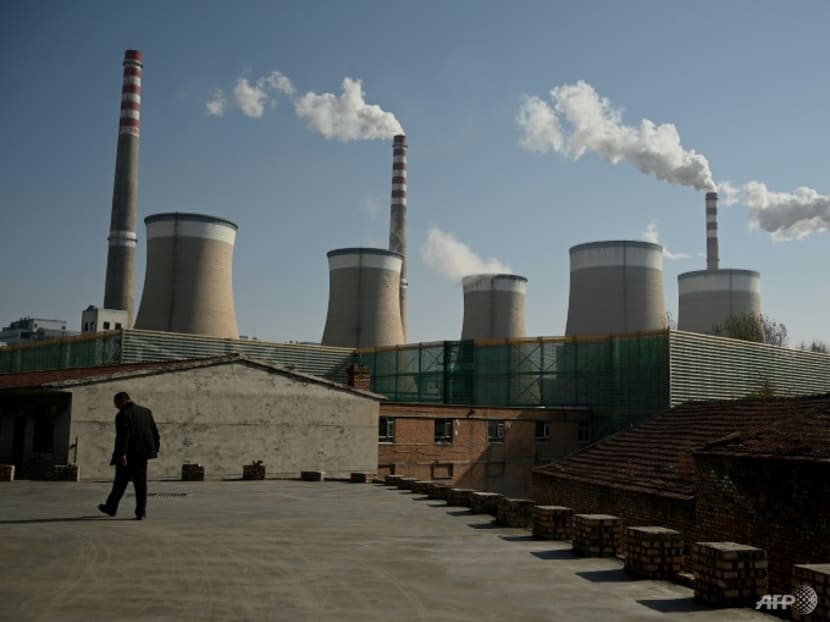 HONG KONG: China's recent pivot towards coal seems at odds with its pledge to go carbon neutral by 2060.
"Green transition cannot be achieved overnight," said President Xi Jinping at the National People's Congress in March. He reiterated the role of coal in China's energy strategy, emphasising the country was "rich in coal" and "could not part from reality".
And now Beijing seems to be ramping up coal-fired power. News reports in April say there are official plans for boosting coal production capacity by 300 million tonnes this year, or 7 per cent of last year's output of 4.1 billion tonnes, in hopes of kickstarting the economy.
Have China's ambitious decarbonisation plans changed? In 2020, Xi declared that China will aim to peak carbon emissions by 2030 and reach net-zero carbon emissions by 2060.
China probably did not count on an energy crisis gripping the country in September 2021. Triggered by high coal prices and strong power demand growth amid a rebound in demand for goods during the COVID-19 pandemic, China faced challenges of large-scale production cuts and electricity rationing in many provinces. To ensure supply to residential users, shuttered coal mines were reopened and new ones approved.
The challenges of energy security and economic stability have resulted in greater awareness of the need for a more gradual phasing out of coal.
Coal represented 56.8 per cent of the country's energy consumption in 2020, despite a substantial decrease over the last decade from 70.2 per cent in 2011.
While China currently is more reliant on coal, decarbonisation remains a key agenda in the long term.
The emphasis on coal reflects China's avoidance of "campaign-style" reductions, a term coined by the National Development and Reform Commission (NDRC) to refer to overly ambitious and unrealistic carbon reduction goals. Instead, authorities are now trying to strike a balance between carbon neutrality, stable growth and energy security. 
CHINA HAS MADE PROGRESS ON ENERGY TARGETS 
Although China remains the world's largest carbon emitter, contributing about a third of global emissions, the country achieved most of the energy targets laid out in the 13th Five-Year Plan, which concluded in 2020. 
For example, carbon intensity – carbon produced per unit of GDP – decreased 18.8 per cent by 2020 from 2015 levels. This is ahead of the targeted 18 per cent, a goal kept the same under the 14th Five-Year Plan between 2020 and 2025.
Energy consumption intensity was also down 16 per cent, surpassing the original goal of 15 per cent. Between 2020 and 2025, China targets to reduce energy consumption per unit of GDP by 13.5 per cent. However, the country's nuclear power capacity was short of its target by 2020. 
The country also commenced its national emissions trading scheme in July 2021, the biggest carbon market globally in terms of emissions covered. It currently covers entities with annual emissions of over 26,000 tonnes within the power and heat generation sector, with plans to expand to cover other emission-intensive sectors, including petrochemicals, steel and non-ferrous metals. 
During the National People's Congress, the government noted it will not only reduce the use of coal over time but also strive to make coal use cleaner through new technology and optimising inputs.
At a broader level, China introduced measurable targets ahead of COP26 climate talks in November 2021, such as raising non-fossil energy consumption to 25 per cent by 2030 and to 80 per cent by 2060, along with detailed policy measures around energy efficiency, transportation and the circular economy. 
China also continues to provide support for renewable energy, citing plans to build 450 gigawatts of solar and wind power generation capacity in the Gobi and other desert regions. The total capacity of wind and solar will be over 1,200 gigawatts by 2030, roughly double the installed solar capacity of 307 gigawatts and wind capacity of 328 gigawatts in 2021. 
COST EFFECTIVENESS OF DECARBONISATION TECHNOLOGIES IS CRITICAL
All economies reliant on fossil fuels have to grapple with making new decarbonisation technology more cost effective.
China is no different, with renewables, electric vehicles and energy efficiency relatively well positioned in terms of near-term economic attractiveness.
Can China keep its bold promises to get to net-zero and how far will it lead in emissions targets and climate technology? CNA's The Climate Conversations takes a closer look:
According to Morgan Stanley research estimates, solar, onshore wind and nuclear are on average 29 per cent cheaper than coal and gas in China. However, accounting for the cost of energy storage, renewables are still more expensive than fossil fuels.
As government policies spur progress in energy storage system development, we expect energy storage costs to go down, so that solar with storage can reach cost parity by 2025. 
Carbon capture and storage and hydrogen fuels are less economically viable now in China but could become economically attractive with the help of further government subsidies in the medium to long term. Both will play a critical role in steering China towards its net zero commitments.
Investment in these technologies, along with policy support, should drive down the costs of these decarbonisation enablers. We estimate that the level of annual green investment needed will be around US$132 billion between 2022 and 2030, which translates into an increase of 37 per cent from the 2021 level. 
While renewable energy will account for around 73 per cent of this investment, other areas that will benefit include smart grids, electric vehicle charging stations and hydrogen refuelling stations. In particular, we expect the annual average investment in hydrogen refuelling stations from 2022 to 2030 to be around 14 times the 2021 level off a relatively low base, increasing from US$0.4 billion to US$6.1 billion. 
Coupled with supportive government policies such as carbon pricing, such investments will allow decarbonisation technologies to become more economically attractive and widely adopted, steering China towards a more balanced path to carbon neutrality.
Tim Chan is Head of Sustainability Research, Asia Pacific ex Japan at Morgan Stanley.