Commentary: Printing money for Chinese New Year hongbao is just too costly
Let's factor in sustainability when it comes to festive e-gifting. Tradition and technology can go hand in hand, say NUS Business School's Lawrence Loh and Yvonne Yock.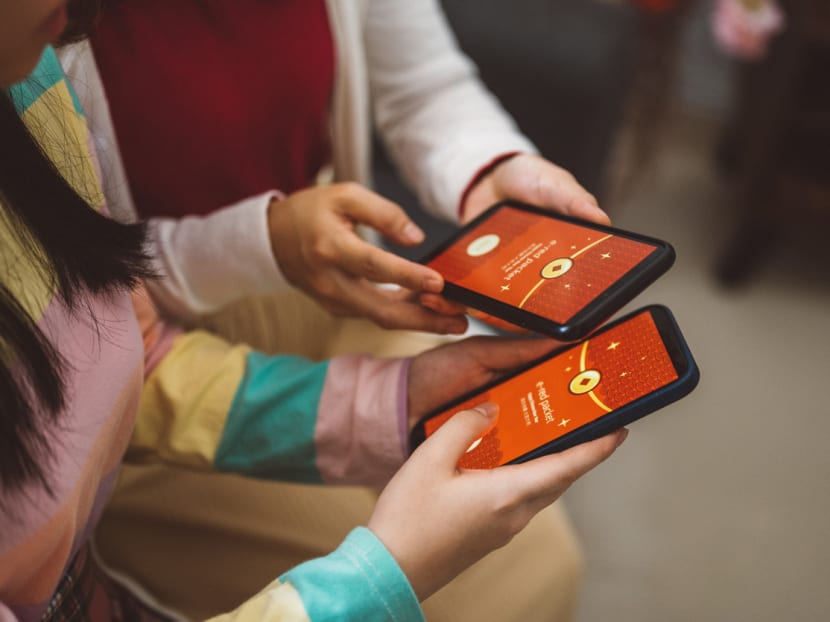 SINGAPORE: With the Chinese New Year just around the corner, we recently overheard people engaged in a spirited discussion at a neighbourhood coffee shop about needing to make online reservations for new notes before queuing up to collect them at the bank.
They were agonising over the hassle just to dole out hongbao (red packets) over the festive season.
This ritual of packet gifting is not unique to the Chinese. During Hari Raya Puasa (Eid al-Fitr) observed by Muslims, green packets containing gifts of cash are handed out. Deepavali also sees purple packets exchanging Hindu hands.
One feature common to all is a distinctive cultural preference for crisp new notes, fresh from the bank, including the fragrance that comes with it.
It is captivating that this tradition of giving physical new notes has somehow withstood the test of time and modern technology.
Convincing the coffeeshop folks to reuse notes or even gift "e-hongbao" is probably an impossible task. What's even more surprising that these were not older Singaporeans but young-looking people in their 30s who are probably tech-savvy. Why this hesitation?
WHY SO HARD TO CONVINCE PEOPLE TO GIVE E-HONGBAO?
E-payments have gained traction in Singapore with the proliferation of services such as PayNow, PayLah, and GrabPay.
The pandemic has only accelerated the growth of this trend as businesses and banks encouraged consumers to switch to e-payment for contactless transactions.
With smartphone use ubiquitous, most of us should be no stranger to e-payment services. Many of us in Singapore might even be avid everyday users of such services.
This might be the case in the years ahead, given plans to turbocharge e-payments, on the back of a national drive which saw more than half of hawkers offering e-payments last year.
A scheme providing S$130 million (US$96 million) in Community Development Council vouchers for use at participating heartland shops and hawker centres may also speed up consumer adoption.
With the coming Chinese New Year, the Monetary Authority of Singapore has encouraged the use of used notes or switching to e-hongbao for two reasons: First, to support sustainability and second, to understandably prevent overcrowding in banks during the pandemic.
But switching to e-hongbao in the name of sustainability may be hard for some, who might feel as if they're jettisoning their cultural traditions for the sake of convenience and modernity.
Where did this tradition of giving out hongbao come from? Legend has it that there was a demon named Sui who went around terrorising children.
To ward off Sui, parents decided to tuck their children in bed with coins wrapped in an envelope. When Sui came for the children, the coins would fall out of the envelope, emanating a ray of light that scared Sui.
Since then, the practice of giving hongbao has evolved in form over various dynastic eras in China. However, coins were used, not the physical notes seen today, let alone brand-new notes.
It is probably only over the recent century that notes were used instead of coins because the newer coins did not have holes in the centre for the giver to string together. E-hongbao might be a natural next evolution of such traditions.
THE SUSTAINABILITY IMPERATIVE TO DITCH PHYSICAL HONGBAO
We should also not neglect the sustainability imperative. Most red packets likely end up in the incinerator. Many tend not be easily recyclable due to their designs and materials used.
It is not just the red packets. The new notes that we painstakingly queue for will only be used momentarily, and become used notes deposited back into bank accounts at the end of the festive season.
If the public continues to demand only new notes each festive season, the used notes have few opportunities to be recirculated.
In Singapore, as many as 100 million pieces of new notes are issued to meet this annual demand. S$2 notes, which form the bulk of new notes issued, that are deposited are reissued as good-as-new notes the following Chinese New Year.
This recycling of used notes has helped to meet about 20 per cent of annual festive demand, reduced wastage and supported the environment.
But the remaining used S$2 notes, which exceed circulation needs, are subsequently destroyed. The carbon footprint from producing and destroying just the excess S$2 notes is significant – equivalent to the annual emissions from powering 430 four-room public housing flats.
CNA's Heart of the Matter looks into what's behind people's resistance in giving out e-hongbao and what can change their minds:
COSTS OF PRINTING MONEY
Sustainability is not the only reason why we should be persuaded to give e-hongbao a chance. The practical cost of printing paper currency is a key consideration too.
The US Department of the Treasury's Bureau of Engraving and Printing's 2021 currency operating budget was US$1.1 billion. The cost of printing a US$1 note was 6.2 cents per note - just over 6 per cent of the note's monetary value.
Traditions can move with the times, especially if we look at China where hongbao originated. In 2014, the Internet behemoth Tencent introduced the e-hongbao function in its ubiquitous WeChat platform.
Many other players have joined the fray, some adding innovative bells and whistles such as embedded videos and hongbao snatches. The rest is history – the vast majority of the people in the country are now gifting electronically.
Thankfully the use of e-hongbao is on the rise in Singapore. In 2021, DBS Bank reported more than 32,000 QR Gift transactions through the PayLah app totaling S$2 million (US$1.48 million) by the second day of the Chinese New Year, compared to 18,000 totaling S$660,000 (US$490,000) over the same period in 2020.
Other banks also saw an upward trend in the transaction. UOB saw three times an increase in e-hongbao transactions through the UOB app. Similarly, OCBC Bank observed a 140 per cent increase in e-hongbao transactions through the OCBC app compared to 2020.
Understandably, some might feel that e-hongbao will erode the essence of a festive occasion like the New Year.
However, as some pragmatic folks have put it, if we view the gifting of hongbao as a token of well wishes, it should not matter if it comes in the form of physical red packets or via electronic means.
Using e-hongbao is also convenient as one does not need to visit the bank to queue up for new notes, or to deposit the money received after the festive season. A few clicks are all that is needed to give and receive. One also does not need to worry about misplacing e-hongbao.
Let's go beyond the reason of tradition to stick to physical hongbao. From a sustainability and practical viewpoint, the rationale for gifting e-hongbao is compelling. The historical switch from coins to physical notes did not result in a loss of tradition.
Even if we believe the original myth that the emitted light from the coins can ward off the evil spirit of Sui, we can argue that the e-hongbao, being electronic in nature and glimmering from our smartphones at night, will probably do a better job than the physical notes.
Lawrence Loh and Yvonne Yock are director and research associate respectively at the Centre for Governance and Sustainability, NUS Business School.