Commentary: Budget 2022 doubles up on protecting lower-wage workers but that's only half the story
The Government's move to shore up wages and protections of the lowest wage earners shows a significant shift in the way it sees Singapore's social and economic architecture. But there is a growing group which sits outside traditional concepts of work, says Institute of Policy Studies' Christopher Gee.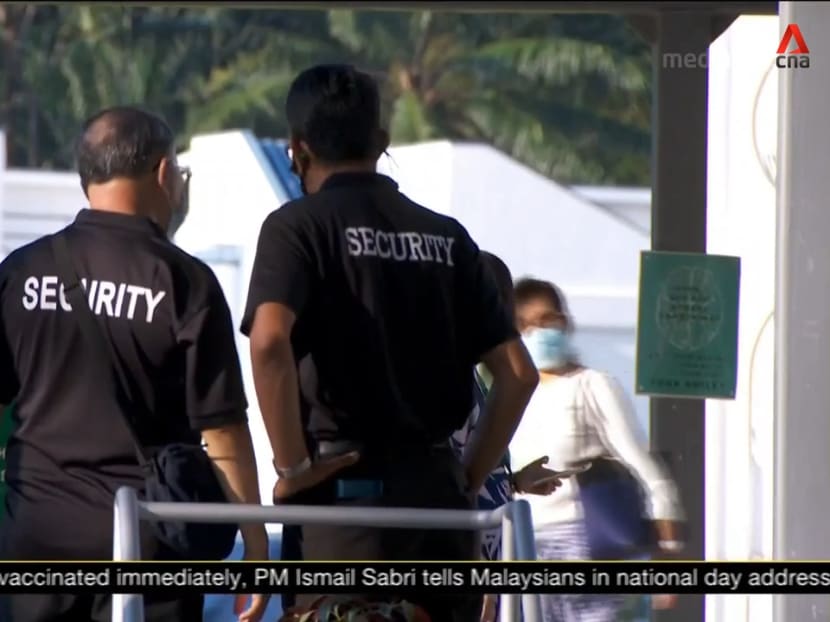 SINGAPORE: Aside from the headline-grabbing announcements on taxes in this year's Budget speech by Minister for Finance Lawrence Wong on Friday (Feb 18), Budget 2022 also takes a decisive step forward in transforming Singapore's labour market, and ultimately the broader economy too.
A central pillar in this year's Budget is its focus on uplifting low-wage workers. According to Minister Wong, the enhancements to the Workfare Income Supplement Scheme (WIS) will mean that over half a million workers will be eligible when implemented next year.
These changes and the expansion of the Progressive Wage Model (PWM) to more sectors will mean that 94 per cent of full-time lower-wage workers will now be covered under these schemes.
These initiatives will result in an additional S$1.8 billion a year of wage support through to 2026. If this support is fully taken up, it could translate to an average increase or supplement in the wages of more than S$300 per month for lower-wage workers in full-time employment.
While higher wages may mean higher costs to employers, the shift to higher productivity and more value-added jobs can result in higher output that benefits everyone in the long run.
BOOSTING RESILIENCE FOR LOW WAGE WORKERS
Finding a way to raise the incomes of lower-waged workers has been a priority for some time, certainly since the PWM was introduced in 2012 for the cleaning, security and landscape sectors. But there have been concerns that the coverage of the PWM is far too narrow to have the necessary impact across the board impact on wages, with only 85,000 workers included as of 2021.
Hence Budget 2022 has announced that the PWM will cover more workers across more sectors over the next two years, whilst the WIS will be expanded significantly with younger workers aged 30-34 and those earning up to S$2,500 per month (up from S$2,300) benefitting.
And to catalyse the next steps up the wage ladder for these workers the Government is setting up a Progressive Wage Credit Scheme (PWCS) to co-fund wage increases for lower-wage workers over the next five years.  
The boost to the incomes of lower-wage workers will allow them build up their savings. As this group is especially vulnerable to new stressors, these increments can help them cover contingencies and build up their retirement and healthcare savings.
If they have some reserves, it also allows breathing room for this group of workers to participate in skills upgrading, whether in tandem with their employers or on their own.
AN UNSERVED GROUP – FOR NOW
There is however one group of lower-waged workers who will not benefit fully from these initiatives. Whilst the enhancements to the PWM and WIS extend to employees on full-time, part-time or casual employment contracts, those who are working on contracts for service are not covered as completely. 
These on-demand service workers or freelancers, now more often referred to as gig economy workers are considered self-employed persons.   
They are eligible for wage support under the enhanced WIS as is the case currently. But WIS payments to eligible self-employed persons depends on them making MediSave contributions, and those WIS payments are only received after total income earned in the year is declared either to IRAS or CPF. 
Not all gig economy workers have sufficient stability of income to be able to contribute to Medisave, and the lagged WIS payments to them will make it harder for them to cover their on-going costs of living even before accumulating adequate savings buffers.
More importantly, the PWM scaffolding that promotes wage increases based on productivity and skills-upgrading is not available to these workers. Lacking a standard employer-employee relationship, gig economy workers will need to self-organise to acquire both the skills-upgrading, productivity-based levers as well as the accompanying wage increases that the PWM provides to those on employment contracts.
Will offsets like GST vouchers sufficiently aid low-income families:
For example, unlike regular employees whose employers can tap on government grants and programmes such as the Lean Enterprise Development Scheme, gig workers would need to seek out appropriate skills upgrading for themselves. 
This might be challenging to do whilst keeping up with their varied gig work and other commitments, and hence struggle to carve out time and mental bandwidth to undertake necessary skills-upgrading courses.
This presents a conundrum – the future of work is one where there may be more people without contracts and outside of the traditional idea of work. Yet, without stronger support these gig workers may find themselves left behind as the lowest-waged workers and unable to uplift themselves. 
NEW PROGRAMMES NEEDED FOR GIG WORKERS
An Advisory Committee on Platform Workers has been created and it should be submitting its recommendations towards the second half of 2022.
There is likely increased attention on extending employment protections to those self-employed persons who work for online platforms such as delivery riders and private hire car drivers, possibly in time for interventions to be announced in next year's Budget.
The Committee's focus is however on three areas of support for these platform workers: Improvements in retirement and housing adequacy, work injury protection and closing the gap in bargaining power. 
It is not expected that the Committee's recommendations will extend to mechanisms that help these workers to boost their productivity and therefore their earnings, and even so these would only apply to those who are working for online platforms.
They are only a subset of what might increasingly be a larger gig economy workforce, who will include people working as tour guides, fitness or sports instructors, audio-visual technicians for events or performance artists, and possibly other forms of gig work that might emerge in the future.
More will need to be done in this area for a wider group of gig workers going forward, with innovative, flexible schemes that might need considerable customisation to accommodate the specific needs of different gig workers.   
WAGE INCREASES: THE VIRTUOUS LINK TO PRODUCTIVITY AND WELFARE
If these and future measures to uplift all lower-wage workers are ultimately successful, the broad impetus to wages could propel a major step-shift in the Singapore economy, potentially transforming it into a higher wage, higher price but higher value-added environment based on strong productivity gains.
This could also lead to a significant reduction in the economy's dependence on lower-skilled foreign labour as this upward shift in the wage structure forces businesses to focus more on productivity.
Taken alone, a boost to the incomes of lower-wage workers would lead higher costs for their employers. If higher costs are simply passed on to customers, this might prompt a wage-induced price inflation spiral which results in negative wage growth in real terms.
However, if such cost increases induce a significant productivity drive, these increases would be more than offset by larger gains in output. These productivity gains thus underpin a virtuous cycle in which all stakeholders benefit.
This could happen in a similar way as the structural reforms implemented in Singapore in response to the 1985 recession, by accelerating the pace of industrial upgrading and promoting innovation and enterprise across the economy. 
Between 1985 and 2010, Singapore's GDP per capita rose an average 6 per cent each year, much higher than the 3.8 per cent annual growth from 2010 to 2021.
Stimulating productivity-boosting industrial transformation, innovation and enterprise must therefore surely be the overriding objective of this bold move for higher earnings for Singapore's lower-waged workers. 
Such a strategy will involve many across-the-board adjustments for all stakeholders, some painful and challenging. But perhaps this is what Minister Lawrence Wong meant when he said in Friday's Budget speech: "All of us – businesses, consumers and taxpayers – will have to do our part and contribute to uplifting our lower-wage workers".
An all-of-society, whole-of-economy focus on productivity will lead ultimately to sustainable output and wage gains and propel Singapore to continued prosperity and progress.
Christopher Gee is Senior Research Fellow at the Institute of Policy Studies, National University of Singapore.