commentary Commentary
Commentary: Vision of a new era for a strong China reflects domestic priorities, not global ambitions
At the Chinese Communist Party's 19th Party Congress, Xi Jinping heralded a new era in China's development. One observer examines what this new era entails, and what it means for the rest of the world.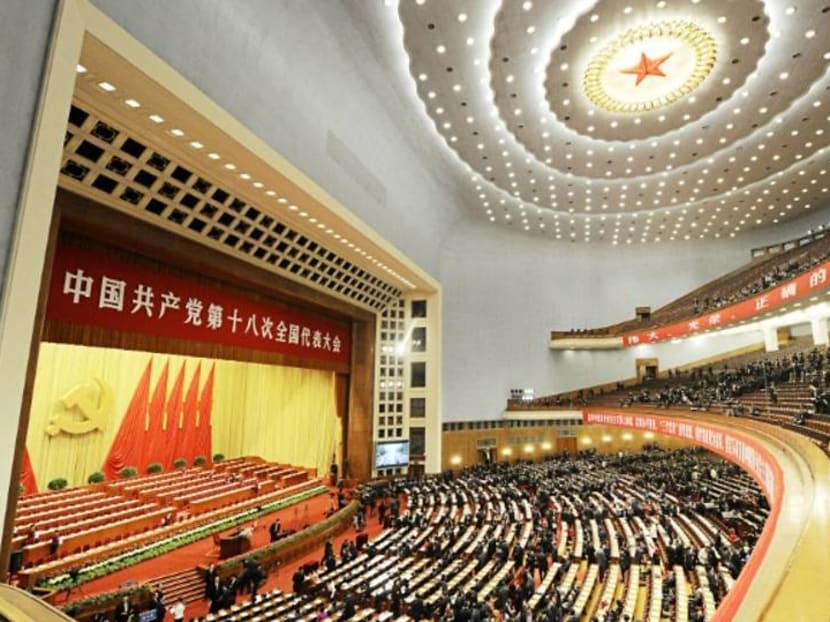 BEIJING: At the opening of the 19th Congress of the Chinese Communist Party (CCP) on Wednesday (Oct 18), General Secretary Xi Jinping declared a new era for China, setting out its development trajectory from 2020 to 2049, guided by the "Xi Jinping Thought on Socialism with Chinese Characteristics for a New Era".
What does Xi's vision of a new, more powerful and prosperous China entail for China, and for the rest of the world?
A NEW ERA
While socialism with Chinese characteristics has guided CCP policies for decades, in his report to the 19th Party Congress, Xi announced that China has entered a new era. 

A popular saying, which Xi's words were likely drawing inspiration from, highlights that under Mao Zedong's leadership China "stood up" as an independent sovereign state; under Deng Xiaoping, China became prosperous; and now under Xi Jinping's leadership, China is becoming a powerful country.
In short, China is now entering a third, distinct era of strength, with Xi at the helm.
This characterisation of a new historical era for China was first articulated by Xi in a keynote speech to party elites ahead of the 19th Party Congress on Jul 26, 2017.

This internal narrative has now become an official public pronouncement, indicating Xi's likely desire to be remembered in China as a leader who will leave behind a strong legacy.
In contrast to the previous era, according to Xi, the key feature of this new era is the "contradiction between unbalanced and inadequate development and the people's ever-growing needs for a better life".
The Chinese people do not only demand for a better material and cultural life, Xi highlighted. They also demand for a better environment and fulfilling political life, where values such as the rule of law, fairness and justice, security and developmental sustainability are upheld.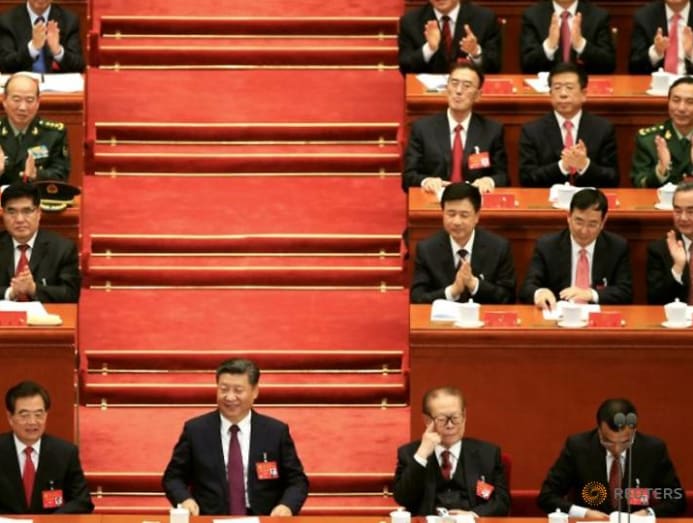 XI JINPING THOUGHT
In order to meet these demands, according to Xi, there is a need for the CCP to demonstrate stronger leadership and embrace a new ideology.
Throughout the CCP's history, ideologies have been vital in cementing the status of powerful political leaders.
Mao Zedong gained absolute control over the CCP at the Seventh Party Congress in 1945 when Mao Zedong Thought was incorporated into the CCP Constitution to act as theoretical guidance for the Party's work.

Deng Xiaoping Theory was attributed to him posthumously because Deng had never bothered to articulate a particular theory under his own name.
Jiang Zemin put together a new theory of "Three Represents", and Hu Jintao introduced the "Scientific Outlook on Development" as his contribution. But neither Jiang nor Hu had their names attached to their ideologies.
Many members of the Presidium of the 19th Party Congress are now campaigning to have "Xi Jinping Thought on Socialism with Chinese Characteristics for a New Era" incorporated into the CCP Constitution as a "long-term guide to action that the Party must adhere to and develop" because it represents the party's latest achievement in adapting Marxism to the Chinese context.

Many say it builds on and further enriches the various theories and principles of the leaders before him.
If he succeeds in elevating his new contribution to CCP ideology as Xi Jinping Thought, Xi stands to place himself on par with Mao.
Instead of being seen as merely the leader of the fifth generation as usually understood by the Western media, it seems Xi wants to be considered as another Mao Zedong – as a tough, ambitious and visionary leader who will shape the future of China in monumental ways.
Xi's new vision of China in the next three decades reveals the extent of his ambitions.

Building on Jiang Zemin and Hu Jintao's old vision of building a moderately prosperous Chinese society by 2020, Xi's new vision aims at establishing a great modern socialist country in two stages by 2049.
In the first stage from 2020 to 2035, China will realise socialist modernisation. In the second stage from 2035 to 2049, when China holds its centennial celebration, China will become a great modern socialist country "that is prosperous, strong, democratic, culturally advanced, harmonious and beautiful".
IMPLICATIONS FOR THE REST OF THE WORLD
In the field of China studies, scholars are divided about the future of China.

Those who are pessimistic tend to look at challenges the giant faces in its transition and predict its imminent collapse. Various scenarios of collapse, or decline and gradual decay have been debated since the late 1980s.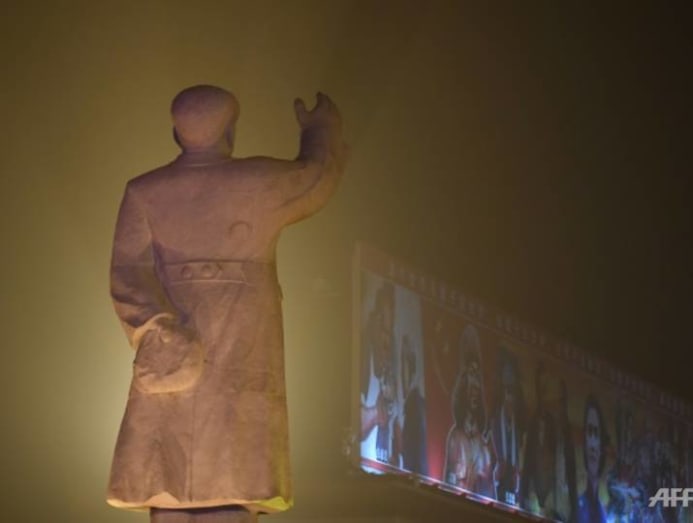 Those who are optimistic tend to focus on the miracles China has been able to pull off and project an economically and militarily powerful China that, as a new superpower, would inevitably clash with the existing superpower, the United States.

These are the same experts who are wary of proclamations of China's rise and may be spooked by Xi Jinping's announcement of a new era for China.
At this moment, obviously, there are no signs of China's imminent collapse by any means.
But China's transition to a full-fledged modern and advanced country will certainly not be an easy task. Xi's ability to deliver and fulfil the demands of the Chinese public will be scrutinised, and measured against the benchmarks that his vision has set out.
Yet China's success and entry into the club of developed countries should not be read as a threat to the US or the current global order.

Many of Xi's announcements have focused inward, where China's growth and prosperity are geared towards meeting growing domestic needs and raising the standards of living for its people.
Further, a strong China does not automatically mean one that is intent on revising the status quo, or one that will necessarily come into conflict with the US.
After all, the US has played a major part in shaping a world order that has provided a conducive environment for China's transformation as a country of isolation to an indispensable contributor to global developments.
China also knows it is not in its interest to court a showdown at a time when it's focused on strengthening its economy.
However Xi decides to build his legacy, China-US cooperation will remain a good option forward.
But it's worthwhile to keep in mind that his primary audience in articulating this vision of a new era of a strong China is likely domestic.
Dr Bo Zhiyue, a leading authority on China's politics, is founder and president of the Bo Zhiyue China Institute, a consulting firm providing services on China to heads of governments and CEOs of multinational corporations.

Read past commentaries on the Chinese Communist Party's 19th Party Congress:
1. The only certainty from the Party Congress is that Xi Jinping is indispensable.

2. What Xi Jinping is likely to say about Taiwan.
3. The changing meaning of political legitimacy for the CCP. 
4. The slew of changes in the PLA leadership in 2017.
5. The drastic political reforms Xi Jinping may make.
6. The crackdown on Chinese businesses.
7. The role Wang Qishan plays.
8. The new leaders in Beijing.
9. Reforms in the PLA over recent years.