Commentary: What's Singapore's scorecard at COP26?
Singapore doesn't have a firm deadline for reaching net zero, but its path there is clear, says OCBC economist Howie Lee.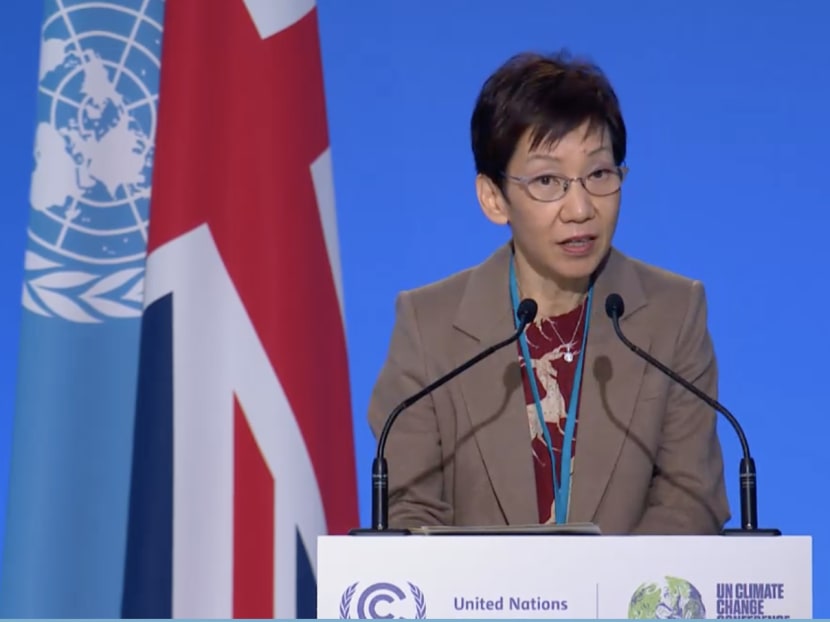 SINGAPORE: Singapore only contributes about 0.1 per cent of global carbon emissions but has been actively participating in its Paris Agreement commitments.
The country has contributed its fair share towards global climate ambitions, including enhancing its nationally determined contributions (NDC) under the United Nations Framework Convention on Climate Change (UNFCCC); establishing a Climate Action Package to aid developing countries' adaptation and mitigation efforts; and more recently, developing the Singapore Green Plan 2030.
It is also the only ASEAN country to-date that has a carbon tax, although neighbouring countries such as Indonesia may implement carbon price mechanisms in the near future.
MAS is also the only central bank, other than the Bank of England, to publish a separate sustainability report beginning 2021.
Granted, Singapore has yet to set a firm deadline on when it'll achieve net zero emissions. The current target is to halve 2030 peak emissions by 2050, and to reach net zero "as soon as viable" after that.
But the repertoire of energy plans announced recently, including forays into hydrogen and carbon-capture technology, will aid decarbonisation efforts.
At COP26, Singapore announced it will join the Powering Past Coal Alliance to phase out unabated coal (whose carbon emissions are not captured and stored) from its electricity mix by 2050.
LAND SPACE, NOT POLITICAL WILL, THE BIGGEST CONSTRAINT
More so than political will or funding issues, the biggest constraint to Singapore's climate ambitions has to do with its limited land space.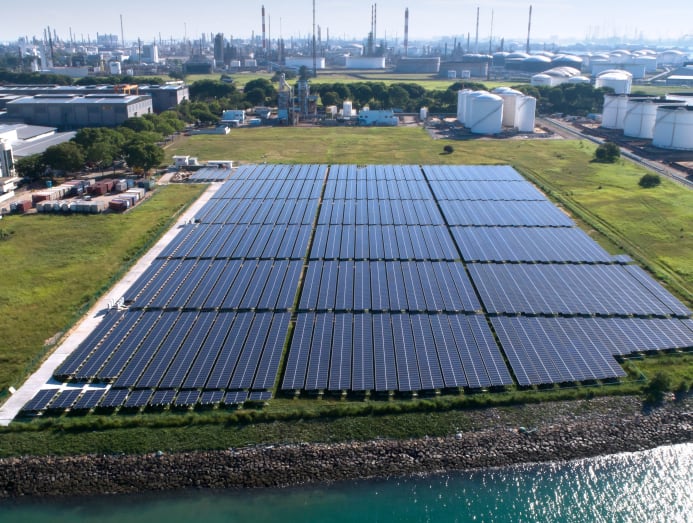 The country's carbon emissions can be nailed down to two main sources: Industrial activity (46 per cent), and power generation (39 per cent).
Both these sectors would require carbon capture and storage (CCS) technology for carbon sequestration. Such facilities take up valuable land space.
The construction of renewable energy complexes, such as solar farms, would also prove challenging in land-scarce Singapore.
Beyond planting more trees and pushing for wider electrification, Singapore has to get creative in its decarbonisation pathways. For example, it has deployed solar panels on floating platforms.
The country is also looking to import low-carbon electricity from neighbouring countries, as announced in the latest Singapore International Energy Week. Plans to import solar-powered electricity from Indonesia, hydro-powered electricity from Laos and low-carbon energy from Malaysia are underway.
Singapore is also looking to incorporate green hydrogen and carbon-capture storage technology into the energy mix in the medium term.
Even without a hard deadline for net zero, Singapore has a very clear decarbonisation pathway. Its active participation in climate protection is not solely because of its involvement within the UNFCCC, but because it has highlighted climate change as an existential crisis.
SINGAPORE'S ROLE IN INTERNATIONAL CARBON MARKETS
Of interest is Singapore's active role as co-facilitator on Article 6 of the Paris Agreement in COP26, which outlines creating an international carbon market to help countries meet emissions-reduction targets.
As co-facilitator, Singapore's role is to listen and bring forward solutions from multiple countries on setting up this market.
Singapore has been chosen because of its reputation as an honest and fair broker on international arenas. This is a role that Singapore has never taken for granted.
Singapore is also aligned with global efforts to slash private sector emissions. For example, the LowCarbonSG initiative was launched a week before COP26 to enable local businesses to track their emissions.
This was announced shortly before the World Business Council for Sustainable Development proposed setting corporate determined contributions (CDCs) in the private sector.
CLEAR RULES NEEDED FOR INTERNATIONAL CARBON MARKET
International carbon markets have shown much progress since the Article 6 was laid out in the Paris Agreement.
The emergence of carbon standards like Gold Standard, Verra and Climate Action Reserve, coupled with the growth in the voluntary carbon market, shows that there is already an implicit drive in the market to incorporate climate responsibility.
These mechanisms help lower barriers to international transfer of carbon credits, even when Article 6 rules have been loosely defined since the Paris Agreement.
What is needed for a stronger integrity of the international carbon market is a clearer set of rules.
Different carbon standards still adopt varying levels of carbon credit recognition – together with the unique rules in each country's cap-and-trade market, it makes for a large melting pot of interpretations.
An integrated global carbon market would need coherence, which comes from a defined framework. Singapore will have to build consensus among multiple nations on how best to serve this purpose.
The financial market is leveraging Singapore's unbiased reputation and market infrastructure to resolve thorny issues such as carbon credit double-counting and additionality recognition by the end of COP26.
The biggest obstacle in global climate ratification is having to reach a broad consensus among a hundred over nations with differing interests.
Hopefully, by the end of this century, history books will show COP26 as the turning point for the climate and Singapore as having contributed towards that goal in a unique but significant way.
Howie Lee is Economist at OCBC Bank.
Who are the people clamouring for change on the sidelines of COP26? Find out from CNA Climate Correspondent Jack Board, who reports from Glasgow in this special edition of The Climate Conversations: