Commentary: COP26 carries striking messages for future of climate action
Greta Thunberg may have dismissed the biggest global climate conference as  "blah blah blah" but leaders are now held to account like never before, says the Financial Times' Gillian Tett.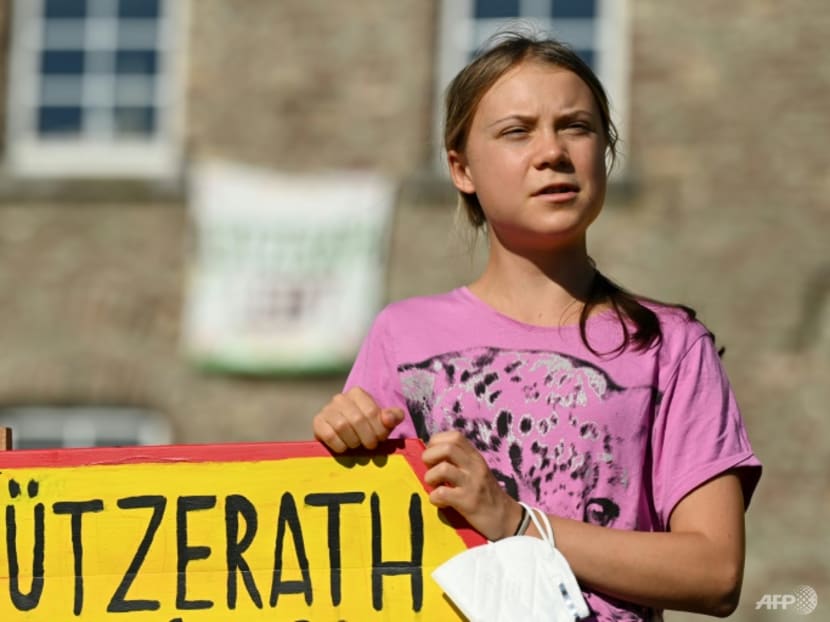 GLASGOW: As the COP26 meetings have unfolded in Glasgow, green activists such as Greta Thunberg have denounced them as mere "blah, blah blah" – so much meaningless talk.
No wonder. Unless the COP president Alok Sharma can pull a green rabbit from his hat, the final agreement will not "keep 1.5 alive", to cite the mantra – in other words, deliver pledges of cuts to emissions sufficient to keep global warming under 1.5 degrees.
And notwithstanding an unexpected display of US-Chinese detente, the sad fact is that the world's two largest economies were absent from some key COP deals.
On Wednesday, for instance, numerous countries, cities and companies pledged to ban combustion engine cars by 2035. But four of the five big carmakers were absent. So were Washington and Beijing.
Yet while this is disappointing, all is not lost. For there is one crucial point about "blah, blah, blah" that investors, politicians and activists should remember: Even "empty" rituals sometimes command power.
Humans use symbols and ceremonies because they communicate shared assumptions that bind social tribes together – even when those assumptions are in flux.
And if you look at COP26 with an anthropologist's eye, the symbolism carries at least three striking messages about what could unfold next.
Who are the people clamouring for change at the sidelines of COP26? Find out from CNA Climate Correspondent Jack Board, who reports from Glasgow in this special edition of The Climate Conversations.
NEW FACES AT COP26
The first is that there is a change in the tribe shaping climate policy. Back in 2015, when a COP produced the Paris climate accords, the tribe was dominated by environment ministers, scientists and activists.
Now business leaders, financiers and monetary officials are on the stage. Or as Janet Yellen, US Treasury secretary, told me in Glasgow: "I am the first US Treasury secretary to come to a COP meeting … things are changing."
This reflects an awareness in governments that climate pledges will cost taxpayers money.
But it also stems from a recognition in the private sector that climate change is creating strategic corporate threats – and, as is underscored by the remarkable initial public offering of electric vehicle maker Rivian, opportunities too.
CHANGING ASSUMPTIONS ABOUT DOING BUSINESS
Second, the rituals at COP26 also show that elites' sense of "normality" is shifting. Not all global leaders accept that tight government rules should define climate policy. But almost nobody feels able to ignore the issue.
Take Scott Morrison, the Australian premier, who is sceptical about green reforms. Even he felt compelled to give a speech on Wednesday lauding green innovation.
Assumptions are changing in another important way: Collaboration is now the norm. The COVID-19 pandemic prompted businesses to cooperate with each other – and government – in a manner that went out of fashion during the Reagan-Thatcher years.
The same is true of the climate challenge.
Once inconceivable cross-border partnerships are emerging too. Efforts to build a scaleable carbon offset market, say, are not only prompting co-operation between Western regulators and financiers, but with developing countries too.
The Amazon rainforest, after all, is the main source of the nature-based carbon offsets that global companies hope to use.
INCREASED SCRUTINY AND PRESSURE
Third, the COP rituals also signal that escalating scrutiny is now a key weapon in the climate fight. Social pressure is spurring compliance with shifting norms.
The Glasgow talks are dominated by negotiators' efforts to thrash out details about how to force countries such as China to make their climate pledges transparent, with a sense of accountability.
Business leaders are racing to create reporting and audit frameworks that will permit investors, regulators and activists to scrutinise corporate net zero claims – and criticise them.
Non-governmental groups are urging citizens to use their smartphones to track what is happening and share the results to foment protest.
When it comes to going green, in other words, humans are using cyber space as a gigantic mirror, and on a scale never seen before.
This, in turn, is creating what Nigel Topping, a UN climate champion, describes as a "ratchet" effect; pressure for a snowballing system change.
Consider, once again, Wednesday's announcement about combustion engines. One striking detail was that American states such as California and New York signed up, despite the fact that the US government ducked out.
That is likely to make automakers disinclined to invest in combustion engines for the US market, even without a federal ban (or a formal pledge from the big car manufacturers), particularly given investor pressure to go green.
PUBLIC SECTOR CAN STEP UP
Don't get me wrong: I am not arguing that private sector action can make up for public sector inaction. Governments should set carbon taxes, devise safety nets to protect the vulnerable from energy price rises and pledge emission cuts.
There needs to be far more focus on how to "nudge" consumer behaviour in green directions than we saw at COP26, and more focus on innovation.
A ban on combustion engines would happen faster if governments set uniform standards for electric plugs, say, or made fossil fuels more expensive.
But don't dismiss what COP26 shows us about the shifting zeitgeist. That "blah, blah, blah" should be welcomed, even when it is disappointing, if it is now combined with the disruptive power of radical transparency.
Source: Financial Times/el