Commentary: Singapore must be flexible in COVID-19 rules if another dangerous variant emerges
The mood is jubilant as COVID-19 restrictions in Singapore ease. But the long and winding road to this point raises the question of whether there is more flexibility with implementing rules, says the Institute of Policy Studies' Woo Jun Jie.
SINGAPORE: With the local situation improving, many COVID-19 restrictions have been eased. Since Mar 29, social gatherings are allowed in groups of up to 10 persons and mask-wearing is no longer mandatory outdoors.
The Government also announced on Monday (Apr 4) that all nightlife businesses – a sector that has been hit hard, with little respite in measures besides being allowed to pivot to F&B operations - will be allowed to fully reopen in two weeks.
These announcements come as a relief, even jubilation, by many who see this as the pieces of living with COVID-19 finally falling into place. Even TraceTogether and vaccine-differentiated safe management measures are being reviewed and could be ceased if no longer needed.
Getting here has taken Singapore down a long and winding road, with the number of people allowed to gather one of the most visible route markers. This number fluctuated in tandem with infection levels, rising from five to eight in the initial reopening phases, down to five then two as infections rose, before settling at five again in August 2021.
Through these policy changes, many have asked why social gatherings should be limited to a specific number, be it two, five, eight or even 10. Could policymakers not have been more flexible in applying social gathering and dining-in limits, particularly for families who already live in close proximity and constant exposure to each other's germs anyway?
These questions are not unique to Singapore, as residents and businesses across the world continue to grapple with COVID-19 rules and seek greater flexibility.
A NEED FOR HARD RULES, BUT INFLEXIBILITY CAN HURT
But let's not forget that when those rules were implemented, there remained much uncertainty about the pandemic and the nature of the virus. Decisions about precautionary measures were needed before there was enough time to gather conclusive data on infection and transmission.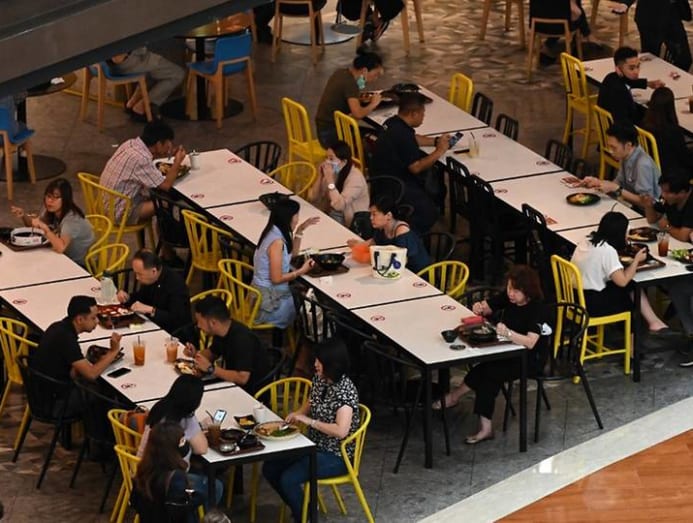 Hard rules thus provide a significant level of transparency and predictability. It makes it easier for businesses and individuals to understand and comply, with little opportunity for abuse.
Exceptions can present implementation challenges for businesses who would have to work out different layers of checks, especially with manpower shortages, as well as for public officers enforcing the rules. At a glance, both businesses and enforcement officers can spot the few errant groups exceeding prevailing size limits, rather than having to check if every group meets the criteria for exceptions.
The key reason for the rigidity of rules and regulations has to do with their legally binding nature. As with all laws and legislations, a rule that is given legal force must necessarily specify the "do's and don'ts" of any given situation. Where exceptions are written in, these must apply only to very unique and specific circumstances.
Flexibility might be appealing to diners for example, but less so to F&B owners when breaching COVID-19 measures, even unintentionally, could see them fined or even temporarily shut down.
How have F&B veterans survived start-stop COVID-19 restrictions? Ya Kun's Jesher Loi and Summer Hill's Anthony Yeoh tell us on CNA's Heart of the Matter podcast:
But the costs of inflexibility can be deep and painful. In a forum letter on Mar 22, a man described how he pleaded with a nurse for three family members to be allowed at his dying father's bedside and were unable to see him for the last time. This was due to the suspension of visits to hospital wards and nursing homes, with a maximum of two visitors at a time allowed for those in critical condition.
CAN FLEXIBLITY BE APPLIED AT IMPLEMENTATION?
But there is scope for flexibility in policy implementation, in how rules are interpreted by enforcement officers and policymakers, as well as whether specific situations warrant a concession.
Public policy scholars have long studied the role of "street-level bureaucrats", public officers who are tasked with enforcing rules on the ground but who often exercise some level of autonomy in their work. A simple example of this would be a policeman who lets off an errant individual with a warning for a minor transgression, rather than fining or arresting every rulebreaker.
There have been instances where authorities practised flexibility in COVID-19 rules, so long as those efforts did not put society at risk. For instance, during the Phase 2 (Heightened Alert) period in May 2021, group sizes were limited to two.
People immediately asked if members of the same household can go out in groups larger than that – for instance, a parent taking two or more children to school. Authorities then clarified such cases were permissible, and said they were "prepared to be flexible" in the implementation of the group size rule.
But flexibility in implementation can only happen when a common understanding of policy intent has been achieved. In the case of group sizes, the intent was clearly not to complicate the lives of most families but to reduce the size of social circles.
Clearly, there will be expectations of similar flexibility in our approach to COVID-19 and other future pandemics. This is especially so when we've been told that new variants are inevitable, and some public health measures may make a comeback while a potentially dangerous variant is studied.
As Health Minister Ong Ye Kung cautioned in his announcement on potentially scaling down TraceTogether, there is still a need to maintain "the capability to restart (TraceTogether) should we encounter a more dangerous variant of concern".
With a constantly evolving virus that affects society in unpredictable ways, greater policy flexibility can help policymakers calibrate their COVID-19 responses in accordance with changing circumstances while at the same time cater to the needs of families and individuals in need.
TRUST AND FLEXIBILITY
However, arguments for allowing greater flexibility in the formulation and implementation of rules are often stymied by well-publicised cases where individuals flout restrictions.
For instance, a breach of COVID-19 rules at a New Year's Eve gathering in Clarke Quay earlier this year was captured on video and circulated widely on social media. The KTV cluster that emerged last year also created a public furore over the irresponsible behaviour of lounge operators and their patrons.
More than simply a matter of breaking rules, these incidents eroded trust among citizens as well as that between citizens and policymakers.
The practice of flexibility in public policy depends on trust. If the relaxing of COVID-19 rules is too often met with egregious transgressions that put both society and the public health system at risk, policymakers may be wary of allowing for future exceptions. Better to keep everyone safe than to consider any exceptions.
If the rationale behind policy calibrations and decisions to exclude some from the rules are not sufficiently understood by the public, there may arise the risk of discontent and even resistance.
Trust therefore runs both ways. To enjoy greater flexibility in COVID-19 rules, citizens must not flout them or abuse any exceptions that may be granted. To continue exercising flexibility in adjusting the rules, policymakers will need to continue maintaining high levels of public trust.
Dr Woo Jun Jie is Senior Research Fellow at the Institute of Policy Studies, National University of Singapore.