Commentary: Creative work spaces will likely change in Singapore's post-pandemic offices
If our way of working is evolving to become more flexible, our creative spaces and methods of collaboration must adapt to both physical and virtual workspaces too, says INSEAD's Manuel Sosa.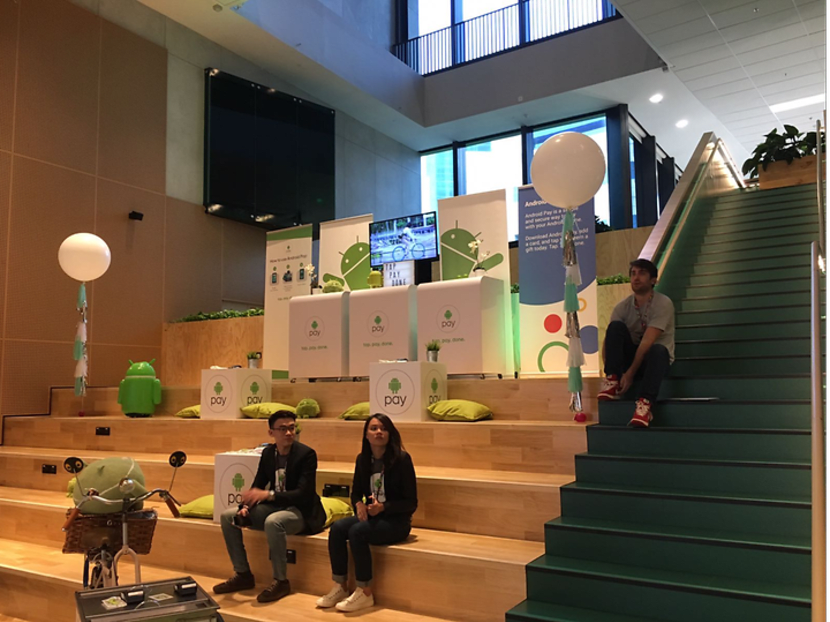 SINGAPORE: Empty swings and exotic vacation-themed meeting rooms, social hubs without a steady flow of snacks and coffee - creative spaces and regular office cubicles in Singapore have lay empty for months during the pandemic.
The cubicles and open office layouts we know today have been the norm since the start of the 20th century. But offering creative spaces to employees began only about two decades ago.
Start‑ups and disruptive tech companies have since caused a buzz by creating inspiring offices and creative spaces to attract, empower and retain creative talent.  
Creative spaces became an integral part of the branding and recruitment strategy of many firms. With industry heavyweights like Google and Facebook in Singapore, there is often a flurry of attention on their new offices, complete with pictures of vibrant in-office amenities and shared spaces to stimulate the genius in us.
But didn't we just spend 20 months working in our pyjamas, facing our own plain walls and collaborating on virtual workspaces?
Remote work and virtual offices are likely here to stay. Facebook and Amazon have announced plans to allow employees the option to stick with long-term remote working and Google expects that 20 per cent of its workforce will continue telecommuting in 2022.
But according to HSBC's Future of Work survey, business leaders still see the office as a place for employees to collaborate, access training and socialise.
So how has remote working affected imagination and creativity that had flourished in the physical office? Will future hybrid work arrangements spell the end of snazzy creative spaces at the workplace?
BRINGING POSITIVE EFFECTS OF PHYSICAL CREATIVE SPACES ONLINE
Companies have taken the leap of faith - or found themselves forced - to tap on technology to recreate the stimulating environment outside of our physical workspaces.
Think of it this way: COVID-19 hasn't stopped us from innovating and inventing. Our ideas are not limited by having us sit in the same physical room.
Our research shows that creative spaces, above and beyond recruiting creative talent, increase the performance of people solving creative challenges.
But our work on replicating the positive effect of physical creative spaces online shows that these aren't dead - they are just experienced differently. For a task that requires creative divergent thinking, we found that people shown a short video of a creative space before the task perform significantly better than those shown a video of a traditional office space.
Technologies such as Miro or Google's Jamboard are allowing distributed teams to share ideas in real time during ideation sessions. At INSEAD Singapore, we use Zoom and Miro boards to enable real-time in-class collaboration between our MBA students and ArtCenter College of Design students in California during our highly experiential product management course. These solutions work well to overcome physical separation barriers and to capture the creative collaboration in these sessions.  
CREATIVE SPACES AREN'T DEAD IN POST-PANDEMIC WORKPLACE
As hybrid work arrangements evolve, creative spaces will probably need to straddle both physical and virtual connections to become a valid alternative to continue fuelling innovation.
Although we have experienced working well with others in a digital world, many still miss the spontaneity and tangibility of in-person collaboration.
As economies make their way back to a new normal, physical spaces will claim back their relevance. But they probably won't – and shouldn't – look the same.
Companies need to keep in mind what kind of new social space would work for them. The cultural warp and weft of an organisation is made up of its people and how they interact with each other.
Even if employees are keen to go back to the office a few days a week, they may still prefer to avoid large groups or be cautious when using creative spaces with high-touch surfaces or objects they have been avoiding during this prolonged vigilance against infectious diseases.
So the physical workspace must ensure added health safeguards and safety measures for a COVID-safe working environment, while complementing social engagement opportunities in the virtual workplace through augmented virtual reality technology or other now-ubiquitous platforms like Teams and Zoom.
These will likely be new employee engagement and retention standards for companies to meet – showing that there is an ongoing commitment to keep them safe and engaged, while being conducive to social cohesion and creativity.
NEW SPACES FOR A NEW WAY OF WORKING
The shift in how and where we work probably does not affect employee retention on its own. The trailblazer firms whose creative workspaces and enticing in-office perks, like sleep pods, gaming zones and coffee lounges, were all impacted in the same way as offices without these amenities.
So if employees left during this period, they most likely left for other reasons, such as better pay or working conditions, burnout or a rethinking of what they want out of work.
But will the shift to hybrid work culture impact branding and recruitment strategy? Creative spaces may still be attractive but not quite that extra tipping point they might have been if everyone is still mostly at home.
Companies may benefit from highlighting how they complement or amplify their use of physical creative spaces into the virtual space, especially on key tasks like brainstorming, ideating, and co-creating.
Technologies will probably get better at emulating the positive effects of creative spaces on creative problem-solving.
If we take our finding that showing a video of a creative space has positive effects on problem solving, then we can imagine that more advanced technology like Virtual Reality (VR) could take this approach one step further.
Colleagues, who cannot join an ideation session in person, might immerse themselves in the space with VR and take on the right mindset to collaborate creatively with those in the physical space or remotely elsewhere.
So creativity and creative spaces can continue to thrive in the physical and virtual spaces. And the companies who understand this and invest time, effort and money into technology to shape their evolving workplace will likely find that it can pay off in the long run.
Manuel Sosa is a Professor of Technology and Operations Management at INSEAD in Singapore.
Why are some firms urging workers to return to the office? Listen to CNA's Heart of the Matter: