Commentary: The struggle to care for a loved one with dementia is a painful reality
By 2030, one in every five people above 60 may suffer from dementia. This means the struggle for care will only get worse, says SUSS' Amberyce Ang.
SINGAPORE: In a recent letter to the media, a woman outlined what it is like to care for and live with her mum with dementia.
Her mother has become prone to violence and she had trouble retaining domestic help. Admitting her mother into an institution was a last resort for the family.
Anguished stories like this are not new. Caregivers end up caught in a tight spot with no easy choices when it comes to caring for their loved ones with dementia.
In Singapore, residential care for persons with dementia (PWDs) can cost anywhere from S$700 to S$4,000 per month, depending on whether one qualifies for subsidies. Also, only selected nursing homes are equipped to care for PWDs as they often require more intensive caregiving and they may exhibit behaviour issues that affect other seniors.
MOH has said the average waiting time for nursing homes can be a month. In reality, depending on which homes you are looking at, this can be much longer.
NO EASY CHOICES
The home therefore often ends up the option that makes the most financial, practical and emotional sense for many families. But caring for their loved ones at home has its own set of challenges.
I often see clients facing tough choices. Ms Lim* is an only child and both her parents have dementia. She cannot afford to place both in a local nursing home and doesn't qualify for government subsidies based on per capita household income.
Based on her income, the cost would come to S$3,000 per parent including nursing home fees and medical expenses.
So she opted to send her father to a care home in Johor Bahru while her mother stayed with her.
But to make things easier while she's at work, Ms Lim used technology to make her home dementia-friendly. For instance, she uses apps to control the air-conditioning and lights. Her mother wears a watch that tracks her location, heart rate and blood pressure. And it alerts Ms Lim if anything is amiss – for instance if she was out of the house or if her blood pressure drops if she faints.
Her kitchen cabinets have translucent doors so her mother can easily search for items, as this helps PWDs with memory recall difficulties who can be disoriented by closed compartments.
NEED FOR APPROPRIATE, SKILLED CAREGIVERS
But technology alone cannot provide care for a PWD, especially if their physical needs escalate. This is why families often turn to migrant domestic workers (MDWs).
In the case of Mr Ong*, his father had a loss of impulse control and displayed inappropriate sexual behaviour. But the process to hire a male MDW is challenging – MOM mainly allows female MDWs to be hired and requires requests for a male MDW to be reviewed on a case by case basis.
Female FDWs may find it difficult to help male PWDs who are heavier, and certain tasks such as bathing might also be embarrassing for both parties.
Hiring a MDW is often an unsustainable short-term solution without appropriate training. PWDs can easily become aggressive and lash out when triggered by discomfort or frustrations that they are unable to articulate.
Experienced and trained live-in helpers can recognise the triggers and de-escalate dangerous situations. But this is often a tight pool of workers, with high demand and cost.
Mr Ong said he would have to pay a MDW at least S$1,000 but believes that families may be willing to pay if it is easier to source a male helper and obtain MOM's approval.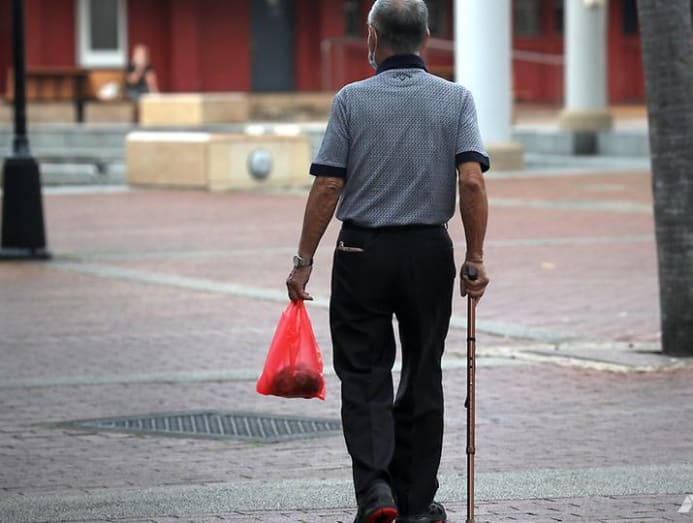 EASING CAREGIVER BURDEN
Families sometimes simply give up looking for help and leave their jobs, put on a brave face and end up stressed or burnt out.
Today, one in 10 seniors above the age of 60 has dementia. This is set to rise to one in five by 2030. More of us will become caregivers, and we're going to need more support.
What can we do as a nation to support caregivers?
The most ambitious item on the wish list for those of us in this field is to scale up the residential options for dementia patients to ease the heavy demand and to have better options than institutionalised care. But clearly there are some challenges in scaling these up quickly, no matter how forward-looking the plan.
In May last year, the Urban Redevelopment Authority (URA) announced that no tender was given to Singapore's first dementia village near Sembawang Park.
The sole bid price of $S15 million was too low, said the URA at the time. The idea was to have a safe home environment for people with varying stages of dementia.
The fact that this didn't get off the ground shows that aged care policymakers have to find a way to balance cost, land lease length and demand so that assisted living can be commercially viable.
But this setback shouldn't stop us from working on  "de-institutionalised care" villages like Hogeweyk, in the Netherlands. Here, PWDs are grouped and live in houses. They can roam freely and safely around, visiting the supermarket and interacting with each other at social activities to stay active.
But they are closely monitored and cared for by full and part-time geriatric nurses and specialists, who "work" in the village as cashiers, grocery-store attendees and other roles in daily life.
RAMPING UP DEMENTIA-FRIENDLY COMMUNITIES
One step in this direction has been Kampung Admiralty, the first integrated community for the elderly where they can live in their own flats and have access to medical care for a fee.
It is also heartening to see that there are outreach and education efforts within the Woodlands community to help seniors with dementia who are lost. This includes training volunteers and SMRT staff.
For PWDs living alone or with their spouses, integrated communities like Kampung Admiralty can fill the gap in the meantime.
While there are more plans to increase these communities, we can work on easing caregiver burdens now.
One example could be increasing the options for respite care. Some patients with dementia exhibit what is known as "sundowning" where disorientation and anxiety starts at dusk and can go late into the night. Caregivers can become exhausted because of a lack of sleep.
The Agency for Integrated Care is piloting the Go Respite programme. To ease caregiver burden, it encourages caregivers to plan ahead and identify a suitable respite option, such as day care, short-term live-in care and night respite for those with sundowning behaviours.
But there is still a gap in the number of places offering night time care and it boils down to cost. Asking for centres to be open later at night or over the weekend requires more staff and better renumeration, which will then trickle down to the consumer.
BUILDING SINGAPORE'S HEARTWARE
For now, many elderly dementia patients are likely to live at home so the most impactful factor is each one of us - neighbours and residents in the community who look out for them.
PWDs can mingle in neighbourhoods independently if we provide support. In some local neighbourhoods, public service staff are trained to recognise PWDs and offer assistance. Tapping on the "gotong royong" spirit of mutual assistance, neighbours living in the same block or in the same housing estate can be trained to help neighbours with a PWD in their household.
Town councils or committees in various estates can offer platforms such as notice boards at lift lobbies for these families to share their needs and seek assistance to look out for their PWDs.
The work to support such families has to intensify, so that we will hear less anguished stories of caregivers and their loved ones suffering.
Amberyce Ang is pursuing her PhD in Gerontology at the Singapore University of Social Sciences (SUSS), under the Alice Lim Memorial Fund Sponsorship. Her research interests include retirement models, older workers and People with Dementia (PWD).
*Pseudonyms have been used in this commentary.