Commentary: Ending cheap, convenient deliveries will help platform workers in Singapore
There are legitimate concerns about platform work, but there is a better way to help workers without distorting the market, say NUS Business School's Sumit Agarwal and NTU's Chua Yeow Hwee.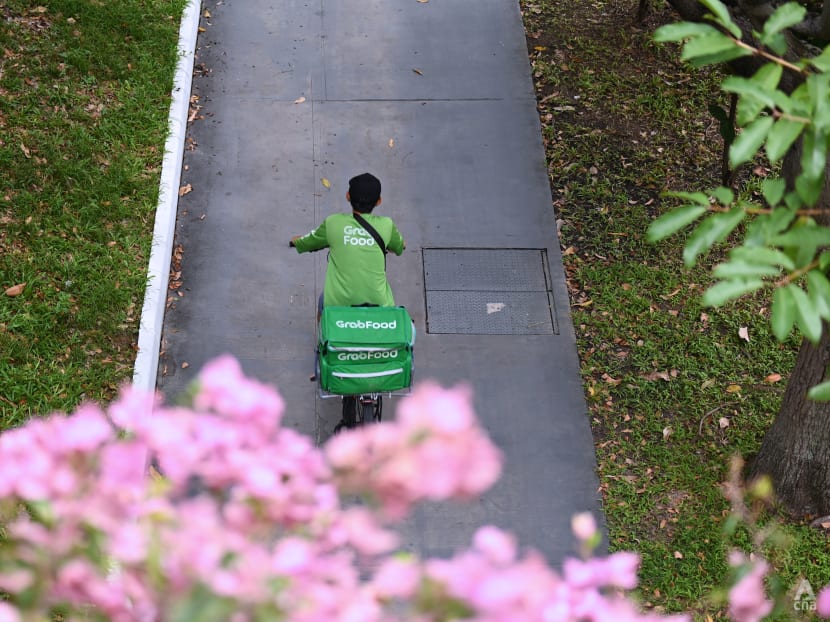 SINGAPORE: The gig economy has attracted many platform workers in Singapore, enticed by the flexibility and autonomy on offer and the potential to earn more at the same time.
Platforms can help people find a job quickly when times are bad. It certainly provided a lifeline to workers in industries most badly hit by the COVID-19 pandemic.
But these workers could end up entrenched in platform work, said researchers from the Institute of Policy Studies in a study published in February. 
They highlighted growing concerns that such work offers little protection or a way out of precarity and proposed several interventions to support platform workers. These include incentivising CPF contributions, a rest period policy to nudge private-hire drivers to rest, giving assistance to help workers pivot to new careers, or educating them on the "realities of platform work".
One reality is that platform workers don't always draw the large sums that we read about online: The median take-home for platform workers in 2019 was S$1,500 to S$2,500, or the 20th percentile of full-time residents, according to the Ministry of Manpower. 
And if the gig economy is here to stay, how we understand and decide to support platform workers now will set the tone for the sector's evolution.
Like most full-time jobs, economics dictates that there will be equilibrium between those supplying their labour in exchange for wages and those who want to pay for that labour. That is to say, the conditions of platform work reflect what the market is willing to accept. 
As well-intended efforts to support such workers are, should we change the terms and conditions of platform work because we believe that it's not in their interest?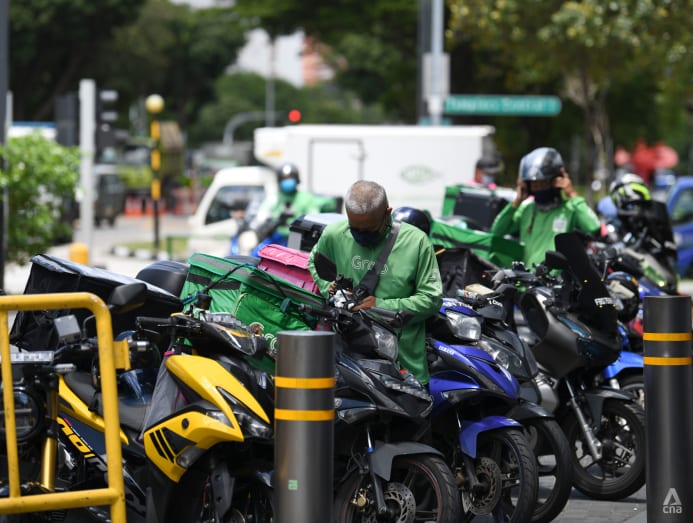 IS THE CHOICE BETWEEN PLATFORM WORK AND UNEMPLOYMENT?
We don't think so. Changing the parameters of platform work might erode the very reasons why such jobs are attractive in the first place.
Let's not forget that platform workers choose to sign up for the gig economy, as it is likely the best option available to them at that moment.
After all, the flexibility offered to them could have been a selling point, allowing them to manage their time for other duties such as taking care of children or aged parents. 
And if they can only work at specific stretches of time before other responsibilities kick in, why should we rob them of the flexibility to make the most of their productive hours?
Distorting the markets can create new problems: Restricting the number of work hours, for example, might simply push workers towards multiple platforms to plug the down time or take up additional forms of part-time work. 
And is the choice that platform workers face simply between platform and full-time work? What if they do not have full-time employment prospects to begin with? The sobering choice here then becomes between platform work and unemployment.
So while helping workers reskill and seek alternative careers if they wish to do so will always be welcome, the new digital economy has the potential to mold platform work into more equitable jobs.
Protecting food deliverers and other gig workers: Grab Singapore's managing director answers the hard questions on CNA's Heart of the Matter:
DELIVERIES ARE FAR TOO CHEAP AND CONVENIENT
The bigger problem here might be that deliveries cost far too little and platform workers are too unproductive. 
It is too easy for users who, in a few inattentive taps, can get a platform worker to ride to a pick-up point, wait for the order and bring it right to our doorstep. 
What happens if the order is a single cup of bubble tea? 
It means that platform workers are not maximising their full potential per trip. And this has knock on effects when platform firms turn to incentives and robotic algorithms to motivate them to work longer and faster.
And it's a common sight to see several food delivery drivers just waiting around for the order to be completed. Time is wasted waiting, resulting in inefficiency. Just like other industries that government policies have targeted, we should be looking to increase the productivity of platform workers.  
Economists define labour productivity as output per hour of work. In the case of platform workers, output can be measured in terms of the dollar value of the services they are providing.   
INCREASING PRODUCTIVITY AND CHARGING FOR EXTREME CONVENIENCE
How could we price these externalities and increase productivity?
One way is to increase the value of goods platform workers transport per trip. And this means doing away with extreme convenience as a default.
Why not encourage a new norm of having consumers order in advance, say one day ahead? This provides platforms the opportunity to plan ahead and optimise resources.
In one trip, platform workers can pick up, consolidate orders and reduce unnecessary waiting times. They can deliver to more places in a shorter time window, earning them more per trip. 
When the pandemic forced the F&B sector to pivot to food delivery, some small businesses took delivery into their own hands. By setting cut-off times for orders, they were able to plan delivery routes carefully and satisfy customers scattered across the island during peak mealtimes.
Moreover, group buys can help to increase the productivity of platform workers. When consumers with the same postal codes commit to purchasing products from the same shop in advance, platform workers can scale up and deliver more per trip. 
Consumers who still crave instant delivery, as the exception, should then be expected to pay more, commensurate with how much they value speed.
A tiered delivery system, with higher delivery fees for shorter delivery times, allows market forces to work. Such models already exist: We need only to look at our postal services or online shopping platforms which offer a range of delivery times and fees.
Increased productivity will ultimately benefit workers, platform companies and the economy. The platform delivery market can become more sustainable in the long term, instead of sending workers on suboptimal trips with little to show for it.  
Let's continue to push for more systemic protections for this growing group of workers in Singapore, such as insurance, healthcare benefits and CPF contributions. 
But consumers can also do more to wean themselves off cheap and convenient delivery that create the challenging conditions which platform workers face in the first place.
Sumit Agarwal is the Low Tuck Kwong Distinguished Professor of Finance, Economics and Real Estate at the National University of Singapore (NUS) Business School and the Managing Director of the Sustainable and Green Finance Institute at NUS. He is also the co-author of Kiasunomics and Kiasunomics 2. 
Chua Yeow Hwee is a Research Fellow at the Nanyang Technological University (NTU) and a Visiting Postdoctoral Scholar at the Stanford Graduate School of Business. He is also the honorary Assistant Secretary of the Economics Society of Singapore. 
The opinions expressed are those of the writers and do not represent the views and opinions of the institutions that they are from.