Commentary: Does rise in food delivery roles suggest something's wrong with full-time employment?
Platform firms may be adding new workers to the Singapore economy - workers who would otherwise not have entered the workforce in the first place, says NUS Business School's Professor Sumit Agarwal.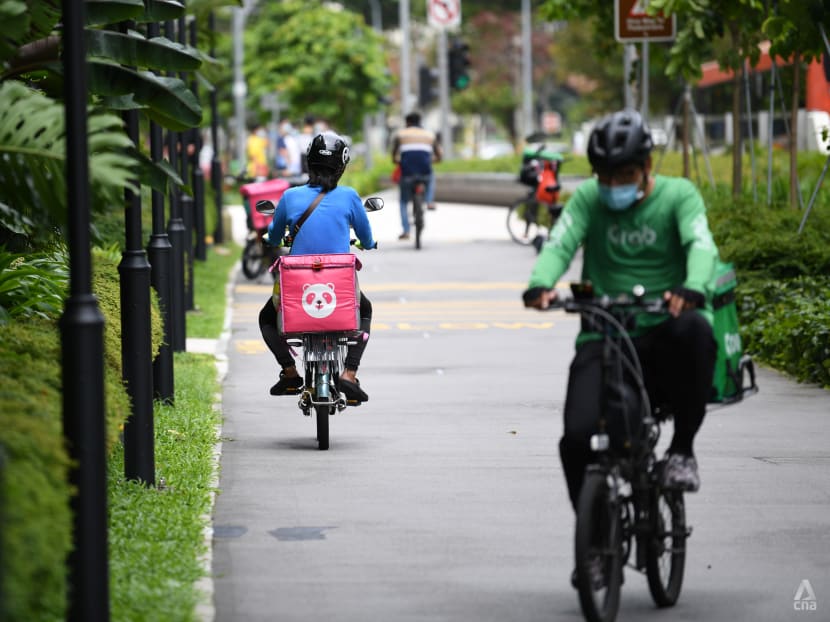 SINGAPORE: Over the past few years, the food delivery and ride-hailing portions of the gig economy have exploded.
In a short period, Deliveroo, foodpanda and Uber got big enough to get listed on stock exchanges.
Lockdowns, a fear of taking public transport or heading to crowded supermarkets, as well as rules disallowing big groups from eating out together, mean a greater demand for doorstep delivery and private-hire services.
In 2020, Singapore's proportion of own-account workers — self-employed workers who are not employers — among working residents was at a decade-high of 9.7 per cent.  
CHOICE OF THE GIG WORKERS
Some may feel that the rise of such roles threatens the stability of the traditional economy. But it's a misconception the gig economy robs the old world of workers.
The traditional economy workers have invested enormous resources like time and money in obtaining these skills and they would want to be compensated for them.
Although COVID-19 may have upended assumptions about work and life, driving and deliveries, dependent on effort, orders and changing conditions, seem hardly suited to workers in full-time roles who want more stability and structure in their jobs.
Such workers also generally do not need much formal education and extensive work experience to perform their roles.
Among Singapore's own-account workers whose gig work is their main job, 54 per cent had non-tertiary education, 19 per cent had diploma or professional qualification and 27 per cent had a degree.
Second, the gig economy, even in its entirety, is relatively tiny compared to the traditional economy, despite its fast growth. It can only absorb a tiny fraction of the workers even if they wanted to switch.
While the proportion of own-account workers among working residents in Singapore is at a decade-high, it is still a small number. It is possible that in these tough economic times, some workers are searching for their next job and may find gig work appealing. 
Instead of stealing workers from the traditional economy, platform firms may be adding new workers to the Singapore economy - workers who would otherwise not have entered the workforce in the first place - and putting a floor on unemployment during this pandemic.
We know gig work offers people, who have familial responsibilities and can only work a few hours a day or certain blocks of time, a rare chance to earn income on-demand without being shackled to a full-time role with worktimes they cannot control.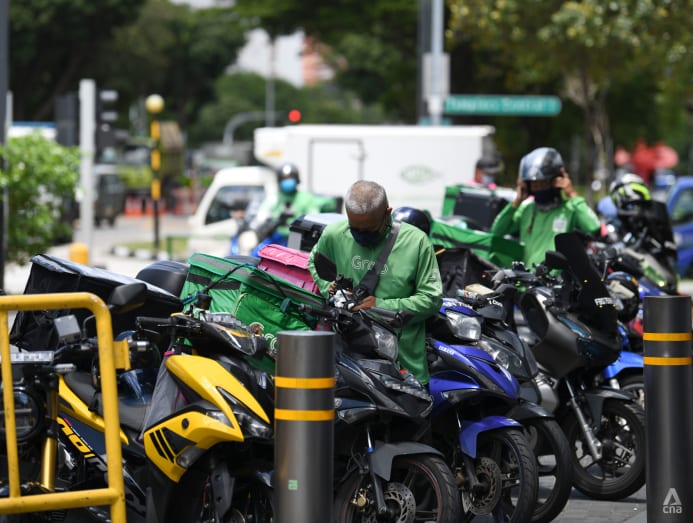 More research studies on the effects of platform companies on employment and incomes will outline to what extent platform gigs can be a safety net and preserve work ethic.
While the Ministry of Manpower (MOM) 2020 Labour Force Survey shows that there are more residents who do own-account work on a non-preferred basis — 37,400 in 2020 compared to 21,500 in 2019 — this number is smaller than the pre-pandemic level of 46,700 in 2017.
The proportion of own-account workers who did it not because of their preference, at 16 per cent, also pales in comparison to the 84 per cent who chose to do it because of the flexibility and freedom.
The same MOM survey showed that while 52 per cent of own-account workers faced challenges at work in 2020, primarily because of the pandemic, only 12 per cent of this group sought employee work as a solution.
As the economy readies for the pick-up, delivery work and other gigs may provide a bridge between permanent jobs, as a Grab survey of driver partners show. More than 70 per cent said they planned to stop driving after two years.
"We hope most of them don't stay. And when the economy recovers, they go on to do other things," Grab Managing Director Yee Wee Tang said in an interview with TODAY last month.
"We're more than happy to help where we have our Grab academy training programmes to help them find a role outside Grab," he added while on CNA's Heart of the Matter podcast this week as he highlighted that many of them do not want full-time roles in the first place.
About 70 per cent of Grab's partners only had a highest education level of secondary school or lower, he said.
Could food deliverers in Singapore be better compensated? Grab Singapore managing director Yee Wee Tang explain how much costs consumers must bear on CNA's Heart of the Matter podcast:
BETTER PROTECTIONS FOR GIG WORKERS AS THEIR NUMBERS GROW
Having achieved early success, deliveries and ride-hailing platform firms now have to address a nagging criticism — that little protection is offered for the gig workers who contributed to their success.
At the nascent stage of the gig economy, at least, these platforms benefited as they do not price in additional costs that full-time employment of such workers might require, like CPF contributions or healthcare benefits.
Yet, Singapore Prime Minister Lee Hsien Loong spoke about the need to protect lower-wage delivery workers during his National Day Rally speech this year.
An advisory committee has been set up to come up with recommendations on how they can be better protected and assured of a more secure future, looking at work injury compensation, union representation and a more balanced relationship between such workers and platforms.
My advice is for the committee to examine how these workers can be better protected, while being careful not to endanger the roles and incomes they make. Due consideration for the huge consumer benefits should also be given.
Many have benefitted from the convenience, time savings and the chance to avoid going out to get groceries in the middle of a raging pandemic.
People's consumption habits have changed for good. They have tasted the convenience offered by gig platforms. They will want more.
I see a two-pronged approach. First, in health benefits, such platform firms should do more for their gig workers. After all, they would benefit if their workers were healthy and fulfil more transactions.
Injury insurance is a first step but insufficient. Delivery and ride-hailing platforms should offer comprehensive insurance just like any traditional economy company would offer to its employees. For example, the gig platforms should also cover family members of the gig workers for health insurance coverage. There could also be coverage for paid sick leave.
On the larger question of the social compact around gig work, a flurry of legislative developments light the path for how Singapore can move forward.
Many countries and cities have started to look more into protecting the gig workers with a range of protections offered, balancing the need to make gig work less harrowing against making it too rigid.
There are small ways in which conditions can be improved. New York City recently passed a series of bills to improve the pay and working conditions of the food delivery workers.
One bill specifically requires platforms to make arrangements with restaurants to have washrooms available to delivery workers.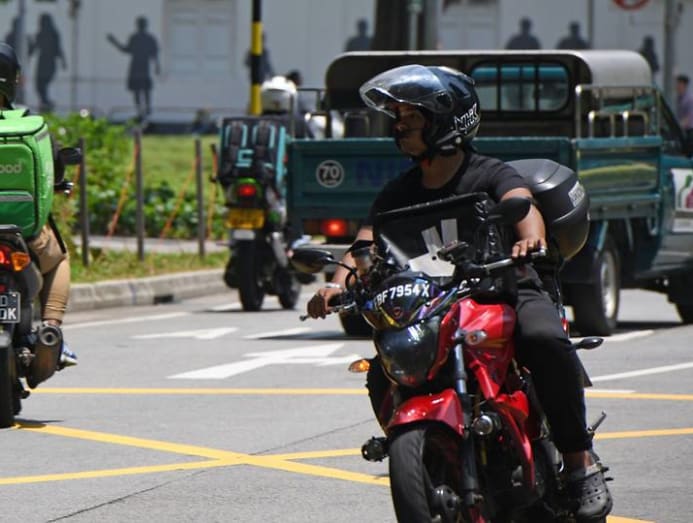 Another compels food delivery companies to show projected earnings, estimated trip time and distance before an order is accepted, along with limits they can set on trips to make – so food deliverers can make an informed decision before taking each order.
On the other end of the spectrum are countries mandating platform companies treat such workers like full-time employees with paid leave and fixed hours.
Portugal is moving to pass laws to get ride-hailing drivers and delivery workers recognised as staff with formal contracts and benefits. But the question is also whether such moves force workers needing flexibility to drop gig work entirely.
FIGURING OUT FUTURE OF GIG WORK
Singapore's new advisory committee is a sign of government will shape the future of work and how such gig work fits into this mould as platform firms grow.
Workers want autonomy over how they make money. As nations reopen borders and economies pick up, the gig economy will still have a place in a world of work that is evolving past the cookie-cutter 9-to-5 job.
This part of the gig industry will keep growing. Besides the common food and parcel delivery, some platforms are providing doorstep services such as haircuts and the repairing of electrical appliances.
The challenge is how to let it flourish, while protecting workers. 
As to whether the traditional world of work can be improved, the answer is yes but that's another commentary for another day.
Sumit Agarwal is the Low Tuck Kwong Distinguished Professor of Finance, Economics and Real Estate at National University of Singapore (NUS) Business School, and the Managing Director of the Sustainable and Green Finance Institute at NUS.
He is also the author of Kiasunomics and Kiasunomics 2. The opinions expressed are those of the writer and do not represent the views and opinions of NUS.