Commentary: Manchester United should quit Ole Gunnar Solskjaer but they can't seem to
The coach has little success to show after spending three years and millions on players at his former club, says John Duerden.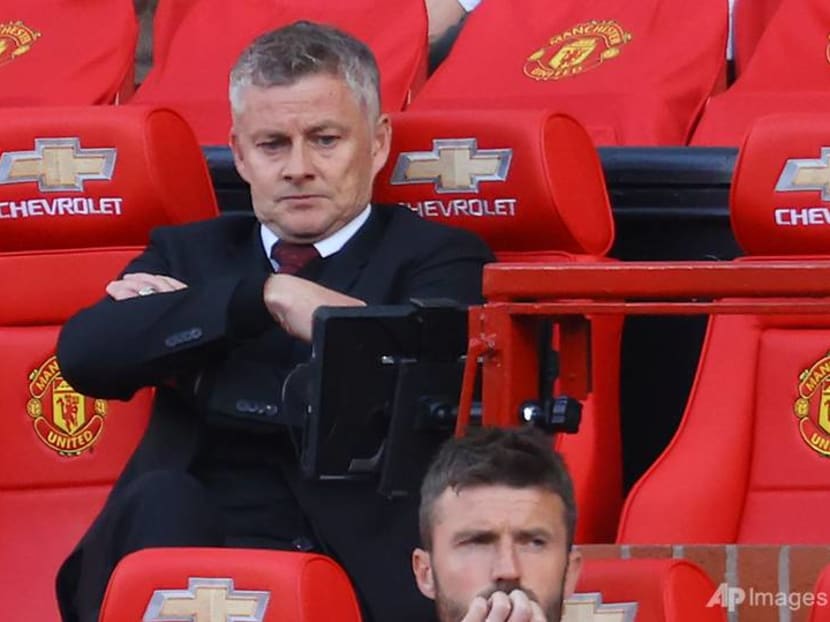 SEOUL: "Humiliating" was the most common description of Manchester United's 5-0 thrashing by bitter rivals Liverpool two weeks ago.
And on home soil at Old Trafford no less.
In May, Manchester United finished their English Premier League season in second place. Summer saw three major transfers: French World Cup winner Raphael Varane, England's rising star Jadon Sancho, and more significantly, the return of golden boy Cristiano Ronaldo, hailed as a "masterstroke" for the club.
At £126 million for these three on transfer fees alone - a price tag most clubs can only dream of - and the pieces falling into place, fans were ecstatic at the possibility the title could be theirs this season.
The 20-time champions have not won since 2013 when emblematic manager Alex Ferguson stepped down after dominating for two decades.
But it has only gone downhill. United have taken home just four of 18 points available in the last six games. In their 2-0 defeat to Manchester City on Saturday (Nov 6), the Red Devils never looked close to scoring, touching the ball in the opposition penalty area only four times, the lowest since this statistic was collected in 2008.
United are slipping out of the title race before the Christmas decorations go up and people are pointing fingers at manager Ole Gunnar Solskjaer.
LACKING IN COACHING ABILITY?
The main criticism? Solskjaer, a former United star striker, is simply lacking in coaching ability – with title wins in Norway and a relegation in England.
Yet how is this the reason when coaching standards in England have never been higher? Other clubs don't have this problem.
Liverpool's Jurgen Klopp, Manchester City's Pep Guardiola and Chelsea's Thomas Tuchel had won major trophies before being hired and went on to collect more silverware at their current clubs.
Perhaps it doesn't help that Solskjaer has a largely inexperienced coaching staff? Sky Sports pundit Jamie Carragher pointed out that Michael Carrick and Kieran McKenna had never coached before in their lives.
After dropping out of last season's Champions League group stage, United reached the "consolation" Europa League final. Winning a trophy could have lifted the club and provided some much-needed momentum to its unproven manager.
But it was not to be - Manchester United slipped up in a dramatic 22-kick penalty shoot-out to Villareal, a team operating on a fraction of United's budget that placed seventh in Spain's LaLiga that season.
Unable to secure a convincing win in regulation time, Solskjaer was judged to have been out-manoeuvred tactically by opposite number Unai Emery.
OLE'S MAJOR MISSTEPS AS MANAGER
The thing is Solskjaer just doesn't seem to know what to do with a squad bursting with talent.
Fans and observers agree the team is currently massively underperforming at a level less than the sum of its parts.
Observers have pointed out United's goals tend to come from the players' individual brilliance rather than any coherent plan worked on the training pitch. Gone are those days when Manchester United's formidable formations made weekend conversations.
Now no one knows what to do with Cristiano Ronaldo. Sure, he scores goals, but the club was already stacked with attacking talent before his arrival. At age 36, he does little else and many feel he further disrupts the balance of an already imbalanced team.
Given Ronaldo's popularity and track record, any decision to keep him on the bench will raise eyebrows.
United's organisation in midfield and defence has also been poor when playing the top teams. Former United legend Roy Keane went as far as calling defenders Luke Shaw and Harry Maguire "a disgrace", after defence seemed to operate independently of midfield, leaving huge gaps for Liverpool to seize.
Former United goalkeeper Peter Schmeichel also called out his former teammate's "really big mistake" in constantly rotating between goalkeepers David de Gea and Dean Henderson, instead of building a "rock solid" presence.
Not signing a midfielder in the summer looks to be a serious miscalculation. According to reports, the coach asked the club to strengthen this position but was either unsuccessful in his persuasion attempts or could not identify the correct player. Either way, it's costing the team.
WHY MANCHESTED UNITED CAN'T SEEM TO LET SOLSKJAER GO
The current English Premier League climate has seen five coaches fired in the space of last five weeks, mostly after their clubs' poor starts to the season.
But there is little sign that Solskjaer's job is indeed in imminent danger, despite nothing to show for the £441 million spent since his arrival in December 2018 besides disappointment and mounting criticism.
Perhaps all that emotional baggage and history has led to United being unable to even entertain the idea of reviewing Solskjaer's performance.
That is understandable to some extent. Solskjaer is a club legend, having spent 1996 to 2007 in the red shirt and celebrated for his last-minute winning goal that gave United their Champions League title in 1999.
His arrival brought fans the emotional connection they craved after tumultuous post-Ferguson years and good results as interim manager resulted in a swift offer of a permanent position.
United supporters also seem to have that much more patience with the former fan favourite, yet to turn publicly on him though negativity is high on social media. Compare this to Tottenham Hotspur coach Nuno Espirito Santo, quickly dismissed after fans' vocal criticism during a loss to United in October.
Much is also made of the "United DNA" with the implication Solskjaer understands and can deliver what fans want, after being "burnt" by his high-profile predecessors the likes of David Moyes, Louis Van Gaal and even Jose "the Special One" Mourinho.
With a number of Manchester United teammates now influential football pundits, the criticism has been muted. Gary Neville, at Sky Sports, has repeatedly defended Solskjaer, arguing that there is reluctance to go down the same route of abrasive so-called world-class coaches without major success. 
Other major clubs have similarly appointed former legends in the hope of success, but no similar qualms in kicking them to the curb when results don't follow.
Chelsea fired 13-year veteran player but inexperienced coach Frank Lampard, after 18 months. Barcelona just sacked their most recent player-turned-manager Ronald Koeman after 14 months and appointed former midfielder Xavi Hernandez on Monday (Nov 8).
Perhaps there's just no one else? Even if Manchester United want a change, there is a lack of elite coaches currently looking for employment.
Firing Solskjaer without a good replacement could be catastrophic if the caretaker role falls to the even less experienced Michael Carrick. So Solskjaer might be at the wheel for some time to come.
Still, United best get cracking to find options or at least a convincing answer. They don't want to wait until the tide turns because that might not be far along.
Fans cannot survive on nostalgia and idealism alone, much less club owners. In the beautiful game, success is still priority. If poor results continue, more fans may call for Ole Gunnar Solskjaer to go.
John Duerden is a Seoul-based writer who covers the region's sporting scene. He is the author of four books including Lions & Tigers - The History of Football in Singapore and Malaysia (2017).