Commentary: Youth in Asia want green jobs but companies aren't delivering
About four in five young people across the Asia Pacific want to work in the green economy. As Singapore moves in that direction, companies need to design green jobs, says Gianfranco Casati, CEO for Growth Markets at Accenture.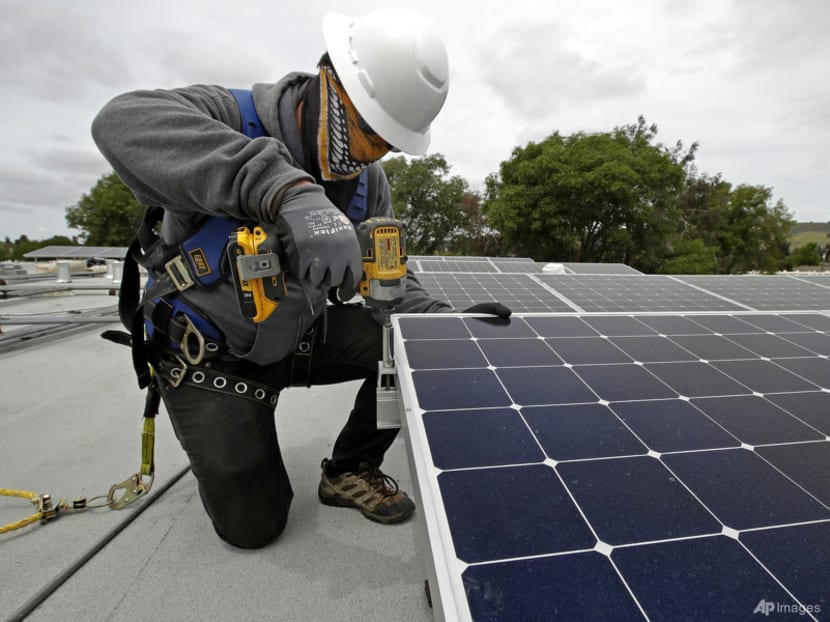 SINGAPORE: The idea of creating a more sustainable world has great appeal to young people across the world, but nowhere more so than in Asia Pacific (APAC). 
In a 2022 Accenture survey, 77 per cent of APAC individuals aged 15 to 39 said they wanted to work in the green economy within 10 years, compared to 57 per cent in Europe and 52 per cent in the US.
While APAC youth still want good pay, stability and opportunity, they also want to help their economies transition to cleaner transportation, decarbonise or switch to sustainable agriculture and land use. 
Companies can and must bank on this demand for green jobs. They cannot attract fresh talent through traditional corporate citizenship initiatives such as annual donation drives, beach clean-ups and environmental pledges alone. APAC youth are looking to work on the cutting edge and firms must appeal to that desire.
But many solutions to the climate crisis – like clean hydrogen and carbon capture, utilisation and storage – are nascent or may not even exist yet. So roles specifically structured around these solutions are scant. 
Compounding the issue is that where jobs do exist – and where green talent is most needed – are industries young workers find least attractive. 
By 2030, Accenture expects some 6.5 million jobs to be created to produce renewable energy to power grids in Australia, China, India, Indonesia and Japan. Yet just 15 per cent of the region's youth want to work in the energy industry.
Fewer still want to work in other "old economy" industries – utilities, chemicals manufacturing, and metals and mining.
MOVE PAST GREENWASHING TO ATTRACT FRESH TALENT
To attract young talent into these industries, companies must take an unvarnished look at their sustainability credentials and take concrete action. Discerning and critical, today's youth will see superficial rebranding attempts as "greenwashing".  
Steps include decoupling green businesses from legacy operations – as is the case in how some oil and gas companies are moving into offshore wind energy – and pursuing decarbonisation strategies that best suit their assets.
Companies can also build new internal capabilities for sustainability, for instance by introducing and tracking sustainability indicators and appointing new leadership. These steps would create new "green-collar" roles too such as carbon auditors and environmental, social and governance (ESG) managers.
Companies will also need to look beyond current job titles to design green-collar jobs that encourage innovation.
Often, this will involve hiring for positions still in their infancy – think biofuel engineers who harness fuel from plant sources or artificial intelligence engineers who design smart power grids that optimise energy use.
Already, LinkedIn has observed that job postings in the US renewables sectors are on the rise and could outnumber job postings in the US oil and gas industry by 2023.
Many green solutions will emerge at the intersection of multiple disciplines. Sustenir Agriculture founder Benjamin Swan, for instance, drew on construction, banking, robotics and hydroponics to create the vertical farm which grows non-native crops using up to 95 per cent less water for up to 127 times more yield.
Within the start-up's facility in Singapore, 28-year-old plant science specialist Eunice Koh combines technology and agriculture in her quest to improve the company's baby spinach, a crop typically imported from cooler climates.
Just as Swan and Koh blend different areas of expertise in the up-and-coming field of sustainable farming, companies must hire a mosaic of talent profiles and provide them with the tools, technologies and creative freedom.
While start-ups are more nimble, multinational and legacy companies should also design jobs around problems that need to be solved, rather than filling out the same traditional job titles.
NOT ALL GREEN TALENT WILL HAVE TERTIARY EDUCATION
It is important to recognise not all this talent will need to have tertiary education or advanced technical qualifications. Many will be bright young people at the beginning of their careers.
In industries like construction and manufacturing – where we estimate 76 per cent of the new green jobs will be created due to strong demand for green infrastructure and products – many roles favour strong vocational qualifications instead.
On an encouraging note, our research also shows a large proportion of young people are willing to build their skills to join the green economy, opening up opportunities for companies to upskill or reskill these employees for specialised pathways.
Indian infrastructure developer L&T, for instance, offers construction certifications for 15 occupations and 75 different job roles, including solar technicians. The company has so far trained more than 240,000 employees for jobs at construction sites across India.
APAC youth inherit a challenging legacy as the region produces about half of the world's carbon dioxide and is home to two of the three largest emitters, namely China and India. But young people are passionate about making a difference and are increasingly drawn to organisations committed to environmental stewardship.
To attract the best talent, companies will have to make real and concerted shifts towards environmental sustainability, and rethink and plan for the roles and skillsets required.
As Singapore transitions into a green economy, it bears remembering that a new workforce will be essential to the journey. By acting now, companies secure both their green credentials and future prosperity.
Gianfranco Casati is the Chief Executive Officer for Growth Markets at Accenture.