Commentary: Hong Kong's big dilemma - opening up to China versus resuming more links with rest of the world
Cancelling exemptions for business executives and more is a cost Hong Kong may be too quick to pay to resume links with China, says CUHK's Simon Lee.
HONG KONG: To the chagrin of the business community, the Hong Kong government still maintains strict quarantine measures for most coming into the city.
We have seen some exemptions, like those made for JPMorgan CEO Jamie Dimon and actress Nicole Kidman who was in town to film a series for Amazon. But these are few and are in between.
Hong Kong's stringent travel rules remain the reality. Quarantines for up to three weeks have been slapped on travellers. 
In the city, whether requiring the use of the LeaveHomeSafe contact tracing app to enter all government facilities from November or restaurants from Thursday (Dec 9) onwards, these measures are meant to align the city with China's and allow for the reopening of the China-Hong Kong border.
WHY REOPENING MATTERS
Why is a reopening of borders so important to many stakeholders in Hong Kong? Hong Kong has been the world's freest economy. Economic figures tell a story of how it's been severely impacted even before the coronavirus hit.
Despite booming economic growth of 5.4 per cent in the third quarter, Hong Kong's 2021 GDP is expected to land lower than levels seen before the coronavirus and the protests of HK$2.893 trillion (US$361.7 billion) in 2018.  
Thankfully, trade in goods has returned to 2018 levels. This is expected as sea and air cargo can still be moved freely in and out of the international logistics centre.
But the closure of borders, particularly with China, has restricted the movement of people and fuelled weak figures in trade in services, which remains far below 2018 levels.
Although retail is roaring back to life, with consumption powering the economy on the back of strong usage of the digital voucher scheme, monthly sales averaging at US$3.63 billion remain significantly below the average US$5.13 billion at 2018 levels. 
BREATHING LIFE BACK INTO FINANCIAL SERVICES IS KEY
There is value in thinking about granting quarantine-free entry to CEOs and leaders of important financial institutions entry into Hong Kong.
Financial services is a crucial sector, generating some of the highest average salaries and contributing about 23.3 per cent of GDP in 2020. Some 7.5 per cent of the workforce work in banking, insurance and other financial services.
Though it has unique strengths, including close financial links to the Greater Bay Area, the world's second largest IPO market, and a strong number of assets under management, several cities in Asia aspire to capture the leading international financial centre role Hong Kong has occupied for decades - including Tokyo, Taipei and Singapore. 
Hindrance to the movement of executives would shake Hong Kong's competitiveness. Mr Dimon himself had told reporters Hong Kong's COVID-19 rules made it harder to retain talent in the city. 
Yet at a time when more Asian cities are reopening and easing travel restrictions that should give Hong Kong pause for concern, the city is pursuing a more specific reopening.
Hong Kong is maintaining a razor-sharp focus on reopening the China-Hong Kong border.
It sees tightening quarantine measures as a necessary step to convince the Chinese government to lower travel restrictions to and from Hong Kong. The only exception is for visitors from China to Hong Kong who don't require quarantine today.
This is despite such zero-COVID moves being seen as out of step as the majority of countries around the world are attempting to live with COVID-19 and relax restrictions all around, given higher vaccination rates.
Most are taking a wait-and-see approach on Omicron, after travel bans to keep the variant out have come down across the world.
REOPENING CHINA-HONG KONG LINKS COULD BREATH LIFE BACK INTO TOURISM
Authorities know little will change if Hong Kong's international borders remain shut. Retail, accommodation and food services still report the highest unemployment rate in Hong Kong. 
They see hitching their sails to China's, the only growing economy in 2020, as a silver bullet.
For one, the loss of Chinese tourists is estimated to cost the city US$1.28 billion a month. Out of Hong Kong's record-high 65 million visitors in 2018, 51 million were from China, with 19.9 million staying one night and 31.1 million day-trippers. 
Chinese visitors also tend to spend more compared to the average visitor to Hong Kong, with shopping accounting for most expenditures.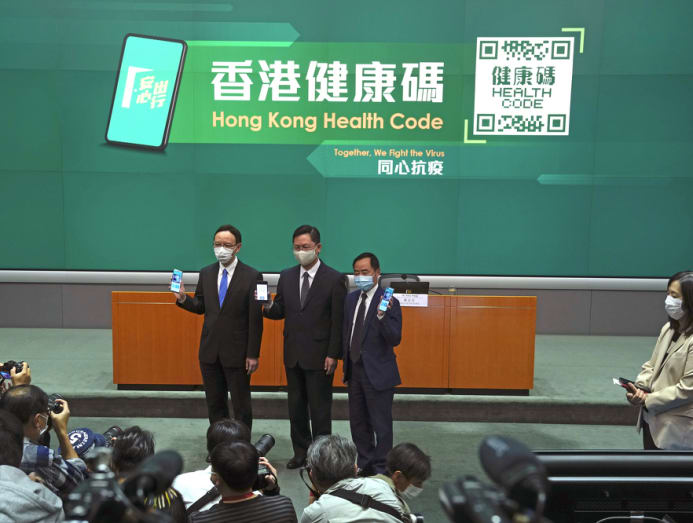 Although the tourism sector contributes only 3.6 per cent to Hong Kong's GDP, a reopening of the border could breathe life back into the hotels and retail sectors. 
Retail, accommodation and F&B, once accounting for 629,000 jobs in 2019, now hire only 521,000 according to the Hong Kong Census and Statistics Department. The biggest hits have been to retail - once hiring 342,000 at its height in 2018, now supports 266,000 jobs.
Almost a quarter of Hong Kong residents lived below the poverty line in 2020 - the highest since record keeping started 12 years ago.
STRIKING A TOUGH BALANCE
The reopening of the China-Hong Kong border may be critical to a quarter of a million Hong Kong residents.
But the stringent measures implemented to allow that reopening are severely hampening the movement of top executives in the financial sector, who come from everywhere around the world, and making the city less attractive as a global financial hub. 
This trade-off has come into focus, after authorities pledged that most foreign diplomatic personnel and top business executives will no longer receive such special dispensation. Firms might not relocate entire operations but jobs can seep out.
Realising that top priority is some time away and not before Dec 19, Hong Kong chief executive Carrie Lam highlighted - the same day the city holds its Legislative Council elections.
The other thing is opening up to China may not bring a flood of jobs back. Numbers might see a trickle, with daily quotas slowing recovery, with significant improvement requiring time. 
Even if 1,000 visitors are allowed each day, the pre-pandemic 80,000 to 100,000 daily visitors from China will likely dwarf changes.
The impact on F&B could be huge if Hong Kong authorities do require all to use LeaveHomeSafe to head into a restaurant or mandate vaccination to use such places.
At a time when Omicron is sweeping through the world, picking one valuable country to focus reopening with seems prudent, compared to a wholesale reopening to other countries.
But one thing's clear: Whichever way Hong Kong swings, that choice will come with a price.
Simon Lee is Honorary Fellow, Asia Pacific Institute of Business, the Chinese University of Hong Kong Business School.