Commentary: Demise of Jumbo floating restaurant symbolic to many Hong Kongers
Many were disappointed by the city's lacklustre effort to save Jumbo but felt that there were increasing restrictions on how people could express their views to those in power, says the Financial Times' Chan Ho-Him.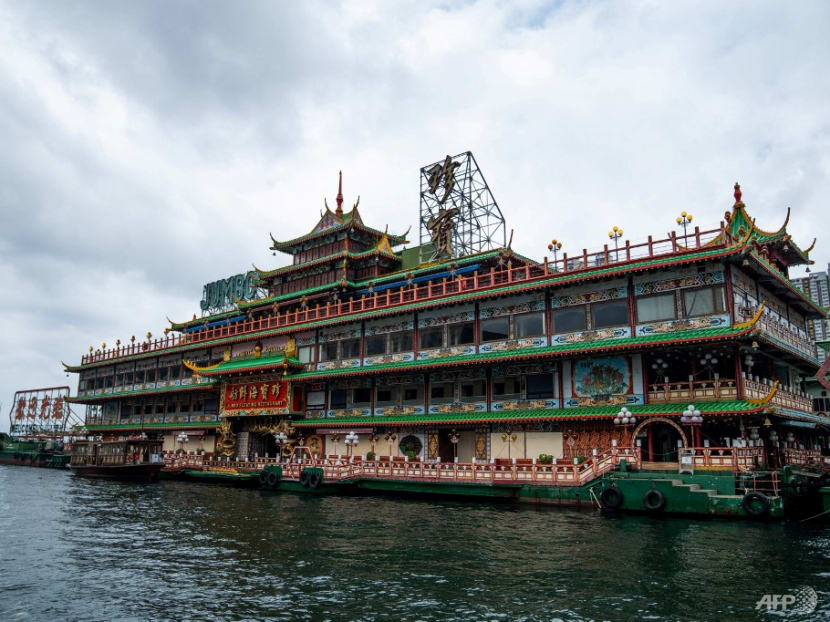 HONG KONG: Oscar Lai was 12 when he first visited Hong Kong's Jumbo Floating Restaurant in 2006, part of the Jumbo Kingdom that had served the Queen and Hollywood stars. Back then, China was preparing to host the Beijing Olympics and Hong Kong's stock market had reached a record high, passing 20,000 points.
The 27-year-old former student campaigner, who fought for democracy alongside veteran activist Joshua Wong, mourned Jumbo's departure as yet another victim of the Chinese territory's tough zero-COVID regime. 
Last week residents flocked to take pictures as tugboats towed it out of Hong Kong after the restaurant's marine licence expired. It represented, Lai told the FT, the loss of a piece of history from Hong Kong's good old days. Then, just a few days later, it capsized.
On Monday night, the operator Aberdeen Restaurant Enterprises said Jumbo "began to tip" over the weekend while being towed through the South China Sea to a secret new home. It said salvaging the vessel would be very difficult.
Ever since Macao casino tycoon Stanley Ho, in 1976, opened the doors of the three-storey restaurant, an imitation of imperial Chinese architecture, the floating palace charmed residents, celebrities and tourists with its glitz and glamour.
Jumbo Kingdom, which owns the Jumbo and its sister Tai Pak (also closed) floating restaurants, has served more than 30 million customers over the past four decades.
Queen Elizabeth II visited Tai Pak in the 1970s on a trip to Hong Kong, when it was still a British colony. Jumbo appeared in movies such as the 2011 science thriller Contagion. In the film, Gwyneth Paltrow plays "patient zero", a character who is infected with an unknown virus by a chef at the restaurant and spreads it to the rest of the world.
MANY FEEL JUMBO COULD'VE BEEN SAVED
But even before the real pandemic, Jumbo Kingdom had recorded an accumulated loss of HK$100 million (nearly US$13 million) since 2013, according to Aberdeen Restaurant Enterprises, a subsidiary of Hong Kong-listed casino group Melco. 
Then, as tourists disappeared from the city as it strove for zero-COVID and social distancing measures kept residents away, the restaurant ceased operations in March 2020.
Lai and many social media users lamented a lacklustre effort to save Jumbo amid the collapse of Hong Kong's civil society, with activists from rights groups and many opposition lawmakers either jailed or fleeing the city under the Beijing-imposed sweeping national security law implemented in 2020. 
Hong Kong artists and cartoonists, such as "Ah To", portrayed its demise as a symbol of the loss of political freedoms and judicial independence undermined after the 2019 citywide protests.
Carrie Lam, Hong Kong's leader, rejected using public money to save the private venture, saying there was no need to "force through an infeasible plan". A senior business figure told me the government did discuss preserving the restaurant with property developers but the latter felt there were "difficulties to sustain its management".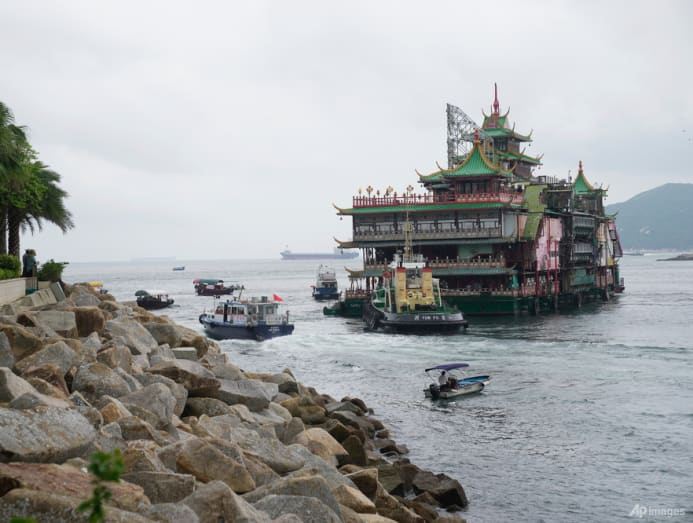 A plan facilitated by Lam to donate Jumbo to Hong Kong's not-for-profit Ocean Park also "did not work out as anticipated", Aberdeen said. The theme park group claimed they could not find a suitable third-party body to operate it.
HONG KONGERS ARE DISAPPOINTED
"To many Hong Kongers, it is a great loss with a part of its collective memory being cut off," Lai, whose parents held their wedding on Jumbo decades ago, told me.
This is not the first time the public has been disappointed by the city's failure to preserve its most recognisable spots. In 2008, local authorities dismantled Queen's Pier, located in Central district, despite activists' fierce opposition to preserve it. 
As development minister, Lam pledged to reassemble the pier elsewhere, but 14 years later, that has yet to happen.
City resident Phyllis, an education administrator in her 40s, said she was "desperate" to find ways to push authorities to save Jumbo, but felt there were increasing restrictions on how people could express their views to those in power. 
"If not for the collapse of Hong Kong's civic society, lawmakers and politicians would have more actively followed up and residents would probably have staged protests against its fate," she said. "All these freedoms, gone."
Source: Financial Times/geh