Commentary: What happened to India's Covaxin COVID-19 vaccine?
Vaccine triumphalism may have driven Covaxin's approval and use in India. But this might end up undermining India's global pharmaceutical status, says Aarti Betigeri.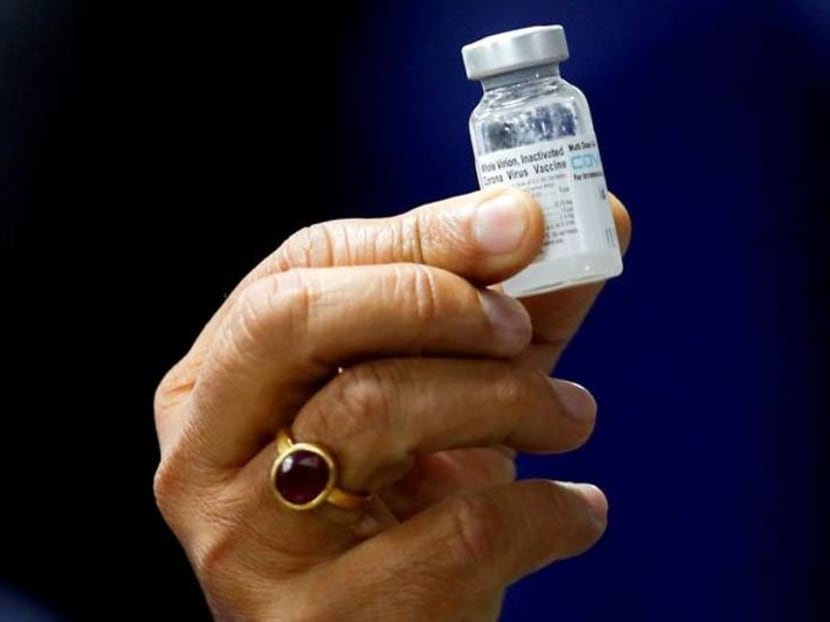 CANBERRA: India has taken great pride in Covaxin, its first home-grown COVID-19 vaccine developed early in the pandemic, which had been hailed as a success story of the immense capabilities of the country's pharmaceuticals sector.
The problem is, Covaxin still has not been authorised by the World Health Organization (WHO) for emergency use.
Since his election to office in 2014, one of Indian prime minister Narendra Modi's key policy platforms has been "Make in India" - an emphasis on Indian manufacturing.
Most recently, he has trumpeted the success of the locally developed and manufactured Covaxin, the mainstay of India's vaccination programme alongside Covishield, the WHO-approved Indian-manufactured version of the Oxford-AstraZeneca vaccine.
But amid the hubris surrounding India's manufacturing processes and somewhat successful vaccine rollout has been muffled concern about whether Covaxin's fast-tracked national approval could end up hurting India instead.
There are questions about the lack of clinical trial data and whether there is sufficient transparency surrounding a vitally important part of India's roadmap out of its COVID-19 situation.
Phase 3 data have not been published in a respected peer-reviewed journal – meaning there is not yet clear evidence of Covaxin's efficacy against COVID-19.
NOT RECOGNISED FOR INTERNATIONAL TRAVEL EXEMPTIONS
At a practical level and of immediate concern is whether the millions of Indians who have received Covaxin may be prevented from flying internationally at a time where more countries are relaxing border measures for internationally recognised vaccines.
There is a growing crescendo of voices on social media expressing frustration, particularly of international students who want to travel in time for the start of the school year and may require vaccination for on-campus classes. Indian external affairs minister S Jaishankar has also acknowledged that Covaxin is "still a problem" for travel restrictions on Indians in the global workplace.
In early January this year, Covaxin was authorised for emergency use in India, even though Phase 2 data had not been published nor peer-reviewed and Phase 3 trials were in progress.
National regulators, wanting to swiftly vaccinate a large population, made the decision to do so, triggering scepticism and questions from experts at the time.
Without complete data, the WHO will unlikely move on approving Covaxin. The United States Food and Drug Administration rejected Bharat Biotech's application for emergency use authorization in the US, seeking more data on late-stage clinical trial. Covaxin is also not currently authorised by the European Medicines Agency for emergency use in Europe.
The Indian media had reported in January that the WHO is set to approve it "soon", then again in April, June, July and now September.
Covaxin was developed by Bharat Biotech, an Indian pharmaceutical company with a portfolio that includes 16 other vaccines, in partnership with the government medical research body, the Indian Council of Medical Research.
The vaccine works similarly to CoronaVac, the Chinese-developed Sinovac vaccine. Both are inactivated virus vaccines and use a complete but modified virus particle that cannot infect cells but will still stimulate an immune response.
Unlike mRNA vaccines, Covaxin can be kept at ordinary refrigerator temperatures of 2 to 8 degrees Celsius, rather than sub-zero storage.
LACK OF TRANSPARENCY
There is also confusion and scepticism over the novel language used for Covaxin's approval "in clinical trial mode" among the medical and scientific community.
I spoke to Dr Azim Khan, a public health professor at the US-based School for International Training (SIT). He is concerned that the secrecy and mixed messaging over Covaxin is building mistrust in the vaccine. 
"We cannot say if Covaxin does or doesn't work. Bharat Biotech has not provided us with the sufficient data to convince the scientific community about its efficacy," he told me. "We haven't seen the data in a transparent way – the way that any vaccine manufacturer should put it into the public domain."
Information came in late March, when the Brazilian drug regulator refused permission to import 20 million Covaxin doses after reporting that Bharat Biotech's manufacturing did not meet its norms for certification, including the possible risk that some batches could be contaminated or give people the virus rather than protecting them from it.
Many believed the hastened approval of Covaxin had hurt the "Make in India" campaign, and questioned why the Indian government has so enthusiastically advocated it to the point of describing it as the "pride of India" reported Indian news outlet Mint. 
PITFALLS OF VACCINE TRIUMPHALISM
According to Dr Khan, India has already shown that it has been a world leader in the pharmaceutical industry.
Listen to Associate Professor Lim Poh Lian and Prof Teo Yik Ying discuss why choosing your vaccine is complicated:
Described as the "pharmacy of the world", India is the largest manufacturer of generic drugs which have significantly reduced the cost to treat many conditions. It is also home to the world's largest vaccine manufacturer, the Serum Institute of India which manufactures Covishield.
Dr Khan is a proud Indian. But even he recognises that the excessive focus on "nationalistic triumphalism" against scientific enquiry and evidence-driven policy will mar efforts to fight COVID-19 and ultimately hurt India's hard-earned global reputation. 
Covaxin's lack of transparent data and delay in validation also undermine India's ambitions. An internationally recognised, locally developed and produced COVID-19 vaccine could have elevated India as a major player in research and development. Instead, the experience with Covaxin so far may indicate that USS40 billion industry should keep to its strengths in production.
A WHO decision has been promised in mid-September for now, but the delay in approval and the lack of publicly available Phase 3 data has eroded Indians' confidence in their pharmaceutical sector.
This does not augur well for a country wanting to use its vaccine success as a springboard to global achievement. 
Aarti Betigeri writes on India issues as a journalist based in Canberra.