Commentary: Chicken and other food export bans create a lose-lose scenario for everyone
Temporary food export bans are an easy way for countries to soothe domestic concerns about rising prices. They have an impact on Singapore households too, says OCBC's Selena Ling.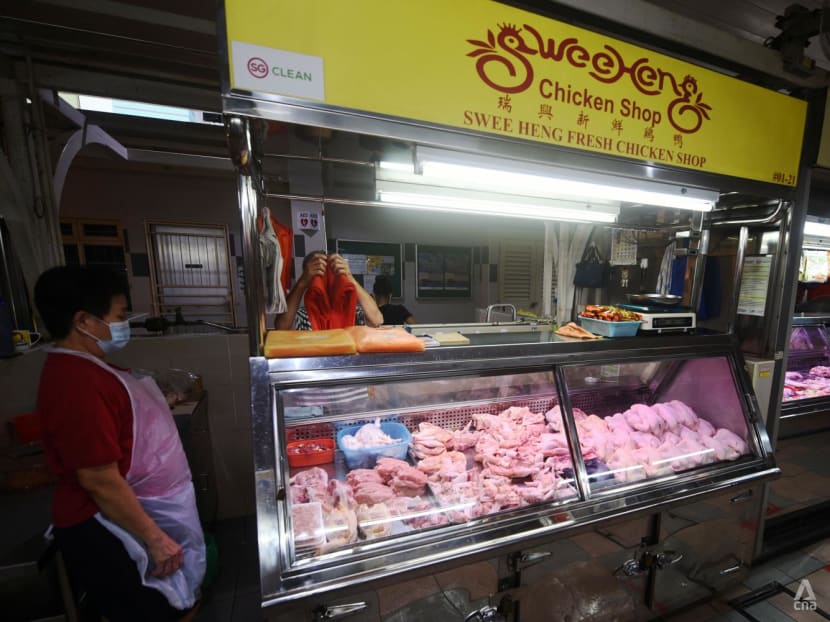 SINGAPORE: Singaporeans fervently believe that to eat is a necessity, but to eat well is an art. Judging by how chilled chickens flew off supermarket shelves in Singapore after Malaysia announced it would ban chicken exports – up to 3.6 million chickens per month – from Wednesday (Jun 1), it appeared that a "chicken run" was underway. 
It seems rational to temporarily restrict food exports, amid reports of a shortage in Malaysia, to stabilise domestic supply and possibly cool rising prices. Indonesia had also done this recently, implementing a three-week export ban on palm oil to control cooking oil prices at home.
These bans strike close to home, but they are far from the only ones. India recently restricted wheat and sugar exports. Kazakhstan, Egypt and Turkey have also banned edible oil exports since March. 
According to the International Food Policy Research Institute, 19 countries currently have export bans for 31 products, which affect about 7 per cent of global calories. 
Amid the Ukraine war, United Nations Secretary-General Antonio Guterres recently warned that the "spectre of a global food shortage" could last for years: The Food and Agriculture Organization's Food Price Index hit a record high in recent months. Prices for key food commodities like wheat, barley and sunflower oil have skyrocketed, compounded by buoyant fuel and fertiliser prices, logistics problems and climate events that may worsen food harvests.
A domino phenomenon of food nationalism may be a lose-lose scenario for everyone: It drives up food prices, including for those who already struggle to afford it.
Countries' medium-term policy credibility and business relationships are jeopardised as partners scramble to find alternative substitutes on short notice. Bans also tend to increase the incentive to smuggle goods out for higher foreign prices.
But temporary food export bans appear an easy way for countries to soothe domestic concerns and may persist so long as people worry about food inflation.
What lies in store for Singapore, seeing as we import over 90 per cent of our food requirements?
COULD CHICKEN EXPORT BAN DRIVE FOOD INFLATION IN SINGAPORE?
Malaysia's export ban on chicken alone is unlikely to have a significant effect on overall food inflation in Singapore. While food accounted for 21.1 per cent of the Consumer Price Index (CPI) basket, chilled poultry occupies only 0.3 per cent of the total basket. 
Headline inflation rose 4.8 per cent and food inflation increased 3.1 per cent year-on-year (yoy) on average in the first four months of 2022.
But the price of chilled chicken will likely go up due to the supply-demand imbalance. According to the Singapore Food Agency (SFA), Malaysia accounted for 34 per cent of Singapore's chicken supply in 2021, and most of the chicken imported were slaughtered and chilled in Singapore. 
The export ban means foodstuffs like chicken rice in our hawker centres are likely to see a spike in prices, as stalls are unlikely to obtain supply from alternative sources so quickly. Poultry Merchants' Association's secretary Ma Chin Chew told CNA earlier: "For countries (like the US and Brazil), they are too far. Even if importers make their bookings right away, the chickens will only arrive two months later."
Without knowing how long the export ban might last, buyers may not want to commit to alternative sources too far ahead either. So, some stallholders said they intend to close temporarily, especially if they do not consider frozen chicken a viable option.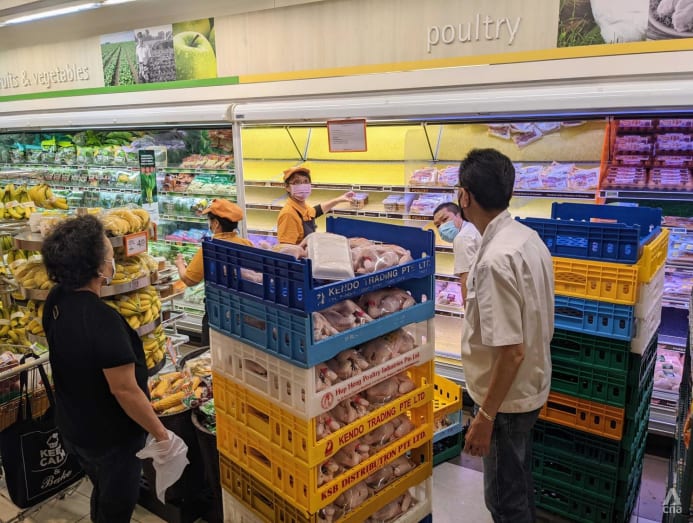 IMPACT OF RISING FOOD PRICES ON HOUSEHOLDS
In fact, food items other than chicken were already seeing more significant price surges. The top food items registering the fastest CPI acceleration in the same period were oils and fats (7.6 per cent yoy), vegetables (4.7 per cent yoy) and fish and seafood (4.1 per cent yoy). 
Fish prices in Malaysia are already rising. Sellers in Singapore told local media that prices of fish have been increasing since early May. Prices of some vegetables in Malaysia have also risen, according to Malaysian media.
Some are also concerned India could restrict rice exports next after curbs on wheat and sugar. Could more food export bans lie ahead?  
In the case of Indonesian palm oil, it's likely the export ban was lifted after increasing realisation that it was hurting palm oil producers without benefiting the consumers all that much. Governors of Riau and Bengkulu – two big palm oil-producing provinces – had also asked for a review of the ban.
Ironically, since the short-lived ban did not move prices down much, its removal should not necessarily result in a spike. 
But the announcement of the ban had sufficiently shocked a global vegetable oil market that was already constrained by sunflower oil shortages arising from the Russian-Ukraine war. Moreover, with fertiliser prices not coming off, the woes in the food commodity markets may not be over just yet.
All this suggests food inflation is likely to impact households more greatly in 2022. This includes the lowest 20 per cent household income group which felt the least increase in inflation rates in the second half of 2021 as they were comparatively less affected by rising car and petrol prices.
Petrol prices continue to rise and wage growth is likely to accelerate this year, given the tight domestic labour market conditions. Businesses may increasingly pass on the cumulative cost burden to consumers. Looking ahead, there is also the 2 percentage point Goods and Services Tax (GST) hike due in January 2023 and 2024. 
FOOD SECURITY A KEY PRIORITY FOR SINGAPORE
One thing is clear: Singapore does not take its food security lightly. SFA's 30 by 30 plan to produce 30 per cent of its nutritional needs locally by 2030 is already in place. 
While Singapore has increased its efforts to diversify its food sources across more countries (180 countries in 2021), a large proportion of each food item imported is still largely concentrated among a few countries, especially our neighbours Malaysia and Indonesia. 
Thankfully, if there is a sufficient stockpile, such as the four-month supply of frozen chicken sitting in cold warehouse storage, then local production and diversified food sources will likely provide slightly more buffer to look for alternative supplies. 
SFA also indicated they will work together with importers to "activate their supply chains to increase imports of chilled chicken from alternative sources, increase import of frozen chicken from existing non-Malaysia suppliers or draw from their stocks of poultry".
Singapore consumers can also consider plant-based meat products, which can be more environmentally sustainable and possibly good for our health as meat-rich diets can be linked to an increased risk of chronic diseases. 
Retail sales of "free-from-meat" substitutes expanded by 26.7 per cent between 2019 and 2020, compared to 7.4 per cent for traditional meats, according to Euromonitor data. The global alternative protein market is tipped to grow by a compound annual growth rate of 8 per cent from 2020 to 2026 to US$4.4 billion (S$6 billion).
In fact, alternative protein investments in the Asia-Pacific nearly doubled from US$162 million in 2020 to US$312 million in 2021, according to the Good Food Institute APAC. This is a great opportunity for Singapore to scale up and prioritise food innovation into alternative meat products, as Enterprise Singapore's FoodInnovate platform, established in 2018, has been promoting. 
Who knows, maybe Singapore could even develop a taste for a plate of plant-based chicken rice in time to come.
Selena Ling is the Chief Economist and Head of Treasury Research and Strategy at OCBC Bank.