Commentary: Malaysia's rapid COVID-19 vaccination cannot make up for its shortcomings
Immunisation programmes have long been a strength of Malaysia's health system, but its COVID-19 testing and contact tracing capabilities need more attention, says a doctor.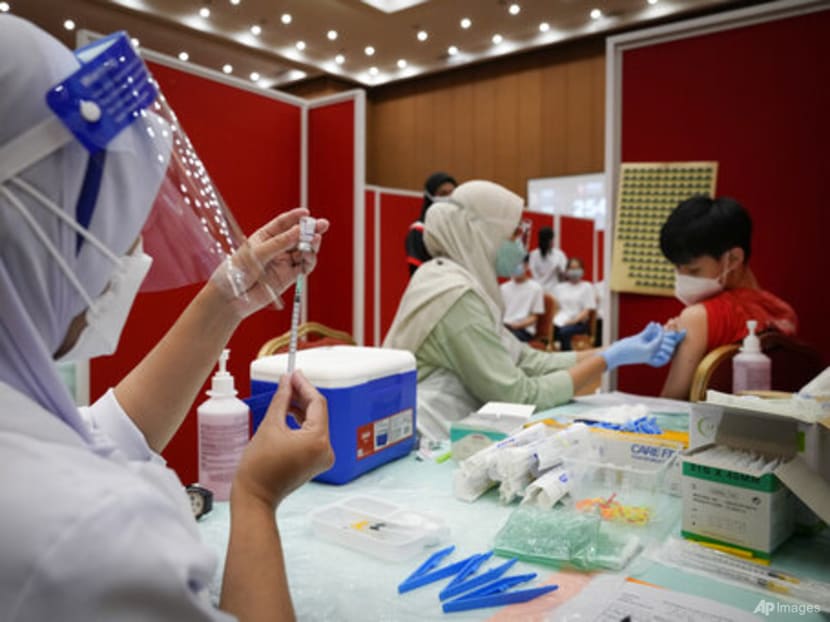 KUALA LUMPUR: In the 1930s, France built an impressive defensive border - the Maginot Line - to repel a German invasion.
A technological wonder at the time, the Line is now remembered chiefly for its enormous cost and the false sense of security and overconfidence it bred while tying up infantry divisions to its defence.
Malaysia might have learnt some lessons from this history as it leans heavily on its vaccination programme to solve the COVID-19 crisis.
The programme has been impressive - at its peak, about 1 to 2 per cent of the population were vaccinated daily. Malaysia secured doses for 40 per cent and 110 per cent of its population by December 2020 and February 2021 respectively.
As of September, almost half of Malaysia's population has received at least one dose and almost three-quarters of the Greater Kuala Lumpur population has received at least one dose - on par with Singapore.
The vaccination programme was not without its challenges. The Ministry of Health had to battle a perception that it was slow to approve vaccines. Following this, the programme was elevated and its centre of gravity shifted from the health ministry to the coordinating minister of the national vaccination programme, Khairy Jamaluddin, in February.
After an initial slow start and a quirky mobile app that accentuated the digital gap for rural communities and the elderly, the programme attained scale through the use of mass vaccination sites staffed by volunteers.
TESTING AND CONTACT TRACING, MALAYSIA'S WEAKEST LINK?
But Malaysia's dependence on vaccinations as a single line of defence has been devastating.
Earlier this year, the World Health Organization warned that COVID-19 vaccines are not a "silver bullet".
We are only as strong as our weakest link - and the weakest link in Malaysia's pandemic response is the testing, contact tracing and isolation system.
This system is a critical public health intervention to reduce the transmission of COVID-19 but, even after a year and a half, the system has not been substantially upgraded or expanded as it remains a manual, workforce-intensive task. Infectious individuals cannot be isolated from the community quickly enough with low rates of testing and delayed contact tracing.
For the first six months of the pandemic, Malaysia performed testing better than Singapore - positivity rates were kept lower in Malaysia.
But while Singapore improved its pandemic management by expanding testing to keep the positivity rate below 0.2 per cent since September 2020, Malaysia's performance deteriorated in the same period.
Malaysia's positivity rate has exceeded 2.5 per cent every day since October 2020, the critical threshold of 5 per cent every day since May, and currently exceeds 13 per cent.
Contact tracing has also faltered. Analysis of reported clusters (where links between contacts are traced) and reported non-cluster cases indicates that in July, more than three-quarters of cases in Malaysia were unlinked. By contrast, approximately one-third or fewer cases in Singapore are unlinked.
Inadequate testing and contact tracing impede the isolation of infectious cases, and hence transmission continues unabated.
Untested infected individuals cannot be monitored for deterioration and often cannot present to hospitals until they are already too ill to be saved or, tragically, after death.
THE COST OF OVERCONFIDENCE IN VACCINES
The costs of this failed pandemic management are increasingly apparent. In August, Malaysia surpassed India's per capita COVID-19 death toll, having already surpassed its per capita case count two months earlier.
Hospitals and intensive care units are above capacity - with the epicentre shifting from the capital to the periphery. Approximately 10 per cent of COVID-19 deaths were "brought-in-dead", 80 per cent of whom were not previously diagnosed.
Meanwhile, prolonged, ad hoc and uneven lockdowns have devasted both lives and livelihoods. Suicides have doubled. Hardcore poverty has nearly tripled.
Much of this harm has been caused by overconfidence in vaccines as a silver bullet while neglecting to automate and scale testing and tracing. Most of Malaysia's cumulative COVID-19 deaths have occurred since July. Many of the deceased would have been just a few weeks from receiving their second vaccine dose.
Case severity is shifting towards milder cases, although deaths among children and the high number of those "brought-in-dead" remain alarming. The thousands of lives lost just weeks before victims could attain full immunity from vaccines were an avoidable tragedy.
As countries with high vaccination coverage rates face a resurgence of cases and hospitalisations driven by the Delta variant, investing in a large-scale and automated testing, contact tracing and isolation system is imperative - and an opportunity for the current Minister of Health and former vaccination minister Khairy Jamaluddin.
Lockdowns and vaccinations - Malaysia's immunisation programmes have long been a strength of the health system - are less complex than coordinating a safe and coherent reopening across various sectors.
Without adequate testing and contact tracing during this critical period, continued dependence on vaccinations alone will again cause preventable harm to both lives and livelihoods.
Wei Aun Yap is a medical doctor and health systems specialist based in Kuala Lumpur. This commentary first appeared on The East Asia Forum.