Commentary: We need to stop telling women that they can 'have it all'
Instead, we should work towards "sharing it all", if we want to make greater strides in supporting families, says Mercer's Renee McGowan.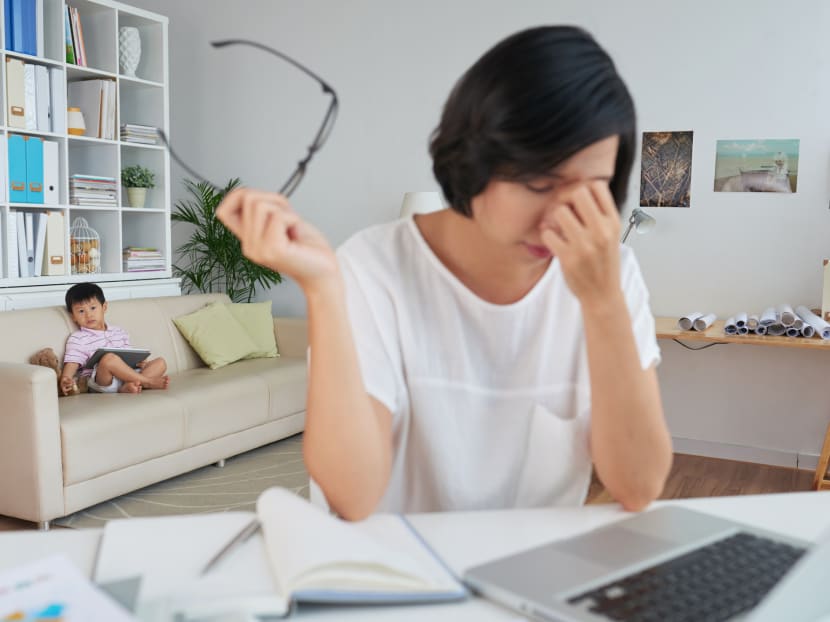 SINGAPORE: Popularised in the 1980s, the ambiguous notion of "having it all" has become synonymous with the idea of the perfect modern working woman: One who seamlessly juggles a high-flying career and personal interests with raising a family without having to sacrifice one for the other – the perfect mother, wife and employee.
Back then, the notion signified ambition (and a shot at financial self-sufficiency) beyond what was expected of women at the time. 
Three decades on, some say that it has morphed into unrealistic expectations and unnecessary pressure for women. 
Working women today are facing increased pressure to succeed at work and manage the care of their families. While workforce participation in many societies has steadily increased, the number of hours that women spend on childcare and activities around the home hasn't diminished.
For many, this results in a cycle of guilt, regret and stress – not the envisaged ambition, sense of accomplishment and success. 
The COVID-19 pandemic shone a stark light on the challenges women globally faced as they took on a greater share of unpaid chores and left the workforce at a faster rate than men, according to the International Labour Organization.
Reeling from burnout and exhaustion, one in three women has considered leaving the workforce or moving to less demanding careers, up from one in four in 2020, according to the 2021 Women in the Workplace study.
REDEFINING WHAT "HAVING IT ALL" MEANS
"Having it all" is hurting, not helping women. This narrow definition of success for women – which hinges on having "a great career" and "a great family" – is problematic on several fronts.
At a time when women have more opportunities and choices than their mothers or grandmothers had, women are redefining success on their own terms. 
Some may prioritise family and community relationships, while others place greater emphasis on their professional achievements – neither is less accomplished than the other.
However, the biggest issue with "having it all" is that it remains a one-sided conversation. It reinforces different rules of success for men and women, when in fact, both want the same thing. 
A study by the University of Georgia with a global sample of 250,000 men found that men struggle as much as women to balance work and family obligations.  
While household and caregiving responsibilities still lie more with women, research suggests the gap is narrowing. An Ipsos & United Women Singapore 2020 study found that a shift in attitudes between generations towards the sharing of household responsibilities is more significant among those below 35 years old. 
All this is encouraging and we need to continue to educate and advocate for mindset changes towards gender roles and combat gender biases of men as breadwinners and women as caregivers. 
We need to go from "having it all" to "sharing it all" not just at home but also in the workplace.
Battling baby blues: When do parents need professional help? Listen to CNA's Heart of the Matter:
DON'T FOCUS ON SOLUTIONS JUST FOR WOMEN
Much of the focus on increasing women's participation in the workforce has been centred on what women need in order to stay in the workforce or rise to the top of their field. 
While maternity leave and access to affordable childcare to family-friendly workplace practices designed with women in mind are all critical and important in addressing gender inequality, we need to shift from shaping jobs for women to shaping jobs for all to balance their priorities.
Take parental leave for example. According to the World Bank, while almost every country in the world mandates paid maternity leave, paid paternity leave is less common with just over half of all countries setting paid time off for new dads. 
Even so, the proportion of men who take more than a few days off work when their child is born is insignificant. This is the case in Singapore where, according to the Ministry of Social and Family Development (MSF), the take-up rate of paternity leave was 55 per cent in 2019, according to its latest figures. 
It is an improvement from 47 per cent in 2016 but clearly, with slightly over half of dads utilising their paternity leave, there's some way to go.
In many countries, fathers account for less than one in five of those taking parental leave. Even in Japan and Korea, where paternity leave is the most generous — says a UNICEF survey of 41 countries offering such benefits — few take advantage of it. 
Most cite fears of being discriminated against professionally, missing out on pay raises and promotions, and being marginalised in their careers. These fears may or may not be accurate, but they are the result of deeply ingrained stereotypes about gender. 
FLEXIBILITY SHOULD BE GENDER-NEUTRAL
It should be just as acceptable for a man to take a career break to take care of his family as it is expected for a woman to do so. Changing this will require significant societal and cultural shifts.
Family-friendly policies should target both men and women, which will help eliminate employment discrimination. 
As long as women are the ones who end up taking more time off, working part-time or making greater use of flexible work benefits, some employers will continue to perceive women as less committed to their careers than men.
Men, as much as women, need the flexibility to work part-time. Both need the ability to use such benefits without potential long-term career damage. Companies must make it easier for employees to get off conventional career ladders and more importantly to get back on.  
To encourage men to share it all, Germany, for example, provides families with extra weeks of paid parental leave only if both parents take part-time leave and reduce their working hours for at least four months. 
It's time for companies to rethink their family-friendly workplace policies and practices to become more gender-inclusive and encourage a more balanced share of caregiving and family responsibilities.
For decades, women have suffered career penalties because of stereotypes that they are more family-oriented and less committed to their careers. They've grappled with guilt and living up to traditional expectations of being primary caregivers.
They've tried to "have it all" – fitting themselves into someone else's box of what success looks like.
It's time that we rewrite the narrative from having it all to sharing it all – life, work, success, parenting and household chores.
Renée McGowan is Mercer's President, Asia Middle East & Africa (AMEA), leading Mercer's business across 18 markets. She is also Chairperson of Mercer in Japan and Executive Director on Mercer boards in China and Hong Kong.