Commentary: Allowing two adults to divorce in mutual agreement is hardly radical or revolutionary
No-fault divorce is a welcome change amid changing ideas of marriage and gender roles, says SUSS sociologist Hu Shu.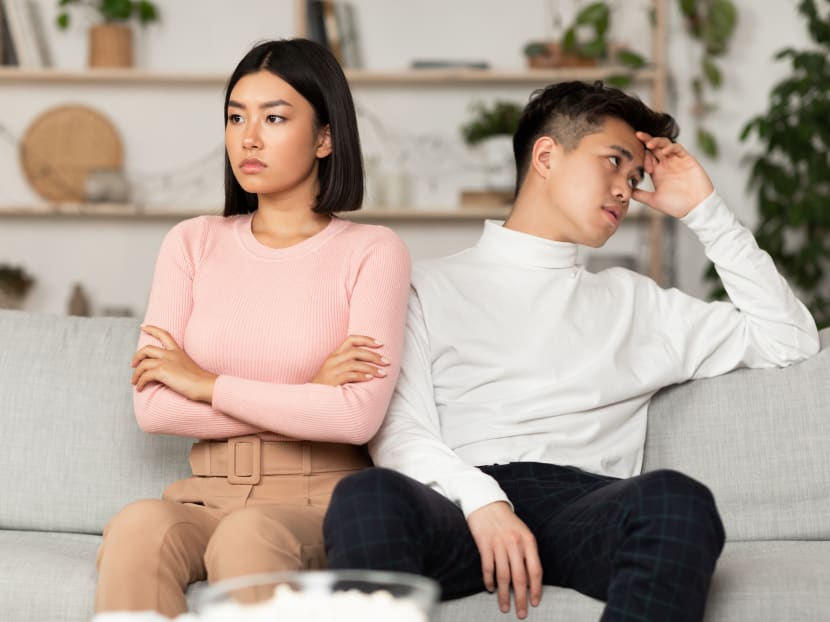 SINGAPORE: Divorce by mutual consent was proposed as an amendment to the Women's Charter for the first time in Singapore in 1979 but was removed before it could become law.
One reason cited then was "not (to) make it easy" to terminate marriage, such that there is "no incentive" to save it.
More than 40 years later, a no-fault option that allows couples to divorce by mutual agreement resurfaced in Parliament earlier this month.
This would allow couples to part ways without having to establish the fault of their spouse or wait for separation for three to four years that currently prove the irretrievable breakdown of marriage – the "sole ground for divorce" enshrined in law.
It is a long-awaited and welcome change. No-fault divorce will reduce bitterness, pain and litigation costs on divorcing couples.
RECOGNITION THAT REASONS FOR DIVORCE ARE DIVERSE
Contrary to perceptions that the decision to divorce is ill-thought-out or that divorcees have not tried hard enough to make their marriage work, it often takes years - sometimes decades - for people to make up their minds to end the marriage.
A profile analysis of divorcing couples conducted by the Family and Juvenile Justice Centre of the Subordinate Courts in 2002 found that the 50 couples in the sample were married for an average length of 14.3 years.
Yet, half the sample noted problems in their marriage within the first four years. Wives recognised the existence of a marriage problem earlier than their husbands.
This speaks to the high regard for marriage in society, the remnant stigma attached to divorce and divorcees, and the fact that divorce is life-changing and requires long and careful consideration.
The top major problem among both men and women is communication breakdown. Women reported domestic violence and financial difficulties as the second and third most significant problems, while men reported constant quarrelling and problems with in-laws and/or relatives.
In her 2015 book Perspectives on Marital Dissolution, local sociologist Sharon Ee Ling Quah wrote about the experiences of 35 divorced Singaporeans.
Her informants cited a combination of reasons for divorce, such as communication breakdown, misalignment of life expectations and unmet need for emotional intimacy and bonding. Other reasons included abandonment, infidelity, lack of financial ability and responsibility to provide for the family, domestic violence, problem gambling, and drug addiction.
These findings shed some light on the diverse reasons why people leave a marriage – and it's worth mentioning they're not always fault-based.
STOP SAYING IT'LL MAKE DIVORCE TOO EASY
Opponents continue to claim no-fault divorce will increase divorce rates by making it too easy to part ways.
But is this true? A look at the history of no-fault divorce in other countries may provide some answers. The best-researched divorce law reforms happened in the United States between the 1960s and 1980s.
The US saw a rapid increase in the divorce rate in the 1970s after a spate of reforms implementing mutual consent or unilateral no-fault divorce – that is, without the consent of their spouse.
But research showed less than 10 per cent of the rise in divorce was due to these legal changes and more specifically, to unilateral no-fault divorce. And this small effect is short-lived and can no longer be discerned after six to eight years.
Even without major changes to Singapore divorce laws in recent years, the number of divorces has been increasing since 1980 and then stabilising around 7,000 each year in the last 10 years.
Singapore's new option of divorce by mutual agreement will likely affect only those couples in which both parties want a divorce and are just waiting to clear the lengthy and complex legal process. The requirement that divorce can only be filed after at least three years of marriage also remains unchanged.
In the short run, we may see an increase in the number of divorces. But as the pent-up demand for divorce is met, this trend will return to its normal level.
Another insight from research on the US divorce law reforms is that neither mutual consent nor unilateral no-fault divorce has had any effect on marriage rates.
WOMEN INITIATE DIVORCE MORE THAN MEN
Conventional thinking might hold that women, more than men, do not want to leave an unhappy marriage, since historically many women became full-time homemakers and therefore were less financially independent than their husbands.
But times have changed. In most countries including Singapore, women's participation in the labour market has grown over the past few decades. Almost 60 per cent of married women were employed in 2020, an increase from 2010 according to the Department of Statistics.
Research has shown that, among women who are unhappy with their marriage, employed women are more able to leave.
Women initiate about two-thirds of divorces in Singapore. In fact, most divorces are wanted by wives not only in Singapore, but in many countries such as the US, United Kingdom, France, Australia, and China.
TOWARDS AN EGALITARIAN PARTNERSHIP
As modern ideals of love, marriage and individual fulfillment became widely accepted, couples typically enter a marriage with the expectation that it will bring happiness, emotional satisfaction, and personal growth.
With changing gender roles resulting from rising educational attainment and female labour force participation, women also increasingly expect an egalitarian partnership in financial contribution, emotional engagement, and household labour.
When a marriage ceases to satisfy these needs and expectations or even becomes harmful to one's physical and mental health, divorce becomes rational and necessary.
No-fault divorce will not encourage divorce or discourage marriage, but it will make the divorce process less acrimonious for those who are already determined to end a counterproductive marriage.
If divorcing couples could part on more amicable terms, it would help them and their children to adapt and move on in life more quickly.
It benefits no one to drag out an unhappy marriage in a lengthy and agonising process of divorce.
Dr Hu Shu is the Head of Sociology Programme, School of Humanities and Behavioural Sciences at the Singapore University of Social Sciences.
Couples can jointly file for a dissolution of marriage without assigning blame. But how does a no-fault divorce work? Listen to CNA's Heart of the Matter: