Commentary: Online grocery shopping cannot beat the pleasure of visiting supermarkets
Online food and grocery delivery has been nothing short of a godsend during the pandemic. But they cannot replicate the sheer joy of traversing down the aisle of a supermarket or wet market, says cookbook author Pamelia Chia.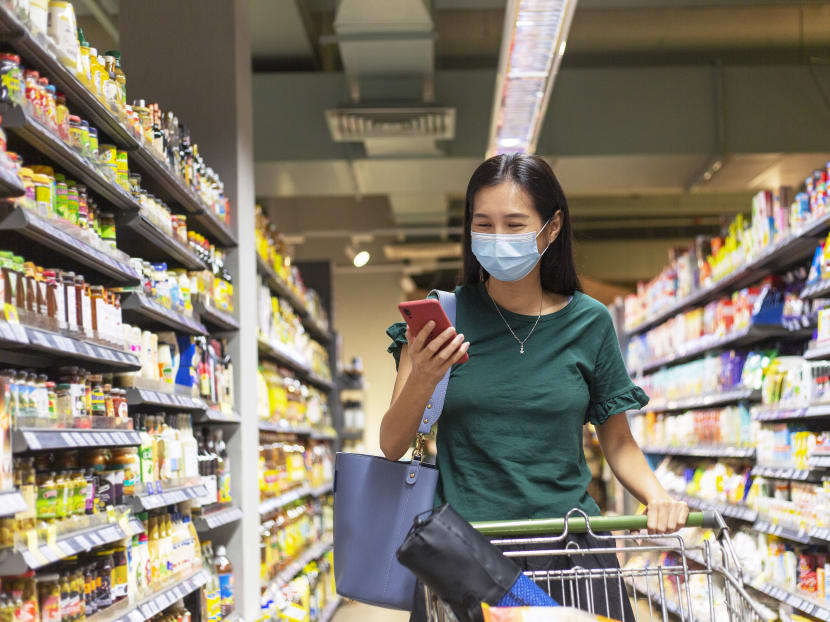 SINGAPORE: The late American chef and author Anthony Bourdain once wrote in his Les Halles Cookbook: "Good cooks do not exist in a vacuum. They are at the very end of a long supply train that begins, in our fortunate case, all over the world … The acquiring of food is, or should be, a series of personal relationships, involving, over time, continuing business transactions and no small amount of trust."
The book was published in 2004. How much has changed since then.
With the COVID-19 pandemic, we have seen the rise of online grocery shopping. Fresh produce lands on your doorstep at the click of a button, eschewing the need for any form of human interaction, let alone the personal relationships and trust that Bourdain speaks of.
We are now not only able to purchase raw ingredients online; there has also been a skyrocketing of meal options at our disposal on the Internet, such as food boxes and meal kits. People are able to avoid the crowds or stand in line, a definite plus amid virus fears.
This transformation in the way that we shop looks like it is here to stay with all major supermarkets ramping up their online delivery systems and manpower.
According to Lazada Singapore CEO James Chang, RedMart has hired about 500 staff over a few weeks to keep up with the jump in online grocery sales since movement restrictions were introduced in early April last year. RedMart's unique visitors on a daily basis has jumped more than 11 times, said Chang in a June news report.
Even now, the company is looking to continue increasing its capacity through automation and a new warehouse to keep up with the influx in consumer demand. The same scenario is playing out at the other big supermarket names too.
Like so many, I had never ordered groceries online. But the lockdown in April last year compelled my husband and me to try.
While certainly convenient, it was not without its glitches. Some items we ordered were unavailable and swapped out for another item at the store, something I can foresee a picky eater or cook being unhappy about.
Another downside was the sheer amount of packaging involved – on top of the original packaging of each individual ingredient were the plastic bags they were placed in. There was no way to opt out of this from what we saw on the website.
And based on anecdotal evidence, you may not get the times you want for delivery slots. So a lot of forward planning is required to ensure you have what you need, when you need it.
But beyond these factors, there was a simple reason why that was the last time we ordered our groceries online - I missed the experience and little luxuries that going to markets and supermarkets afforded.
THE JOY OF SUPERMARKET SHOPPING
Friends sometimes ask if I shop with a list and the answer is both "yes" and "no". Most of the time, I step into a market with a list in hand, but this is not a list set in stone; it is one that is amenable to what I see and to what is available.
Sometimes I walk by screamingly fresh seafood that just begs to be taken home and cooked. Or fragrant mangoes with sweet sap beading on their skin. These are certainly more inspiring and evocative than sterile images on a screen.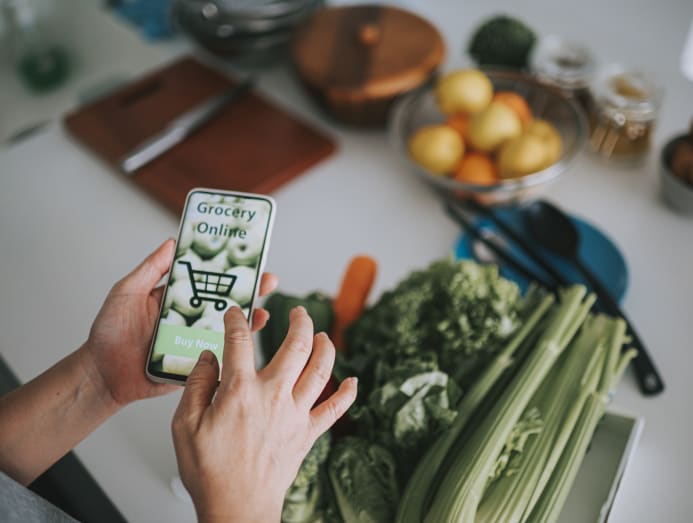 There is a sense of excitement in the finding of something unanticipated and in the spontaneity of heading home with a purchase that deviated from the list. It is as much of a rush as when you find that the item you had been eyeing at the store is on discount.
With online shopping, we lose the opportunity to rely on our senses and to respond to what we find.
We never know if the prawns arriving on our doorstep would be plump and smelling of the sea or drab with droopy heads. We leave it all to chance and the food in our kitchen suffers for it.
HUMAN CONNECTIONS
There is also something to say about the human connections at the market or supermarket. I grew up at Upper Thomson Road, in an estate located right across Lakeview market. My family, like many others in our neighbourhood, had a ritual.
The first order of the day would be breakfast at the hawker centre, often half-boiled eggs cracked into a saucer, mixed with white pepper and a drop of soy, slurped up with a side of hot milo for me. Full and happy, I would accompany my mother to get what she needed.
The fishmongers who knew her well would banter with me by extension, affectionately calling me "assam fish" after my mother told them it was my favourite seafood dish. This is close to two decades ago, but still I recall what a palpable sense of community there was in that small space that was the market.
Unlike the hip farmers' markets of Europe, Singapore's wet markets are much more hyperlocal, because there is always one or two in each neighbourhood. In a sense, it is a true depiction of what our community is.
You inevitably catch wind of an auntie's gossip, the croon of old singers coming out of the radio, or the sound of an uncle's guffaw as he cracks the occasional joke.
The markets are the raw, beating heart of the community where you get a brush of everyday Singaporean culture, beyond the polished grandness of Jewel and Marina Bay Sands.
Many years later, when I wrote my first cookbook, Wet Market to Table, centered around the weird and wonderful produce of the wet market, I learnt to seek the advice of fishmongers and vegetable sellers.
A young fishmonger introduced me to Bombay duck, a seasonal slippery lizardfish especially good deep-fried. An uncle taught me how to slice mugwort thinly and mix it with eggs to form an omelette that, while also delicious, is said to be good for stimulating healthy and regular menstrual cycles.
Even at the supermarket, chatting with a butcher at the deli and showing him photos of what I made with the pork belly he sold me would make me feel like these interactions I have and the joy I feel leaving the store, aren't so much about the food; they are a connection to what is human. 
In this technological age exacerbated by the pandemic, where in-person conversations are traded for text messages and social media interactions, movies at the theatre for private Netflix binges, I often wonder how much are we truly at risk of losing as a society.
And what unexpected little pleasures we would discover if we would make a visit to our markets.
Pamelia Chia is the author of the bestselling cookbook Wet Market to Table, and the founder of Singapore Noodles, an online platform with the mission of preserving Singapore's food heritage. Born and raised in Singapore, she is now based in Melbourne.
How do staggering 11.11 sales figures sit with a growing consciousness about waste and sustainability? We ask a marketing professor and Lazada's Chief Business Officer on Heart of the Matter: