Commentary: Russia's Ukraine invasion is very awkward for China
Russia's military operations will challenge China's ability to balance maintaining good relations with Moscow and preserving its long-held position that countries must respect each other's territorial sovereignty, says Bo Zhiyue.
WELLINGTON: Russian President Vladimir Putin's actions in the Ukraine have left his "dear friend" in a tight spot.
Putin had been the first world leader Chinese President Xi Jinping met in person in more than two years.
Against the backdrop of the Beijing Winter Olympics in early February marked by the absence of many Western heads of state, they made proclamations of a new relationship with "no limits" and "no forbidden areas of cooperation".
Putin was all out to court Xi. He had reiterated Russia's opposition to any form of independence for Taiwan, support for China's search for the coronavirus' origins and proposed to increase trade between both sides in several deals inked by both sides.
Putin and Xi also signed oil and gas deals worth an estimated US$117.5 billion in early February, including a 30-year contract to sell China an additional 10 billion cubic metres of gas a year via a new Gazprom pipeline. This was coming at a time when China's gas demand is expected to grow by more than 10 per cent annually yet energy shortages were leaving many Chinese families without winter heating.
At the Games, both Putin and Xi also expressed opposition against the North Atlantic Treaty Organization's (NATO) eastward expansion in what now seems like a foreshadowing of things to come.
Putin knew what he was doing. Just a day after the Games concluded, Putin formally recognised the two separatist regions in eastern Ukraine - Donetsk and Luhansk. Three days later on Thursday (Feb 24), Russia launched an attack against Ukraine.
Before Russian tanks started rolling into Ukraine, Xi, like many others, might not have believed a war was imminent.
How will Xi now manage the situation? How will China react to Russia's invasion of Ukraine?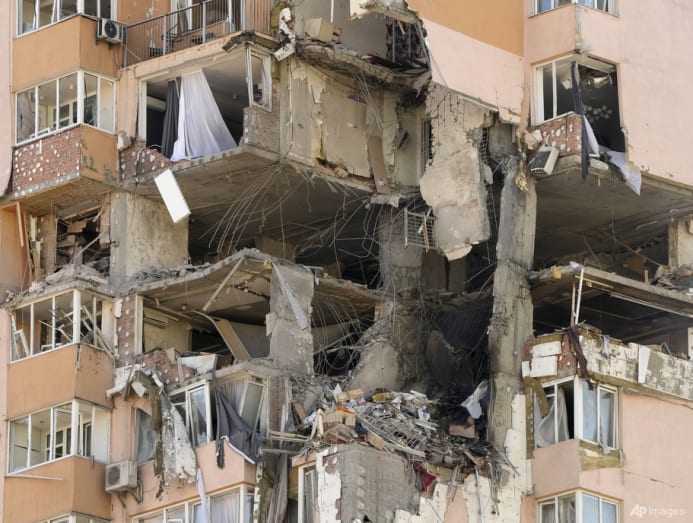 CHINA CANNOT BE SEEN SUPPORTING WAR IN EUROPE
The reality is China's options are limited.
Xi cannot openly back Putin's invasion of another sovereign country, when China had supported the Minsk agreements, a ceasefire deal inked in 2015 to end separatist violence in Ukraine's Donbas region. It had called for restraint amid the escalating tensions of recent months and continued to do so after Russian missiles hit several cities in Ukraine.
But neither can Xi openly condemn his friend and ally, after Russia's strong show of support at the Olympics.
In a call with his Russian counterpart Sergei Lavrov last Thursday, Chinese foreign minister Wang Yi tried to thread the needle by highlighting that China respected the sovereignty and territorial integrity of other countries and a balanced approach to European security had to be found through dialogue and negotiation.
It's unclear to what extent China had a prior inkling of Russia's plans for a spring offensive against Ukraine and whether there was a direct quid-pro-quo or at least an implicit understanding that Russia should minimally hold off during Beijing's hosting of the 2022 Winter Olympics so as not to mar the positive atmospherics in Beijing.
Developments in Ukraine these past few days, however, require China to tread carefully at home, given its longstanding foreign policy principle of respect for territorial integrity and the sovereignty of other countries.
China had recognised Ukraine as a sovereign country after the collapse of the Soviet Union. The two countries established diplomatic relations in 1992.
Facing their own separatist movements in Xinjiang, Tibet and other places, who argue for independence on the basis of ethnic and cultural differences, it's also not in China's interest to recognise Donetsk or Luhansk, thereby legitimising these breakaway states and setting an awkward precedent that goes against their own domestic interests.
Xi had previously vowed zero tolerance for separatist movements in 2016, in addressing concerns over political developments in Hong Kong. China has importantly also not recognised Russia's 2014 annexation of Crimea.
SITTING ON THE FENCE DOES NO GOOD FOR CHINA
Is Russia hiding behind Chinese reticence to avoid rolling back its invasion of Ukraine? China must do more if it doesn't want to be seen as an enabler for Russia.
But it sounds like China is exhausting how much it can urge Russia to exercise restraint and get back to the negotiating table. In a telephone conversation with Putin on Friday, Xi indicated his support for Russia and Ukraine to resolve the "issue" through negotiation.
But Xi importantly added that the dramatic developments there have drawn huge attention from the international community and that China decides on its position based on the merits of the Ukrainian issue. Xi's words had a powerful subtext that Russia needs to find a quick solution to the issue and China's position will not be held hostage by the warm Russia-China ties.
Perhaps China is also losing patience with Russia. What Xi did not say during the call is also telling.
Xi did not say that China understood Russia's security concerns, unlike his foreign minister Wang's earlier response to his counterpart Lavrov, nor did he join Putin in slamming the United States and NATO for their actions. Effusive terms framing the Russia-China partnership were also omitted.
China appears determined not to take Russia's position as its own.
No one can say what China's position is but sitting on the fence and adopting a wait-and-see attitude in what may become the biggest military showdown this decade is hardly behaviour befitting a responsible global power.
Still, China can't be happy with being backed into this corner.
It has deep economic links with both Russia and Ukraine. It's struggling to chart a path for growth and keep COVID-19 cases zero, and in a world of rising inflation and supply chain crunches, war can only hurt more.
The sanctions meted by Europe and the United States could bruise China, the top export destination for Russian goods and the only trading partner to have substantially increased its exports to Russia since 2010. It is also Ukraine's single largest trading partner and sees Ukraine as a key transit node in Xi's ambitious Belt and Road infrastructure initiative.
Much is at stake when anything that upsets China's economy may create trouble later in the year when the National Party Congress will be held – a key milestone where Xi's third term is expected to be confirmed.
Perhaps all these are things the US understands, having stayed out of the limelight in recent days so attention, including China's, can be squarely focused on Russia.
The best course of action for Xi may be to bring Putin to the negotiating table. The US should encourage that. It should mend fences with China to enable that.
But before that happens, Putin may want to maximise his territorial gains, including taking down Kyiv, to position himself strongly for the ongoing negotiations. It will be a very tough few days for Ukraine.
Professor Bo Zhiyue is founder and president of the Bo Zhiyue China Institute, a consulting firm providing services to government leaders and CEOs of multinational corporations, and an author on China's elite politics.