Commentary: Singapore's climate ambition finally up to speed with international developments
Moves to strengthen Singapore's net zero goals or aggressively hike carbon tax show calls for more ambition have not gone unheard, says Melissa Low of the Energy Studies Institute.
SINGAPORE: Singapore has made bold moves with revised carbon tax rates, and plans to achieve net-zero emissions by or around mid-century.
On Friday (Feb 18), Minister for Finance Lawrence Wong announced that Singapore's carbon tax rate will be revised from S$5 per tonne of carbon dioxide equivalent to S$25 per tonne from 2024 and 2025.
It'll then increase to S$45 per tonne from 2026 to 2027 and fall within the range of S$50 to S$80 per tonne by 2030. 
Admittedly, if asked last week what I thought the revised tax rate was going to be, I was quite certain it would be in the ballpark of S$10 to S$15 per tonne by 2030, as the Government had previously intended.
Indeed, I'm glad to have been proven wrong.
Singapore introduced a carbon tax in 2019. The current tax rate is S$5 per tonne of emissions over a period of five years from 2019 to 2023.
Over two parliamentary motion debates on climate change in 2021, Members of Parliament called on the Government to review the tax level which many considered to be too low.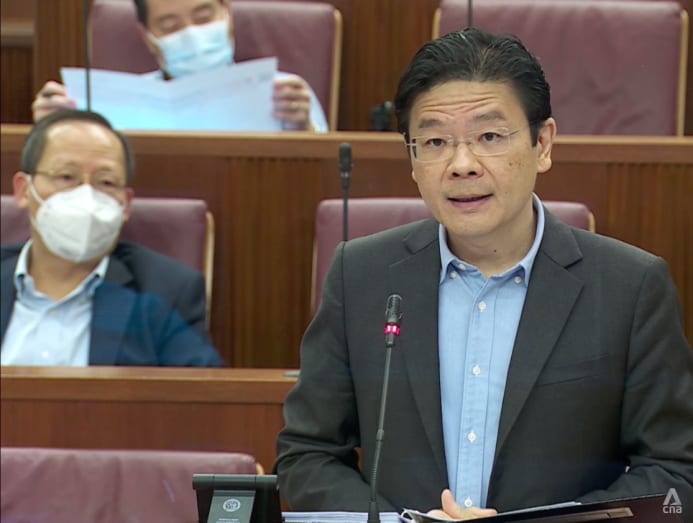 Having organised youth-focused public consultation engagements to seek views on how the Singapore Green Plan and the carbon tax in 2021, I noted strong calls for a significantly higher carbon tax, among reducing waste and conserving our forests and biodiversity. 
These calls for more ambition seem not to have gone unheard, which is a relief.
A 'MASSIVE IMPROVEMENT' ON SINGAPORE'S 2020 CLIMATE COMMITMENT
Another major announcement is Singapore's new net-zero target by or around mid-century. This is a massive improvement on its 2020 commitment to halve peak emissions from 65 million tonnes of carbon dioxide equivalent to 33 million tonnes by 2050, then achieve net-zero emissions as soon as viable before 2100. 
The big change in carbon taxes is a huge enabler. The strong political support behind Singapore's Green Plans and calls by activists to get more audacious, as well as signals by youths they do not support fossil fuels and carbon-spewing industries is also part of the story.
But the big pull factor is the opportunities Mr Wong cited in transitioning to a green economy – in new technology like carbon capture and storage, and hydrogen, which can create investment and business opportunities as well as jobs of the future that will remain in high global demand in a low-carbon future.
This bright future is one that is green. Singapore is among the 80-odd countries that have set net-zero targets, most by 2050. The increased ambition sends a clear signal that Singapore is serious about tackling climate change, and aligning with the science.
An Intergovernmental Panel on Climate Change (IPCC) report states that, in order not to exceed 1.5 degrees Celsius of global temperature increase, global net anthropogenic CO2 emissions should fall by about 45 per cent from 2010 levels by 2030, reaching carbon neutrality by 2050.
With mitigation efforts underway, and with Article 6 rules on international cooperation on carbon markets agreed at COP26 last year, Mr Wong said Singapore is now in a position to raise its climate ambition.
MANAGING COSTS PASSED ON TO CONSUMERS AND BUSINESSES
It is surprising that the carbon tax has increased aggressively. Many will be concerned about Singapore's competitiveness and cost pass-through onto consumers.
The new carbon tax rates will have to be evaluated alongside Singapore's suite of climate mitigation efforts across all sectors to understand its effectiveness and possible impact on competitiveness.
The increase in the tax rate should create a stronger price signal to encourage large emitters to make energy efficiency improvements and decarbonise. 
When it comes to competitiveness, much depends on how other economies implement domestic mitigation too. It is possible that making energy efficiency improvements and decarbonising earlier would make companies operating here more competitive in an increasingly carbon constrained world. 
The carbon tax is therefore complementary to the suite of mitigation measures that Singapore has already introduced, including energy efficiency, solar photovoltaic deployment, green building performance standards, and a circular economy approach to waste and water.
All these abatement measures have to be considered in totality to understand whether they have real implications on Singapore's emissions trajectory. It is important to consider the effects of the carbon tax on our economy, such as whether jobs will be displaced and if this leads to loss of competitiveness for our emissions-intensive, trade-exposed sectors. 
Listen to COP26 President Alok Sharma break down the "historic" Glasgow climate pact and the work that remains to be done:
There is also the concern of rising costs for businesses and households when raising the carbon tax. The government has said that they will enhance U-save rebates to help lower- and middle-income households shoulder higher utility bills, as the carbon tax will drive up electricity and petrol prices. 
The higher carbon tax could be used to fund more social welfare measures, or put towards building a pipeline of talent and skilled experts in carbon services.
LIVING IN AN INCREASINGLY CARBON-CONSTRAINED WORLD
Another issue to be mindful of is the energy security risks of decarbonisation. As Singapore imports all of its energy, we remain vulnerable to supply shocks and price volatility of oil and natural gas.
Soon, Singapore will also import green electricity from its neighbours, and related infrastructure costs may be priced into our electricity price as well.
We are in an increasingly carbon-constrained world, and so consumers and businesses should expect to pay a price on consumption. Instead of looking solely to the government to ease the burden of rising costs, everyone needs to be more mindful about what we consume.
We must let go of the perception and belief that efforts to go green in our daily lives are inconvenient or difficult. In fact, using devices less not only helps us save on our electricity bills but will also likely improve our mental health and wellbeing. 
Melissa Low is a Research Fellow at the Energy Studies Institute, National University of Singapore.