Commentary: There are too many obstacles in Singapore-Malaysia land travel
Reopening the Singapore-Malaysia border will bring crucial relief to families and both countries' economies alike, but potential confusion about travel requirements may mar this widely anticipated event, says ISEAS-Yusof Ishak Institute's Serina Rahman.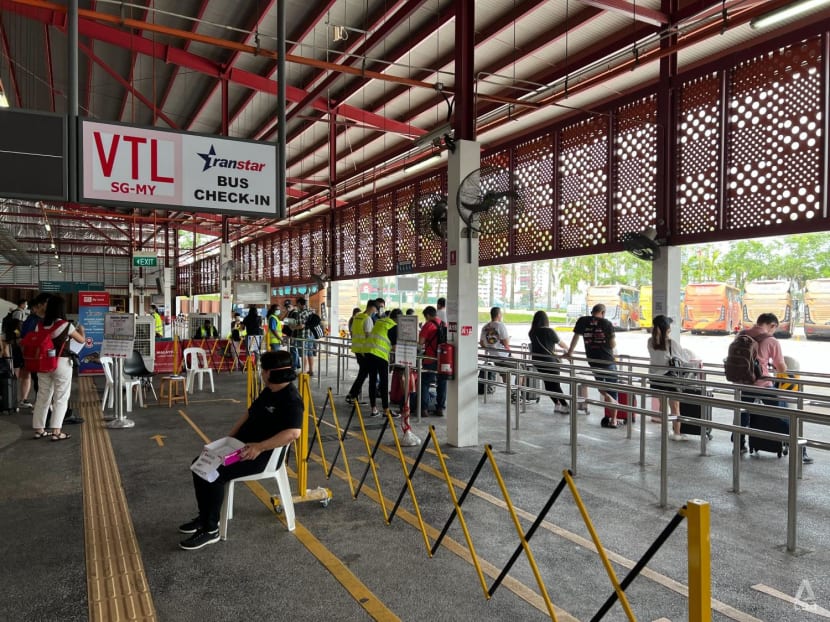 JOHOR: In a highly anticipated joint announcement, the Prime Ministers of Malaysia and Singapore declared that the shared land border between the two nations would reopen on Friday (Apr 1), just over two years after it was slammed shut due to COVID-19. 
This would come just in time for Qing Ming, which begins on Apr 5, the Muslim fasting month and Hari Raya Aidilfitri thereafter. 
Key to the reopening was an agreement on removing expensive COVID-testing and quarantine requirements, so that daily commuting would be as it was before the pandemic.
This is welcome news to the many Malaysians living in Singapore, who have been separated from their families throughout the pandemic.
Many of the more than 300,000 people who used to commute to work daily from Malaysia are celebrating the possibility of returning to work in Singapore. Posts on job opportunities have quickly surfaced on commuter social media groups.  
Not only will this policy decision boost commuter livelihoods, but Singaporeans, eager to return to having weekend jaunts north of the border, will also greatly contribute to Malaysia's (especially Johor's) economic recovery. 
A MASSIVE RELIEF
While there were limited opportunities for travelling between the two countries under the Periodic Commuting Arrangement (PCA) and the Reciprocal Green Lane (RGL) schemes, they were overly complicated in their quarantine and other requirements. 
The Vaccinated Travel Lane (VTL) option seemed more positive, but with a maximum of only 3,000 VTL bus tickets made available per day when a hundred times that number of commuters used to travel daily, getting a ticket was hugely dependent on luck. 
Tickets often sold out in half an hour. Commuters also dealt with fake portals and scammers pretending to sell tickets. It was especially difficult for those who had to return for family emergencies, and tickets were not easily transferable when employers did not approve travellers' leave applications.  
Travelling by air to Kuala Lumpur under the VTL scheme was easier. Some used this option to reunite with families in Johor, even though it was a big detour for them. This was costlier, especially given the complicated daily COVID-19 clinical and self-administered testing requirements pre-and post-travel. 
The scheme's rules also seemed to change overnight, leaving many stranded and in despair over unexpected new obstacles. 
PROMISED EASE OF TRAVEL… OR NOT?
So the promise of a return to pre-COVID travel arrangements is a welcome relief. However, for now, many concrete details are still being worked out. 
To begin with, there still seem to be differences between air, land and sea travel requirements, all of which will be permitted. Air travel into Malaysia will still require pre- and post-arrival COVID-19 testing. 
There had been some confusion about whether insurance is necessary for entry, until a clarification from Singapore authorities on Wednesday evening (Mar 30) that travel insurance is not required for fully vaccinated short-term visitors entering Singapore regardless of mode of travel. 
While the land bridges are said to be open to all vehicles including employee shuttle buses from Apr 1 (a commuter can also walk across the Causeway), there is now a requirement to apply online for a Vehicle Entry Pass (VEP) to Singapore, to be collected at an office in Johor Bahru. This can no longer be done at the customs checkpoint as before. 
Authorities have warned potential applicants that the process may take up to two weeks, given the expected surge in demand. Malaysians intending to return home on Friday may not be able to get back into Singapore after the weekend (April 2-3) if their VEP is not approved. 
Vehicle entry into Malaysia also requires a VEP, but this online system suffered many hiccups when it was first launched.
Separately, Malaysia's transport minister has announced that the RM20 road charge for Singapore-registered vehicles will be waived from Apr 1-7, to allow motorists to reactivate and top-up their expired "Touch 'n Go" cards or to register for a VEP.
The Johor state government has set up a new task force to iron out the details for daily commuters. Given past disappointments and pandemic-induced trauma, many worry that new rules may further complicate their commute. 
STILL A LONG WAY TO GO
Some commuters are already reporting difficulties in syncing, verifying and uploading their vaccination certificates on COVID-19 contact tracing apps.
Understanding the different travel and tracking requirements was already problematic under the VTL scheme; frustrated travellers asked countless questions on social media commuter group sites. 
The cautious opening of international borders: Will crossing over to Malaysia be practical and safe? Listen to CNA's Heart of the Matter:
With many applications being moved online, including the Singapore Arrival Card (SGAC), less tech-savvy travellers are likely to struggle.
It was also announced that public transport services like buses and taxis will be allowed to resume from Apr 1. However, the Causeway Link buses are limited to 20 per day for now, with no information on whether tickets must be bought online. 
Despite announcements that public transport will be included in the border reopening, there is no news on SBS Transit or SMRT bus services, and it appears that no public buses will be running through the Second Link. 
Tickets can be bought online for a number of specially chartered buses, indicating that there will be a limit to the number of people moving across the border daily after all. Those who have already bought VTL bus tickets for April are now wondering if they'll get refunds or whether these buses will continue to run. 
There is much confusion on the ground, not just among commuters, but likely also among those working out how to implement safe commuting processes. While the imminent reopening is an exciting prospect, much still needs to be done to make it possible. 
Expectations are at a fever pitch, but the uncertainty leads to some fear of chaos and disappointment should they have to turn back at the border. Commuters can only hope that the kinks will be swiftly smoothened out and that they do not inadvertently end up in a potential COVID-19 cluster at the Johor-Singapore border checkpoints. 
Dr Serina Rahman is a Visiting Fellow at the ISEAS-Yusof Ishak Institute. This commentary first appeared on the Institute's blog The Fulcrum.
Editor's note: This story has been amended to reflect updated information on travel insurance for people coming in to Singapore.