Commentary: Singapore slows reopening to protect our seniors because this is who we are
Protecting our seniors has long been a Singapore impetus. But more can be done in plans for endemic living to help the elderly find their footing and integrate back into society, says SUSS' Dr Kelvin Tan.
SINGAPORE: Could vaccinating more seniors spell the end of this horrible pandemic?
That's the key question plaguing countries in Europe which have lagged behind on vaccination rates and seen surges in deaths and hospitalisations.
When Sweden decided to pursue herd immunity and let people self-regulate, the wave of deaths in nursing homes and among the elderly saw authorities come under fire for letting seniors down just so the country can keep open.
The angst is personal when neglect in aged care home is a commonly heard story.
An anguished BBC interview with a man whose 81-year-old father was "left to die", "drugged with morphine" and given end-of-life care instead of being sent to the hospital for treatment after contracting the virus went viral last month.
The Swedish healthcare system came under strain. Nearly half of all COVID-19 deaths in the country happened in such homes.
SINGAPORE PRIORITISES ELDERLY IN COVID-19 STRATEGY
"We are not prepared to accept the high fatality rates among the elderly other countries had or are experiencing," Health Minister Ong Ye Kung said in a ministerial statement in Parliament in July.
Indeed, it's a vastly different picture here in Singapore, where protecting our seniors more susceptible to serious COVID-19 illness has been a top priority since COVID-19 hit which partially explains Singapore's "hammer and dance" approach.
Seniors have therefore been urged to stay home these few weeks while the COVID-19 situation stabilises.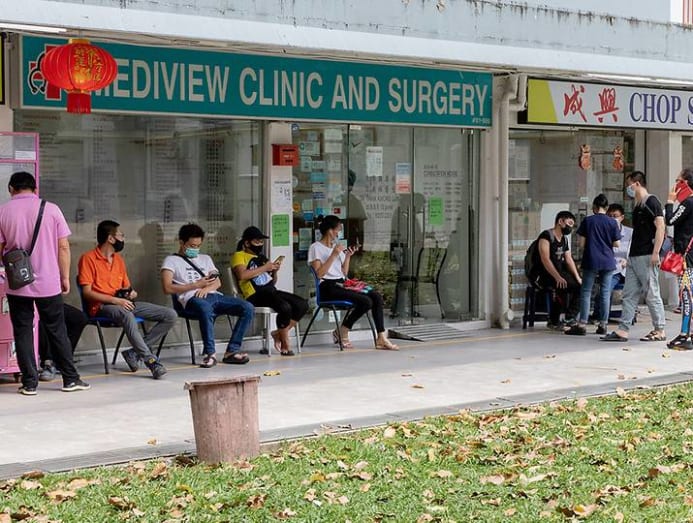 Seniors have also gotten priority for vaccinations, with home vaccination and walk-in options removing common challenges to getting a shot.
These efforts seemed to have worked. As of August, 80 per cent of those aged 70 and older are fully vaccinated. About 88 per cent of those in their 60s are vaccinated. 
Vulnerable seniors are also insulated. Staff in nursing homes have facilitated vaccination and stepped up safe management measures, with different zones demarcated for staff and residents to limit interactions as a safety precaution.
As a country, we are also paying attention to the mental well-being of our oldest and taking pains to avoid depression and anxiety from gaining root. To help seniors go digital to connect with loved ones and combat isolation, 1,000 ambassadors have been hired by the SG Digital office.
CARING FOR OUR SENIORS HAS LONG BEEN A NATIONAL PRIORITY
Although Singapore's COVID-19 management has been seen by some as risk-averse, a deeper value undergirds our national strategy: An unwavering focus of protecting our seniors.
The family unit has long been seen as the first line of support for the elderly.
But something changed in 2013 at the National Day Rally, when Prime Minister Lee Hsien Loong outlined the start of a new social compact, a "new way forward", with the community and the Government doing more to help individuals to give them assurance over life uncertainties.
Help with managing healthcare costs was a key objective. It was then PM Lee announced the contours of what would become the S$9 billion Pioneer Generation Package benefiting 450,000 Singaporean seniors and their families.
The package eventually included subsidies for outpatient care, MediSave top-ups, disability assistance, support for MediShield life. A subsequent Merdeka package for 500,000 seniors was introduced in 2019 with a similar ethos.
A Pioneer Generation Office (now the Silver Generation Office or SGO) was also set up to help seniors navigate government assistance schemes and gather feedback on how their lives could be improved.
JAPAN AND HONG KONG PRIORITISED SENIORS TOO
As our understanding around ageing, health and well-being evolve, a bigger shift around ageing models the world is underway.
Even Japan, with the world's oldest population and one of the most admired, inclusive and accessible aged care models, is shifting towards home-based care and community care away from housing seniors in nursing homes.
Cities are evolving to be senior-centric. Elderly-friendly housing estates, mall and F&B outlets dot the country – with assisted living facilities where workers provide help with chores and care managers help with services like providing meals or aiding with bathing.
Seniors can stay within the comfort of their homes and enjoy the familiarity of their old neighbourhoods.
The introduction of long-term care insurance with everyone above 40 taking part has also helped more afford care.
So there is little wonder this is a society with only 14 per cent of COVID-related deaths from nursing homes, after strict rules on movements of visitors and staff were imposed when the pandemic hit, learning lessons from dealing with past epidemics like the seasonal influenza.
Seniors only make up 6.4 per cent of new infections as of August, little surprise when those 65 and above registered a 90 per cent vaccination rate. In fact, seniors also make up a minority of those with severe COVID-19 symptoms.
Another society that has spared little effort to protect seniors is Hong Kong.
Elderly vaccination days in neighbourhoods like Yau Tsim Mong, one-stop consultation and inoculation services, and campaigns where volunteers knock on doors to offer home vaccination have been launched to get seniors jabbed.
Hong Kong nursing homes, with established protocols after recent experience with avian flu in 2012 and Middle East respiratory syndrome in 2013, could roll out measures quickly, largely because all are licensed by the Social Welfare Department and operate under a code of practice set by the Hong Kong authorities. Each also has an infection control office to coordinate and implement restrictions.
ROLE SENIORS PLAY AS SINGAPORE MOVE TOWARDS ENDEMIC LIVING
In Singapore's shift towards endemic living, seniors will remain the centre of our approach.
For now, efforts have been made to provide seniors with all they need at home these few weeks including antigen rapid testing kits, masks, hand sanitisers and with befriending services going digital.
Getting eligible seniors their booster shots is a key priority in the immediate term. This is where SGO's support in helping less digital literate seniors make online vaccination bookings and arrange for seniors with mobility issues to be escorted to vaccination centres will count.
This is also where doctors going the last mile to knock on doors to talk to seniors without access to TV, radio or the Internet about COVID-19 vaccination to dispel myths can make the difference in getting that one senior to change their minds.
But in the longer term, the community must play a bigger role in helping seniors beat back isolation and loneliness in what should have been their golden years. Having to minimise social gatherings to near-zero and unable to attend the religious services that used to give them hope, seniors are stuck at home monotonously cooking the same dishes and feeling imprisoned.
Despair and despondence can set in. The suicide rates of seniors, the highest in 2020, should be a warning siren.
It doesn't have to be the case. In the Southwest Community Development Council, the Adopt a Senior programme sees 120 elderly residents engaged by youths from the Girls' Brigade Singapore remotely via video calls.
Further studies should be conducted to measure the social isolation resulting from the pandemic effect.
Mental health groups have seen a surge in calls since COVID-19 hit. Who are the people tirelessly manning these helplines? Find out on CNA's Heart of the Matter:
OPPORTUNITIES TO INCLUDE SENIORS IN ENDEMIC LIVING PLANS
The pandemic has borne impressive efforts in keeping safe our seniors from the scourge of the pandemic.
Vaccination and contact tracing efforts, turbocharged by tokens that seniors without smartphones can carry around and the home vaccination scheme, have been inclusive moves.
There is scope to think about how such gains can be channelled to greater ends, with collaboration between the Government, the people sector and the private sector to design services for an ageing population.
For example, given that almost every Singaporean with a phone has the TraceTogether app, can it pivot towards essential services like befriending services? Can it be merged with the LumiHealth and Health Promotion Board step tracker to promote a healthy lifestyle?
Can the use of wearables and technologies be piloted so seniors are empowered to understand their vital health parameters in real-time and can pre-empt any medical emergencies? This could certain help reduce their visits to the hospital and lessen the burden on the individual and healthcare system.
When COVID-19 does eventually become endemic, I would also urge authorities to look at how we can facilitate recreation among seniors in their HDB estates.
The non-profit organisation Ibasho – which means "a place where you can be yourself" in Japanese – develops socially integrated spaces for older persons to come together. Cafes designed and operated by seniors provide a focal point for multigenerational communities.
Seniors who stay active, learn new skills and knowledge from each other and contribute to the community can be a positive force in a vibrant, thinking society.
In the same light, can we not open up pockets of spaces in void decks so people can gather safely to talk, find out about what's happening around them and connect with each other again?
There are small seating areas in many blocks and an exercise corner here and there. But where the HDB block is everything our parents and grandparents know as home, can we not reimagine how these spaces can be redesigned with seniors and owned by them?
Being less dependent on caregivers if they have a space to sit, reflect and own, can provide a higher quality of life for them. This restoration of our seniors' self-confidence and dignity should run parallel with Singapore's plans for endemic living.
Dr Kelvin Tan is a senior lecturer in the Singapore University of Social Sciences' gerontology department.