Commentary: Vigilance, not universal smallpox vaccination, needed against monkeypox
The monkeypox virus is endemic in countries where it circulates constantly in animals and there's a risk the current outbreak could find its way into animals in non-endemic countries. Complacency is not an option, says the Financial Times' Anjana Ahuja.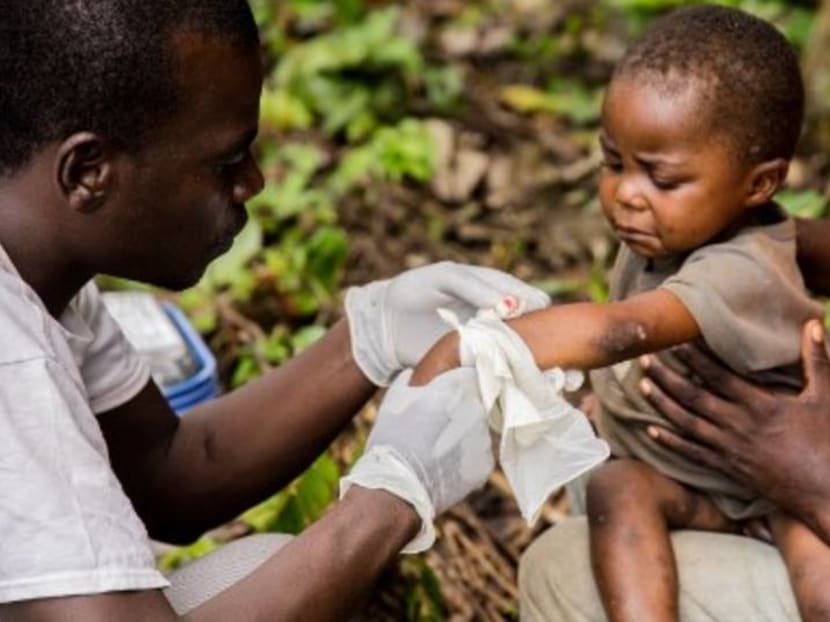 LONDON: The Angel of Death was an oddly serene term for a disease that killed millions and left survivors disfigured by "small pocks", or blisters on the skin. Smallpox, named in the 15th century to distinguish it from the "great pox" of syphilis, was officially eradicated in 1980 after a global vaccination campaign.
Now, a smallpox vaccine is being wheeled out again to combat an unusual outbreak of monkeypox, a milder disease caused by a related virus. As of Sunday (May 22), the World Health Organization (WHO) has recorded more than 250 confirmed or suspected cases of monkeypox in the biggest outbreak seen outside West and Central Africa, where it is endemic.
The United Kingdom is one of the worst-affected countries, with 71 confirmed cases as of May 25. For comparison, the country saw a total of seven cases from 2018 to 2021.
The smallpox vaccine, marketed as Jynneos or Imvanex, is also licensed for monkeypox and provides a good degree of cross-protection. The UK Health Security Agency, which has 5,000 doses and more on order from maker Bavarian Nordic, stated on Monday that it was immunising close contacts of confirmed cases and advising 21-day quarantines, reflecting the possible incubation period. 
This containment strategy recognises that some patients have no history of travel or contact with infected animals, implying community transmission. Scientists are now trying to work out whether the outbreak is due to human behaviour or a genetic change in the monkeypox virus.
HOW DANGEROUS IS MONKEYPOX?
The virus, first recorded in monkeys in 1958 and in humans in 1970, belongs to a family of DNA viruses called orthopoxviruses. Other members that can affect humans include smallpox (the variola virus), cowpox and vaccinia, a relatively mild virus used in the smallpox vaccine. Confusingly, chickenpox is not related.
There are two main virus clades, or branches: The current outbreak is of the West African clade, fatal in one per cent of cases, rather than the Central African (or Congo Basin) clade, which can kill up to 10 per cent. Children and those with compromised immunity, including pregnant women, are most at risk.
Early symptoms of infection include fever, aches, chills and exhaustion; later, rashes on the face, genitals and extremities. These swell into pus-filled lesions, which dry out and fall off. Generally, the illness clears up on its own after two to four weeks.
The virus is not usually highly transmissible; it spreads mostly through skin-to-skin contact or via contaminated bedding, clothing or utensils. Household members and sexual partners are at the highest risk. The transmission role played by semen or other genital secretions is unclear, according to the WHO. 
Large respiratory droplets from coughs and sneezes can also transmit the virus but, in terms of airborne transmission, monkeypox is harder to catch than COVID-19.
Jimmy Whitworth, a professor of international public health at the London School of Hygiene and Tropical Medicine, noted that many current cases are among men who have sex with men, making behavioural factors a simpler explanation than a mutated virus, as DNA viruses evolve much more slowly than RNA viruses like influenza and COVID-19.
"Such close-knit groups are well-documented for allowing rapid extension of infectious disease outbreaks," said Whitworth. "Superspreading events are more likely than a change in the characteristics of the virus itself."
RISK OF ANIMAL RESERVOIRS IN NON-ENDEMIC COUNTRIES
The odds of catching it from an infected colleague or on public transport, he added, were "exceedingly low" because of tiny case numbers, making universal smallpox vaccination, which was dropped after eradication, unwarranted.
Vigilance rather than panic, then, seems to be the watchword. The monkeypox virus is endemic in countries where it circulates constantly in animals, mostly African rodents, such as prairie dogs and rats; it spills over into people through bites, scratches or bushmeat handling. 
The European Centre for Prevention and Disease Control has warned that the current human outbreak could find its way into animals in non-endemic countries, with human-to animal "spillback" creating new viral reservoirs.
That further dials up the risk. As the doctor Gareth Williams recounts in his acclaimed 2010 book Angel of Death, smallpox may have arisen from mutations in another orthopoxvirus, the taterapox virus in gerbils.
Cautioning against complacency, he writes that, in theory, a smallpox-like pathogen could resurface through the mutation of a related virus: "Monkeypox is already most of the way there."
Fallen angels, he observes, do not necessarily disappear forever.
Source: Financial Times/geh