Commentary: Scandals plague frontrunners in South Korea's presidency race. Yet voters don't care
People Power Party's Yoon Seok-yeol is pulling ahead in the polls compared to Democratic Party's Lee Jae-myung as voters seek a change of power and political culture, says Steven Borowiec.
SEOUL: The leading candidate ahead of South Korea's presidential election next month is neither a polished nor experienced politician.
He lacks a clear policy platform and has repeatedly become material for memes with his odd comments on the public stage.
In one of the most infamous cases, as he explained his reluctance to take part in televised debates, he ruefully asked, to no one in particular: "Am I a fool?".
BIZZARE AND PECULIAR
Yoon Seok-yeol, who represents the main opposition conservative People Power Party, made his name as a public prosecutor and has been in politics for less than a year. Yet since coming on the political scene, Yoon has been mired in a series of gaffes, the more serious of which have undermined his image as a man committed to fairness and principle. 
He stands accused of having used his authority as a prosecutor to dole out political favours and meddle in the 2020 parliamentary elections. 
Yoon also defended his wife, Kim Keon-hee, after she was found to have lied on her resume to inflate her accomplishments when applying for a teaching position at two local universities.
More recently, recordings of phone conversations between Kim and a reporter surfaced in which she claimed that as president, her husband would jail any journalist who criticised him.
She also suggested that conservatives are able to avoid sexual assault allegations because they "pay to do it" in January. "MeToo incidents occur because men don't pay," she was quoted as saying, before apologising for her blunder.
Yoon's other missteps are more peculiar and have made him seem bizarrely out of touch with Korean political sentiment. Last October, Yoon spoke favourably about former dictator Chun Doo-hwan, one of South Korea's most reviled historical figures, saying that despite presiding over the horrific crackdown on protesters during the Gwangju uprising in 1980, Chun was "good at politics".
Around the same time, Yoon appeared in public with the Chinese character for "king" printed on his hand after rumours he consulted with fortune tellers for political advice swirled – claims he did not deny.
AND YET YOON SUK-YEOL IS LEADING IN THE POLLS
Yet for all these missteps, Yoon oddly has a growing lead in the polls over progressive Democratic Party candidate Lee Jae-myung, the two frontrunners in the race for the Blue House. Data released last Friday (Feb 4) by Research View showed Yoon with 46 per cent of support to Lee's 38 per cent.
That might be because Lee has been dogged by his own scandals, most notably alleged involvement in a real estate corruption scandal.
Leaked conversation lined with expletives, in which Lee's bad blood with his older brother was aired, cast aspersions on his character. In an odd bit of symmetry, Lee's wife too has been accused of improprieties, for ordering government officials to run her personal errands.
However, Lee is, unlike Yoon, a smooth operator on the political stage, a charismatic speaker with a public profile that combines weighty political experience, including a term as governor of the country's most populous province, with a hardscrabble personal story of rising out of childhood poverty. 
So what is the basis of Yoon's appeal? What does this say about South Korea's evolving political culture?
WHAT IS YOON SUK-YEOL'S APPEAL?
Yoon's party is desperate to win next month's contest and wrest power back from the left-leaning Democratic Party, led by President Moon Jae-in, whose five-year tenure conservatives consider to have been a disaster of rising housing costs, excessive government interference in the economy and fruitless appeasement of North Korea. 
South Korean presidents run in single, five-year terms, so Moon is not eligible to run in next month's election. 
The biggest question leading up to this election is how young voters might cast their ballots and why. South Korea's young tend to follow politics less closely than previous generations, and are less likely to vote along lines of political camps – whether progressive or conservative. They are more likely to prioritise their own interests and pay attention to bread-and-butter matters such as jobs and housing. 
Perhaps in this, Yoon has succeeded.
Widely viewed as a forward-looking figure who wants to strengthen the power of institutions rather than personalities, and was also involved in the shocking impeachment of president Park Geun-hye, Yoon has carved an image of himself as a pragmatic leader who wants to set South Korea on the right path of equality before the law.
He knows this is his appeal. Shortly after securing his party's nomination, he framed the upcoming election as a "battle between the rationalist and the populist".
Yoon's party has also made a clear attempt to appeal to the young, particularly young men, when it made Lee Jun-seok the youngest party leader in the country's history.
The 36-year-old Lee has railed against the concept of "feminism", special dispensations and has pledged to reduce government interference to allow for truly meritocratic competition. 
THE END OF CAMP POLITICS?
The mud-slinging, personal attacks and fixation with scandals this election season has created fatigue and frustration with their two options among South Koreans, with a majority polled in December 2021 saying they dislike both candidates.
Voters are not looking for a "king", but for an honest and effective leader who can fashion effective solutions to the housing crisis, rising inequality and a culture of patronage.
Yet Yoon's strong position may also be a sign of the end of what South Koreans call "camp politics", a political culture where voters align themselves with a particular camp, and support that camp come what may. 
A lifelong prosecutor before entering politics, Yoon has never fit snugly in either of South Korea's two major political camps – progressive and conservative, who have traded power throughout the country's democratic history.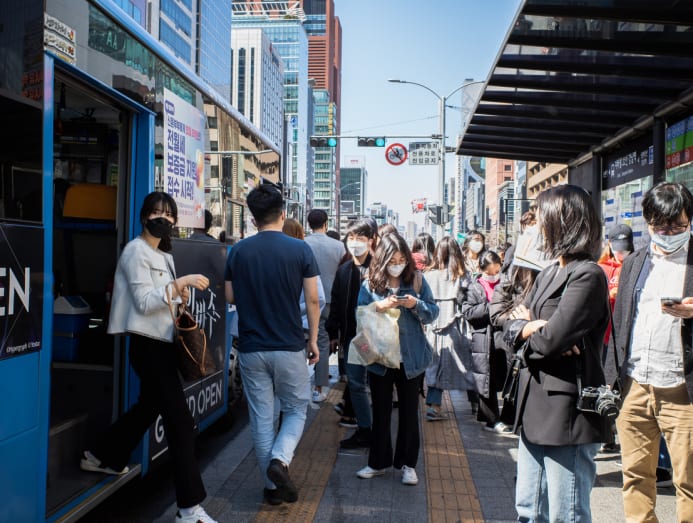 Voters, particularly younger South Koreans, may be looking past Yoon's flaws and seeing an anti-establishment candidate who could shake things up in office, instead of following his party's traditional script.
Yoon initially built part of his base on support from young people seeking a change of power and a leader with a fresh take on governance, but lost some of that momentum over his campaign after shifting focus to winning over members over 50 in his party, a base that was key to securing the nomination.
If current trends continue, voters may tune out the scandals on both sides of the ballot and make their decision based not on loyalty, but on who they think stands a better chance of addressing the country's challenges. The next president will be under pressure to govern cleanly and responsibly.
For all Yoon's shortcomings as a politician, some voters will choose him hoping he offers a path out of this malaise. The hope is that his current run shows that South Korean politics are maturing, and moving toward an era where policies matter more than party loyalty.
Steven Borowiec is a journalist based in Seoul.