Commentary: Suburban private housing is getting more attractive in the era of hybrid work
The great work-from-home experiment has whet Singaporeans' appetite for larger condominiums, says OrangeTee & Tie's Christine Sun.
SINGAPORE: The closure of physical offices to protect workers from the coronavirus has led employees to rethink how they work. It appears to have gotten buyers to also reconsider how they want to live.
Buyers in Singapore have been snapping up larger homes during the pandemic, both in the public and private housing market.
Sales of new private homes rose 82.2 per cent in July, the second-highest month of sales so far in 2021, with most in the Outside Central Region (OCR).
Recently announced delays to HDB Build-to-Order flats may have the effect of tipping buyers at the income cut-off margins towards private housing.
Workplaces have gradually opened up since Aug 19, after the easing of measures allowed up to 50 per cent of the workforce to return, with companies moving towards a flexible working model across corporate offices and homes.
But work from home arrangements look set to remain at the core of the future of work, and many Singapore workers are learning from their prolonged remote work experience.
People are now more acutely aware of their preference for bigger living spaces to set up dedicated workspaces or makeshift home offices segregated from personal spaces and may seek out more convenient amenities within their residences and neighbourhoods.
SURGE IN DEMAND, RISING PRICES FOR LARGE CONDOMINIUMS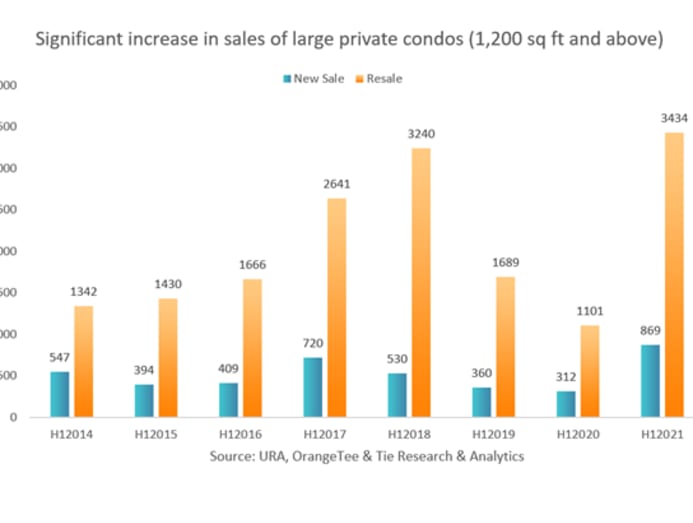 Current sales of large units are at almost a 10 year high.
According to URA Realis data, sales of large condominiums of at least 1,200 sq ft rose by 205.5 per cent from 1,419 units (including subsales) in the first half of 2020 to 4,335 units in the first half of 2021.
This, surpassed the 2,056 units transacted in the same period in 2019 just before the pandemic and the 3,786 units sold in the same period in 2018 before the Government slapped on cooling measures.
Comparatively, sales of smaller units below 1,200 sq ft increased by a smaller magnitude of 116.3 per cent from 4,627 units in the first half of 2020 to 10,007 units in the first half of 2021.
Demand for large units also rose across all market segments.
Sales of large condominiums of at least 1,200 sq ft in the OCR surged by more than four times from 211 units in the second quarter of 2020 to 1,007 units in the same period this year. Similar sales in the Rest of Central Region (RCR) surged by five times to 650 units, and Core Central Region (CCR) climbed almost six times to 616 units over the same period.
Compare this to the more modest increases in smaller units in the same period in the OCR (2.4 times to 2,149 units, in the RCR (2.4 times to 1,658 units) and in the CCR (more than 3.5 times to 1,039 units).
Prices of large condominiums rose the steepest, with some astute buyers seizing the opportunity to buy bigger homes in anticipation of prices rising further in the future.
Over the last seven years, the median price of large resale condominiums larger than 1,200 sqft rose between 14.9 and 21.2 per cent from H1 2014 to H1 2021, a stark difference from smaller units below 800 sqft which saw a 2 to 9.2 per cent decrease.
SHIFTING FROM THE CITY CENTRE
More buyers have their eye on suburban areas, where bigger homes may come with a more affordable price tag in the resale market. About 50 per cent of non-landed resale transactions in the first half of 2021 were in the OCR, up from 45.9 per cent in 2019 and 41.7 per cent in 2017.
Among the top 10 resale condominium hotspots in the first half of 2021, more than half were in the suburban regions.
District 19 (Hougang, Punggol, Serangoon Gardens) claimed the top spot, with District 23 (Hillview, Dairy Farm, Bukit Panjang, Choa Chu Kang) in fourth place, followed by District 18 (Tampines, Pasir Ris) in fifth, District 14 (Geylang, Eunos) in seventh and District 16 (Bedok, Upper East Coast, Eastwood, Kew Drive) in eighth.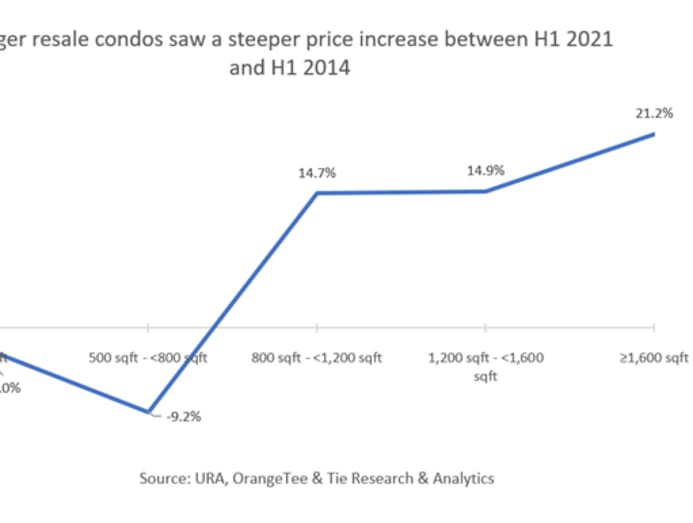 These rankings were vastly different from seven years ago when prime locations like Districts 9, 10 and 11 were in the top 10, with District 10 in the top spot and District 9 in third place.
This significant shift in demand for resale homes from prime locations to the suburban and city fringe areas over the years will likely come into sharper focus as employees navigate hybrid working arrangements.
INCREASING ATTRACTIVENESS OF SUBURBAN LIVING
Perhaps people do not mind staying further away from the city centre where their offices used to be.
Neighbourhood amenities and satellite offices in the suburban areas may suffice, after the Government plans to transform specific non-matures estates and make them more liveable. This may explain why more buyers are attracted and willing to fork out more for homes in Punggol or Pasir Ris.
Three major economic gateways are being built in the north-eastern, eastern and western parts of Singapore. In the north-eastern region, the extensive masterplan to turn Punggol into the next Digital District played a pivotal role in propping up flat prices in Punggol and Sengkang despite the growing supply of flats in these estates.
Under the URA masterplan, the Singapore Institute of Technology campus and JTC's Business Park spaces will create the country's first smart district to house key growth industries for the digital economy. A new university campus, market village, heritage trail, offices, logistic hub and amenities will be established over the next few years.
In the eastern region, employment hubs are expected to expand further in Changi, Tampines North and Pasir Ris. New communities, housing, recreational spaces, amenities and stations along an expanded rail network will be added in the coming years.
More enhancement works are also expected in the west. Together with Jurong Lake District, touted to be the next Central Business District, the west will be seeing extensive development plans in the next ten years.
Woodlands, Yishun and Hougang have also gained popularity due to new development plans launched in the northern and north-eastern regions.
LIVING AND WORKING WITH ENDEMIC COVID-19
Singapore has started drawing a road map towards living and working with COVID-19 in an endemic state since June 2021.
The trends of larger, suburban housing seem to reflect Singaporeans' expectations that some form of remote work will continue for many.
It may even become a longer-term norm for those in sectors like banking, finance, accounting, or information and technology where technological advancement has eased the transition with minimum disruption.
This group of professional workers with better job stability and purchasing power may continue to drive demand and prices, and keep Singapore's residential property market in good health.
Christine Sun is Senior Vice President of Research & Analytics at OrangeTee & Tie Pte Ltd.
Listen to PropNex Realty CEO Ismail Gafoor and NUS Professor of Real Estate Sing Tien Foo share their outlook for the housing market beyond 2020: