Commentary: The US 'pivot to Asia' is back, but will it be enough?
Despite war in Ukraine and domestic political problems, US President Joe Biden's administration has refreshed the "pivot to Asia" to build relationships and push back against China, says Yale-NUS College's Trisha Craig.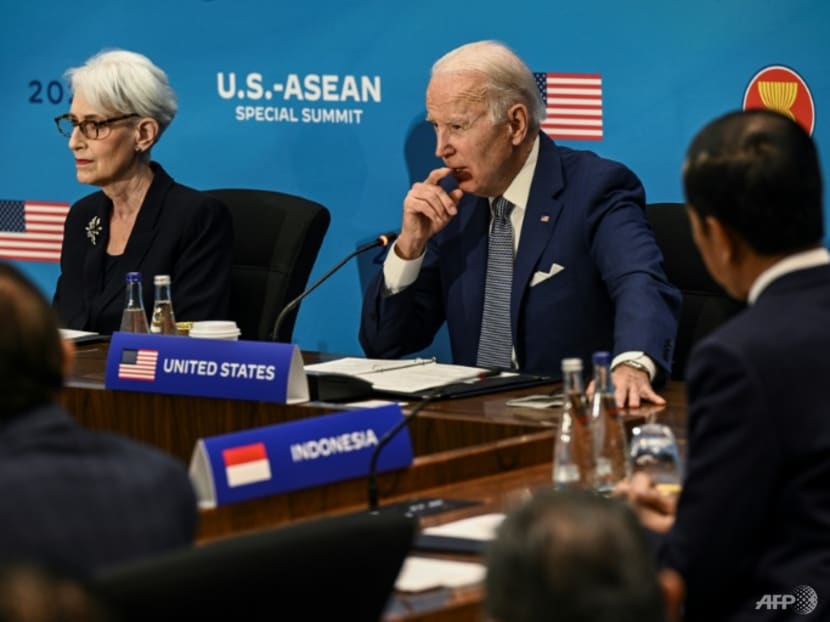 SINGAPORE: The United States "pivot to Asia" is back. The shift in US foreign, economic and security policy to Asia has been re-energised over the past month, after being sidelined by both domestic politics and foreign crises since it began about a decade ago under the Obama administration.
US President Joe Biden hosted leaders of the Association of Southeast Asian Nations (ASEAN) in Washington for a two-day summit, which last took place in 2016. It ended with an agreement to upgrade US-ASEAN ties to a comprehensive strategic partnership and a nominee for US ambassador to ASEAN, a post vacant since 2017.
This was quickly followed by Biden's inaugural trip to Asia, with visits to South Korea and Japan, including a Tokyo summit of the Quad, the informal alliance of the US, Japan, Australia and India.
More recently, US Secretary of Defence Lloyd Austin addressed the Shangri-La Dialogue, the annual Asian security conference in Singapore that concluded on Jun 12, reaffirming that the Indo-Pacific is "our centre of strategic gravity".
This focus by the Biden administration comes at a time of war in Ukraine and domestic political problems. It is meant to reassure the region that the US isn't too busy in Europe or distracted at home to prioritise relationships with Asia and push back against China.
But will the renewed engagement and assurances of US commitment to the region be sufficient?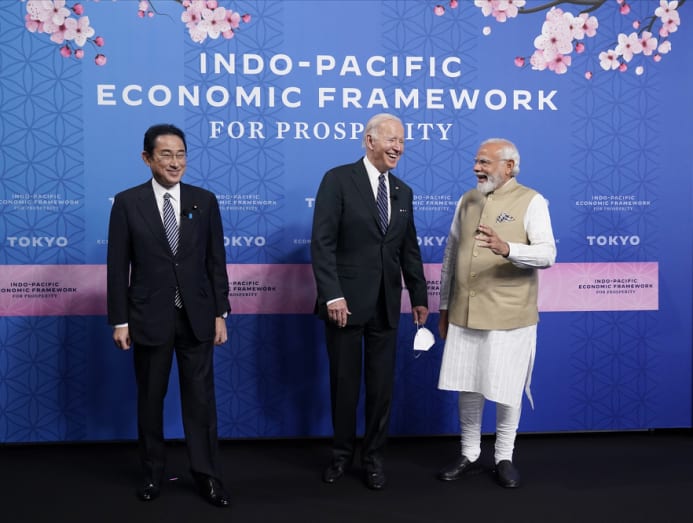 OPENING DOOR TO GREATER ECONOMIC INTEGRATION IN INDO-PACIFIC
A major part of the pivot has been economic engagement. While the high-profile attention is a welcome sign, reactions to Biden's new Indo-Pacific Economic Framework (IPEF) have been somewhat mixed.
There is widespread recognition that US economic power has waned in the region, particularly since the Trump administration withdrew from the Trans-Pacific Partnership (TPP) in 2017. The TPP was set to be the world's largest free trade deal and act as an economic counterweight to China.
The region moved on without the US, with the remaining TPP countries signing the Comprehensive and Progressive Agreement for Trans-Pacific Partnership (CPTPP) in 2018. The world's largest trade bloc now is the China-led Regional Comprehensive Economic Partnership (RCEP) encompassing most of Asia's largest economies, signed in 2020.
IPEF allows the US to keep its foot in the door. But unlike the TPP, the IPEF is not a traditional free trade agreement. Instead, it is seen as a flexible agreement around four pillars – including trade and resilient supply chains - to expand US economic leadership.
Critics pointed out that this might be more politics than economics. IPEF does not give market access, which observers called a missed opportunity on trade. Neither does it include Taiwan, considering its role in global supply chains, especially in shipping operations and semiconductors production of which shortages have already caused all sorts of manufacturing delays or shutdowns.
But might these turn out to be an advantage for the US? First, a trade deal with US market access would have required Congress approval. That seems a risk when protectionist sentiment runs high and the midterm elections approach.
A lower stakes agreement has more chance of continuing should the Democrats lose Congress or the White House, keeping in mind the failed TPP episode, and show US to be a reliable partner. Though admittedly, without Congress approval, the US is unlikely to make major concessions.
Second, Taiwan's absence likely allowed for greater agreement and participation. Inclusion might have otherwise led the ASEAN members to reconsider their participation as they thread the needle between US and China.
Although the IPEF does not include the US-backed protections around labour, the environment or intellectual property - meticulously negotiated for the TPP and considered crucial to level the playing field for US workers - it opens the door to future economic integration through common rules and standards.
SECURITY CONCERNS AND AN AGGRESSIVE CHINA
But certainly, the other aspect of US influence in the region is in security. With a more aggressive China, the US will see increasing demand for clarity and presence from its regional allies. South Korea, Japan, Canada and Australia have reported recent incidents with Chinese military aircraft that suggest Beijing could get more confrontational.
With the situation in Ukraine, there were fears that an international crisis elsewhere in the world would once again push Asia off America's agenda. The Iran nuclear deal under Obama or the withdrawal from Afghanistan early in Biden's presidency seemed to draw attention away.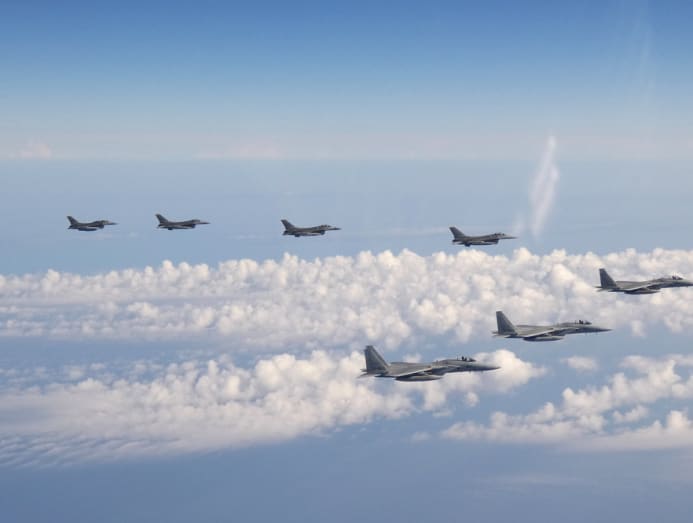 However, the Ukraine war seems to have strengthened the administration's resolve and alliance building. Biden's careful outreach to re-engage traditional allies early in his presidency allowed him to effectively build a coalition of European and Asian partners to isolate Russia after its invasion. The show of unity and speedy coordination may change security calculations in the Indo-Pacific.
Security issues were part of the backdrop to Biden's first trip to Asia, especially given the parallels between Taiwan and Ukraine that many have drawn. The trip reinforced a renewed sense of US engagement, after previous trips to the region by Vice President Kamala Harris, Secretary of State Antony Blinken and Defence Secretary Austin.
Biden's meetings both with the leaders of South Korea and Japan and the Quad were meant to reassure allies of US commitment, but also produced concrete outcomes like Japan's plan to raise defence spending substantially.
On the heels of Biden's trip, Austin met his Chinese counterpart, Wei Fenghe, in person for the first time at the Shangri-La Dialogue in Singapore. While Austin pushed back against China's "more coercive and aggressive approach to its territorial claims" when addressing the conference, he also highlighted the importance of security alliances and partnerships in the region, such as AUKUS with Australia and the United Kingdom.
WHY PIVOT TO ASIA IS STILL THE RIGHT STRATEGY FOR US
Asia will remain the central focus for the US – it has no choice if it wants to share in the region's economic growth and tap on regional partners to counter China.
In the important areas of trade and security, the US position has seemed inconsistent or mercurial in recent years. The Biden administration's current focus on policies like IPEF, and careful cultivation of traditional regional partners may seem like a watered-down version of the much vaunted pivot.
But after the administration changes, any clarity on the US stance, particularly on trade, is welcome. A return to multilateralism certainly is.
Ideally, the US would offer more concrete and far-reaching policies, to show up as a more attractive partner than China and reassure the region of its long-term commitment. But as veteran diplomats have said, the United States is a necessary part of the strategic balance in Asia regardless.
Biden's version of the pivot may lay the foundations for sustainable, productive, and cooperative engagement with the region.
Trisha Craig is Vice President (Engagement) and Senior Lecturer of Social Sciences (Global Affairs) at Yale-NUS College. The views and opinions expressed herein are those of the author and do not represent the views and opinions of Yale-NUS College or any of its subsidiaries or affiliates.