Commentary: UK and US universities are losing their shine among many international students
Even before the pandemic, international students have been put off by some Western countries' seeming hostility to foreigners and greater difficulties in securing post-graduation work opportunities there, says Yale-NUS' Trisha Craig.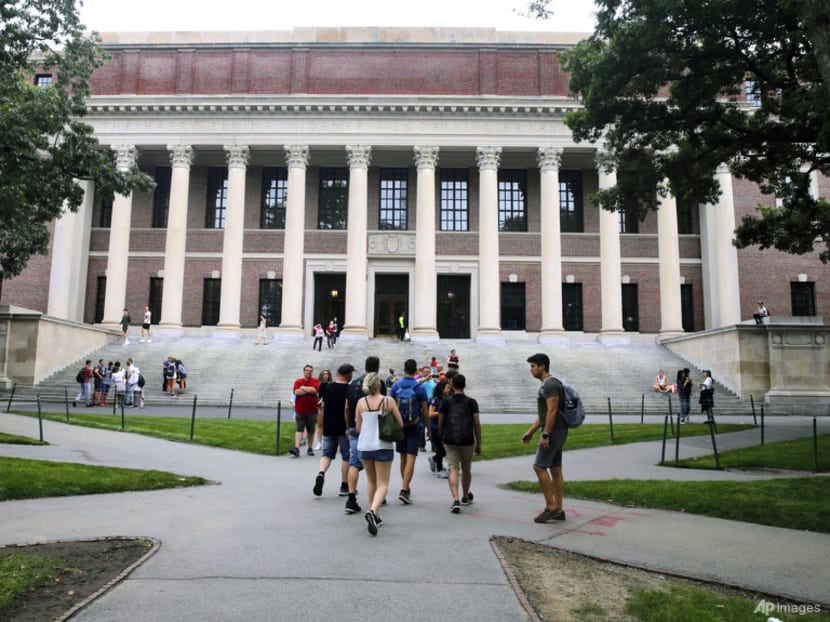 SINGAPORE: This is the time of year when students with ambitions of studying in America receive the verdict from their dream schools.
The United States is not the only destination for international students wishing to pursue a degree overseas, but it is the top one in the global higher education market. Over a million international students go to the US to study each year, contributing almost US$40 billion (S$55.4 billion) annually to its economy. 
The second most popular destination, the United Kingdom, attracts more than half a million students each year. Other choice targets for international learners tend to be English-speaking countries; Canada and Australia are not far behind. 
Over six million students globally sought to do part of their tertiary education in another country in 2019, a threefold increase in just two decades, with the expectation that this figure will continue to grow. More than half of all students studying abroad come from Asia, and even tiny Singapore sends almost 25,000 students to destinations around the world to further their studies.
The pandemic of course brought on massive disruptions: International travel came to an abrupt halt with border closures and lengthy quarantines. As institutions turned to remote learning, there was little reason to seek out the traditional on-campus university experience. 
COVID-19 caused substantial declines in international students across the world. In 2021, new enrolments decreased by 23 per cent in Australia, 22 per cent in Germany and a stunning 46 per cent in the US. 
As tertiary institutions had come to rely on the lucrative presence of international students, the pandemic was a devastating economic blow. As with other globalised sectors, the pandemic's retreat raises a question: Will a recovery take place?
ARE FEARS OF LONG-TERM DECLINE OVERBLOWN?
This is not the first time that international higher education has been disturbed by world events of seismic proportions.
The Asian Financial Crisis in the late 1990s brought about a sharp decline in the number of Asian students in universities in the West, especially those from the hardest-hit countries like Malaysia, Indonesia and Thailand. 
Many shifted to less expensive markets like Australia, prompting institutions to aggressively expand recruiting efforts in other parts of the world. The region also saw an expansion of domestic options in countries like Malaysia and China. 
But the trend of students heading abroad resumed, as the crisis abated and Asian economies grew rapidly, leading to a decade-long boom in overseas education beginning in 2005.
Today, it appears that fears of a long-term decline in global student mobility due to COVID-19 are likely overblown. Major markets are seeing a resurgence of university applications which are poised to rise to pre-pandemic levels.
Despite the sense that the world has become less globalised and more localised in the aftermath of the pandemic, there is still tremendous demand for international study. A recent survey, by student mobility services firm INTO, showed that international students continue to be motivated by improved career prospects, good teaching and the chance to learn with students of different backgrounds which a place outside their home country can offer.
Still, short-term disruptions are likely to continue. Australia, which has been slower to reopen borders and issue students visas, may see slower recovery than other major markets as students restless to head overseas decide to go elsewhere.
The pace of higher education's recovery may also be uneven as demand for prestigious schools has been consistently high. Universities such as the Massachusetts Institute of Technology have seen steady interest without the precipitous drop in applications that others had faced. 
SHIFTING PROFILE OF INTERNATIONAL STUDENTS IN THE UK AND US
Even as tertiary institutions abroad find their footing in a post-pandemic world, political and economic currents pre-dating the pandemic continue to affect international student flows. 
In the UK, institutions faced a pre-pandemic shock with Brexit, affecting, in particular, applications from EU students who faced much higher fees and the loss of post-graduation employment opportunities in the UK. Applications from the EU immediately dropped by 7 per cent following Brexit. 
There had also been concerns that post-Brexit anti-immigration rhetoric would dissuade other international applicants. But overall, the UK has fared relatively well throughout the pandemic. It has not seen the massive decreases in enrolment that other major markets have.
In fact, in the 2020 academic year, new international students rose by 4 per cent, compared with a 15 per cent drop in the US. 
The steadiness of international intake can be attributed to an increased focus on non-EU outreach by institutions, greater affordability against a rising US dollar, as well as visa reforms that make it possible for students to stay temporarily to work after graduation. Still, there has been a shift in sending countries, with applications from China down by 5 per cent.
Pre-pandemic growth trends for the US higher education sector were also worrisome, with signs of stalling.
A recent study by the Pew Research Center found that in spite of the US' reputation as the home of the world's best universities – a view particularly pronounced in countries like Singapore, Japan and South Korea – other factors make it relatively less attractive.
Political rhetoric that makes the country seem more hostile to foreigners, a noticeable "Trump effect" on enrolments, greater difficulties in securing post-graduation work visas and a rising dollar that makes an expensive market even more so have caused international students to re-consider options.
Safety concerns also play a huge role and have been exacerbated by recent events. Stories of gun violence, images of the Jan 6, 2021, assault on the US Capitol and reports of anti-Asian sentiments since the start of the pandemic may give potential students pause.
CHINESE STUDENTS NO LONGER DREAMING ABOUT THE US
Although China and India are the largest source countries of international students in the US, the number of students, in particular from China, was dropping even before the pandemic.
Despite overall recovery in the number of applications, this has not been the case for China. For the 2021 academic cycle, Chinese applications were down 18 per cent compared to the previous year, a marked contrast to an overall increase of 9 per cent in applications overall.
While we cannot yet be sure how factors like geopolitical tension between the US and China or stricter pandemic-related travel restrictions in China influence the decision-making of Chinese students and their families, this should be cause for concern for US policymakers and educational institutions.
Higher education is a global industry worth billions. Consumers will choose the products that are most attractive to them, and a decline for the US may be a gain for countries like Canada and Australia. Even Germany and the Netherlands are increasing the number of English language courses to attract the international market.
Yet higher education is much more than that – the influx of talent that foreign students bring is beneficial for the economies of receiving countries, particularly those with ageing populations and tight labour markets, which are looking to woo them after graduation.
Most importantly, in a world where tensions between nations are rising, having young people experience and understand other cultures is a welcome and much-needed opportunity.
Trisha Craig is Vice President (Engagement) and Senior Lecturer of Social Sciences (Global Affairs) at Yale-NUS College. The views and opinions expressed herein are those of the author and do not represent the views and opinions of Yale-NUS College or any of its subsidiaries or affiliates.