Commentary: Why do K-pop fandoms spend so much money?
Spending money on celebrities is not new, but K-pop fans understand the nature of their industry, says NTU's Sun Meicheng.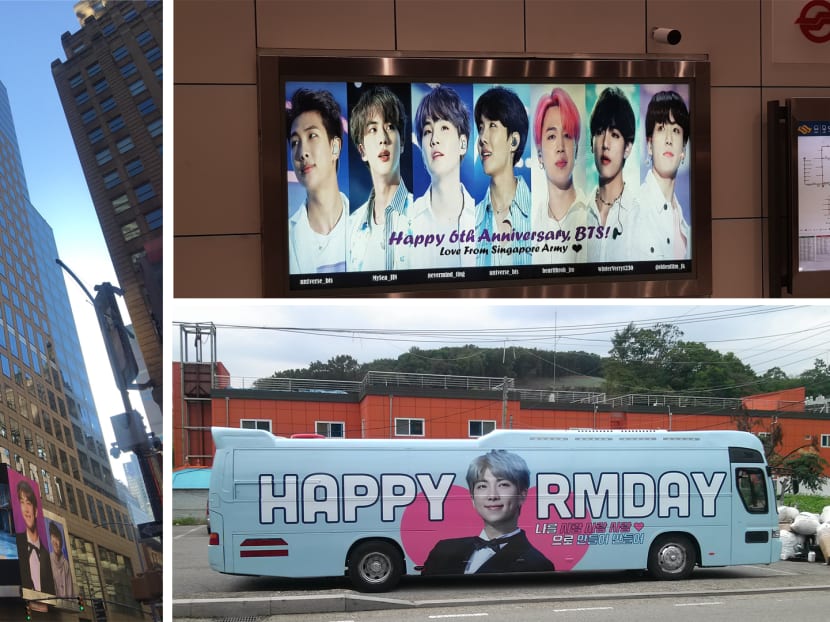 SINGAPORE: The United Nations General Assembly is probably not on most people's must-watch list. But on Monday (Sep 20), more than one million people tuned in to the meeting of world leaders in New York.
More precisely, they watched K-pop sensation BTS deliver a message about the resilience of youth during the COVID-19 pandemic. "We believe that every choice we make is the beginning to change, not the end," said band leader Kim Nam-joon better known as RM.
This was the third time BTS attended the UN meeting.
Having skyrocketed to the top of global pop charts, it's little wonder these international superstars were appointed South Korea's special presidential envoys mere weeks ago.
Of course, people want a piece of the BTS action. The group commands the attention of millions in the BTS Army everywhere they go. Just look at how their supporters have taken celebrity worship to whole new levels.
It is not uncommon to see big, splashy pictures of BTS and other K-pop idols on New York City Times Square advertising billboards, the Nashville sign and even on the Urban Deca Towers in Metro Manilla - purchased not by the music companies or sponsors, but crowdfunded by fans to celebrate their idols' birthdays and milestones.
In Singapore, local fans splurged on a panel advertisement at Dhoby Ghaut MRT station to celebrate BTS' sixth anniversary in 2019.
And in April this year, a Chinese fan club raised 2.3 million yuan (US$356,000) in one hour and used the money to customise the exterior of a Jeju Air plane to celebrate BTS member Jimin's birthday.
The US$5 billion K-pop industry has gone global. The Korean Ministry of Foreign Affairs estimates there are about 1,835 K-pop fan clubs across 98 countries - with 104 million members.
The Hallyu wave has gotten so out of hand, just this month, Chinese social media accounts of some 20-something K-pop fan groups have been suspended or shut down to curb obsession and excessive spending.
UNIQUE IDOL-FAN RELATIONSHIP
What seems irrational to outsiders looking in makes perfect sense to fans, all too willing to power this "fan economy", ranging from big buyers to hardworking "data labourers" who make it their routine to incessantly post, repost, comment and drive up social media metrics for their idols.
Fans understand that the K-pop industry values commercial success - with intense and constant competition from new aspirants who may displace their beloved idols if their fans fall short. So they drop big bucks on multiple copies of albums, groupbuy imported merchandise and stream music videos on a loop.
They are used to idol survival shows and popularity contests that encourage repetitive voting and do not flinch when competing across fandoms to demonstrate their power.
During the 2021 season of idol survival show Chuang, the Chinese version of the Korean idol survival show Produce 101, fans of the 25 finalists crowdfunded over US$23 million for voting.
E-commerce firm iPrice last November estimated that K-pop fans can spend up to US$1,422 on albums, concert tickets and merchandise, with the BTS Army topping the list.
Spending huge money to support their favourite idols isn't a new phenomenon, but the power of the Internet and social media have enabled fans to band together, pool resources and express their devotion.
This never-ending shindig builds an intense cycle of adoration and intimacy as the thrill of the exchange comes with each ability to connect. K-pop idols interact with their fans constantly - through social media updates, fan meets and reality TV shows - and appear to have real personalities and sincere thankfulness toward them.
So, idols don't come across as unattainable celebrities. They feel closer, relatable almost like a significant other to fans.
Pop idols too know it's in their interest to reinforce these relationships when fan devotion translates into commercial success.
"CHAOTIC" IDOL WORSHIP
Yet celebrity fandom can sometimes be taken to extremes. Just look at China where some fans have poured so much sweat and tears into their idols, they just can't let go.
After ex-K-pop idol Kris Wu was arrested in China on suspicion of rape, Chinese fans quickly came to his defence on social media. Some allegedly had plans to break him out from prison.
Online fan crowdfunding also lacks regulation and young fans' contributions can be vulnerable to fraud. In 2021, the Chinese fan club of Chanyeol, member of pop group EXO, raised more than US$1.5 million to purchase albums and magazines. Money did not reach the agency, nor did the band's products reach fans.
In May, there was public uproar after a video of people dumping milk down drains came to light. Voting on the popular talent show Youth With You made use of QR codes inside the caps of bottled milk by the show's sponsors, and heated criticism was levelled at fans, entertainment agencies and promoters for wasting food.
The Cyberspace Administration of China, the country's Internet watchdog, has since started Operation Qinglang to clean up the online space - taking action against the dissemination of "harmful information" in celebrity fan groups and closing down discussion channels that spread celebrity scandals or "provoke trouble".
Besides Chinese social media platform taking action on fan accounts, music streaming platforms have also restricted users to buying only one copy of a digital album instead of an unlimited number.
A FORCE FOR GOOD?
Although all-consuming idolatry can be caustic, celebrity fandoms can be a force for good.
Fan groups have undertaken charitable activities in the name of their idols in crowdfunding donations to COVID-19 assistance, natural disaster relief programmes in Indonesia and other social causes.
In Thailand, K-pop fans gave hope to hundreds of tuk tuk drivers suffering the loss of tourist customers amid the pandemic by taking out ads on their vehicles.
The tuk tuks still remain mostly empty, but drivers draw some income from fans paying to put up banners of their favourite idols and to take pictures with their vehicles.
Part of BTS' appeal lies in not in churning out catchy pop tunes on topics like teen peer pressure but also in embracing the kinds of progressive values their fanbase rallies around.
The group has deployed their fame towards philanthropy and social causes. They've worked with UNICEF. And they have donated at home to families of the Sewol ferry disaster and to global causes like Black Life Matters, setting an example their fans are getting behind.
Idols have been a pillar of emotional support to fans, by opening up on difficult subjects like mental health, and by spreading hopeful messages especially during the COVID-19 pandemic.
Ultimately, all fandoms are about passionate individuals. The nature of K-pop just makes fans willing to fork out more money to bond as a community.
Sun Meicheng is a PhD candidate at the Wee Kim Wee School of Communication and Information, Nanyang Technological University.