Commentary: Instead of four-day work weeks, maybe we should be talking about 10-month work years
Many of us hold on to work-life balance as an ideal, without acknowledging the blood and sweat that make it possible in the first place, or how it's not always feasible in our circumstances, says writer Keith Yap.
SINGAPORE: Since the COVID-19 pandemic began, working norms, especially in knowledge-intensive industries, have changed forever. Many of us have become skilled practitioners of working from home, attending Zoom Meetings with smart tops and pyjama bottoms, and eating lunches with Netflix instead of co-workers.
In light of other trends like employees reconsidering their priorities and quitting their jobs, the narratives surrounding the future of work has percolated into online discourse. From TikTok to Harvard Business Review, the Internet is replete with advice on navigating this brave new world after the pandemic.
While narratives about work are varied and fragmented, the motif of workers' burnout remains consistent. As offices in Singapore fling their doors open to welcome back all workers, many are pushing back against burnout in favour of pursuing work-life balance.
Many of us visualise a seesaw when thinking about work-life balance, with the ideal of work and life on both ends perfectly level. It's a zero-sum game and our language reflects any perceived imbalance – work "eats into" our weekends, we worry about "sacrificing" careers if we have kids and take parental leave.
The hypothetical employee who's achieved the coveted work-life balance looks like this: They enjoy autonomy in their professional life. They work a remote job, log in at nine, be ultra productive and go offline at six, commuting to the office only twice a week. They can reject all work communication outside of those hours. The rest of their time is protected for better pursuits, dedicated to dabbling in the guitar, cooking risotto for the family and catching up with pals every week.
JOB MOVEMENTS AREN'T ALWAYS LIFESTYLE UPGRADES
But a closer look reveals two key problems. First, a rigid conceptualisation of balance assumes such a lifestyle is immediately attainable for everyone, especially more junior employees.
The Great Resignation Wave should not conceal the fact that many workers are leveraging the moment to move up in the same industry to get higher pay and more flexible work arrangements.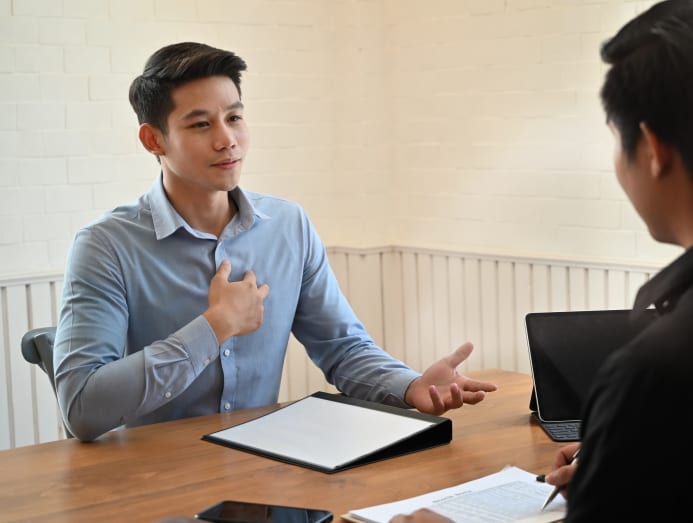 But to make such moves, workers need bargaining power. They do this by spending most of their waking lives for years honing their craft, developing an edge to differentiate themselves in a crowded labour market.
If workers at the beginning of their career prioritise flexibility and autonomy, they will end up compromising on picking up and perfecting skills required for career progression.
Granted, one can reject the prospect of sprinting up the corporate ladder and trade progression for flexibility. This trade-off is laudable for some but impractical for others.
However, current discussions assume job movements are unconditional lifestyle upgrades, without acknowledging the blood and sweat that made them possible. And with the new slate of responsibilities, the exigencies of work might mean compartmentalising work and life becomes even more challenging for all but the most senior roles.
COMPANIES CAN'T ALWAYS PROMISE WORK-LIFE BALANCE
With the spotlight on employee well-being, companies are embarking on more initiatives like offering mindfulness workshops or meditation apps, even giving employees mental health off days.
Workers point out such efforts do not address the root cause of burnout: Exhausting work conditions. More are calling on corporate leaders to re-examine working hours and their expectations of employees.
But here lies the second problem: Despite the best efforts of employers, the realities of work often make it difficult for companies to promise work-life balance.
Any seasoned worker knows projects often take more time than expected and are prepared to work overtime to meet deadlines. The inconvenient truth is that a company exists for-profit and must outperform competitors.
Thus the paradox of work-life balance is two-fold. To provide it indiscriminately, the company risks compromising its mission. To pursue it indiscriminately, the worker risks compromising career progression.
EMBRACING WORK-LIFE RHYTHM INSTEAD
It might be high time to discard the term "work-life balance" and that mental image of a seesaw. Let's embrace instead the pursuit of a healthy "work-life rhythm" -  a rhythm that moves with need, alternating between periods of hard work and deep rest over time. This can facilitate professional development and organisational growth while alleviating worker burnout.
During periods of hard work, the worker is focused on project completion and will expect an intense workload. This could mean working past office hours regularly or even burning the midnight oil on some occasions.
In return, companies can guarantee a minimum of work-free hours (such as weekends or mass block leave) so workers can tend to their personal lives.
Conversely, professional obligations would be kept to an absolute minimum during periods of deep rest. During a company-wide lull, staff don't have to worry about lingering work responsibilities, and can take on new hobbies or go on extended vacations.
This would mark a divergence from our current practice of leaving workers to manage their leave schedule. Wouldn't we feel a nagging pang of guilt if we scooted over to Bali while our colleagues were working, even when we intuitively know there is not much to do?
Conversations on work-life rhythm aren't yet mainstream, though proponents compare it to seasons. Just as there are seasons for planting, harvesting and resting, we go through life phases where we can give our all to work – whether it's building a business or designing a product – and where we must dedicate ourselves to family.
Beyond the debate whether we should shift towards four-day work weeks, perhaps we should also be talking about 10-month work years.
A GREATER APPRECIATION OF LIFE WITH EXTENDED PERIODS OF REST
As a healthy work-life rhythm will benefit Singapore greatly, the Government can take the lead, as it has done so by calling for flexible work arrangements to become a permanent feature.
The Government can continue actively engaging industry players through incentives and dialogues to shape better work norms. At a national level, such a work-life rhythm creates a society where no one is compelled to work laboriously throughout the year.
It could empower more individuals to devote their spare time to work of public importance such as volunteering, political participation and the arts. Other more career-minded ones would improve their skills to be more productive at work.
Most importantly, there will be a greater appreciation of life with extended periods of relaxation. We can focus on our family and friends, which goes a long way in countering burnout, cynicism and angst.
COVID-19 has forced us to re-imagine the future of work. It might be time to retire the pursuit of the ever-elusive work-life balance.
After all, isn't the whole point of a seesaw to enjoy the alternating rhythm of ups and downs instead of always toiling to balance ourselves perfectly?
Keith Yap is an Economics & Development graduate from Lee Kuan Yew School of Public Policy who writes about business and work life.