Bak chor mee grilled cheese and salted egg hotpot: 7 unusual foods in Singapore
Available now around the island, these foods are more than just shock value.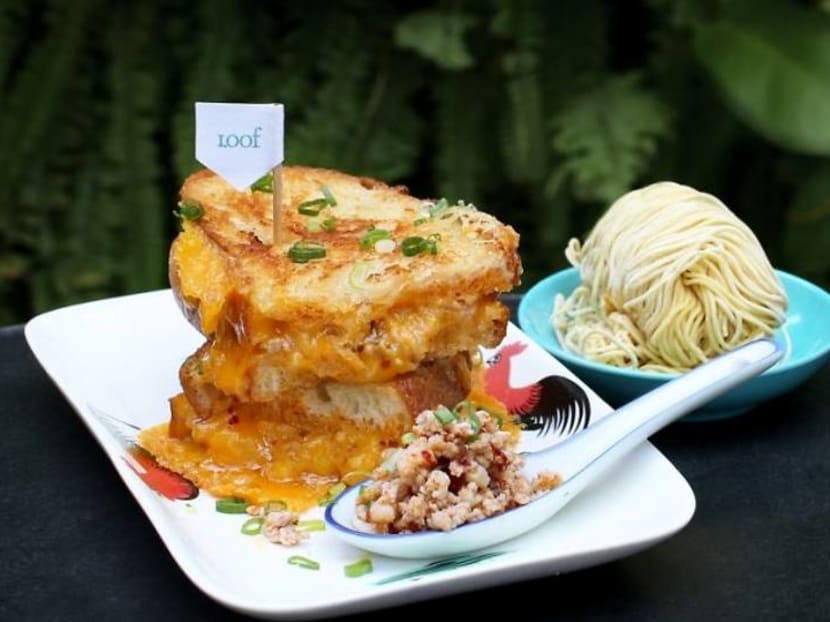 Some food combinations are a match made in heaven; others, not so much. And with fast food chains chasing shock value by releasing ever weirder burgers, unusual snacks have drawn more polarising reactions from Singaporeans.

Some combinations, however, can be quite meaningful. In the name of health, Butternut at Taman Jurong Food Centre substitutes ingredients in comfort food with healthier options, like pairing chunks of butternut squash with chicken slices on pizza.

Others are simply pushing the envelope. From bak chor mee grilled cheese to a coffee ang ku kueh, here are seven unusual pairings available around Singapore.

COFFEE, GREEN TEA, PINEAPPLE ANG KU KUEH BY POH CHEU SOON KUEH AND ANG KU KUEH

After more than 30 years in the business, Poh Cheu proves that you can respect tradition while adapting to trends.

Typically made with mung bean or peanut stuffing, Poh Cheu serves up an impressive 12 flavour options. Among its ang ku kueh fillings: Black sesame, coffee, coconut, durian, green bean, green tea, mango, peanut, pineapple, red bean, salted bean and yam. Each piece is priced at S$1.10.

Blk 127, Bukit Merah Lane, 1 #01-230, Singapore 150127.

BUTTERNUT CHICKEN PIZZA BY BUTTERNUT

Named after the butternut squash that features on its star items, the halal-certified hawker stall serves familiar comfort foods with healthier ingredients.

Located in Taman Jurong Food Centre, Butternut serves the bright orange, nutty-flavoured squash in their signature dish, the butternut chicken pizza (S$9.90).

The thin-crust pizza is topped with roasted butternut chunks, marinated chicken slices and sprinkled with rosemary.

Also noteworthy is the fresh baked quinoa with alfredo sauce and smoked duck slices (S$11.20). A generous amount of cheese is included in this dish, with this baked rice alternative featuring the firmer but healthier quinoa grain.

3 Yung Sheng Road, #02-108, Taman Jurong Food Centre, Singapore 618499.

SALTED EGG XIAO GUO (HOTPOT) BY THREE GOOD GUYS

Here's something the Health Promotion Board doesn't want you to know. Take your pick of vegetable, meat and noodle items, and have them stir-fried in heart-stopping salted egg gravy, xiang guo (hotpot) style.

Pick an assortment of vegetables at S$1, meat and instant noodles at S$2, beef and seafood at S$3 per item, and have them stir-fried in a salted-egg base for S$3.50.

Unlike the spicy mala hotpot, however, the salted egg option does not contain any chilli or peppercorn, though both options are available at Three Good Guys.

505 Beach Road, #01-108, Golden Mile Food Centre, Singapore 199583.

CHILLI CRAB BAO BY HAWKER

Created by the folks behind No Signboard Seafood Restaurant, Hawker debuted at the Esplanade last year with an Instagram-ready fusion menu.

Touted as the "first Asian fast food restaurant", the brand re-imagines Singapore classics as burgers and sliders.
The Signature Chilli Crab Bao (S$9.50 a la carte, S$11.50 for a meal) features a deep-fried crab meat patty, burger slaw, and sweet and savoury chilli crab sauce served in a deep fried mantou bun.

8 Raffles Avenue, #01-13E, Esplanade Mall, Singapore 039802.

CEMPEDAK CREME BRULEE BY KRAVE 
Cempedak, the cousin of the jackfruit, features prominently in this Southeast Asian spin on the creme brulee at Krave. The Muslim-owned establishment has been serving fusion fare since 2015.

At S$9.50, the Cempedak Creme Brulee contains a large piece of cempedak fruit at the centre of the ramekin, enveloped in rich custard under a layer of caramelised sugar.

28 Bali Lane, Singapore 189864.

BAK CHOR MEE GRILLED CHEESE BY LOOF

Known for its large, fluorescent sign depicting an oft-used Chinese cliche describing the weather, the rooftop bar Loof has been serving a head-scratching bak chor mee grilled cheese since a 2016 revamp of its menu by Bjorn Shern.

Made with sourdough bread stuffed with cheese, minced pork and mushrooms, the BCM Grilled Cheese (S$18) works well with a chilled beer on a Friday evening.

331 North Bridge Road, #03-07, Odeon Towers, Extension Rooftop, Singapore 188720.
LAKSA POTATO CHIPS BY FLAVOURS OF THE EAST

With just three products, Flavours Of The East captured Singaporeans' attention with their unusual potato chip flavours.

It remains a mystery how they have condensed the flavour profiles of laksa, Hainanese chicken rice, and egg prata with fish curry into these crisps, but these are satisfying recreations of the hawker favourites.

Available at S$3 per packet at NTUC, 7-11 stores and Redmart.