One family serves up authentic yam cake just like grandma used to make
Madam Jiew Meng started Ah Ma's Yam Cake during the circuit breaker, faithfully following a recipe passed down from her grandmother.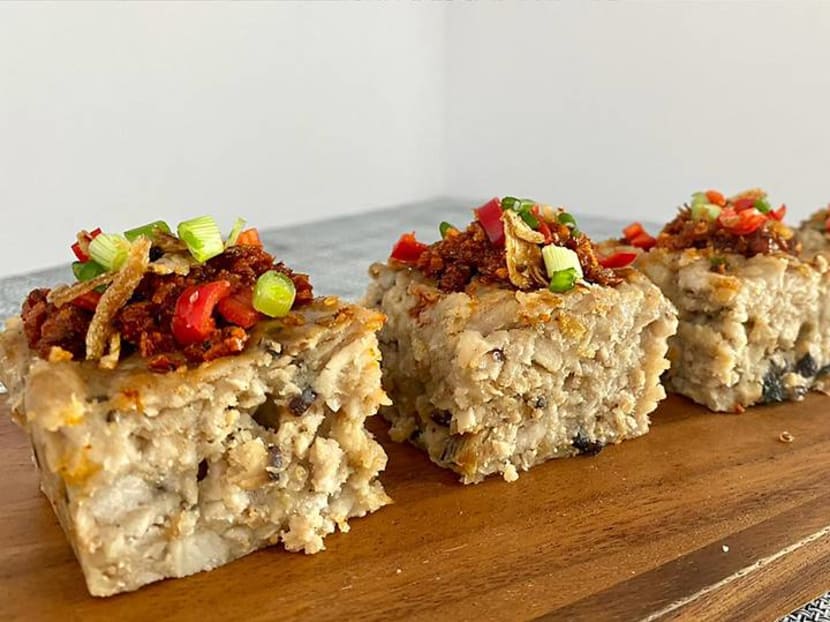 Yam cake is one of many traditional dishes that are slowly losing their staying power as floury, watered-down commercial versions take the place of generous handmade renditions.
Happily, there is a yam cake packed with fresh yam, dried shrimps, minced pork and mushrooms that's made for sale by an honest-to-goodness grandmother – and is even cooked in a 60-year-old pot.  
Ah Ma's Yam Cake is a home-based business that was started during the "circuit breaker" period. At its heart is 63-year-old Madam Jiew Meng, a grandma of two, who grew up eating her own grandmother's yam cake and wanted to share it with others.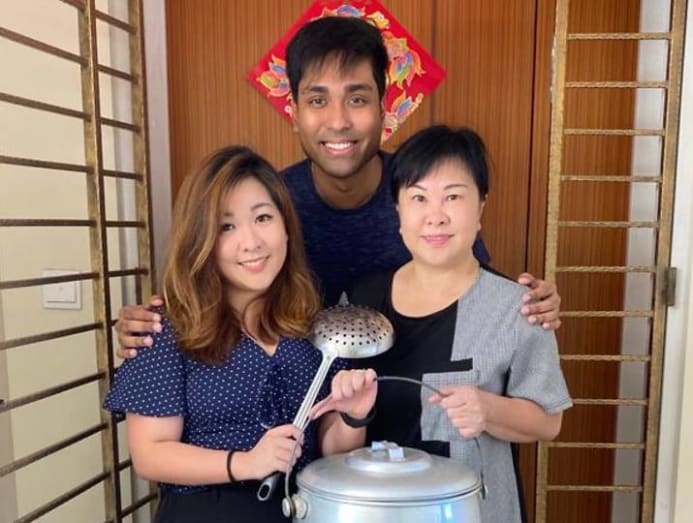 To support her, Madam Jiew Meng's daughter, 31-year-old clinical psychologist Pearlene Ng, decided to start a social media account and coordinate online sales and deliveries with the help of her husband, Surein Sandrasageran.
"When COVID-19 hit, many of her long-term customers started to request a platform to order and deliver her yam cakes to their friends. That was when we decided to help her take her sale of yam cakes online," Ng explained. 
"My husband and I wanted to give her a sense of independence and empowerment, so that she could continue doing what she loved as she made the transition to retirement."
It came as a pleasant surprise that they started selling out within a week of going online, especially since none of them had prior experience in business, Ng said.
"The main challenge we faced was teaching 'Ah Ma' how to go digital. It was a whole new language for her," she shared. "She had to learn how to use Facebook, Instagram, GrabExpress and various contactless payments." But, as a trooper, "She took it in her stride and was very eager to learn."
HEIRLOOM RECIPE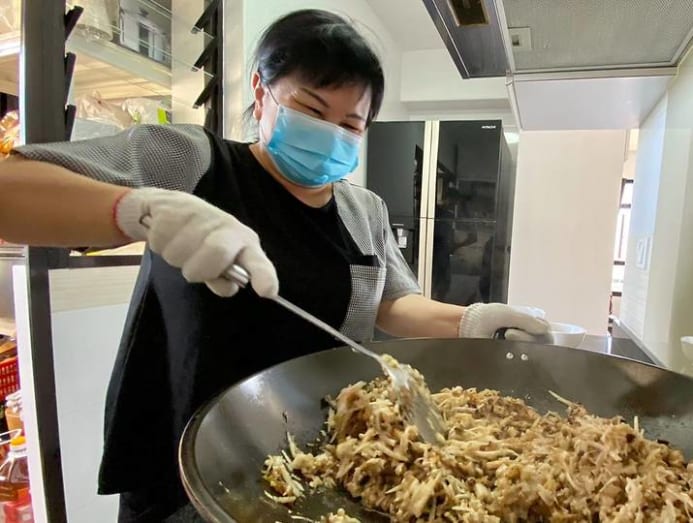 The "Ah Ma" in Ah Ma's Yam Cake refers to Madam Jiew Meng but is also a nod to her own grandmother, who would make yam cake every morning for the family.  
"The yam cake's recipe is our family's recipe passed down through many generations," Madam Jiew Meng told CNA Lifestyle. 
"My Ah Ma figured out her own special way of cooking the yam so that it's soft but not mushy. She also invented a special technique for slicing and cooking the yam so that its flavour is enhanced. It's a family secret, I can't reveal the slicing and cooking technique! But what is perhaps most important is the temperature when preparing and cooking the yam."
It almost certainly also helps that "I still cook the yam cake in our family heirloom – the cauldron passed down from my grandmother through many generations!"
More than just being wholesome and delicious, she said, "The yam cake is so special to me personally because it brings back happy memories of my Ah Ma, and the joy my family shared when eating the yam cake together."
She continued: "We were from a humble family, growing up with eight children in the household. Pa and Ma were always busy working, so my Ah Ma took it upon herself to take care of us. We were not well-to-do, but Ah Ma was always generous when it came to food. She would cook a big tray of yam cake every morning for breakfast. My brothers, sisters and I pitched in to help her every morning with simple tasks like peeling the yam and washing the dishes.
"When her health started to deteriorate, she could no longer spend time in the kitchen. Our mornings stopped smelling like yam cakes, and something didn't feel right. That was when I started taking on the mantle, to make yam cakes for the family. It took me many years to reach her high standards, but I eventually got her stamp of approval. It felt like I struck 4D that day!"
FOOD AND THE POWER OF MEMORY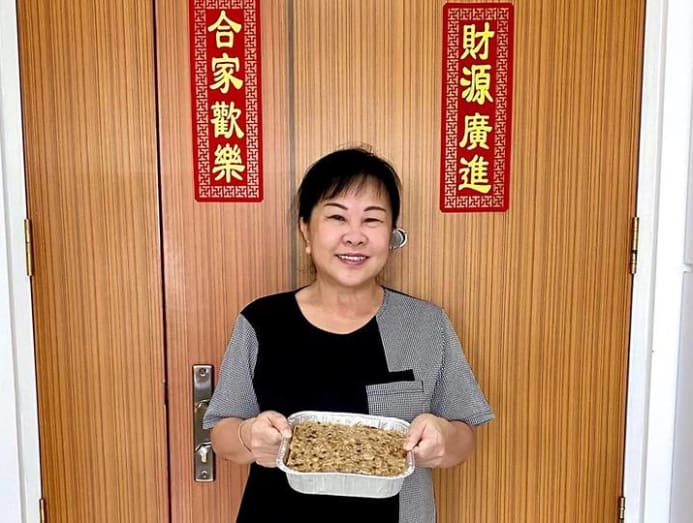 Now, Madam Jiew Meng continues the tradition of making yam cake by hand using quality ingredients. She gets up at 5am to go marketing, and spends the whole morning in the kitchen prepping and cooking.
"My Ah Ma's number one rule was to use only the freshest ingredients for our yam cake. I stick by this rule up to this day. The first step is to buy the ingredients fresh from the market every morning. I also use a lot of ingredients for the yam cake, like fresh yam, dried mushrooms, dried shrimps and fresh minced pork, so every mouthful will be rich and chunky," she explained. 
In contrast, "Commercial yam cakes usually have a higher flour-to-ingredient ratio. You can tell this simply by looking at the colour of the yam cake – if it is white, it probably contains a lot of flour."
On top of yam cake in 500g (S$15), 1kg (S$28) and 2kg (S$50) sizes topped with fragrant fried onions, Ah Ma's Yam Cake also offers jars of homemade hae bee hiam chilli (S$10), a sweet, spicy, crunchy condiment made with savoury dried shrimps.
It's telling that Ah Ma's Yam Cake has rapidly won fans of all ages, including older people. 
One customer told Madam Jiew Meng that her elderly mother had "lost the meaning of life and only ate for the sake of eating", but upon sampling the yam cake, she "was reminded of the past and enjoyed her food for the first time in many years."
Ng shared: "The biggest order we've received was 30 yam cakes of 1kg each. One of our customers tried our yam cake and liked it so much that she ordered for 30 of her friends and family." 
In addition, "We were really heartened to hear good stories and feedback from our customers. There was a customer who shared that her own Ah Ma sought comfort in our yam cakes during this trying period. That really struck us as we saw how food could heal and make difficult situations better."
Of course, Madam Jiew Meng has known that all along.
"My Ah Ma's yam cake has always held a special meaning for my entire family. It was a staple that brought us a lot of comfort during the ups and downs," she said. "No matter what we went through, we always had the yam cake to prepare us for the day."
To order Ah Ma's Yam Cake, visit www.instagram.com/ahmayamcake.