Aniba is the CBD's coolest new hidden-entryway restaurant and bar by the folks behind Miznon
Aniba is a place to lounge, imbibe, and see and be seen, but also has some darn delicious food featuring anti-boring bursts of flavour.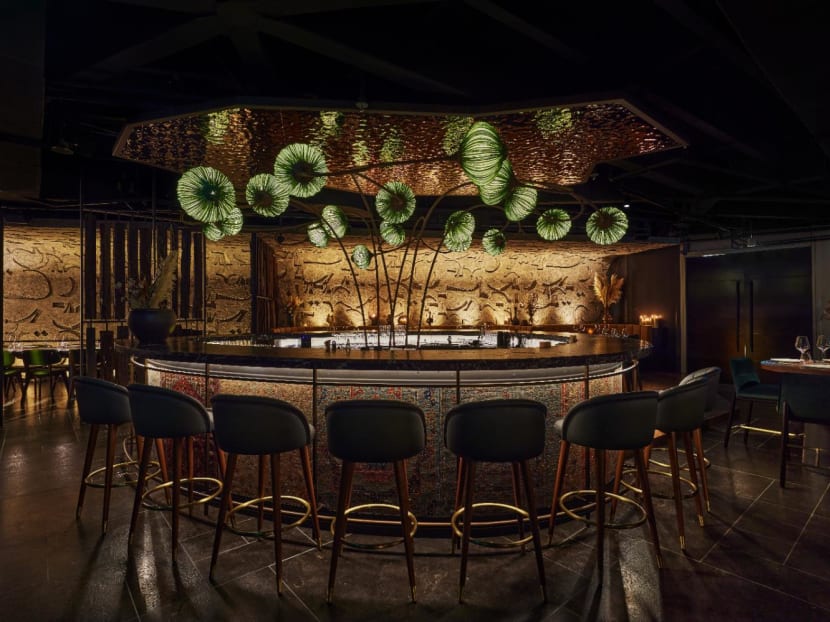 A tiny, blink-and-you'll-miss-it entrance off the riverfront almost conceals the way up, via a private elevator, into a cavernous, otherworldly space with windows overlooking the Singapore River.
Entering through a tunnel lined with coppery fish scales, your path is lit by lamps that resemble glowing sea anemones. There's a large open kitchen, and a drinks island lit by more amorphous anemones overhead.
You might not be able to put your finger on what exactly this is – a bar with a restaurant, or a restaurant with a bar? – but you'll immediately recognise the vibe as so-hip-it-hurts.
This is Aniba, the Central Business District's newest dining and drinks concept by the folks behind the wildly popular Miznon and North Miznon.
While Miznon is a "canteen" serving up casual pitas street-food style, and North Miznon is a dining destination for those who'd rather get up and dance around the restaurant than stay in their seats, Aniba is a "chef kitchen and lounge", according to The Foragers, the hospitality group responsible for all three, as well as wellness-focused cafe Carrotsticks & Cravings.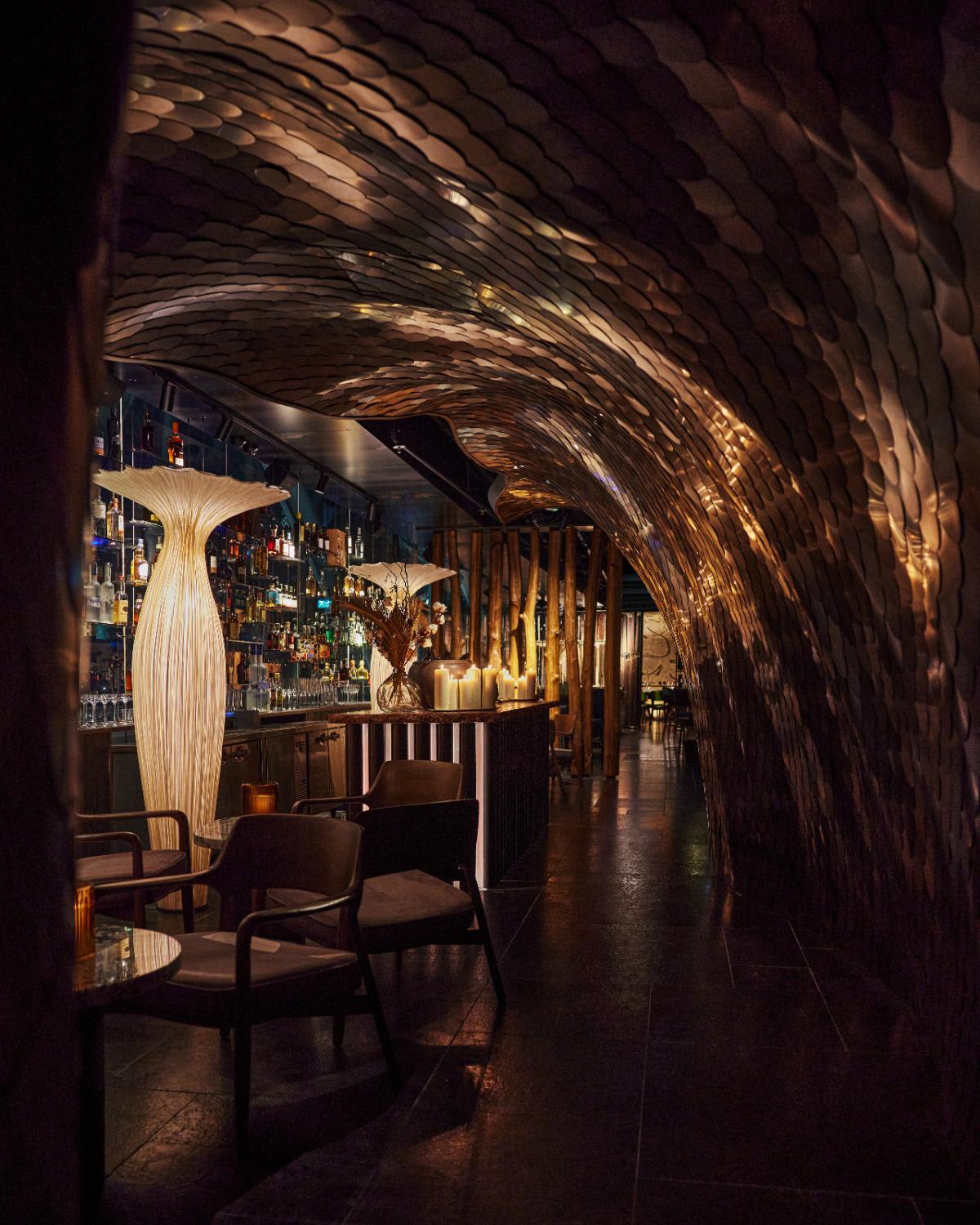 "'Ani-Ba' means 'here I come' in Hebrew, which evokes a sense of anticipation," shared The Foragers' founders Nadav Cohen and Tal Eisenberg, who hail from Israel but have lived in Singapore with their families for the last eight years.
With their latest concept, they told CNA Lifestyle, their aim was to launch a high-end Israeli culinary concept integrating fine dining with the nightlife experience that Tel Aviv is famously known for.
Aniba's table features the cuisine of Israeli chef Meir Adoni, who has opened restaurants in multiple cities and whose background includes stints at Arzak, Alinea and Noma. The kitchen is run by head chef Ido Zarmi, who has led restaurants in Israel and the USA, and wears a different hat each day to do it, depending on his mood (it was a forest green felt fedora with a feather in the band when we visited).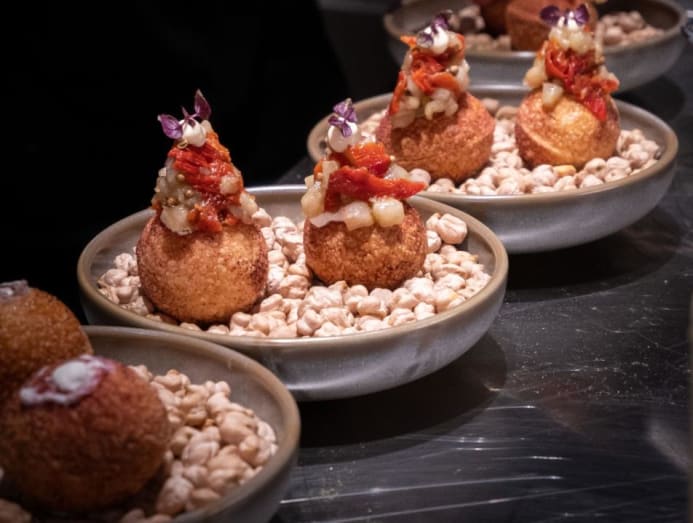 The food here is pescatarian- and vegetarian-friendly – there aren't any meat items on the menu. But even diehard carnivores will be taken with the parade of bold, anti-boring flavour combinations.
For instance, you might see pani puri on the menu and think, 'Not another one', but this version with hamachi, oven-dried tomatoes, curry leaves, coriander and yogurt-yuzu foam turns out to be no tired culinary cliche.
The Tokyo Fish Market Bluefin Tartare is a must-try, the jewel-toned fish served on a cube of crispy gratin with yuzu aioli, topped with black truffle and served with a shot of acidic tomato consomme. The Hamachi and Watermelon Tartare, too, is quite a palate-stunner, with soy-honey and sesame oil, green curry oil, Thai basil and Asian-style aioli.
Dishes like fire-roasted greek eggplant carpaccio and the Jerusalem Bagel served with housemade dips are good samplings of Adoni's Middle Eastern and Moroccan culinary heritage filtered through a world citizen's lens.
At the bar, cocktails, spirits and wines masterminded by Proof and Company integrate the flavours and ingredients of the Middle East, the Mediterranean and Asia. On Saturday evenings, guest DJs spin Indie house, Nu Disco and more; and on Sundays at 11am, there are dedicated brunch sessions.
"We only develop and roll out concepts that we are passionate about; the business reasons are secondary. This way, we continue to be excited and hyped about what we do, and this is reflected through our staff as well," Cohen and Eisenberg said.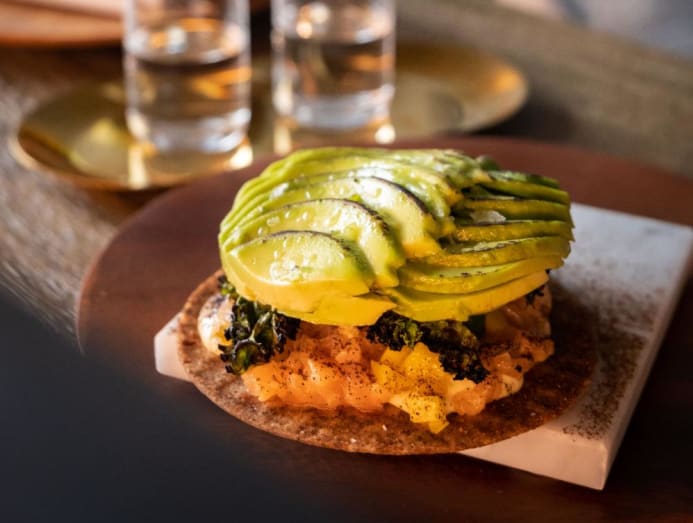 With their rampage of restaurant openings in just a couple of years – The Foragers was founded in 2018 – what's the secret to their indisputably successful race through Singapore's volatile F&B scene?
Cohen and Eisenberg credited The Foragers' success to its people.
"We invest most of our time and resources in our people. Every day, we wake up and thank them for being with us on this crazy trajectory. In return, we make sure employees have fun along the way; are able to grow and develop, and maximise their potential; and most importantly, express their own character," they said.
It seems like a no-brainer that a restaurant won't achieve peak "vibey-ness" without warm and sincere service, but that's an ideal balance that's not always easy to calibrate.
Perhaps the bottom line is, as Cohen and Eisenberg said, "In none of our establishments will you find service people who are forced to act differently from how they usually do on a day-to-day basis". And that surely puts us visitors at home, too – if our home were a shimmery, coppery mermaid's grotto, that is. One can dream.
Aniba is at 6 Battery Road.