Asia's 50 Best Restaurants 2023: Bangkok is tops, Singapore's Labyrinth climbs 29 places
Nine Singapore restaurants are on the list this year, including new entrant Born and Odette, which moved up to 6th. Singapore also claimed the Asia's Best Pastry Chef and Asia's Best Female Chef awards.
Nine Singapore establishments are on the Asia's 50 Best Restaurants 2023 list and nearly all have risen to positions higher than the year before.
The list was revealed on Tuesday (Mar 28) in a ceremony at The Ballroom at Resorts World Sentosa with more than 800 guests from around the world in attendance.
Bangkok's Le Du, which was number four last year, now has the top spot, which chef Thitid "Ton" Tassanakajohn described at a post-ceremony press conference as "unreal" as he recalled how "when I started Le Du 10 years ago using only local produce, people thought I was stupid and crazy. People said I would go out of business in six months." He's the one laughing now, especially as his other restaurant, Nusara, also in Bangkok, came in at number three.
Sezanne in Tokyo ranks number two, while last year's number one, Den, also in Tokyo, now occupies the number four spot.
Odette remains Singapore's top entrant at number six, moving up two places from number eight; additionally, its pastry chef Louisa Lim was named Asia's Best Pastry Chef 2023.
Meanwhile, "new Singaporean" restaurant Labyrinth advanced an impressive 29 spots to number 11, which earned it the Highest Climber award.
"It's totally unexpected," chef-owner Han Liguang told CNA Lifestyle. "I was at number 40 for the last few years, and I was like, if they give me 40 again, I'm putting the number 40 on the back of my jersey! So, I would have been happy at 39, actually!" he quipped, adding, "We really pushed ourselves this year. We renovated the restaurant, we pushed our cuisine, refined it even further, and opened up more techniques and knowledge. It's just pure hard work, really pushing it hard."
Many other Singapore restaurants moved up in rank, including Burnt Ends, which climbed from 41st to 24th; Cloudstreet, which moved from 44th to 26th; Meta, which went up from 20th to 17th; Euphoria, which re-entered the list at number 25; and Restaurant Zen, which moved from 37th to 21st and also took home the Gin Mare Art of Hospitality award.
And Singapore's Restaurant Born, opened in June last year, has duly made the list without delay, debuting at number 36 with the cuisine of chef-owner Zor Tan, a protege of Andre Chiang, that's best described as modern Chinese influenced by French techniques.  
Asia's Best Female Chef 2023 also comes out of Singapore, and for the first time, too. Johanne Siy, who serves up Asian-inspired modern European dishes at Lolla, was named the recipient of the award last month. The Philippines-born chef, who moved to Singapore in 2003, said that while she was grateful for the recognition, "my goal is to make this award obsolete. I am dreaming of a future where there is equality and equal representation in kitchens and dining rooms in this industry across the world."
Other special awards of the evening included the inaugural Beronia Asia's Best Sommelier award, which went to Della Tang of Ensue in Shenzhen; the Flor de Cana Sustainable Restaurant award, which went to Manila's Toyo Eatery; the Highest New Entry award, which went to Chennai's Avartana; and the Icon award, which went to chef Shinobu Namae of Tokyo's L'Effervescence.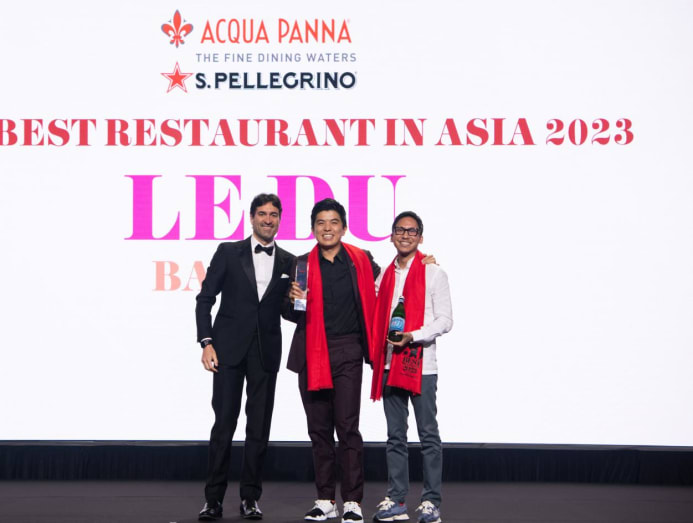 The event marks the 10th anniversary of Asia's 50 Best Restaurants, which debuted in Singapore in 2013 and has since been held in various other Asian cities. Last year's ceremony took place in multiple cities including Tokyo, Bangkok and Hong Kong. This year, for the first time since 2019, the ceremony, sponsored by S.Pellegrino & Acqua Panna, returned to full-scale, in-person attendance. It also saw the first Asia-based version of 50 Best Signature Sessions, a series of open-to-public dining events in which chefs from around the world collaborated with local chefs.
Here's the full list:
1. Le Du, Bangkok
2. Sezanne, Tokyo
3. Nusara, Bangkok
4. Den, Tokyo
5. Gaggan Anand, Bangkok
6. Odette, Singapore
7. Florilege, Tokyo
8. La Cime, Osaka
9. Sorn, Bangkok
10. Narisawa, Tokyo
11. Labyrinth, Singapore
12. Sazenka, Tokyo
13. The Chairman, Hong Kong
14. Villa Aida, Wakayama
15. Mosu, Seoul
16. Masque, Mumbai
17. Meta, Singapore
18. Fu He Hui, Shanghai
19. Indian Accent, New Delhi
20. Ode, Tokyo
21. Zen, Singapore
22. Suhring, Bangkok
23. Onjium, Seoul
24. Burnt Ends, Singapore
25. Euphoria, Singapore
26. Cloudstreet, Singapore
27. Les Amis, Singapore
28. Mingles, Seoul
29. Neighborhood, Hong Kong
30. Avartana, Chennai
31. Ensue, Shenzhen
32. Cenci, Kyoto
33. Ms Maria & Mr Singh, Bangkok
34. Da Vittorio, Shanghai
35. Potong, Bangkok
36. Born, Singapore
37. Wing, Hong Kong
38. Raan Jay Fai, Bangkok
39. Wing Lei Palace, Macau
40. Anan Saigon, Ho Chi Minh
41. Mono, Hong Kong
42. Toyo Eatery, Manila
43. Sichuan Moon, Macau
44. L'effervescence, Tokyo
45. Mume, Taipei
46. Baan Tepa, Bangkok
47. Born & Bred, Seoul
48. Metiz, Makati
49. Caprice, Hong Kong
50. Refer, Beijing