What's an authentic Israeli barbecue like? Find out at this Miznon pop-up
Running for a fortnight, Jaffa at SO/ will bring the experience of a laid-back Israeli grill party to Singapore.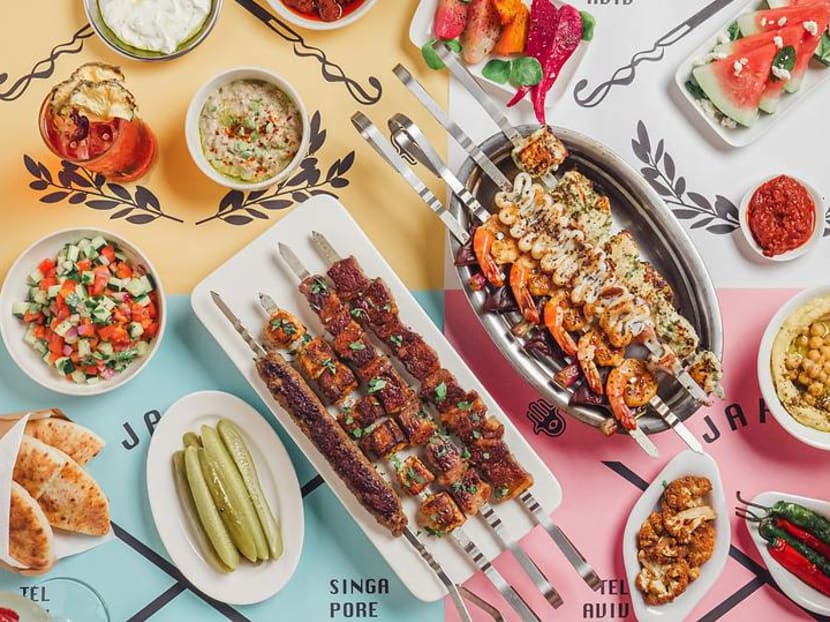 Leisure travel isn't really on the cards right now, but for two weeks in April, those who yearn to learn about different global cultures have the opportunity to immerse themselves in a unique Israeli barbecue experience.
Miznon, currently one of the buzziest places in town to grab a hearty stuffed pita, is partnering with SO/ Singapore for a pop-up at the hotel's Xperience restaurant.
Named "Jaffa at SO/" after Jaffa, Tel Aviv's old town area, the event, which runs from Apr 15 to 28, is being held in conjunction with Israel's national day holiday, from Apr 14 to 15.
The occasion is a much-anticipated chance to kick back, relax and socialise for young and old, said Miznon's executive chef Or Hakmimi, explaining that Israelis mark it by gathering in their back yards with their families and friends, where there is always a roaring grill, smoky barbecued meats and veggies, and maybe a sprinkle of fairy lights. 
With Jaffa at SO/, he hopes to share this aspect of his country's culture, particularly its emphasis on enjoying food communally, he told CNA Lifestyle. 
In collaboration with Xperience's Chef Hong Dingzhao, the pop-up will be serving up skewers of grilled meats and vegetables along with a generous spread of the salads and mezzes that Israeli cuisine is known for.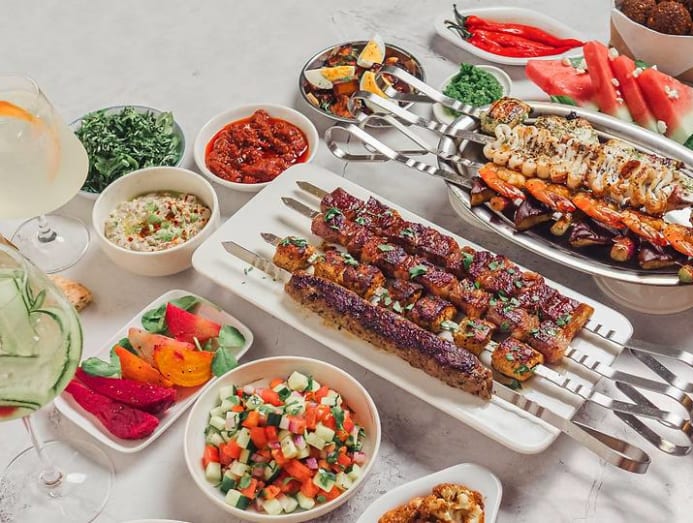 The fixed menu comes with a choice of two beef, lamb, chicken, duck, fish, seafood or vegetarian skewers, with options like yogurt zhug chicken thigh, lamb kebab, parsley lemon butter tiger prawns, rosemary duck breast, chicken liver, and portobello mushrooms with goat cheese; as well as a pitcher of house-made lemonade or soda.
But the real highlight, if you ask us, is the fresh and lovely spread of salatim: Flawlessly executed baba ganoush, chickpea hummus, beetroot salad, tabbouleh with cauliflower instead of bulgur, tzatziki, tahini and Miznon's famously pillowy pita.
The whole point, after all, is to linger over a table covered with brightly coloured little dishes, share a skewer or two with a friend and be entertained by the delicious variety.
Think you know your pita? We visited newly opened Miznon in Singapore. The global chain founded by a MasterChef Israel judge offers 12 types of stuffed pita and more.
Jaffa at SO/ runs from Apr 15 to 28 at SO/ Singapore's Xperience Restaurant. The set menu includes two skewers per person, a spread of mezze, dips and salads to share, plus a pitcher of house-made lemonade or soda. Lunch starts from 11.30am daily and is S$59 per person; dinner is from 6pm daily and is S$79 per person. To book, visit www.jaffa.com.sg.