Popular Golden Mile Complex Thai pancake stall Baan Kanom Thai now at Jalan Besar with dine-in space
The Thai-Singaporean young couple running the eatery invested S$50,000 to set up shop, which they saved from their Golden Mile earnings.
Golden Mile Complex as we know it is no more – 'Little Thailand', with its enclave of legit Thai eateries, is now closed for redevelopment after going en bloc. Popular makan haunts like Diandin Leluk have mostly shifted to nearby malls like City Gate and Aperia (or in the case of Tha Chang Noodle Bar, a Telok Ayer shophouse).
Another well-loved Golden Mile eatery that relocated is Baan Kanom Thai (which means 'house of Thai desserts'). A little stall tucked away in Thai Supermarket, it was opened by husband-and-wife team Jaren Choong, 29, and Thai-born Fon C, 27.
C, a competent home cook, started out as a home-based seller offering Thai pancake desserts and savoury dishes. After expanding to a stall at Golden Mile Complex, the couple sold only desserts due to severe space constraints.
But they have since come full circle by moving to a 32-seat space at Jalan Besar's ARC 380 mall. For the first time, Choong and C could accommodate dine-in customers and bring back their savoury menu items like crab omelette fried rice and pad see ew (Thai stir-fried noodles).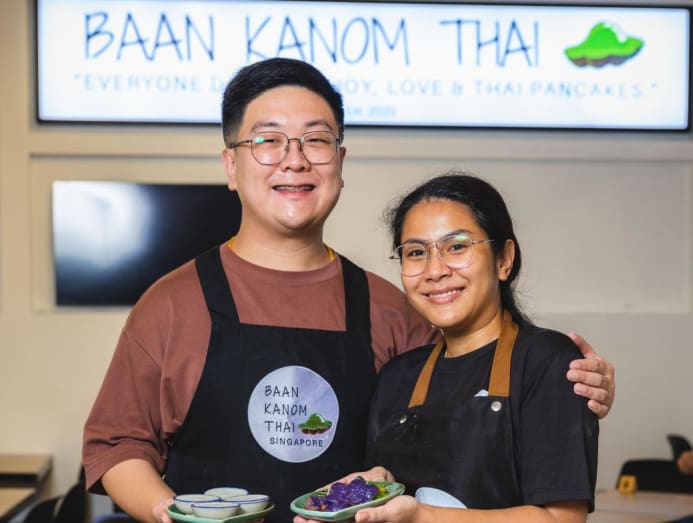 THEY HAD CONSIDERED MOVING TO CITY GATE
The couple was away visiting C's family in Thailand when most of Golden Mile Complex's tenants were making plans to move out. "When we came back, everyone had already found a space except us, so we started to kan cheong (get nervous) lah," Choong laughed.
He considered moving to City Gate, but could not find a suitable unit. "When [the landlord] heard everyone was moving out of Golden Mile, the rent rate went up," he said. But the couple eventually managed to find a decent-sized shop at ARC 380, which used to be a roast duck eatery.
"For the space size, it is much more affordable compared to City Gate," shared Choong.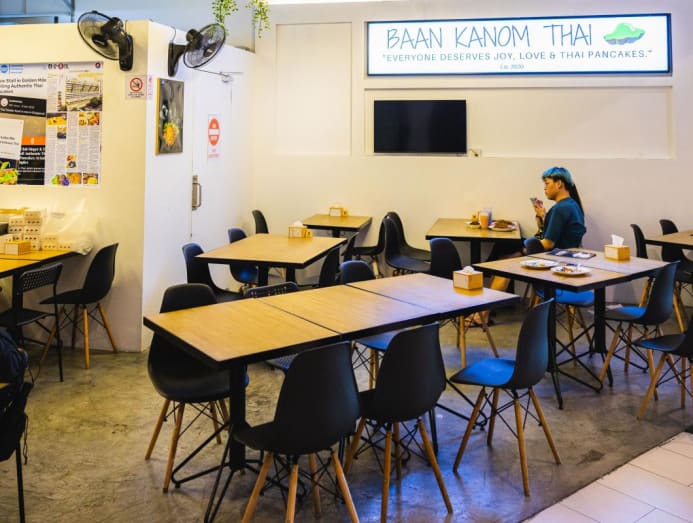 BUSINESS DIPPED AFTER MOVE
There was enough space for him and C to set up a kitchen as well as 32 dine-in seats. "It is my wife's dream to have a restaurant of her own," said Choong who soft-opened Baan Kanom Thai on Apr 18.
After operating for around two weeks, he observed that business was not as good as before, even though a number of his old regulars have dropped by. "Some people don't know we are here. There isn't really a crowd after lunchtime, but we are still surviving. We didn't think so much [about renting this place], because our initial plan was to cater for delivery," said Choong, who has started taking group buy orders.
The couple plan to open another takeaway kiosk outlet in the future, similar to their Golden Mile joint. "If we have another outlet, we will just use this place as a central kitchen," Choong said.
THE MENU
The recipes that C uses for her savoury dishes here came from her mum, who runs an eatery in southern Thai town Chumphon. Her menu offers meat dishes like grilled lemongrass chicken (S$25), deep-fried chicken wings (S$10 for six), and grilled pork skewers (S$5 for three).
There are seafood, veggie, salad, soup, curry, rice and noodle options too, such as steamed fish with spicy lime sauce (S$38), papaya salad with crab and pickled fish (S$10), pineapple fried rice (S$10), sour curry soup with prawns (S$15) and pad Thai (S$6/S$8/S$10).
C is planning to introduce lunch deals for the office crowd in the vicinity. "Like less than S$10 for a main and a drink," she shared.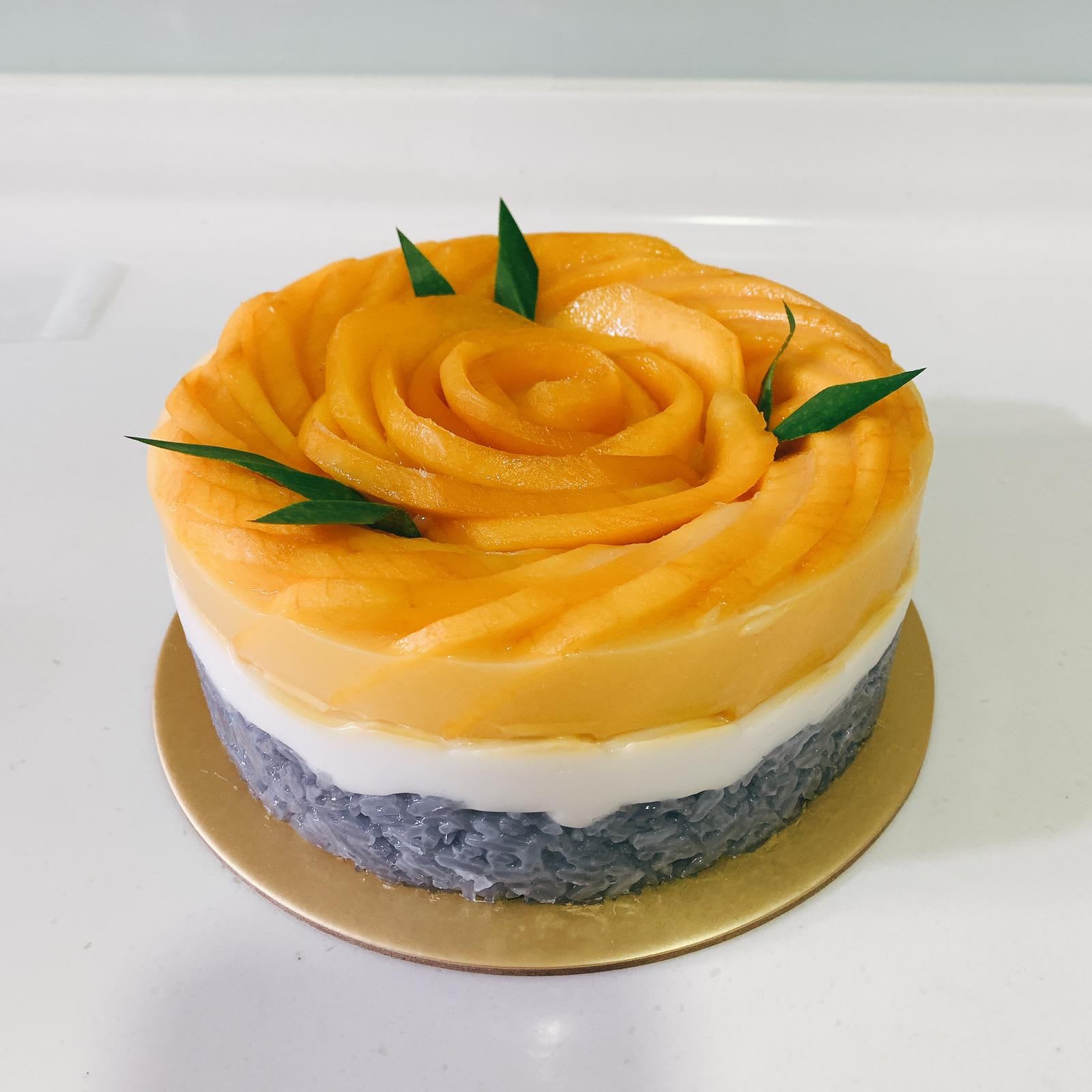 MANGO STICKY RICE BIRTHDAY CAKE
Baan Kanom Thai's pancakes are still available, like Thai pandan pancakes (from S$5.50 for 10), sweet potato Thai pancakes (from S$6 for 10) and Thai coconut pancakes (S$5.50 for six). Other desserts include mango sticky rice (S$7/S$10), red ruby in coconut milk (S$6) and coconut milk custard (S$7 for six). "We have plans to do more desserts, like luk chup (a Thai mung bean dessert shaped like tiny fruits and vegetables)," C said.
If you really love mango sticky rice, you can order a birthday cake version which C and Choong used to sell via their home-based business. "It's S$60 for six inches, S$70 for seven inches," said Choong, who also offers a red ruby topping (extra charge applies).
SLOWLY SAVED MONEY TO OPEN DINE-IN SHOP
Just like how they had saved up S$15,000 from running their home-based business to set up a stall at Golden Mile Complex, the couple has now ploughed their earnings from the stall into their dine-in eatery.
"We are just two people slowly saving our money, and we didn't spend more than what we earned. We don't have much money and our families are not rich, so we have to work hard for our dream. If you don't save, you cannot open anything," C said pragmatically.
CREAMY CRAB OMELETTE FRIED RICE, S$12 
C's creamy crab omelette lives up to its name. It's like a thick, fluffy scrambled egg blanket with still-runny golden yolk and juicy chunks of crab meat. We find the fried rice here too salty for our liking, but we reckon the rich omelette would go great with just warm white rice and the accompanying tangy Thai chilli sauce.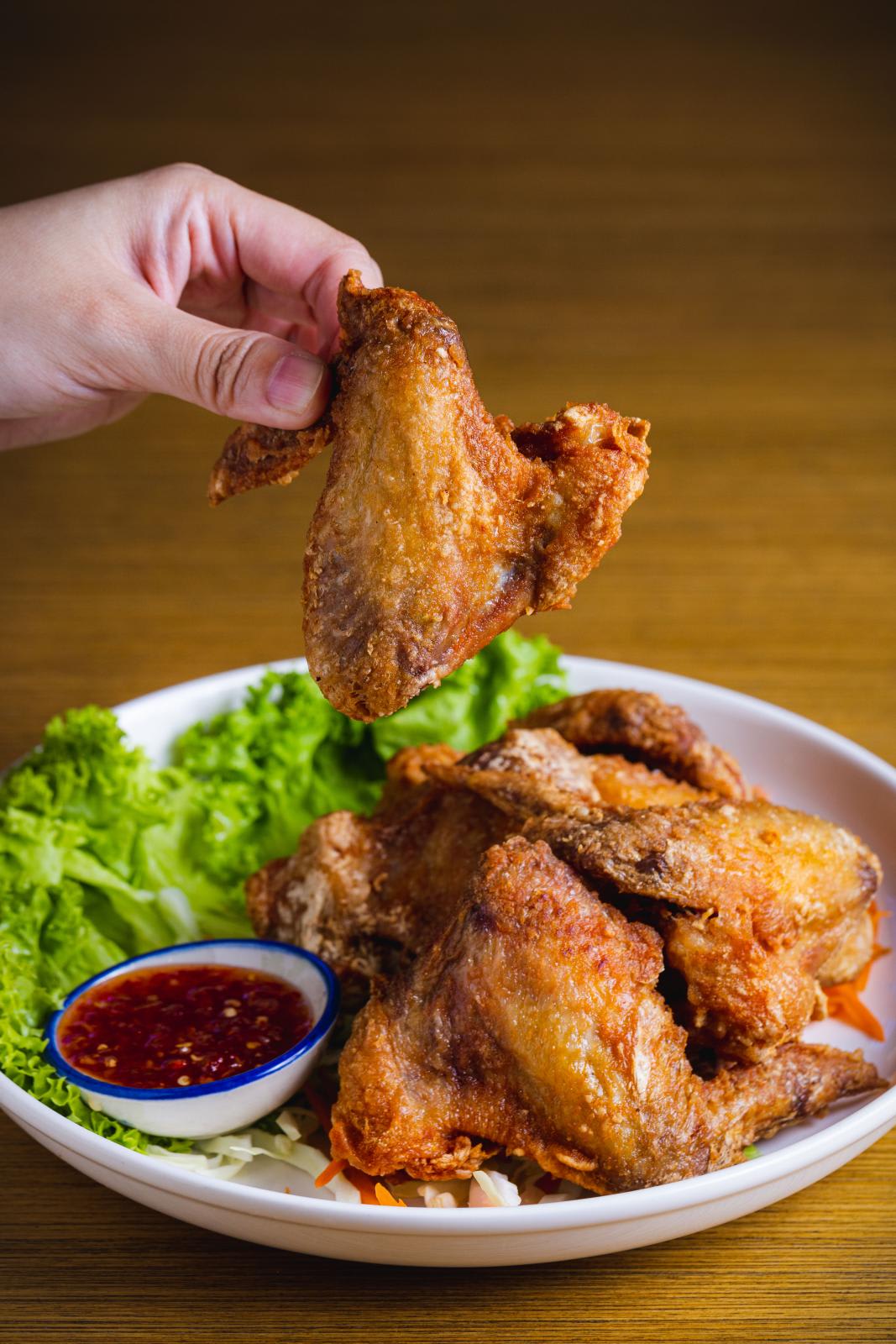 DEEP-FRIED CHICKEN WINGS, S$10 FOR SIX
The fried chicken wings here are super shiok; large mid-joint wings with thin, lip-smackingly crackly skin and succulent meat. Madly addictive stuff that you should hoover up while it's fresh and hot from the fryer.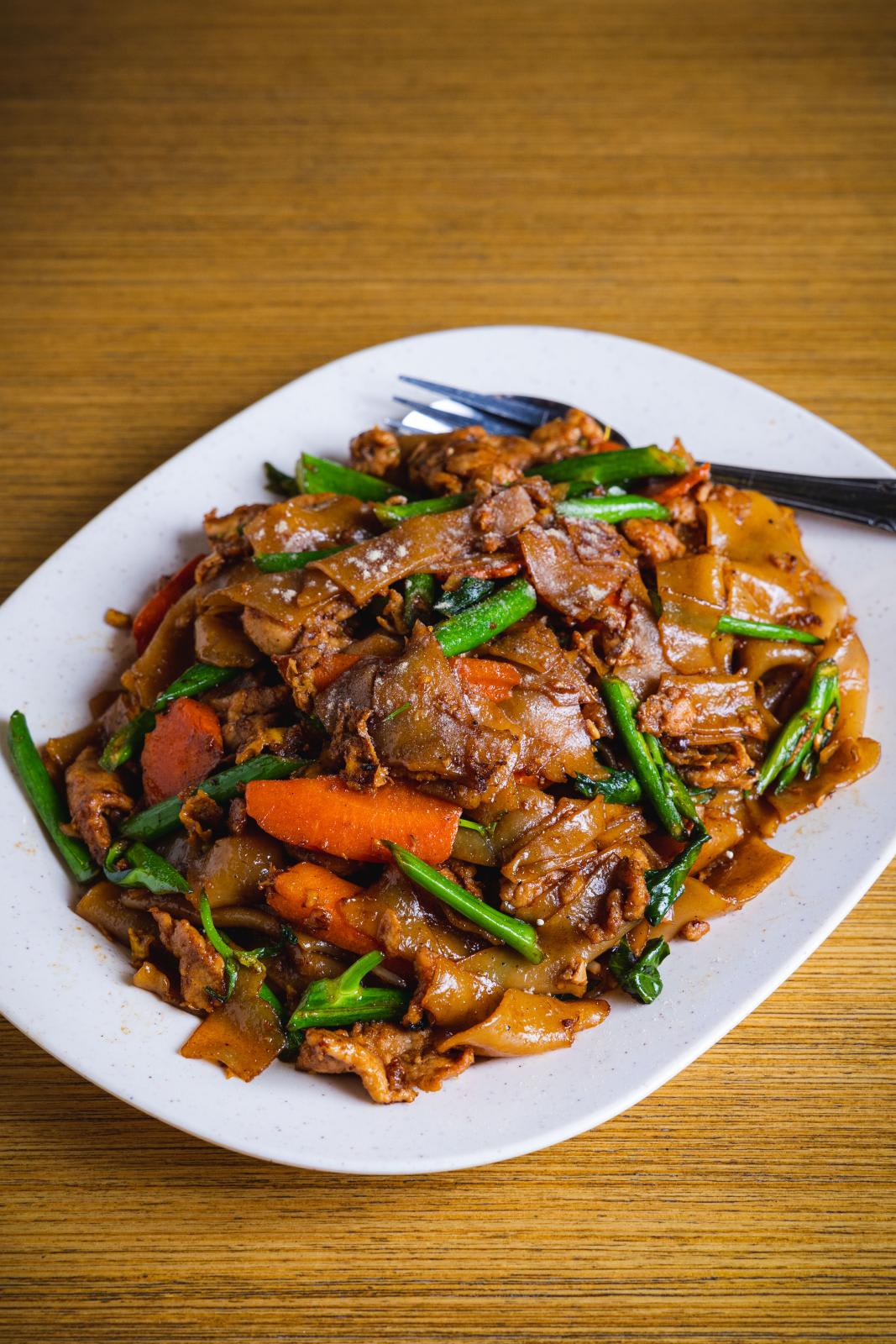 PAD SEE EW, S$8
Pad see ew, which consists of kway teow stir-fried in soya sauce with meat and veggies, is the sweeter cousin of pad Thai, which uses a thinner type of rice noodle and has a tangier flavour profile. For some reason, pad see ew is not as common in Singapore as it is in Thailand, but we find it an extremely comforting dish.
We tried C's version and wished it had more lashings of salty, fragrant soys sauce. Turns out, she had adjusted her original Thai recipe to go easy on the sodium after her Singaporean customers gave feedback that it was too intense for them. We suggest asking C for her "pad see ew Thailand-style" if you like your food heavily flavoured – this plate of smoky fried kway teow is worth the calories.
STIR-FRIED BASIL OYSTERS, S$18
Most Thai eateries in Singapore serve stir-fried basil pork and chicken, but Baan Kanom Thai has the more uncommon basil oysters. The plump, juicy small oysters are tossed in a mildly spicy sauce that is oily and pretty jelak (that feeling when you've had enough of a particularly rich food). Not our favourite dish, considering there are other more delicious options to order here.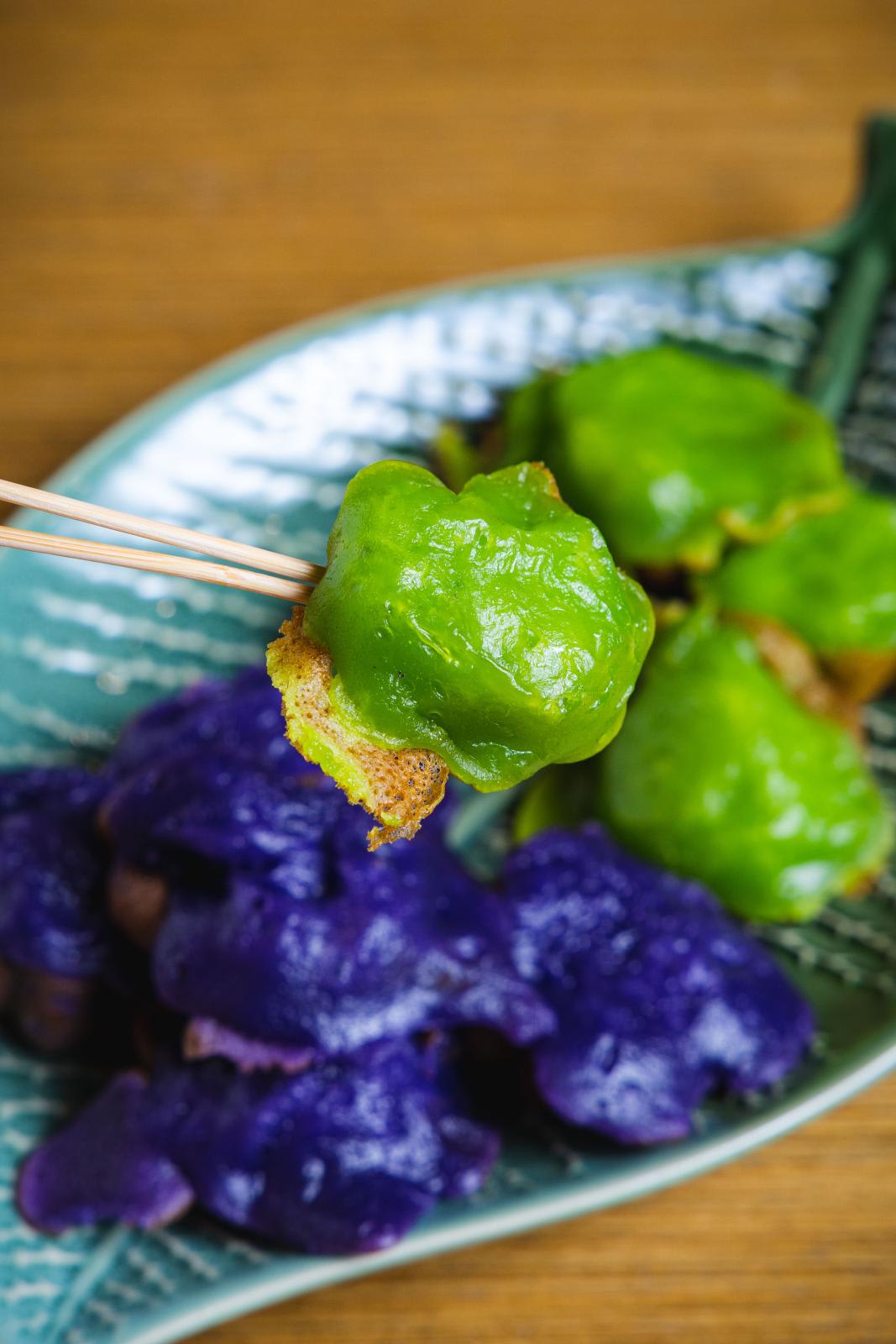 THAI PANDAN AND SWEET POTATO PANCAKES, FROM S$5.50 FOR 10 
We had earlier reviewed the couple's Thai pancakes here, and are pleased to report that it is as good as ever. The light, bouncy pandan pancakes boast a fab floral fragrance, while the sweet potato version is denser but just as good. We can easily finish a box of 10 pancakes by ourselves.
COCONUT MILK CUSTARD, S$7 FOR SIX
The good thing about having a bigger kitchen is that C and Choong can now offer more tasty desserts like this steamed coconut milk custard, which you can order to be served hot in little saucers.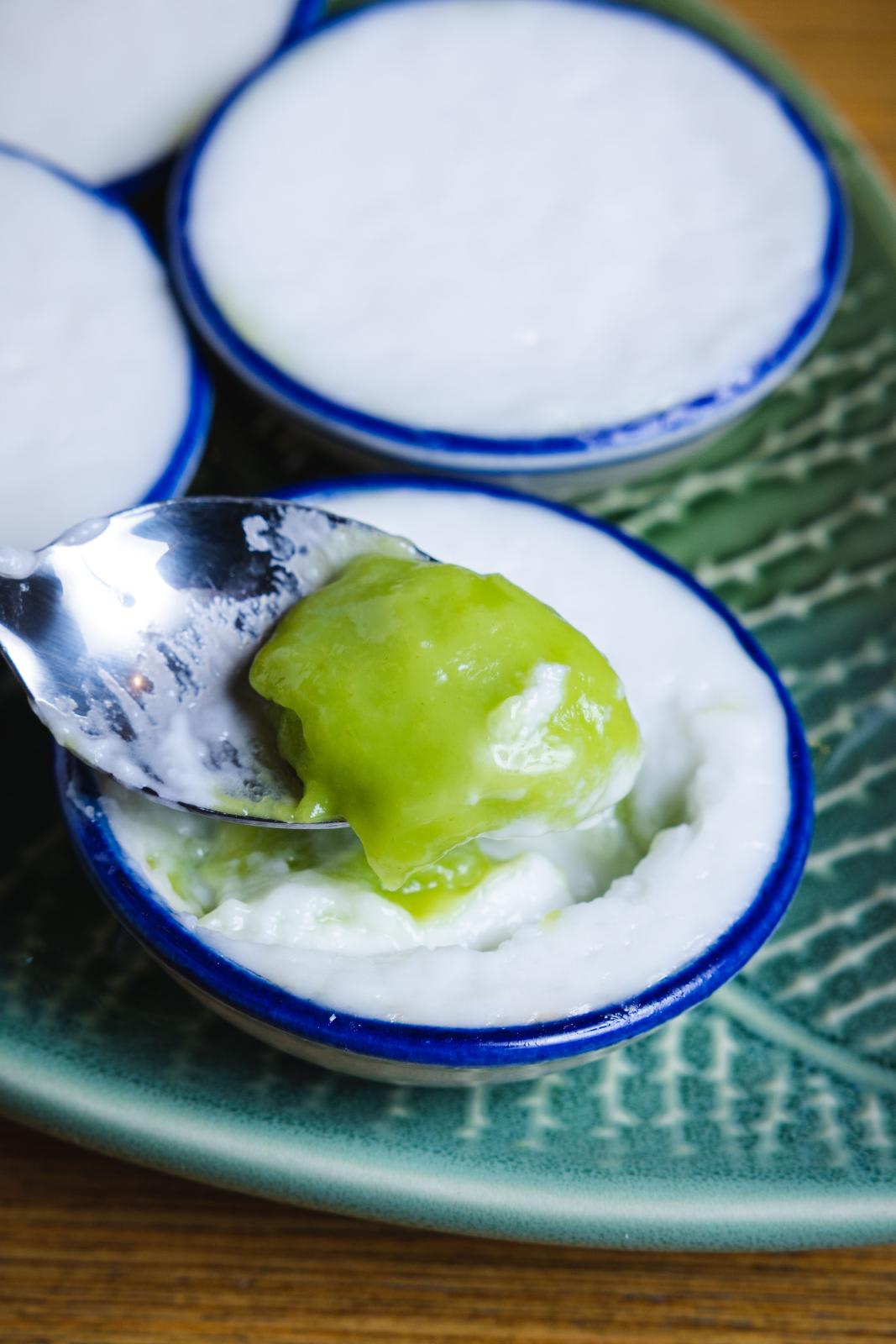 We dug a spoon into the coconutty custard to find a luxuriously oozy, creamy pandan-scented filling. So good.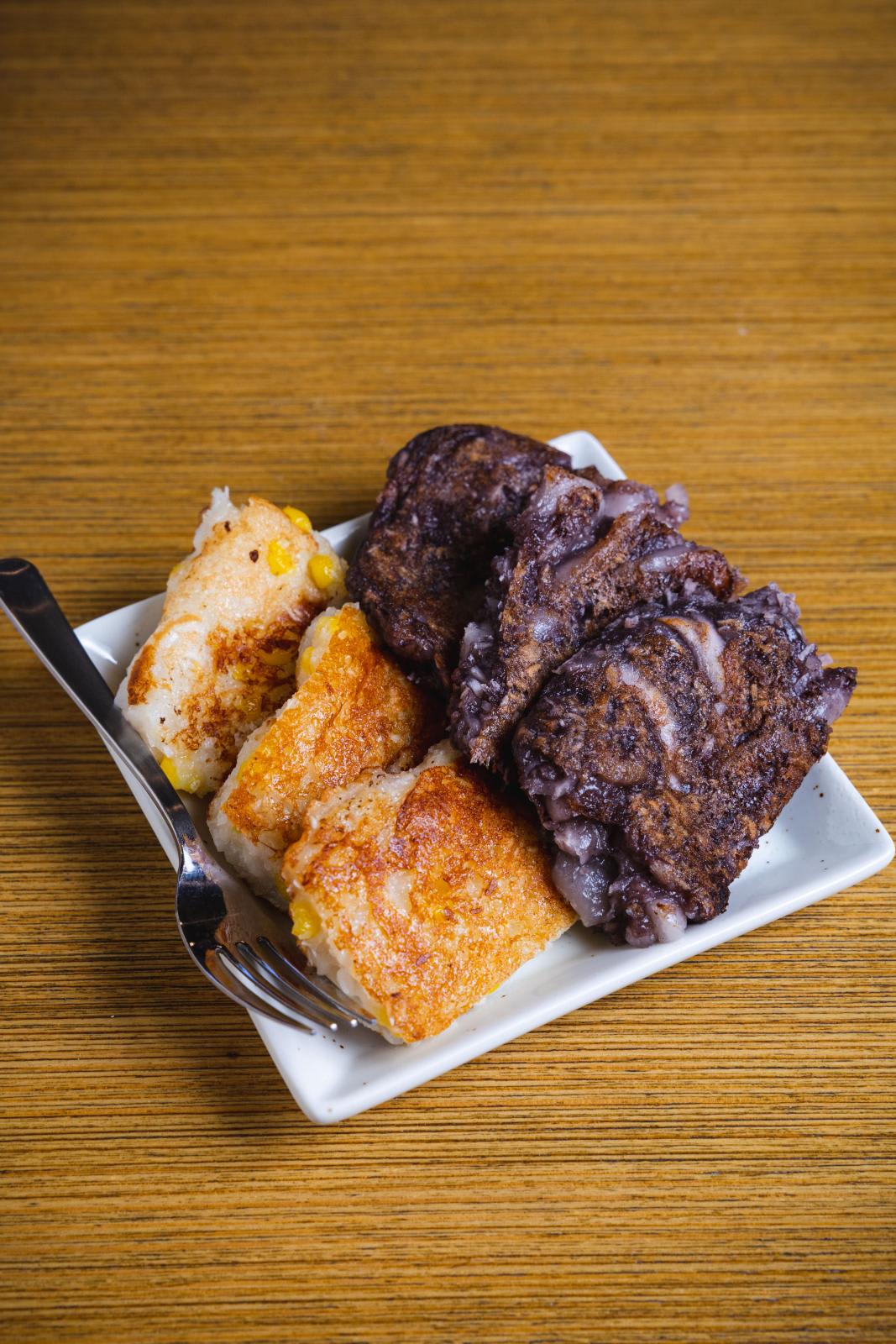 THAI COCONUT PANCAKES, S$5.50 FOR SIX
Leave ample tummy space to try the dessert selection here. The Thai coconut pancakes are just as yummy, rustic, chewy little glutinous rice discs stuffed with juicy coconut flesh that has a crunchy bite. Take advantage of the dine-in space; the hearty savoury nosh and desserts here are best enjoyed on the spot.
Baan Kanom Thai is at #01-15 ARC 380, 380 Jalan Besar, Singapore 209000. Tel: 9029-3098. Open daily except Monday. Tuesday to Friday 11am-9pm, Saturday and Sunday 11am-10pm. Last order 30 mins before closing.
This story was originally published in 8Days.