Lawyer falls in love with diving guide in Bali, opens Balinese food stall with him in Singapore
The Balinese diving guide-turned-hawker and his Singapore PR lawyer wife serve Balinese food like ayam betutu (slow-cooked chicken) at their stall, The Warung, at Lau Pa Sat.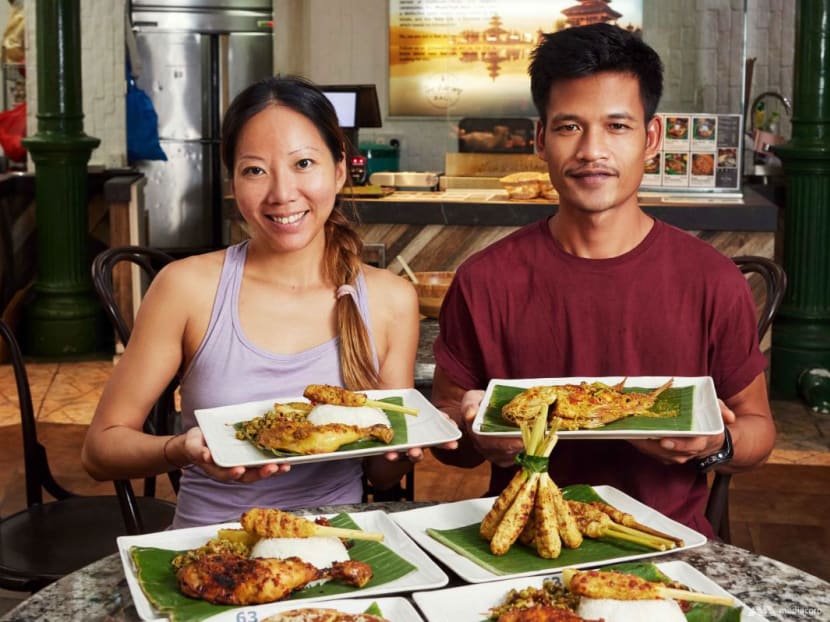 They say the way to a man's heart is through his stomach. It works for women too, especially when the cook comes in the form of a bronzed diver who makes a killer sambal and grilled fish. 
When Balinese diving guide I Wayan Suka, 30, first met lawyer-cum-avid diver Juliana Widjaja, 42, in a diving resort in 2019, he didn't expect that some day, he'd marry her, much less move to Singapore to start a food stall called The Warung selling home-style Balinese food in Lau Pa Sat. The eatery opened in late June this year.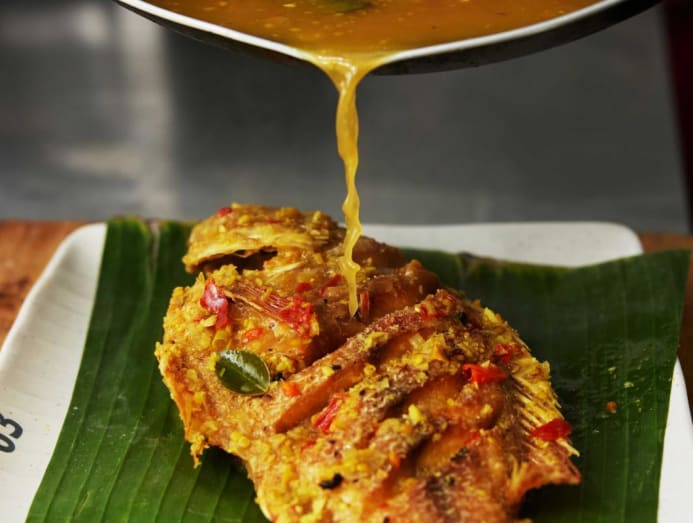 Juliana, an Indonesian-Chinese corporate lawyer who was then based in London, had met and dived with Suka twice. Then COVID-19 hit and halted all travel, but they remained Instagram friends. Meanwhile, Juliana, who grew up in Jakarta, moved to Singapore and worked for an international law firm. When travel finally resumed, Juliana DM-ed Suka and he joined her on her revenge diving trip in Bali last year. They hung out underwater again – and fell in love in his kitchen.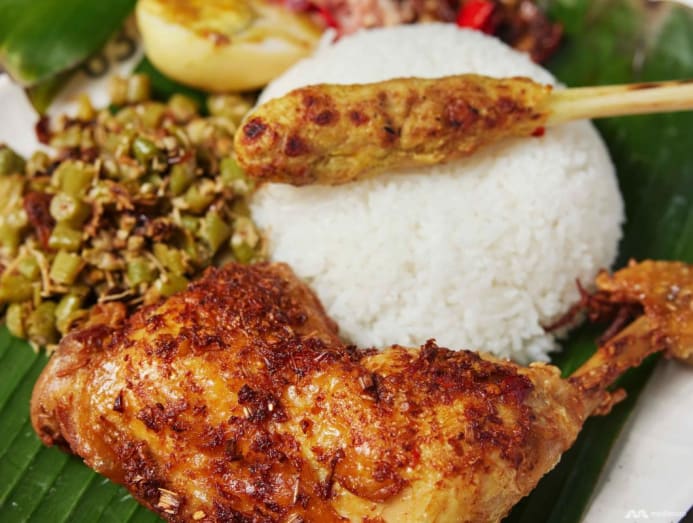 DIVED WITH HER, COOKED FOR HER
Was it his cooking that attracted her? "It was everything. It was quite romantic, actually," laughed the youthful and tanned Juliana dreamily.
The first time Suka invited her home for dinner, he devised a makeshift grill in the courtyard of his family's traditional Balinese home, using bricks and bamboo. There, he grilled her a small tuna fish which they shared with rice and heady sambal matah, an iconic Balinese-style sambal made with shallots, cili padi, coconut oil and lime.
She was charmed. And Suka and his family kept inviting her back and feeding her.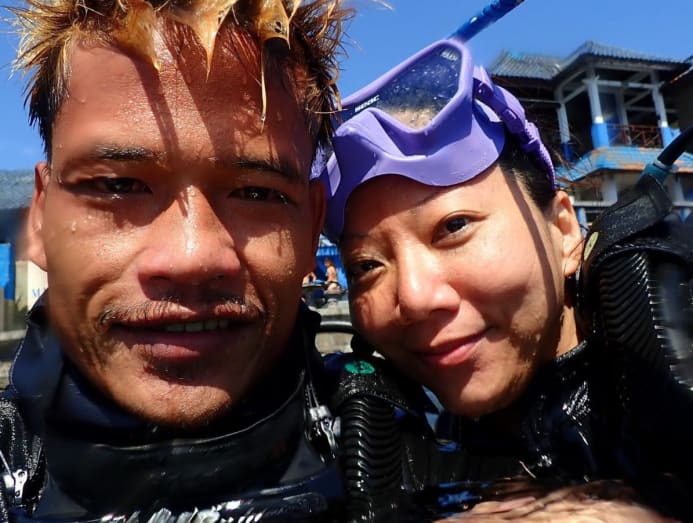 Although Suka is not a trained cook, he grew up in the kitchen, like most Balinese who view cooking as a family activity. "Balinese families also often cook for special occasions and ceremonies as it's cheaper and just part of their culture. Suka's family cooked for our wedding, featuring traditional dishes like ayam betutu (slow-cooked chicken) and babi guling (spit-roasted pig)!" shared Juliana.
INVESTED S$40,000 INTO HAWKER STALL
The couple registered their marriage in January 2023. Suka relocated to Singapore to join Juliana and her eight-year-old daughter from a previous marriage. They invested S$40,000 to start The Warung (meaning a small, traditional eatery in Bali), with a dream of introducing Singaporeans to authentic Balinese food. 
Juliana, who works flexible hours as an international corporate lawyer, comes by the stall regularly to help him out. Compared to being a diving guide in Bali, Suka says being a hawker is equally tough. "When I worked in a diving centre, it also required long hours and hard work. Sometimes, I work all month without rest. As a hawker, I work hard but this is my own business," said Suka. 
Juliana, a Singapore PR, grew up helping her late mum at her nasi campur stall in Jakarta and had always planned to open a stall in Singapore with her mum, who unfortunately passed away just weeks before relocating. So, it was fortuitous that she met Suka who fulfilled what she couldn't do with her mum. They set up their stall at Lau Pa Sat because they frequently eat there and it's within walking distance from their condo.
NOT ALL SAMBALS ARE CREATED EQUALLY
Although there are many Indonesian restaurants in Singapore, Suka hasn't found one that offers Balinese food that meets his standards, especially the type of sambal he grew up eating at home. Unlike most of the sambals common in Singapore, the Balinese version does not use belacan.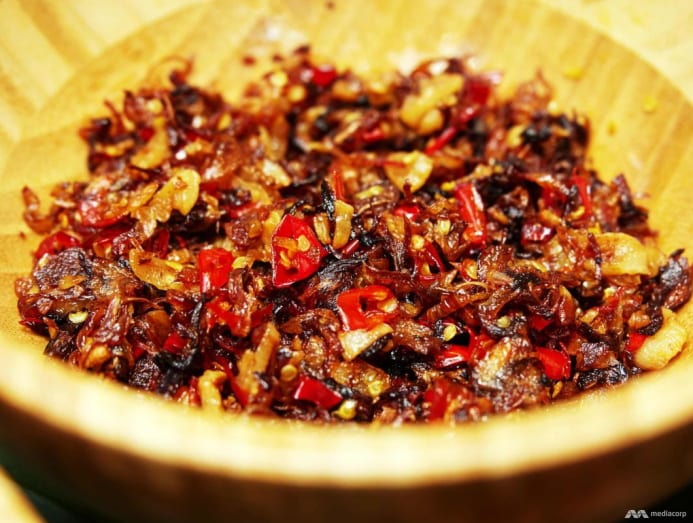 Other than sambal matah which is a staple in every Balinese household, Suka also serves sambal embe, a shiok version featuring caramelised fried shallots, garlic, chilli padi and lime, fried in coconut oil. Both pack a fiery punch that had us gulping down water. But they are so fragrant, we can eat them with plain rice and call it a meal. "The spice level is at 90 percent of what I cook in Bali," said Suka.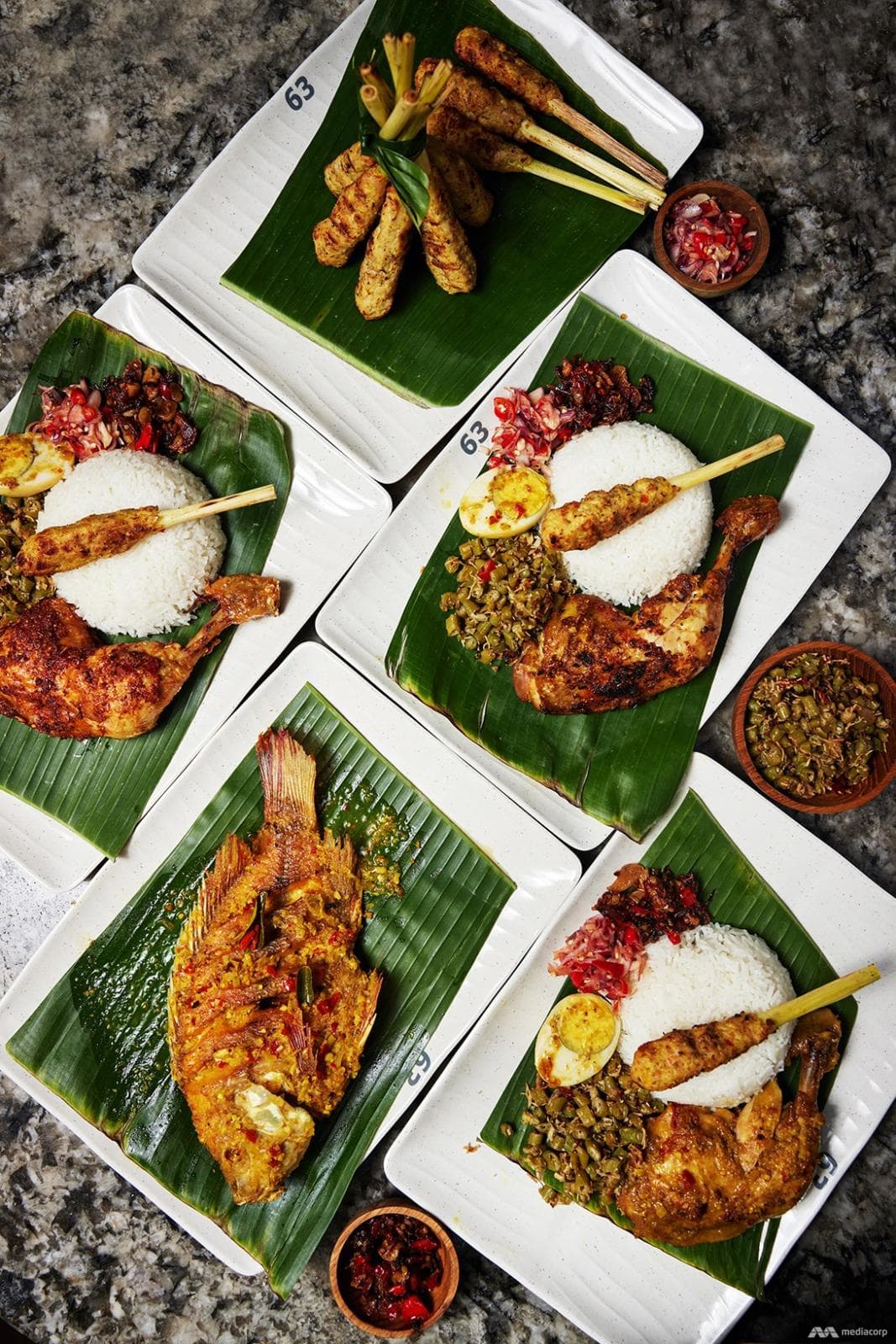 THE MENU
The Warung offers Balinese food that locals eat at home and at restaurants. The menu comprises ayam betutu (slow-cooked chicken) in original, goreng (fried) and bakar (grilled) options, sate lilit (minced Balinese-style satay), and a whole tilapia fish served grilled or 'nyat nyat' style (more on that later). Their modest dessert section offers Terang Bulan pancake, basically a Balinese martabak manis.
AYAM BETUTU (ORIGINAL/GORENG/BAKAR), S$8.90 
Betutu refers to the style of cooking ("slow burn", meaning to slow-cook the chicken in a specially-concocted Balinese-stye rempah). At The Warung, they use 17 spices and herbs, including lemongrass, different types of gingers, garlic, turmeric, shallots and lime leaves, to make their rempah (spice mix) from scratch.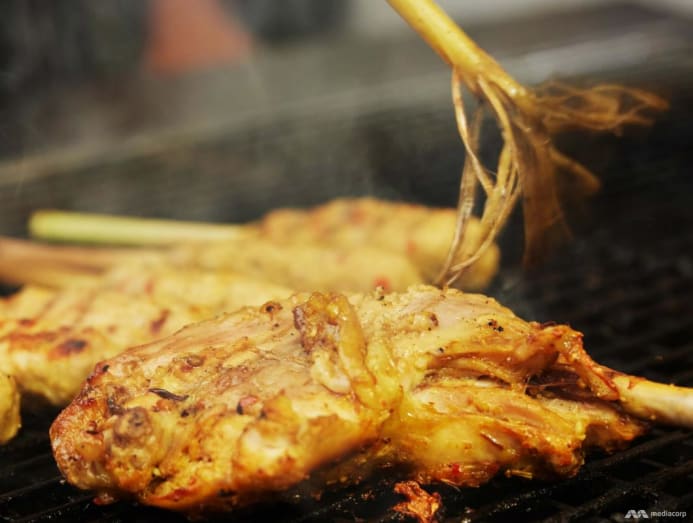 We can't decide which we prefer: The juicy original chicken, which is marinated and boiled till tender; or the bakar, oiled with a lemongrass brush and grilled to a nice smoky finish. The fried one is tasty too and will probably appeal to kids more.
Each set is served with a stick of satay lilit, urap (a veggie side dish, usually long beans, kang kong or bean sprouts mixed with toasted spiced coconut, fried shallots, fried chilli and fresh lime), half a hard-boiled egg cooked betutu-style, and a portion each of their sambal matah and sambal embe. Extra portions are charged at 50 cents; understandable, considering the high prices of shallots and chillies these days.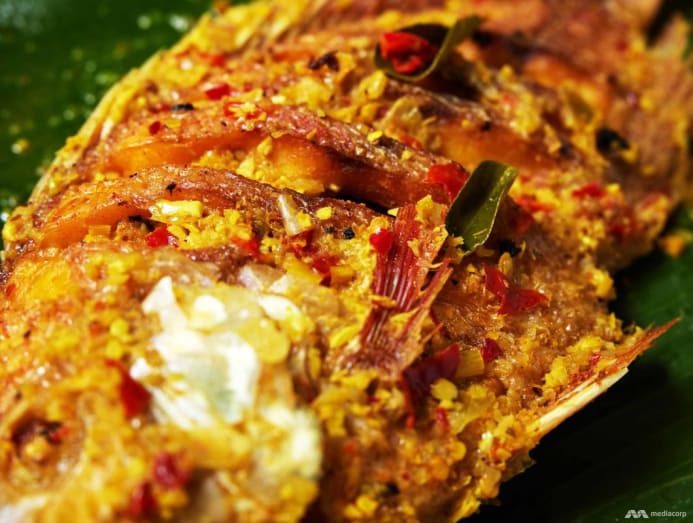 MUJAIR NYAT NYAT ORIGINAL, S$14.90; FEEDS 2 PEOPLE 
Served during dinner only. A whole 500g tilapia (called mujair in Balinese) is first marinated in house-made rempah, then deep-fried and finally braised in a sauce made with more spices and herbs. Nyat means "less" in Balinese, so it literally means reducing excess liquid in the food. 
We usually prefer our fried fish crispy but this is our favourite dish here. The fish absorbs all that yummy gravy and is packed with flavour. It's so aromatic, you don't get that muddy taste tilapia usually has. This sells out fast so definitely order it if it's available.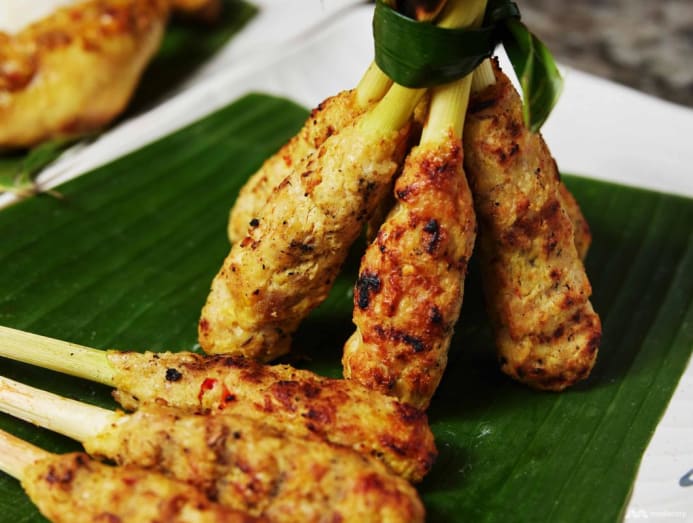 SATE LILIT, S$1.80 EACH 
A flavour bomb of minced chicken mixed with eight spices and herbs, wrapped around a lemongrass stalk, and freshly grilled. This goes great with beer. We enjoyed it fresh off the grill but it gets a tad salty when eaten cold.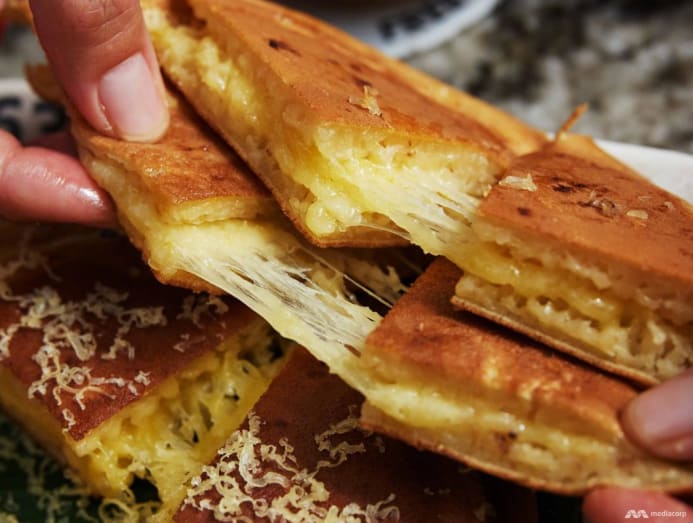 TERANG BULAN, S$2.20 FOR CHOCOLATE OR CHEESE 
The Balinese version of min jiang kueh, which is also known as martabak manis in other parts of Indonesia. The pancake has condensed milk added to your choice of filling. The ones with chocolate are far too sweet for us. We prefer the savoury-sweet cheddar cheese number.
BOTTOM LINE
Reasonably priced home-style Balinese grub for the quality and flavour, especially given its location in the CBD. No wonder the stall is drawing a good crowd of locals and tourists, judging from the never-ending stream of customers Suka had to turn away as he had sold out of food towards the end of our visit. 
The Warung is at stall 63, Lau Pa Sat, 18 Raffles Quay, Singapore 048582. Open Mondays to Thursdays 11am-8pm; Fridays to Saturdays 12pm-10pm. Closed Sundays. More info via Instagram and Facebook. Call 88090161 to pre-order a whole Ayam Betutu or for catering enquiries.