You can now savour Ben Fatto 95's authentic handmade pasta at this new Joo Chiat restaurant
Pasta artisan Lee Yum Hwa of private dining fame has collaborated with The Cicheti Group to open Forma, a new restaurant in the east.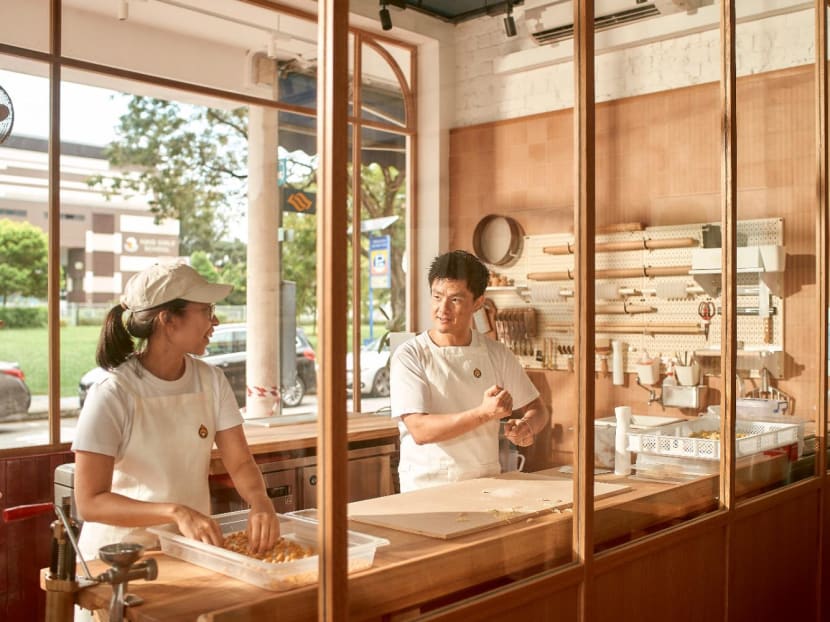 It's notoriously difficult to score a table at private dining pasta temple Ben Fatto 95, where self-taught artisan Lee Yum Hwa makes all his pastas by hand in honour of traditional techniques.
The bad news is that it will probably be even more difficult from now onwards. The good news is that we'll be able to enjoy his pasta at a restaurant instead of having to wait for a space to open up at his home.
Forma, a new establishment in Joo Chiat by the Cicheti Group in collaboration with Lee, opens on May 3 and focuses on handmade pastas, while also featuring small bites, mains, desserts and wines on the menu.
When we visited, Lee was in the glass-fronted pasta kitchen forming tiny parcels of tortellini, while passersby on the street stopped to gawk and take pictures. He won't always be there, though; he told us he plans to split his time between the restaurant and his home dining business. At Forma, he is helped by Denise Tsi, previously of Bar Cicheti, who spent a year apprenticing with Lee.
He'd been approached by others to open restaurants before, he divulged to us, but it was the Cicheti folks who understood that he had no desire to be a head chef and run a restaurant – he just wanted to make pasta.
And so, Forma has executive chef Dylan Cheong, who previously worked at Osteria Mozza and Gattopardo; he takes care of everything else, including the sauces for the pastas, which are derived from Lee's suggested recipes and reflect regional specialties.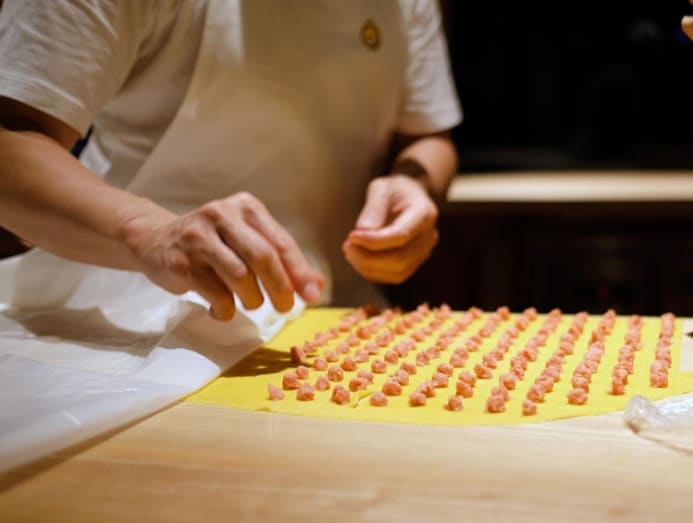 Lee and his team are free to focus on handcrafting pasta using traditional techniques that pre-date modern machinery. Good pasta, of course, is all about texture and bite, and that has everything to do with dough, materials, technique and manual dexterity.
If that sounds like fiddly, finicky, backbreaking work, well, it is. Watch Lee and Tsi fashioning tiny tortellini one at a time, and you'll resolve to savour your pasta very, very slowly.
The tortellini, little parcels of pork-filled pasta, are served in a clear, slow-simmered chicken brodo – a deceptively plain broth until you taste it together with bites of the pasta. That's when the meaty magic comes out.
Fun fact: If Lee were a pasta shape, he'd be tortellini, he told us, because it's "small but packs a punch".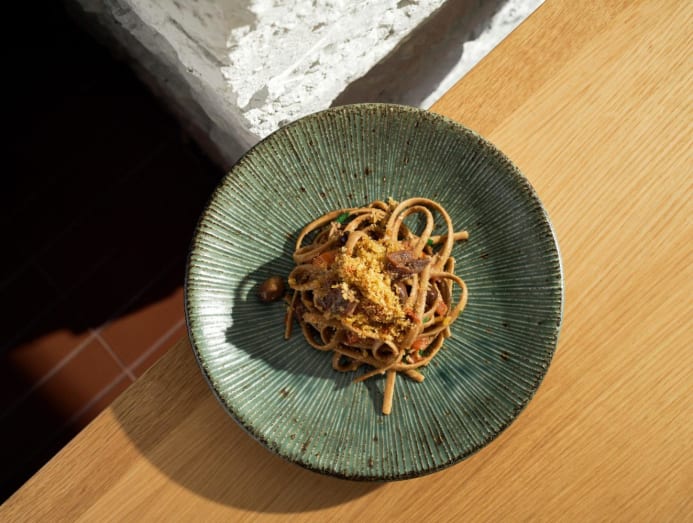 Struncatura ammollicata is a dish from southern Italy that originated as a poor man's meal. The struncatura pasta is named for the floor sweepings of wheat mills used to produce cheap pasta that was sold to the poor in the past. This dish is pretty light, with flavours of taggiasca olives, anchovies, chilli and sauteed breadcrumbs.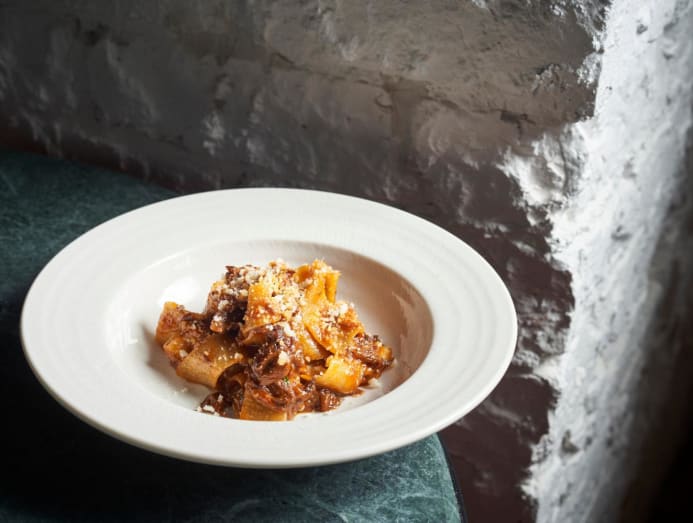 Pappardelle e Coda alla Vaccinara is a dish you can't go wrong with. The pappardelle ribbons are paired with a braised oxtail ragu of tomato, Pecorino Romano DOP and red wine. Every bite is a sexy symphony of perfection.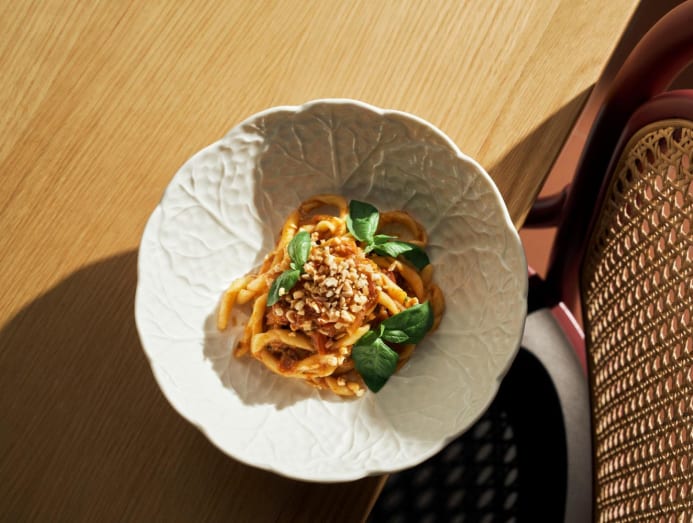 The Busiate con Pesto alla Trapanese is not a well-known dish here, so it will delight and surprise you if you're encountering it for the first time. Busiate is a long, twisty pasta and it's paired here with a pesto of datterini tomatoes, basil, crushed almond and Pecorino Romano DOP. Texture-wise, this was one of our favourites.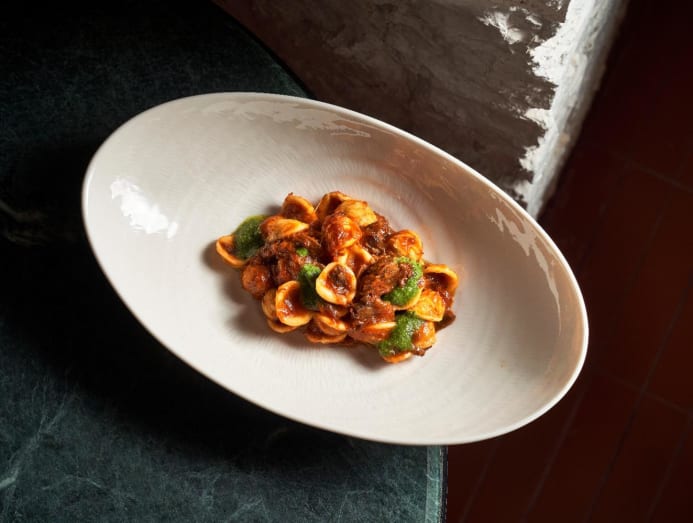 If you like big flavours, the orecchiette with braised lamb shank sugo simmered with crushed tomatoes, anchovies, white wine and Pecorino Romano DOP hits all the right notes. Orecchiette means "little ears" and they are shaped like so – perfect for embracing and secreting away lots of sauce and meat. The dish is rich and tangy, with a hint of fruitiness, thanks to a generous glug of olive oil.
 
These are just some of the pastas on the menu that we sampled – and we haven't yet mentioned the antipasti.
There's Gnocco Fritto, fried parcels of leavened, lard-enriched dough layered with lardo and sprinkled with pink peppercorn; braised baby artichokes with stracciatella, balsamic braised black currants, pine nuts and mint salsa verde; fried salt cod balls with lemon aioli; cold-smoked speck ham with pan-roasted medjool dates; and prosciutto crudo from San Daniele with melon, jalapeno jam, aged balsamic and fennel pollen. The cured meat dishes turned out to be our favourites.
For Secondi, the fish dish is pan-roasted, crisp-skinned blue cod with fava beans, peas, cipollini onions, prosciutto and a cucielo vermouth-butter sauce.
And if nothing but a good steak will do, and you have a sizeable table to share it, the Bistecca di Tomahawk – 55-day dry-aged, grass-fed beef from Australia's Little Joe Farm – is a head-turner, served with roasted garlic, homemade steak sauce, mustard salsa verde and porcini gremolata.
Like the food menu, the wine list explores the regional diversity of Italy. The Cicheti Group's managing partner and sommelier Ronald Kamiyama has put together a list of 150 wines spanning Italy's 20 wine regions, focusing on native and less familiar grapes like Cesanese from Lazio, Nero di Troia from Puglia and Schiopettino from Friuli.
The beauty of living in a connected world is that with enough dedication and heart, anyone anywhere can make authentic cuisine from any culture. One might even say there's now a little corner of Italy in the heart of Joo Chiat.
Forma is open for dinner only from May 3, Tuesdays to Saturdays from 6pm, at 128 Tembeling Road. For more information or to book a table, go here.