Bak chang 101: How to tell Hokkien, Nyonya, Teochew and other rice dumplings apart
Do you know the different types of bak chang in Singapore? CNA Lifestyle has a list of where to get the tastiest ones in time for next month's Dragon Boat Festival.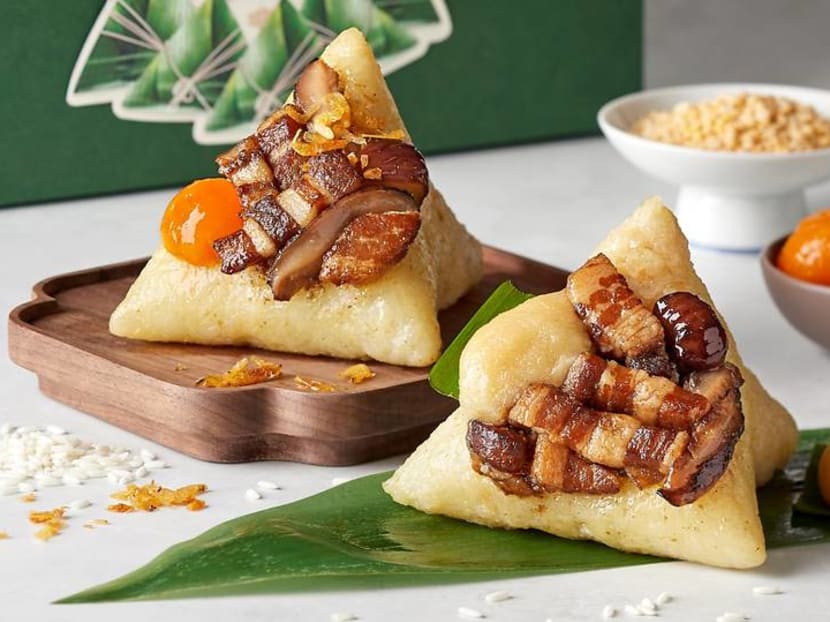 Every year, the Dragon Boat Festival (also known as Duanwu Jie) falls on the fifth day of the fifth month of the lunar calendar. It's all about commemorating the tragic death of Qu Yuan – a poet and court advisor during ancient China's Warring States period.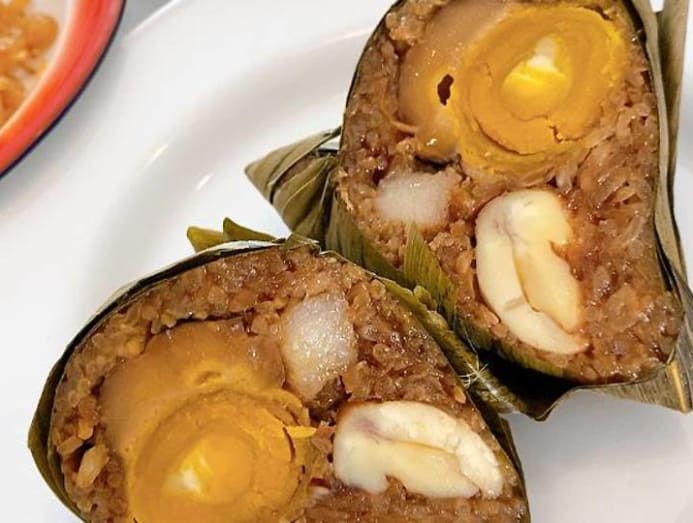 ​​​​​​As storied histories go, he drowned himself in the river after his warning prediction that the kingdom of Chu would be invaded by the state of Qin rang true. Folklore has it that the local villagers tried to save him by banging on drums to sound the alarm, rowing their boats out to find him, and throwing rice dumplings into the water to deter any fish from eating his corpse.
And thus, racing long, wooden dragon boats and eating rice dumplings have since become an annual tradition to honour Qu Yuan's ultimate sacrifice.
This year, the festival falls on Jun 14. And whether you call them bak chang, zongzi or glutinous rice dumpling, there is always a plethora of different types available in Singapore.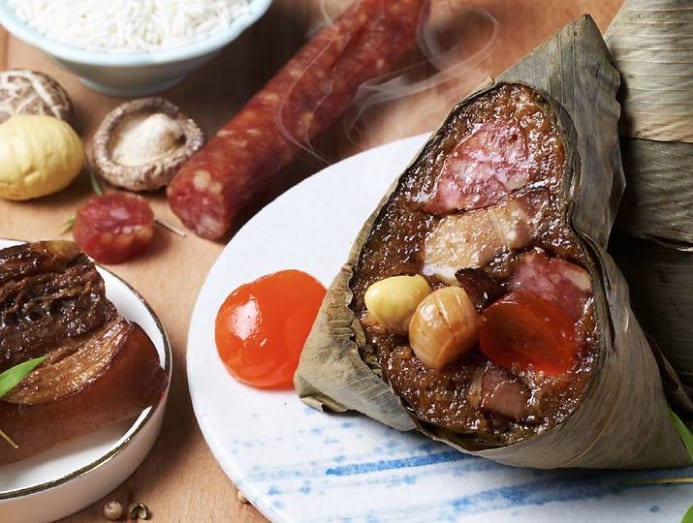 Every dialect group boast their own distinct ingredients and colour in the traditional offerings, while restaurant chefs annually try to come up with modern takes and new combinations.
How to tell the difference? Here's a list of some variations of those delicious little pyramids of sticky rice and meat wrapped in bamboo leaves – and where you can order them.
TEOCHEW CHANG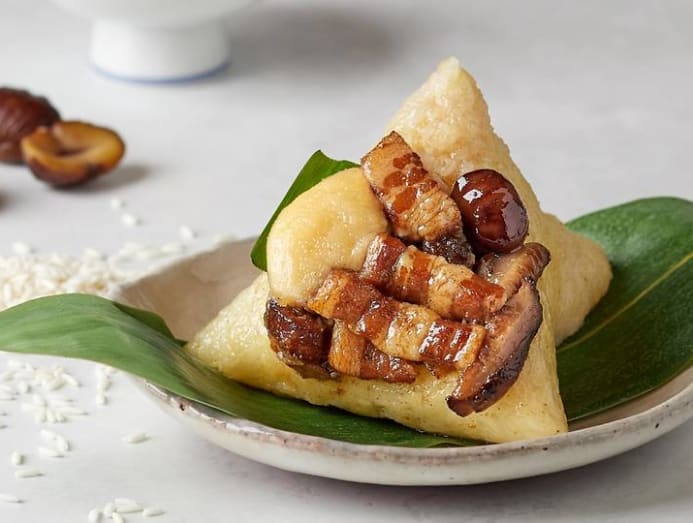 Signature flavour profile:
- A good mix of sweet and savoury fillings.
- Usually made with marinated pork belly, mushrooms, dried shrimp, Chinese sausage, chestnuts, lotus seeds and mung bean paste.
- The inclusion of the sweet mung bean paste (first rolled into a ball and then wrapped in caul fat) is the main ingredient that differentiates the Teochew chang from the rest.
Must try: THYE MOH CHAN X BREADTALK X TOAST BOX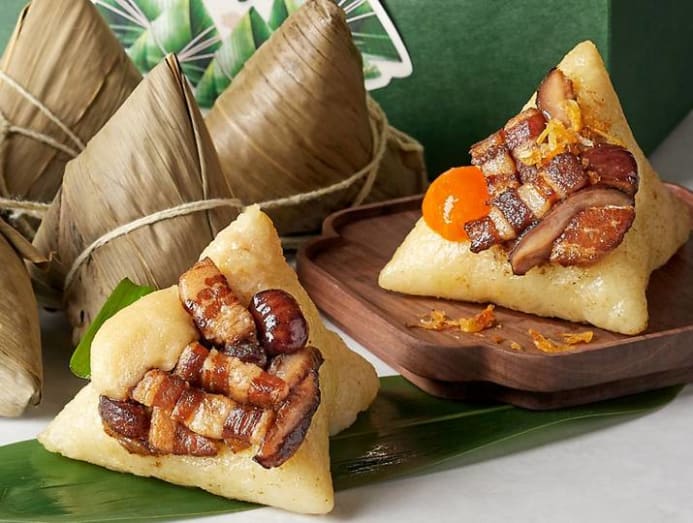 Teochew chang is all about blending savoury and sweet filling with a unique dual flavour profile and Thye Moh Chan (known for their handcrafted traditional Teochew baked pastries) have joined hands with BreadTalk and Toast Box to deliver a rice dumpling that is just that.
There are two flavours: Teochew Double Delight bak chang and Teochew salted egg bak chang. The former comprises succulent pork belly and shiitake mushrooms braised in a robust sauce accentuated with five-spice powder, pepper and coriander powder, balanced by just the right amount of homemade tau sar (mung bean paste) filling which lends a touch of sweetness, and chestnut. The latter offers familiar comfort with fragrant premium glutinous rice studded with juicy pork belly, fried dried shrimp, chestnut and a salted egg.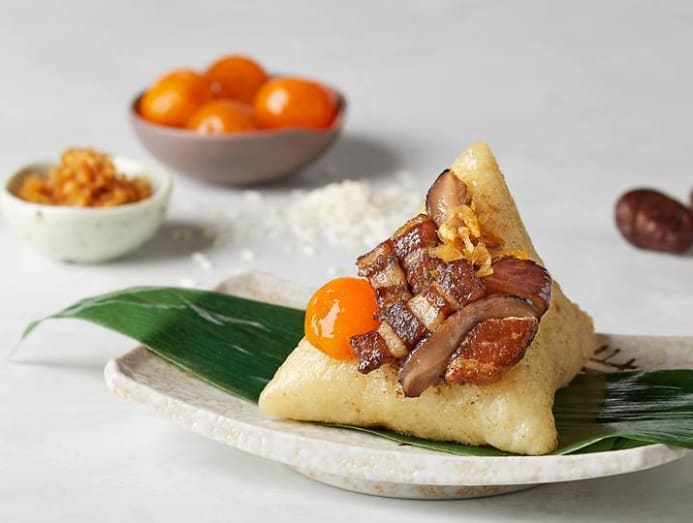 Each bak chang is meticulously hand-wrapped in quality bamboo leaves, and takes more than two and a half hours to prepare.
Each plump parcel is available at S$6.50 each. Customers can also purchase six at S$39 and receive one complimentary bak chang, or 10 at S$65 and receive two complimentary bak changs.
Available at all Thye Moh Chan, BreadTalk and Toast Box stores, delivery platforms and Shopee (Thye Moh Chan only), as well as BreadTalk's e-store at www.breadtalk.com.sg/shop.
HOKKIEN CHANG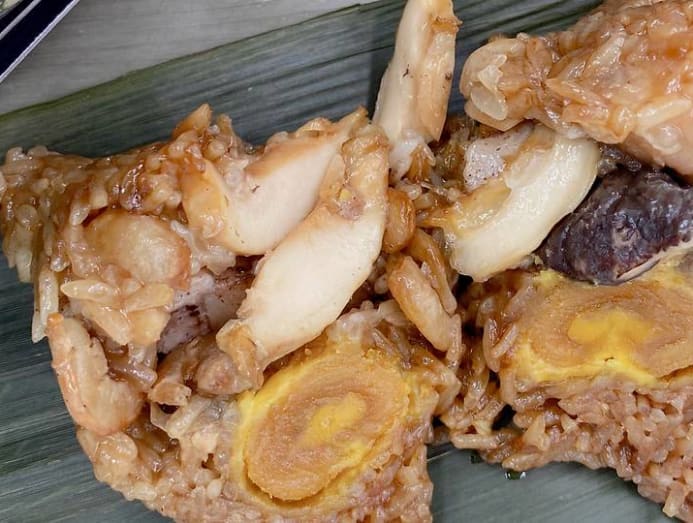 Signature flavour profile:
- Most commonly available all year round and distinctly savoury.
- Dark brown in colour.
- Usually made with pork belly, salted egg yolk, chestnuts and dried shrimps.
- The rice is typically fried with five-spice powder and dark soy sauce for aromatic fragrance.
Must try: CHANGHOSEK BAK CHANG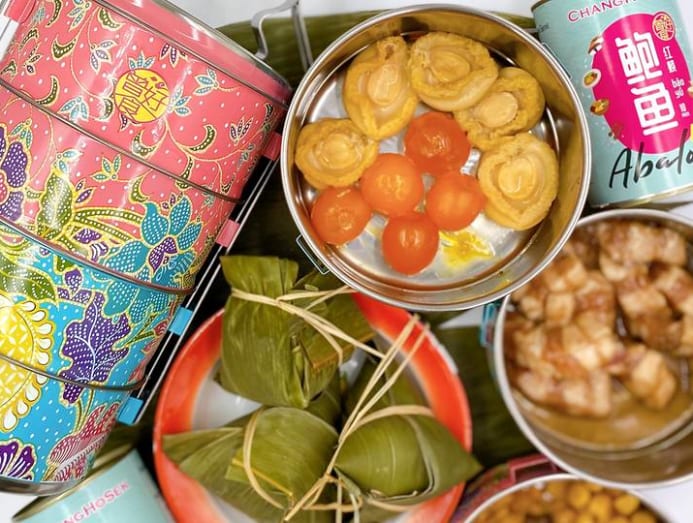 Every Hokkien chang from ChangHoSek's decadent dumpling series is delicately hand-wrapped and filled with fresh and indulgent ingredients such as braised pork belly, salted egg yolk and special ChangHoSek abalone in brine. For added texture, premium dried mushrooms, shrimp and scallop, as well as chestnuts are added to the delectable mix. There is also an option without abalone that is priced at S$35 for six dumplings.
Available in bundles of six with abalone (S$60) or as a dumpling gift set, including a can of abalone and a limited edition batik tingkat (S$88). Order via https://take.app/s/6596469687. Visit https://www.facebook.com/changhosek/ for more information.
NYONYA CHANG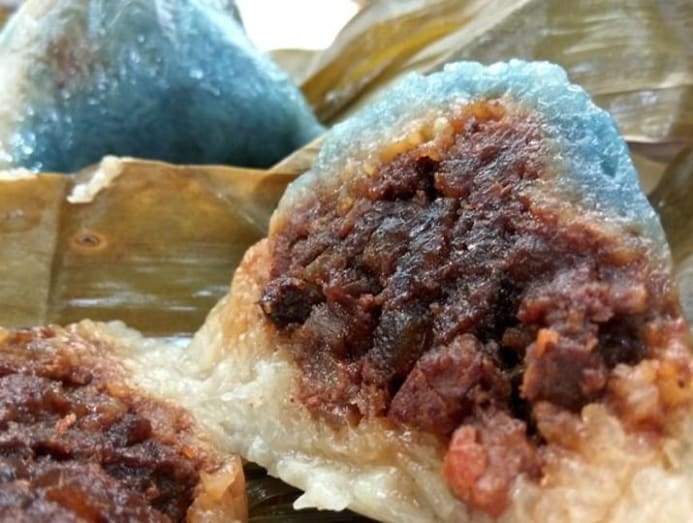 Signature flavour profile:
- Tinged with a blue tip, dyed using blue pea flower.
- Wrapped in pandan leaves, boasting a sweet fragrance.
- Usually made with lean pork, candied winter melon strips and coriander powder.
- Glutinous rice is made with blue pea essence.
- Slightly sweet.
Must try: NYONYA SAPPHIRES AT FENG SHUI INN 
A twist to the iconic Peranakan flavour, this delicious sweet and savoury Peranakan-style rice dumpling is generously packed with pork belly and tiger prawns, mushrooms, dried shrimp and candied winter melon. All enhanced with the spicy kick of Feng Shui Inn's rich XO chilli sauce.
The robust and tender filling is the result of Chef Lee Chee Man's meticulous process of marinating the pork belly and sustainably sourced tiger prawns with a house made concoction, before stir-frying the mixture and then stewing it in pork bone stock over low heat for two hours.
Orders can be placed online via www.rwsentosa.com/dumplingfeast or at Feng Shui Inn at Crockfords Tower in Resorts World Sentosa.
HAKKA CHANG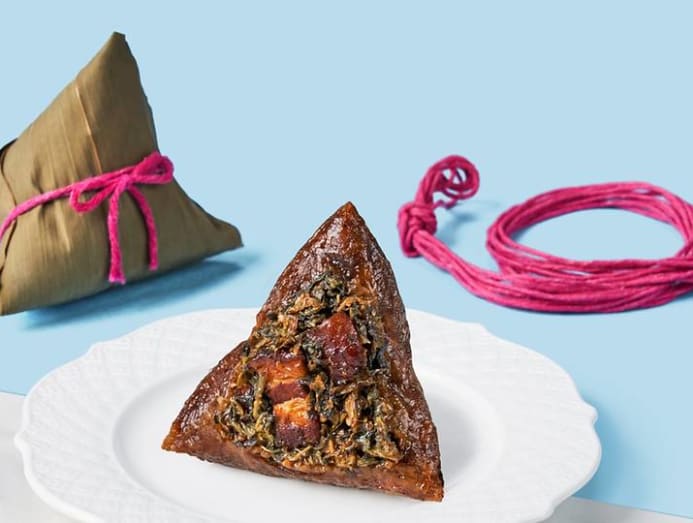 Signature flavour profile:
- Usually made with pork, salted egg yolk, black-eyed peas and mushrooms.
- Similar to Cantonese chang but the main difference is that it's wrapped in black eyed peas (instead of green mung beans) and pork before it's boiled.
- Pale in colour.
Must try: JOO CHIAT KIM CHOO'S HAKKA PORK BELLY WITH PRESERVED VEGETABLES RICE DUMPLING
Local dumpling brand Joo Chiat Kim Choo, which boasts three decades in the business, has come up with this new seasonal flavour that's a twist on the Hakka chang. The soft and satisfyingly dense glutinous rice encases well-seasoned steamed pork belly and savoury-preserved mustard greens (mui choy), offering a balance of generous fillings and the aroma of steamed bamboo leaves.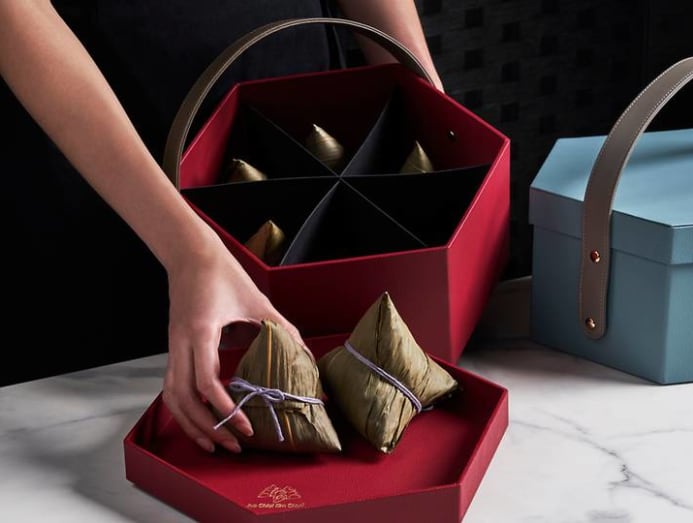 Joo Chiat Kim Choo also has packaged gift sets of handmade Emperor's Dumplings (Hokkien-style), stuffed with braised pork, dried scallops, Chinese sausage, egg yolks, gingko nuts, roasted chestnuts, shiitake mushrooms, all stewed together with a blend of 22 spices.
Available in two colours, the hexagonal handcrafted leatherette box by Singapore brand Bynd Artisan houses six dumplings and can be purchased via the website or at Isetan Scotts and Takashimaya.
Order directly from authentic Joo Chiat Kim Choo stalls or at https://joochiatkimchoo.com.sg/.  
KEE CHANG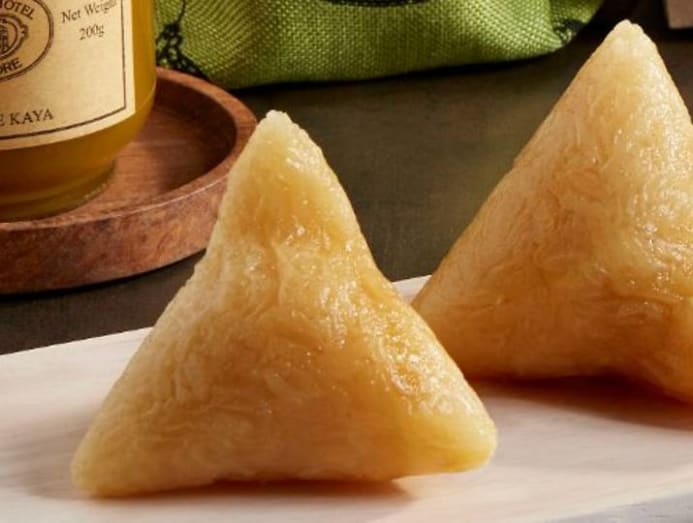 Signature flavour profile:
- Prepared with yellow glutinous rice (made with lye water).
- Presented either plain without fillings or stuffed with red bean paste.
- Slightly sweet with an alkaline aftertaste.
- Dipped in sugar or drizzled in gula melaka for a much sweeter profile.
- Small in size.
Must try: KEE CHANG WITH RAFFLES HOTEL SIGNATURE KAYA JAM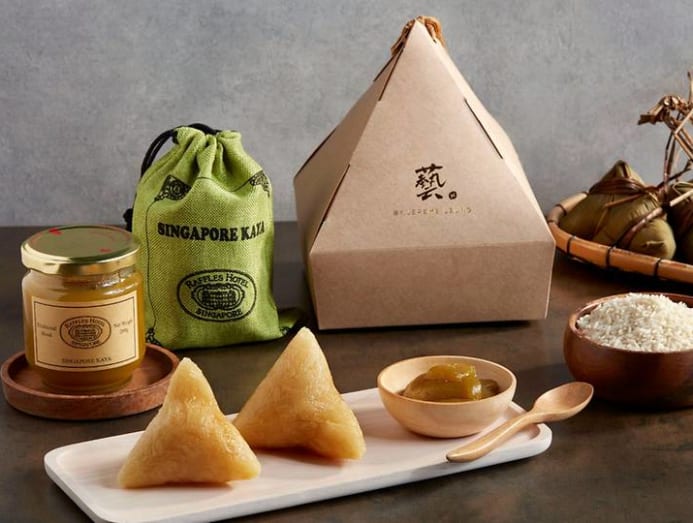 All the three major Chinese dialect groups in Singapore are known to make this pint-size dumpling, so the kee chang doesn't quite fall into a specific dialect group category.
Distinctly unique, this dainty dumpling has no meat nor filling but it packs a sweet punch. And MasterChef Jereme Leung of Raffles Hotel's yi by Jereme Leung offers an elevated handcrafted version.
In a harmonious blend of traditional and unique flavours, Chef Leung decided on a novel pairing of kee chang's classic flavour matched with the rich, fragrant notes of the well-loved Raffles Signature kaya jam. Five dumplings are on offer for S$22, which includes a 200g jar of the jam.
yi by Jereme Leung's rice dumplings are available for order on http://rafflesgrabandgo.com. Enjoy a 20 per cent early bird discount when you order online by May 31. Available for self-collection and delivery.