It's rice dumpling season again – here's a list of where to get the best in Singapore
Pork-filled, meatless, dessert or traditional — there's a rice dumpling out there for every preference. CNA Lifestyle serves up some of the yummiest options.
False allegations, treason, suicide and the hunt for a corpse in dark waters. Despite its rather gory origins, the Dragon Boat Festival endures, complete with delicious iterations of new and novel rice dumplings from eateries all over the island.
For the uninitiated, the history of the dragon boat festival can be summed up thus: A banished statesman, Qu Yuen, decides to die an honourable death by drowning himself in the river. His distraught subjects followed after him, throwing rice into the water to either distract fish who would otherwise sup on his corpse or to symbolise an offering to his spirit.
Hence the triangular parcels of rice wrapped in leaves that we now know variously as bak zhang (Hokkien), kueh zhang (Peranakan), zong zi (Mandarin) or zhong (Cantonese).
The dumplings, once comprised of just sticky rice, have over the years evolved to include pork, chestnuts, candied winter melon, mushrooms and all manner of delicious things.
TIME-HONOURED CLASSICS
Traditionalists will have you know that rice dumplings should always come with morsels of marinated pork squirreled in their centres. Classic Hokkien-style dumplings, like the ones from the Deli at Goodwood Park Hotel (S$30 for two dumplings), come with pork belly, shiitake mushrooms, chestnuts, dried shrimps and salted egg.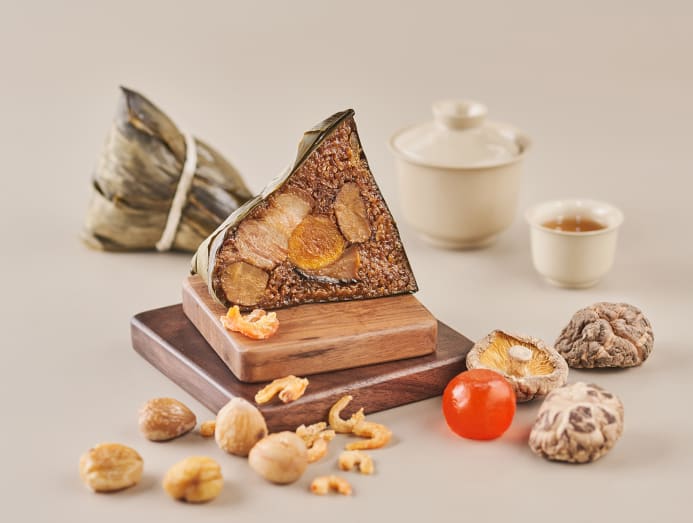 The hotel also has a Hong Kong-style dumpling (S$38 each) stuffed with roasted pork and duck, shiitake mushrooms, dried scallops, mung beans and lotus seeds. An accompanying sauce made of light and dark soy sauce, onions, spring onions and ginger gives it added depth of flavour.
MAKE IT LUXE
Dumplings grew in tandem with affluence as larger parcels came to encompass more luxe ingredients, most notably, abalone. Restaurants such as Hai Tien Lo now purvey oversized dumplings designed for sharing, featuring pork belly, salted egg yolk, green beans, lotus seeds and abalone (S$38.80 a piece).
At Yan, the Cantonese-style zhong comes with braised six-head abalone, roast duck and diced Chinese sausages (S$33.80).
PERANAKAN RENDITIONS
Nyonya-style dumplings, known in Peranakan as kueh zhang, are another traditional favourite. Tinged a comely shade of indigo with butterfly pea flowers, the glutinous rice parcels are filled with a slightly sweet mix of minced or brunoise pork, candied winter melon and shiitake mushrooms stewed in soy sauce spiked with ground coriander.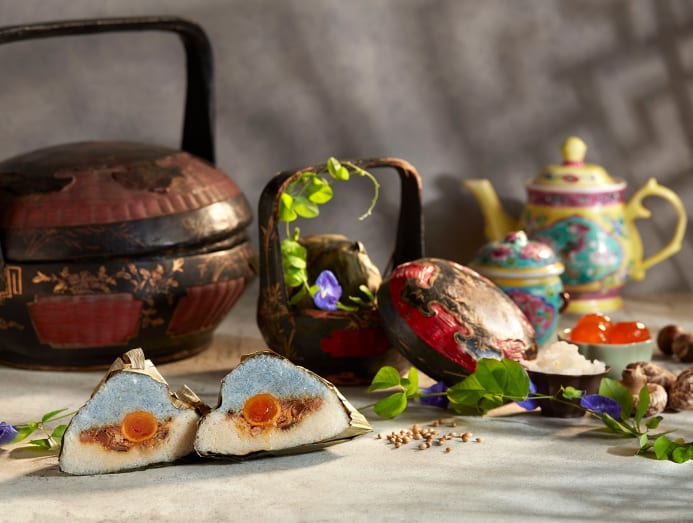 Stalwart purveyor Kim Choo is a popular favourite, but hotels like Shangri-La Singapore have created a mash-up of Hokkien and Peranakan flavours by adding salted egg yolk and chestnuts to the mix (S$19.80 each). Man Fu Yuan uses XO sauce to lend some spice to its nyonya-style filling (S$19.50 each).
NEW AND NOVEL
To keep thing fresh, restaurants dream up new and ever more creative dumpling flavours each year.
The eateries under Resorts World Sentosa's stable dole out particularly impressive offerings, which this year, include a smoked eel and pork tendon dumplings by chef de cuisine of modern European restaurant Table65, Dayal Kesha. There's also a beef cheek dumpling featuring braised Australian Sanchoku wagyu cheeks, chorizo, chestnuts and salted egg by chef Danny Fong of Osia Steakhouse and Grill.
Both come as part of the Deluxe Dumpling Set (S$118) of five dumplings. Others look to classic flavours to add novelty to their line-up, including a white pepper crab number (S$20 each) from Wan Hao Chinese Restaurant and a laksa dumpling with sambal chilli (S$32 for two dumplings) from Goodwood Park Hotel. 
MEATLESS MORSELS
Plant-based eaters have plenty of options too. Conrad Centennial Singapore has made one with dried velvet mushrooms, morels, chestnuts, red dates, wolfberries and black fungus (S$22.80 each), while Tung Lok Group has created a refreshingly affordable meatless oat rice dumpling with mushrooms (S$6.80 each) packed with nameko pearl mushrooms, king oyster mushrooms and rice flecked with oats.
At The Fullerton Hotel Singapore, there's a vegetarian truffle, mushroom and five-grain rice dumpling (S$16 each) perfumed with truffle paste and filled with three different mushrooms, chestnuts and plant-based meat.
DESSERT DUMPLINGS
The sweet of tooth might appreciate the new petite peach gum with yuzu peel crystal jelly dumplings (S$7.80 for three) from Crystal Jade. These treats come with peach gum, wolfberries and yuzu peel, in a decidedly sensible snacking size.
Other sweet options include the Tung Lok Group's honey dates rice dumplings (S$33.60 for a dozen) and Hai Tien Lo's Teochew take on orh ni with yam paste with gingko nuts (S$8.80)… because you're already going all out with the carbs anyway, right?