12 best bars in Clarke Quay for a fun night out: From soju buffets to retro arcades
Whether you're in the mood to party or chill, get whisked away to Tokyo or NYC, you can always count on the watering holes in Clarke Quay.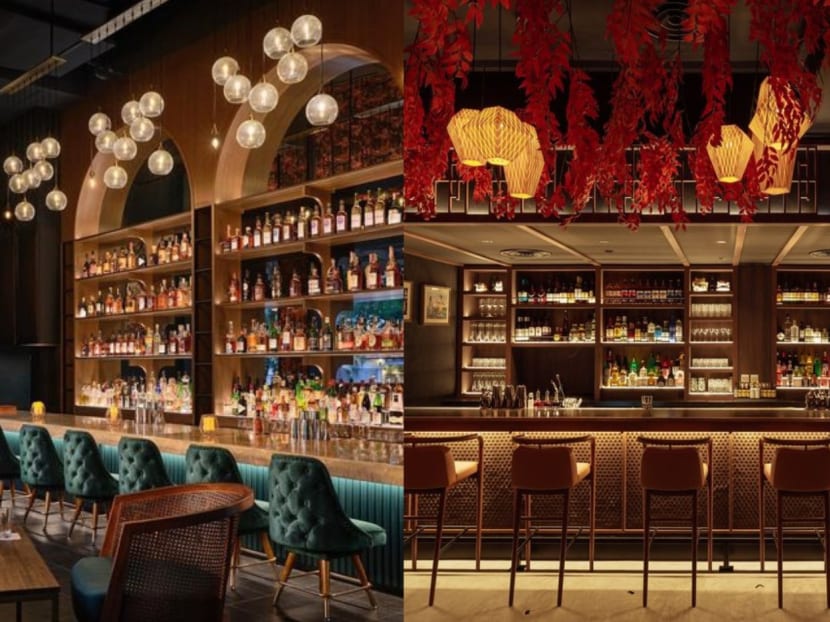 The night is always young in Clarke Quay – the poster child of Singapore's bar scene. It's predictable, we know, but cliches are cliches for good reason.
It's not just about the atmosphere, though the historic river and heritage shophouses are a welcome change of scenery after work; or that its central location means you can make nearly every happy hour on the list.
It's how different every watering hole is; some transport you to capital cities across the world and others to your childhood or university days. We've rounded up the 12 best bars in Clarke Quay, from post-pandemic openings to OGs in the hood, to make an adventure out of your next drinking sesh.
1. REVIVAL BAR
Revival Bar claims to be a "world-class programme doing their best to masquerade as a humble neighbourhood bar". I don't know about you, but the watering holes in my area do not have interiors this plush nor a menu this sophisticated.
Opened last April within UE Square, the establishment comprises a main room, a highly coveted nine-metre counter against hundreds of bottles in the background, and a tropical-themed patio beneath a glass canopy. The latter welcomes dogs, and bringing your good boy or girl along gets you a 10 per cent discount on Sundays.
Cocktails here are inspired by art movements through the centuries, from Baroque to Pop Art. Even if you can't tell what's what, you must recognise The Scream – a concoction of whisky and tequilas inspired by the renowned expressionist painting.
205 River Valley Rd, #01-76, Singapore 238274 (The entrance is on the Unity Street side of UE Square). Details here.
2. CHORONG POCHA
If sky-high airfares are delaying your reunion with the Pojangmachas (tented street food wagons) in Korea, try Chorong Pocha, a pop-up bar in Clarke Quay. It's not a fancy set-up by any means but since opening in December 2021, it quickly got everyone's attention with two words: Soju buffets.
You can choose between the 5pm to 9pm, or 9pm to midnight sessions – depending on how early you knock off and, well, whether your boss is on leave the next day. The a la carte items and other bundles offer great value to lightweight drinkers, too, complete with signature Korean snacks like corndogs, spicy rice cakes, and fried chicken bites for just S$10 a pop.
3D River Valley Rd, #01 - 13, Singapore 179023. Details here.
3. HERE KITTY KITTY
Here Kitty Kitty, a speakeasy bar opened by the Zouk Group in 2021, is as playful as it sounds. Described as a "vice den" (tongue firmly in cheek), the main area pays homage to the Golden Gai, a block of six alleyways in Shinjuku rife with crime and prostitution in the 1950s. This is why you'd find – beneath the unsuspecting lanterns and autumn foliage – semi-private sections filled with vintage paraphernalia and photographs of women.
The menu is just as cheeky, with cocktails like Drink Liao Chio Chio, a concoction of vodka, pistachio, and ayataka; and Watermelon Sugar, presumably named after the 2019 banger by Harry Styles. Bar grub is hardly an afterthought too, with the likes of Frog Leg Tempura and Yakiniku Sando made with A3 wagyu beef.
3E River Valley Road, #02-01, The Cannery, Clarke Quay, 179024. Details here.
4. GABBAR BISTRO BAR
Gabbar Bistro Bar means business when they call themselves Bollywood-themed, with portraits of celebrities splashed across the wall and a banging playlist of Bollywood and Punjabi hits. Need a pick-me-up well ahead of the weekend? Promotions like Masala Mondays and Tikka Tuesdays have got you covered.
Brunch at the modern Indian restaurant is a no-brainer: You get three street food dishes of your choice and unlimited Kolkata Pani Puri, as well as free-flow alcohol for a top-up of S$50. If not the usual wines, cocktails, and whisky, give their signature Sholay shots a chance. These come in trays of six and are named after legendary films like Pyaar Ka Punchnama and Jai Veeru.
3E River Valley Road #01-05/06 - Block E @, Clarke Quay, The Circuit, 179024. Details here.
5. YIN AT THE RIVERHOUSE
We're familiar with Japanese izakayas and tapas bars, but a Chinese-style watering hole? That was unheard of until YIN at The Riverhouse entered the chat in 2019, calling Singapore's oldest Chinese mansion – a former secret society den with over 150 years of history – home.
The alfresco bar stands out not only for its oriental facade but also for its knack for melding the traditional and quirky. Sichuan Mala Chicken and Kurobuta Char Siew Bao count among their modern Chinese tapas offerings, while award-winning cocktails experiment with the likes of Bai Jiu, Kyoho Grape Sake, and even red peppercorns.
3A River Valley Rd, #01 - 02, Singapore 179020. Details here.
6. THE COOPERAGE
Talk of whisky bars brings to mind something of a tavern; overflowing with liquid gold and the Don Draper types. But why so serious? This is the question The Cooperage hopes to answer.
That anyone – novices included – can get curious about whisky is their philosophy, which explains why The Cooperage looks more rustic than opulent. Whisky, the star of the show, is elaborate in variety and reasonable in price here, and you can expect to shell out S$40 for a flight of three. The selection of food also over-delivers, offering pasta, pizza, and donburi among other main courses on top of the usual bar grub.
42 Hongkong St, Singapore 059681. Details here.
7. WINE RVLT
Singaporean sommeliers Alvin Gho and Ian Lim are likewise breaking the barriers that have traditionally made wine-drinking a straitjacket affair, which is why you'd be forgiven for mistaking Wine RVLT along Carpenter Street for a brewery. Their Instagram bio says "makan, minum, mabok" (which roughtly translates to "eat, drink, get drunk" in Malay). And from their stories, looks like how most nights go down.
They carry wines from all over the world, including natural ones for the oenophiles among us. Bar bites do not begin to describe their menu, which will give you no reason to have dinner anywhere else. Party bites or gastronomic creations – the kitchen does it all. Think Chili Crab Ragout "Cheong Fun", and an unlikely pairing of salted cod and Portuguese egg tart.
38 Carpenter St, #01-01, Singapore 059917. Details here.
8. LEVEL UP
Level Up, a one-of-a-kind arcade bistro bar hidden on the second storey of a conservation shophouse, speaks directly to folks who grew up before the internet. The spacious establishment looks almost like the set of Stranger Things; plastered with graffiti, neon lights, and pages of Archie comics; and littered with retro arcade machines to shoot hoops and play air hockey on. Tables for pool, beer pong, and foosball are also available for some friendly competition with other bar-goers.
In addition to American-style bar fare like wings, ribs, and mac and cheese, the kitchen also serves local snacks like Crispy Fish Skin and Mentaiko Shrimp Roll Kueh Pie Tee. The drinks menu is pretty standard, with a daily happy hour deals from 5pm to 8pm and bucket promotions for sharing. 
3A River Valley Rd, #02-04 Block A, Singapore 179020. Details here.
9. REDTAIL
RedTail Bar is dubbed Zouk's very own pre-party and social-gaming bar. It's something of a frat house for sophisticated grown-ups who want to party, but have reached the age where clubbing music has gotten "too loud".
Win a game of beer pong and earn 500 points on top of your tab. Down their signature Blue Spin cocktail with a shot of absinthe and sprite in eight seconds and it's on the house (or pay a S$50 fine if you fail). Food options range from Seafood Congee to Mala Fries, but the Bangers and Mash – an ode to the club's former hotdog stand along Jiak Kim Street – deserves an honorary mention.
3C River Valley Road, Clarke Quay, Block C, #01-04, The Cannery, 179022. Details here.
10. 28 HONG KONG STREET
Establishments in Clarke Quay have come and gone in the last decade or so, still, a trailblazer of Singapore's cocktail and spirits scene sits faithfully at 28 Hong Kong Street. Hidden in plain sight behind a 1960s shophouse is not merely a local institution, but the first-ever winner of The Best Bar in Asia.
Even after 12 years, the speakeasy's vision of emulating New York's fine drinking scene prevails in its selection of American-style cocktails and comfort food, which has only gotten bigger and better. Through a post-pandemic glow-up, it has reinvented itself with four bar concepts under one roof – from a dive bar down south to a nightclub from the Eighties.
28 Hongkong St, Singapore 059667. Details here.
11. CHUPITOS
Chupitos isn't the type of bar you drop by for a mere nightcap; it's made for the party animals out there. It is, after all, the country's one and only shooters bar where "island living meets party jungle".
One would expect no less from its menu, offering 130 types of shots that will make you feel like a kid in a candy shop. The Showstoppers selection does what it says on the box and comes with a side of theatrics. Fire, props, stunts – you name it. If you prefer something less dramatic, crowd-pleasers like Paddle Pop and Milo Godzilla promise an M18 throwback to your childhood.
3E River Valley Road #01-01 The Circuit, CQ@, Clarke Quay, 179024. Details here.
12. BREWERKZ
Brewerkz, the longest-running craft brewery in Singapore, is an OG where nightlife in Clarke Quay is concerned. It's been on a roll since its humble beginnings as a brewpub in 1997, taking home the title of Champion Mid-Sized Brewery of Asia at the Asia Beer Championship 2022.
The 4AM DIPA, India Pale Ale, and Deer Kick Tropical Stout – all gold medalists at the awards – are worthy contenders if you only have room for a few beers. Their Golden Ale has also been snuck into dishes like Blue Mussels, Fish & Chips, and the Mexicano Burger, which you can enjoy indoors or alfresco with a money view of the Singapore River.
30 Merchant Rd, #01-07 Riverside Point, Singapore 058282. Details here.