Hungry girl goes on blind dates with five new burgers in hopes of finding The One
Does true burger love exist? Or is it just the stuff of well-curated social media profiles? CNA Lifestyle goes on the quest for the perfect burger.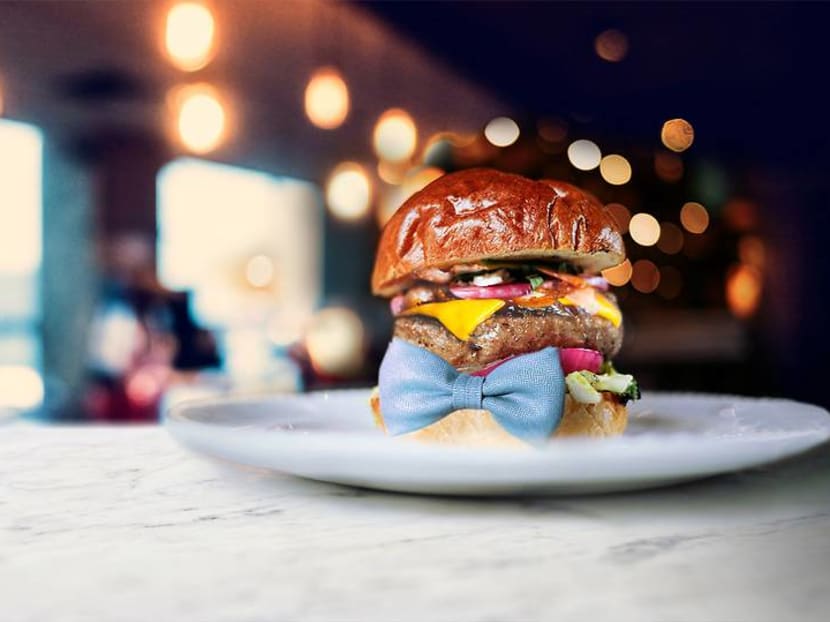 Every Chinese New Year, my aunts tell me that a girl shouldn't be too picky. But I don't want to settle. I still live in the hope that The One is out there. And it shall be scrump-diddly-licious.
I am a hungry girl who seeks the perfect burger. Many burgers have come and gone, and some have been very, very good – but none has fully captured my heart, mind and stomach. But with so many new burger joints sprouting up lately, I feel it is a sign that I should give it another go.
The playing field has been refreshed. I should start swiping right in earnest.
Maybe I'll finally find the burger that also likes long walks on the plate, pina coladas and getting caught in the multigrain.
Wish me luck, mustard and napkins.
MO & JO SOURDOUGH BURGERS
Holy Smoke, S$19
I'm going to be upfront. I swiped right on this burger because it looked so dang good in its profile. (You can't blame a girl for that.) It has a bit of a pedigree, coming from the folks behind Baker & Cook. Its sourdough buns are made fresh daily. And, housed in its shiny new digs at Greenwood Avenue, it's hip, yet family-oriented.
I'm pleasantly surprised to discover that in person, it actually looks just like its profile picture. Here is a truly beautiful burger with lively trimmings and smooth, round buns, presented in Instagrammable lighting.
But then I open my mouth – and, alas, I'm instantly bored. Like any other girl, I'm quite partial to bad boys. And this burger is too squeaky-clean for my personal taste. The patty is seasoned without care or love. But not only is it under-seasoned, it's also overcooked. And the sourdough buns, while pleasantly chewy, don't do anything to enhance the flavour.
"Is it me or it?" I wonder, knowing only that one thing's for sure: There isn't going to be a second date. Unless I need a cure for insomnia.
I know that this burger will make some other girl very happy. For now, I'm just not that girl.
FATBURGER
The Original, S$7.90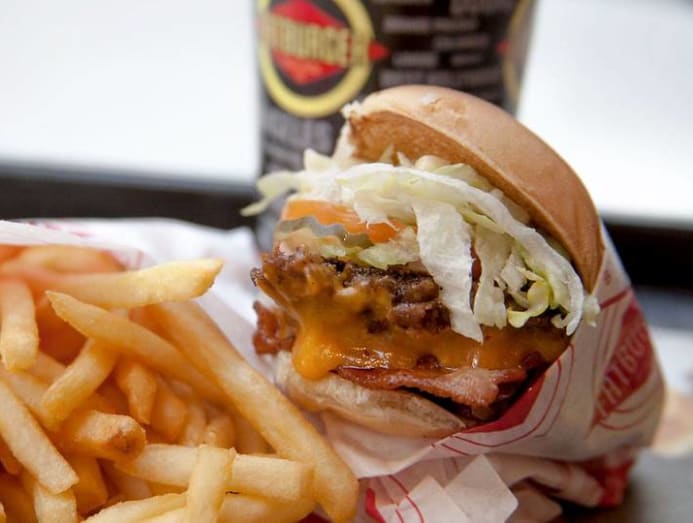 This solidly built all-American jock promises me the American Dream: That if a Californian fast-food chain burger can become a Singaporean gourmet experience, then I, too, can finally connect with the heart of authentic burger-ness.
The franchise comes straight out of California, where the original Fatburger was established in 1952. The burger is fully customisable, which means I'll never have the shock of belatedly discovering its hidden flaws and bad qualities. Its friends are attractive, too: Hand-cut onion rings and hand-scooped milkshakes.
Arriving at our date, I proceed to spend the next 15 minutes getting to know a well-seasoned patty made from 80 per cent lean and 20 per cent fat chuck; happily discovering all the conventional inner-beauty requisites of lettuce, tomato and even pickle; and inhaling the butteriness of toasted brioche buns.
Yes, this is a burger I can bring home to meet my parents. A burger to have and to hold, for battered onion rings or for worse, in sickness and in health, 'till morbid obesity do us part.
However, there is one big butt – er, I mean, but.
Although each patty at Fatburger is cooked only when you place your order, there's one quality that isn't customisable: Doneness. Every patty here is well done.
It isn't an outright deal-breaker. But it does make me hesitate to put an onion ring on it.
RESTAURANT IBID
Shao Bing Burger, S$14++
Thus far, I've been seeing all-American burgers, subscribing to the assumption that they are prime specimens of burgerkind. But maybe I'm limiting myself.
When the shao bing burger pops up on my radar, I'm intrigued. It's Chinese on the outside, white on the inside. It's a burger that went to ACS Independent.
On paper, it works. And it's so very good-looking. The meat is of excellent quality, and glows warm and pink, having been grilled over charcoal. It's sandwiched between crisp, fluffy shaobing, cosying up to a layer of melted mozzarella.
As I get to know it, however, I find that the way in which it has been seasoned is neither manly nor masterful. And why is one bite peppery and the rest pepper-free?
I happen to be the kind of girl who can overlook taste as long as texture is on point. And this burger's texture almost seduces my napkins off. Almost.
But somehow, I realise, it's a puzzle piece that just doesn't quite fit the burger-shaped void in my heart. I sense it's holding back, and restraint is not what I'm looking for in a burger. I want more of the cheese. More of the spring onions. More of the pepper. It leaves me wanting, well, more.
I can see its potential. But currently, this burger and I are chips that pass in the night – right burger, wrong timing, perhaps.
THREE BUNS QUAYSIDE
Red Man Burger, S$28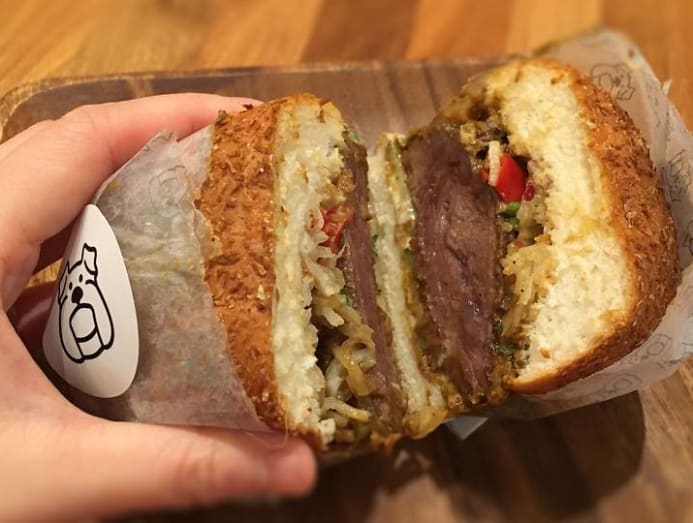 This gourmet rendang burger, exclusive to Three Buns' new digs at Robertson Quay, beckons me into an exotic new world.
Instead of your regular patty, it's luxed up with beef cheek sous vided for 24 hours, then adorned with handmade virgin coconut mayo, as well as a spicy-sweet blend of gula melaka and about 10 other ingredients and spices. It's got no ordinary buns, either – they're coconut brioche buns, made with coconut milk and coconut oil. Yes, this is a very handsome, very rich burger.
I bite into it and swoon a little. The grass-fed beef is so tender, it melts my heart instantly. The sauce doesn't drown the burger, even though the thought of doing so must have been quite tempting. And the buns are soft, fragrant and oddly comforting.
But this isn't your burger-next-door. It's there to be seen and heard. It's from the folks behind Potato Head. It's a little flashy. And it's so crazy rich, its mother probably has big hair, wears emeralds and would disapprove of me.
After a while, I start to think that I can only handle this burger in small doses. And I don't know if I really want a fancy burger. I want a burger I can come home to.
This may sound improper, but I may actually prefer its friend, Bun DMC (S$16), which has a sweet watermelon rind relish, fried shallots and cheese on its patty and toasted buns. Maybe I'll ask that one out, instead. All's fair in love and coleslaw, right?
BLACK TAP
All-American burger, S$22
This candidate lives in a penthouse apartment at Marina Bay Sands. Its digs are flashy – literally, as there are neon graphics on the walls and loud music blasting. There is a long line of people waiting to date it, especially during peak times. It's just arrived from New York City, where there is another line of people waiting to date it. It has a Michelin-starred chef. And it's a social media influencer. All signs point to eligibility.
But, as some anonymous romantic said, "You don't love someone for their looks, or clothes, or their fancy car, but because they sing a song only you can hear".
Alas, first impressions aren't really ideal. The burger takes a good 25 minutes to make an appearance, in spite of the fact that it is four in the afternoon and not a peak mealtime. A good burger should never keep a lady waiting, I think.
It finally arrives in a state of undress, which is very forward and, if I'm being honest, also quite titillating. The patty is lying spread-eagle on an open bun, naked save for a yellow covering of melted cheese; its lettuce, tomato and pickle lie in a neat pile on the side.
Needing no further encouragement, I dive in and think I find the warm meltiness that my mouth craves. I quickly realise that the pleasure is largely due to the perfect potato buns, which are fluffy, yet solid enough to hold their own and retain meaty juices.
I can almost see my toothbrush occupying a permanent position in this burger's bathroom. But there's a niggling doubt in my mind, and that's due to the patty, which, although represented to me as medium as recommended by the server, is medium-well going on well done. Perhaps that's why it was late for our date – it had overslept on the grill.
 
This, however, can probably be managed using feminine wiles. On our next date, I might ask for it medium-rare. Yes, there will be a second date, I think.
marinabaysands.com/restaurants/american/black-tap
My quest for the perfect burger continues. If you know of a new burger in town that I just have to meet, write and let me know: CNAlifestyle [at] mediacorp.com.sg.