The 14 best burgers in Singapore: A 'Ramly', some truffle and a S$10-deal
Craving a good burger? CNA Lifestyle has got you covered with our list of the juiciest, beefiest sandwiches in the city.
No matter how much Singaporeans dish about our love for local fare, somewhere inside us lies a deep yearning for a good burger.
Blame the likes of fast food joints like McDonald's and Burger King for inculcating a love for a good beef patty tucked between pillowy buns, so much so that this utterly un-Asian dish is considered comfort food in this decidedly Asian city.
Certainly, picking the best burgers is as difficult as picking the best chicken rice or prawn noodles in Singapore. But we're not afraid of a bit of hard work, so we made a list spanning burgers from dedicated burger restaurants to swanky French establishments so that you can eat your way through them and pick your own favourites.
APPLEWOOD SMOKED BACON CHEESEBURGER FROM OMAKASE BURGER, S$19.90
Fresh, sloppy, smokey and dripping with that Thousand Island-esque "secret sauce", Omakase burgers were Singapore's answer to Shake Shack long before the latter set foot on our shores. We love the charred, blistered edges of the USDA Choice Grade beef patties that are smashed on the grill so that their insides remain juicy and their edges cooked to a lovely blistery char. We also adore the squishy Martin's Potato Roll buns that sink when prodded and are porous enough to absorb all the meat's tasty juices.
BASIC BURGER FROM BURGER LABO, S$23
Owner Ken Loon's zealousness for coaxing perfection in simplicity is on full display at this chic shack tucked away in Gillman Barracks. Several months of experimentation have yielded a technically perfect burger, with buns so shiny they might well have been lacquered by a Vietnamese artisan (it's actually browned butter they brush onto the buns, in case you were wondering). The cleanly flavoured 170g patty within is made from a blend of grass-fed Black Angus beef neck, Aomori Gyu ribeye, Toriyama Umami Wagyu A4 tenderloin and Sendai Wagyu A5 brisket. Ask for the fried free-range egg (add S$3), which, if nothing else, will do wonders for your Instagram game.
THE BLACK SWAN BURGER FROM THE BLACK SWAN, S$30
It's hard to go wrong when you stick to the classics. At this Great Gatsby-esque space in the heart of the business district, The Black Swan Burger has sat proudly on the menu since its launch in 2013. Its signature wagyu blend patty is crowned with a bed of caramelised onions, mature cheddar, streaky bacon and a fried egg. With a balance of smoke, succulence and meaty earthiness, this burger is just the ticket for your next power lunch.
https://www.theblackswan.com.sg/
CHEESEBURGER FROM MEATSMITH, S$16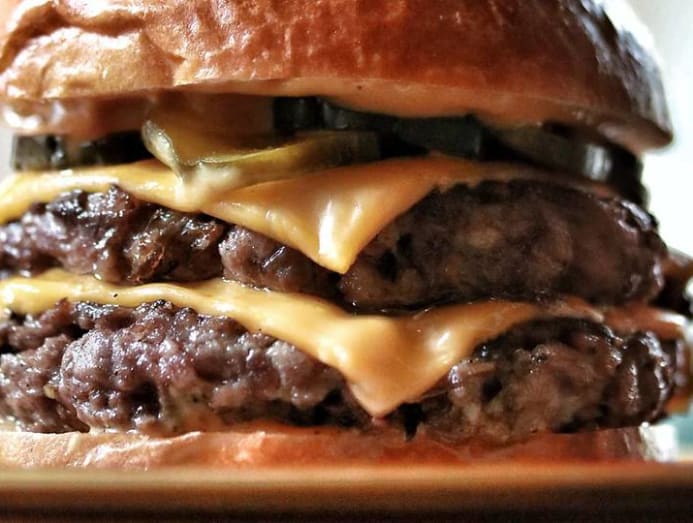 Prime beef brisket makes for some super succulent and smoke-kissed patties at this barbeque smokehouse. Throw in some melty cheese, crunchy pickles and sturdy house-made potato buns that squish gently with each bite, and you have what is widely regarded as the best damn cheeseburger in town. It gets even better on Tuesdays, when these babies go for just S$10 a pop.
DRY-AGED BEEF BURGER FROM WOLF BURGER, S$17.90
Yes, you'll get an excellent wagyu burger from its signature menu, but what's not to love about the delicious rank of dry-aged beef? The meat used in these juicy patties are dry-aged for 30 days, then grilled and heaped with cheese, pickled onions and chipotle mayo. A couple of extra napkins to help manage all that sloppy goodness is always a good idea.
THE GREG NORMAN BURGER FROM BLACK TAP CRAFT BURGERS & BEER, S$26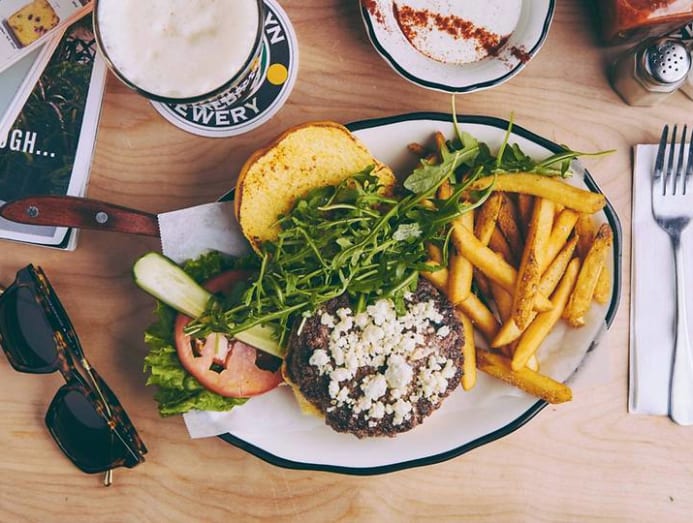 This loud and colourful New York import does the all-American stuff well. So if your burger preference is basic, ask for the All-American Burger (S$22), which comes with the standard, but delicious, assemblage of prime beef meat patty with lettuce, tomatoes, pickles, American cheese and house sauce. If, however, you're a little bit extra (the way Singaporeans tend to be when it comes to food), then ask for the Greg Norman Burger that's stacked with a premium seven-ounce wagyu beef patty draped with a buttermilk dill sauce, crumbled blue cheese and arugula leaves between soft potato buns.
https://www.marinabaysands.com/restaurants/black-tap.html
THE NUMBER ONE FROM 25 DEGREES BURGERS WINE & LIQUOR BAR, S$14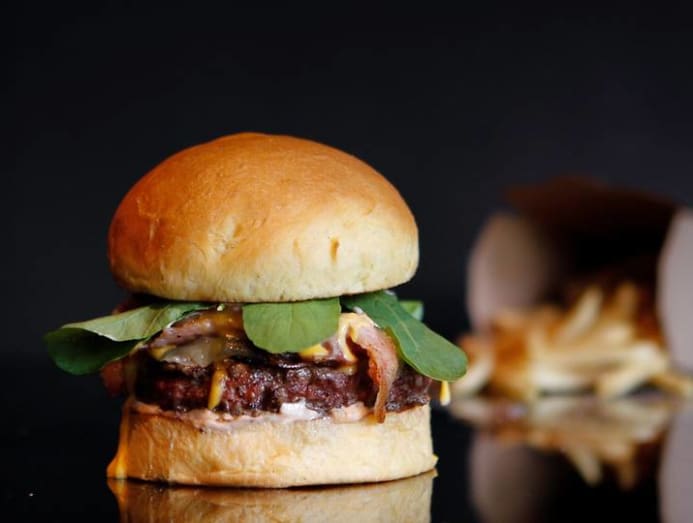 Rather than given names, the burgers here are numbered, so it is apt that the Number One satisfies on all counts. Between a sturdy brioche bun made from organic flour sits a thick 200g patty formed with US Angus sirloin and chuck roll, along with a host of other things that impart lots of delicious umami. Think soft and tangy crescenza cheese, sweet caramelised onions, earthy gorgonzola, bacon, rocket leaves and a piquant Thousand Island dressing.
https://www.randblab.com/25degrees-sg
THE ORIGINAL DB BURGER FROM DB BISTRO & OYSTER BAR, S$48
This one's an oldie but goodie. While there are oysters, hearty bistro classics and warm madeleines, it's this burger that makes this celeb chef restaurant a foodie destination. Feted anywhere in the world where it's available, the Original DB Burger is loved for its sirloin patty that hides the richness of foie gras and short ribs within. Indeed, there's nothing humble about this burger, right down to its fluffy Parmesan buns.
https://www.dbbistro.com/singapore/
ORIGINAL RAMLY FROM LOOF, S$23
When was the last time you ate a Ramly burger? No, like, a really good Ramly burger. If your answer is, "I don't remember", then hotfoot it to rooftop lounge Loof where its elevated take on the iconic sandwich sees an Australian beef patty wrapped in a thin omelette and slathered in a "sedap" (Malay for "delicious") sauce. It'll give you some nostalgic pasar malam vibes, but classed up (especially with its accompanying waffle-cut fries).
SHACKBURGER FROM SHAKE SHACK, S$9.20
It's safe to say that Shake Shack's entry into Singapore was worth the wait… that is, if you can stand to wait in the perennial line at its outlet in Jewel Changi Airport. When it's finally our turn to order, we ask for the ShackBurger with its flavour-packed smashed patty made from hormone-free cattle that graze in Midwestern American farms, nestled in a griddled potato bun with with gooey cheddar, and that umami-laced Shack sauce. Beef lovers can ask for a double patty for S$12.70.
SINGLE (ORIGINAL) FROM FATBURGER, S$7.90
When it first opened in Los Angeles in 1952, the sandwiches sold at Fatburger were considered large, hence the restaurant's name. In today's over-the-top world, they're standard size, but refreshingly customisable. It's hard to go wrong with an Original, which comprises a satisfying beef patty made from a ratio of 80 per cent lean American chuck and 20 per cent fat. These are shaped fresh on-site, chilled and then cooked to order. It comes capped with mayo, lettuce, tomatoes, pickles, onions, relish and mustard – which, if you ask us, is all it needs. Choose from a brioche or wholemeal bun, or a gluten-free bun for an extra S$2.90. If you're keto dieting, you can choose no bun at all. Maximalists can order add-ons like cheese, a fried egg, beef bacon, chilli con carne and onion rings for S$1 each.
SMOKIN' B-BOY FROM THREE BUNS, S$23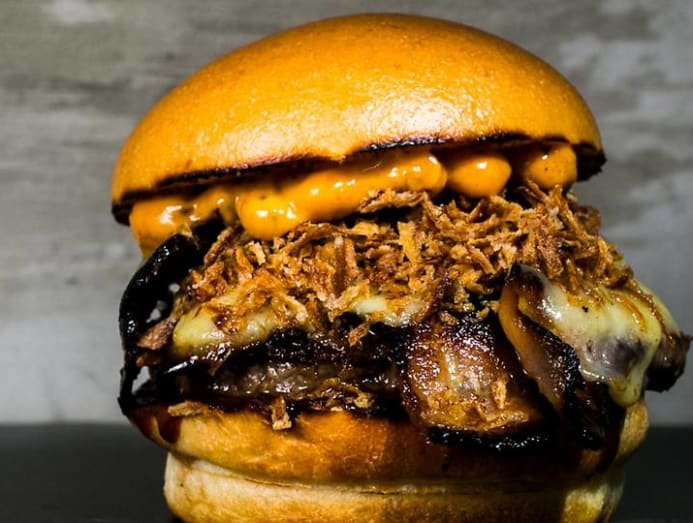 This hip and happening burger joint recently started using Tasmanian vintage beef patties made from grass-fed, free-range, hormone- and antibiotic-free retired breeder cows. These pasture-grazing cattle reportedly yields deeper flavour, which can only make the likes of the Smokin' B-Boy burger better. In this tasty number, you get a 150g patty cloaked in melty smoked applewood cheddar and topped with caramelised strips of treacly streaky bacon, barbecue ketchup, smoky mayo, and a hearty sprinkling of crispy bawang goreng (fried shallots). All that between toasted demi brioche buns.  
https://www.ptthead.com/singapore/three-buns/
THE TRUFFLE BURGER FROM OVEREASY, S$28
Burger aficionados know that American-style diner OverEasy makes some killer burgers. Its posh Truffle Burger stacks a gratifyingly luscious mix of wagyu blend patty, sauteed onions, mushrooms and truffle mayo between lightly toasted potato buns. Even better, it comes with a pile of kale and Parmesan fries.
THE YOLO FROM FATBOY'S THE BURGER BAR, S$18.50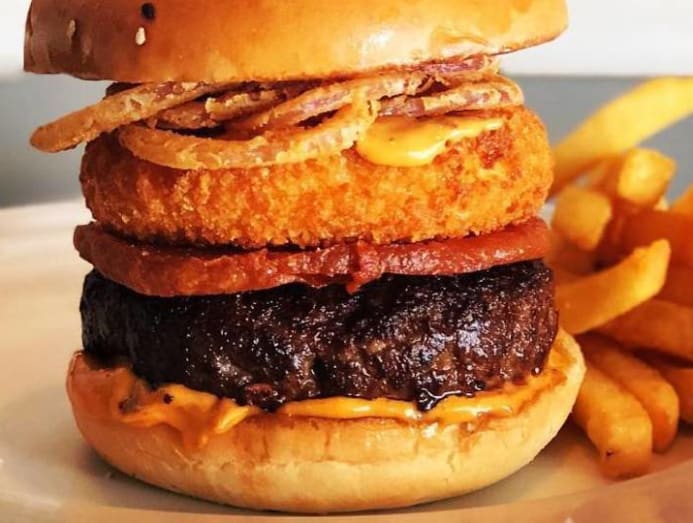 On days when you want the works in a burger, and then some, we belly up to this aptly named sandwich that piles on all the extras. First you get to choose a beef, lamb or pork patty (we're partial to the beef), then they layer it with fried Spam, crispy onion strings, melty-centred mozzarella cheese sticks and smoked chipotle. If you're stress eating, get that with a side of salted egg fries, then make an appointment with the cardiologist after.