Kacang pool: Wholesome and hearty breakfast bean stew at Geylang Serai Food Centre
Follow this Makan Kakis series for the best eats to spend your CDC vouchers on. This week, Gold 905 DJ Denise Tan recommends you start your day right and dive into the unique, Middle Eastern influenced kacang pool.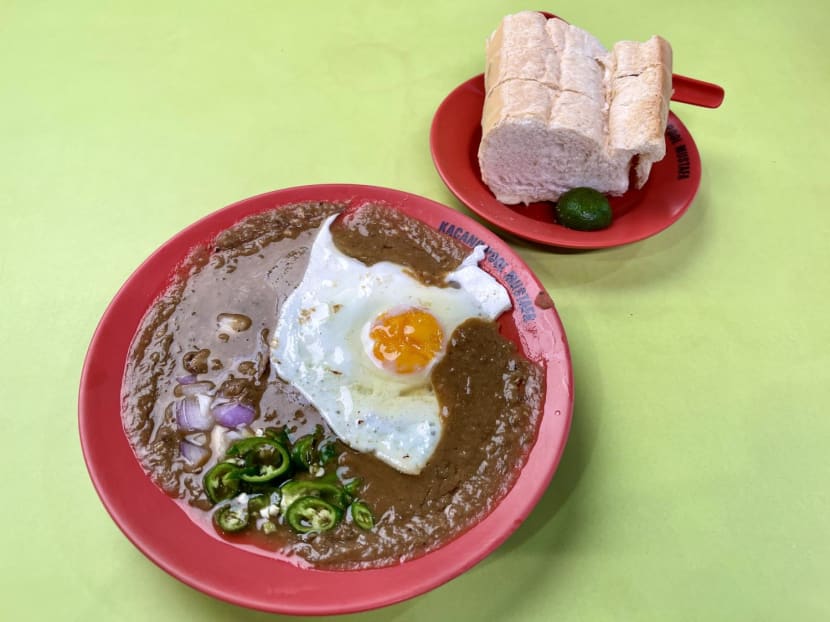 For a different breakfast that's tasty and filling, where the flavours of far-flung cultures meet your taste buds in a wild marriage of the exotic and familiar, you've got to try kacang pool. It has its origins in ful or foul medames, a dish of stewed fava beans widely eaten across the Middle East, North Africa and the Mediterranean.
Since arriving on our shores, ful has evolved to include different herbs and spices and even a name change. Known as kacang pool in Singapore and Malaysia, here's a quick introduction to this lesser-known breakfast food.
Kacang, in Malay, refers to its main ingredient of beans. Fava beans (also known as broad beans) are cooked down, topped with fried egg, then garnished with chopped red onions and green chilli slices, with a side of toasted bread. Like a cross between dip and soup, kacang pool is also reminiscent of English eggs and beans on toast, but with fireworks!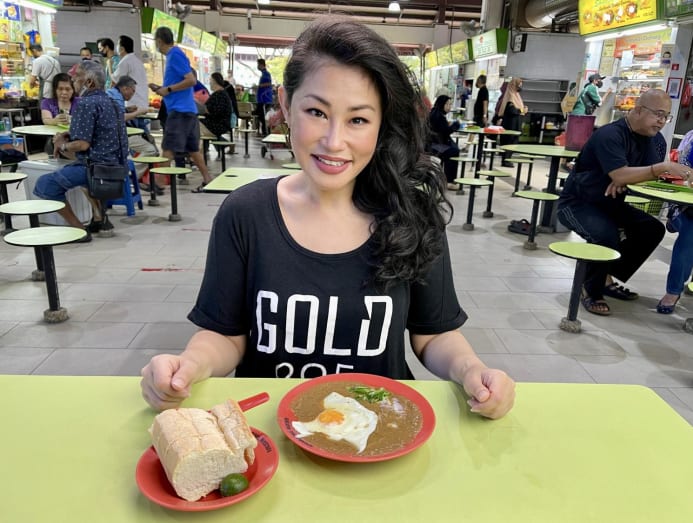 Initiate yourself at Kacang Pool Mustafa, a stall named for owner Nordin Mustafa's father, whose adoptive parents were from the Middle East. When he migrated from Malaysia to Singapore, he brought their kacang pool recipe with him. In 1952, Mr Mustafa started the family business, peddling his breakfast bean stew in the Geylang Serai area. The apple doesn't fall too far from the tree (or in this case, the bean doesn't pop too far from the pod) and Nordin has been following in his father's footsteps since he was a mere schoolboy.
"My first day was when I was ten years old. Before I enrolled in Poly, I had already decided to become a hawker, so I finished up my studies first and took over once I completed my National Service. Now I'm 50 already!" Nordin told me with pride. He set up their current shop in the redeveloped Geylang Serai Market and Food Centre 13 years ago.
From Egypt to Morocco to Saudi Arabia and beyond, slightly different variations of ful can be found, but at Kacang Pool Mustafa, Nordin serves a "modified" Malay version developed by his father for Singaporean palates. For the last 40 years, he has faithfully followed that same recipe, which includes a custom-mixed chilli paste, "because Singaporeans like things hot and spicy". The Middle Eastern versions he knows of contain boiled egg and tomato paste, but less chilli and hardly any onion.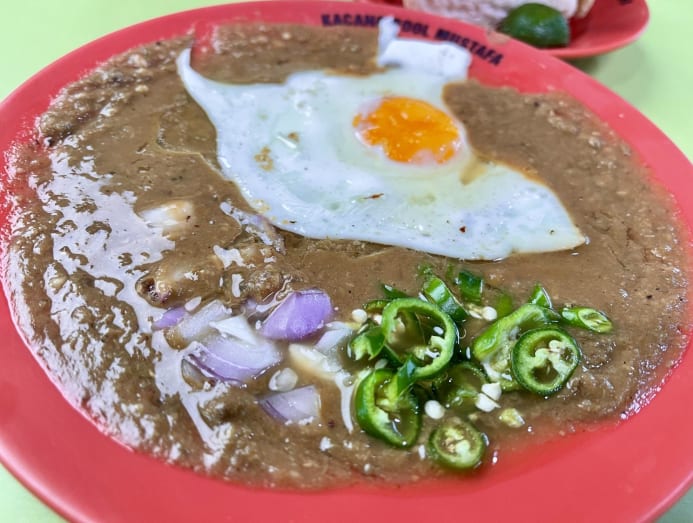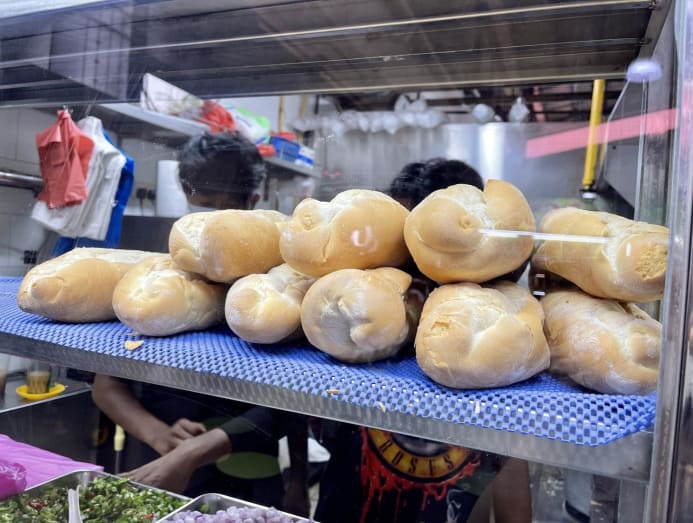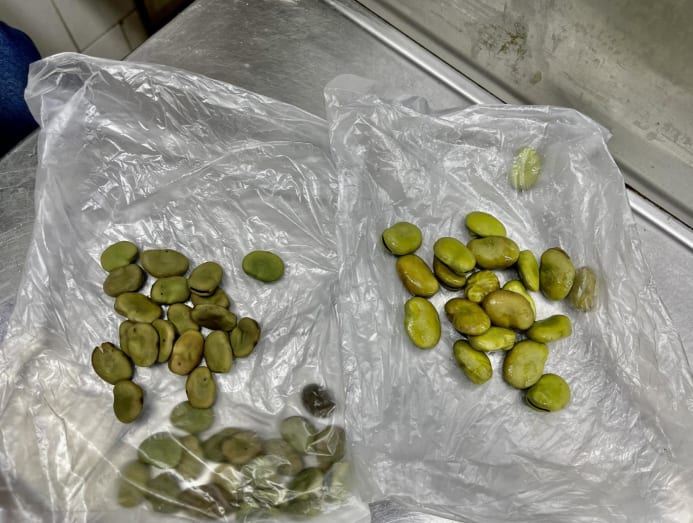 The main ingredient, however, stays the same. Each day, Nordin prepares at least 20 kg of beans for his kacang pool. "I use fresh broad beans, not canned. All natural. We bring in the beans from overseas, soak them overnight for 24 hours, then boil them for two hours," he revealed. The fresh, flat beans start off a verdant green, with a tough skin that breaks down through the low and slow cooking process.
Chameleons of the culinary world, broad beans are quite bland in taste but absolute powerhouses for flavour-absorption. That's why once they soften, Nordin lavishes them with heavy-hitting herbs, spices and seasonings. Carefully calibrated proportions of coriander, cumin, fennel, ginger, lemongrass, salt and pepper are mixed in, along with the chilli paste specially blended for the stall.
"Made from fresh chillies and secret spices," was all Nordin would share.
The bubbling, beany brew underwent a transformation under his skillful hands, turning from a watery green to a chunky reddish-brown, which "cannot be too thick or thin". Achieving the right texture was important for Nordin, who deemed his kacang pool perfect when it was no longer "soupy".
The massive pot, which could easily yield 300 plates of the dish, simmers aromatically all day on a low flame under his watchful eyes. He adjusts the consistency when needed, keeping a smaller, separate pot on the side for heating portions of kacang pool to order.
However you like your kacang pool – chunkier or smoother – Nordin is happy to oblige. "It depends on the customer. They can ask for the texture they prefer. I don't use a blender. As I stir, I mash the beans," he explained.
Even with the fried egg topper, he was willing to go the extra mile for diners, "Some people like sunny-side-up, fully cooked, no yolk, just the white, some want egg fried with chilli and onions. I say can!"
I wanted to say the same to Nordin's recommendation – the most popular double sunny-side-up egg set (S$4) complete with piping-hot plate of pool and toasted French loaf – but it was going to be a long day of eating, so I went for the regular single fried egg set (S$3.50, extra 50 cents for takeaway).
Kacang pool has its origins in a dish of stewed fava beans widely eaten across the Middle East, North Africa and the Mediterranean. Gold 905 DJ Denise Tan heads to Geylang Serai Food Centre to dive into this unique dish worthy of your CDC vouchers.
For someone not too fond of legumes or pulses (it's a texture thing), my first try of kacang pool was a surprising success. Buoyed by their spicy bath, the tender bean mash was delicious when devoured with thick slices of bread, fresh out of the toaster oven. The spongy interior of the miniature baguette soaked up lots of bean-enriched sauce, while the crust provided a much-needed crispy contrast to the softness of everything else.
Nordin gets their baguettes handmade and delivered fresh every morning by a traditional bakery. "At 3 or 4 am, they come to my shop and just put (the bread) inside. They have a key," he said, a testament to the trust his family has built up with their long-time suppliers. "Newer types of bread are made by machine, so the texture is very different. I find them too thin and empty inside," he shared.
Quite unlike his kacang pool, which was thick and chock-full of ingredients – each one adding depth and boatloads of flavour. The beans went from bland to bold with the herbs and spices; the bread added springy-crisp texture; the garnish of green chillies and red onions provided fresh crunch and a tingle of heat; and then there was the egg fried in ghee (clarified butter).
"Kacang pool in itself is very healthy, no oil added," Nordin was quick to point out.
Indeed, beans are very nutritious and an excellent source of protein, fibre, vitamins and minerals. But you'd be missing out on something special if you skip the fried egg indulgence. Flipped direct from frying pan to plate of pool, the ghee-glistened egg was hot and jiggly – the white just set and the yolk still runny. The nutty, buttery flavour of ghee melded silkily with the velvety yolk, adding a luxurious touch to the otherwise rustic dish.
A generous squeeze of lime was the gamer changer. The fruity acidity made all the flavours pop, enhancing layers of earthiness and spice, zinging through the richness of egg and ghee. If your taste buds can take a further deluge, help yourself to the extra salt, pepper and ground coriander powder provided. Little pinches of everything added dimension – salt to season, pepper for kick and coriander for fragrant warmth.
The kacang pool was a hearty and wholesome dish designed for maximum impact – it filled me up with everything I needed to start my day and was a cutlery-optional pleasure to eat.
It's said that breakfast is the most important meal of the day and for Nordin, his customers are just as important to him. That's why he won't compromise on his father's original recipe and has never taken a sick day in his life – his only time off is during Ramadan (the Muslim fasting month). Nordin has also introduced technology to his traditional set-up, with new LED signage and a pivot to digital platforms that offer food delivery services and cashless payment, to improve his customers' experience.
Grateful for their support, he said: "During the COVID pandemic, we survived because of them. So we give them options. Our prices remain the same even on Grab, no extra costs. I have four generations of customers who still come here to eat. Last time, they came as children with their grandfathers, now they bring their own daughters and sons. It's really heartening that people still stick to me after 40 years."
From generation to generation, it would seem the heritage and legacy of Kacang Pool Mustafa will continue swimmingly well with Nordin's family by his side. The day I visited the stall, his 18-year-old twins Amran and Imran were busy helping him out. Just like their father, when they were younger, they told their teacher they were going to be hawkers when they grew up. "Seriously! Now customers can even order with my sons. Tell them the usual and they know how to do it," Nordin said proudly.
Just then, like a harbinger of the family's destiny, the phrase "Do good and good will come to you" flashed across the signboard of their stall.
CDC Vouchers accepted at Kacang Pool Mustafa, located at 1 Geylang Serai, #02-142, Geylang Serai Market & Food Centre, Singapore 402001. It's open daily, 7am – 1pm. Catch Makan Kakis with Denise Tan every Thursday from 11am on GOLD 905.

Read this story in Bahasa Melayu here.